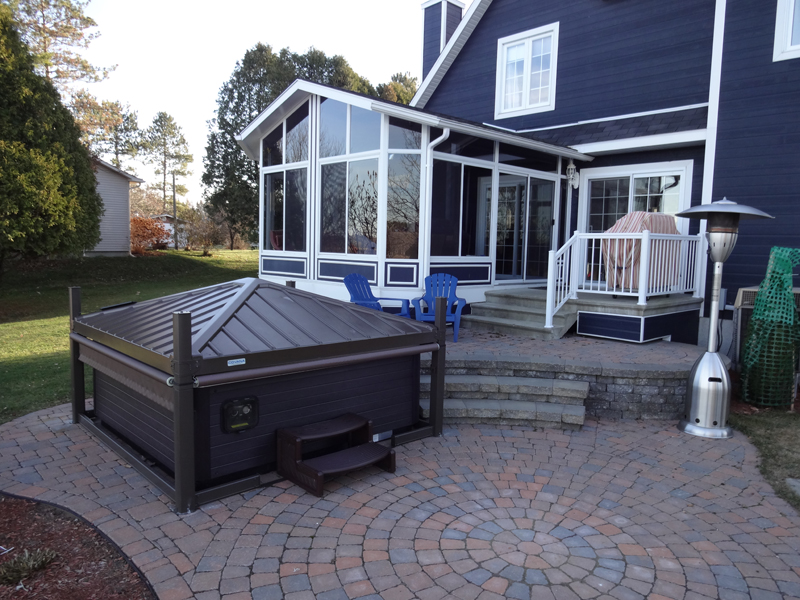 COVANA
The COVANA is the most innovative solution ever invented for optimizing the use of your hot tub.
This four season gazebo can be raised and lowered with a key switch – saving you the trouble of lifting and keeping children and intruders out.  The COVANA protects you against harsh weather and ultra violet rays. Optional retractable screens offer peace and privacy.
The COVANA is made to handle the toughest winters. With its energy efficient design, this gazebo offers an insulating value higher than a standard cover and seals the spa, keeping heat and energy in. Optimal water retention means the COVANA saves water, energy and maintenance products.
The COVANA is a fully automated spa gazebo designed to provide years of trouble-free protection and performance. Less work, more comfort: that's the COVANA promise.
ENERGY EFFICIENT
Insulating value higher than a standard cover
INNOVATIVE DESIGN
Aluminum structure and rigid roof made of seamless ABS thermoplastic
Cover can support up to 600 lbs (272kg)
SIMPLICITY AND SAFETY
Requires a 230-volt/10-amp circuit for Europe and a 115-volt / 15-amp circuit for North America.
Equipped with a manual emergency opening/closing system
Locking design keeps roof safely in place.
INSTALLATION SURFACES
Concrete base
Wood
Other solid stable surfaces
GET PRICING FROM MAINELY TUBS