The Provence is a patio-size spa featuring side "his and her" lounges and seating for up to 4 adults. Its smaller profile makes it ideal for couples looking for a high-performance, luxury spa to fit a compact space. The spa fits through most exterior standard doorways for convenient installation.
A Hydrotherapy Powerhouse
Fresh Water Salt System
For longer lasting, natural feeling water
Ultimate Foot Massage
Euphoria® Jets deliver the ultimate foot massage.
SpaGlo® Zone Lighting
Enhanced with interior LED Points-of-Light multi-color system
Enhanced Support
Built-in contoured pillows provide comfortable neck support.
Better Design
Deeper foot ridges in lounge seat provide more area to enjoy back jets.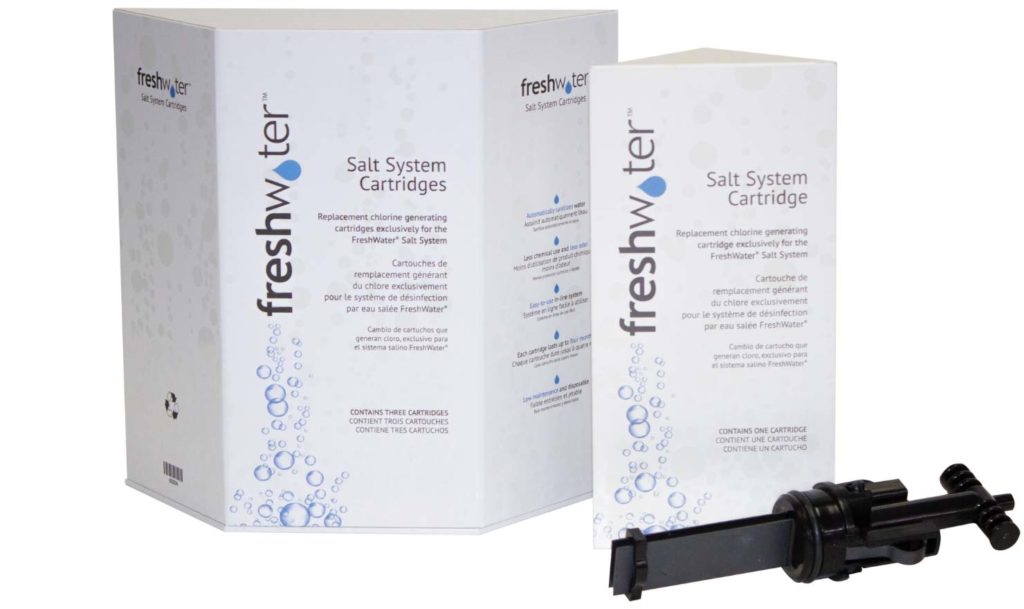 FreshWater® Salt System Ready
Utopia hot tubs offer FreshWater® Salt System that keeps spa water clean, clear, and sanitized for a full year. Add a little salt to the spa water, and the system generates chlorine automatically to keep water feeling soft, without any harsh chemical odor. Spa ownership has never been easier!
Beautiful Design Elements
Redesigned seat geometry enhances comfort and provides superior ease-of-use.
Two Euphoria® Jets in the footwell can work independently or simultaneously to deliver the ultimate foot massage.
The Avante™ steps are two-tiered to match the Avante all-climate cabinet in our Utopia® models.
Speaker grill surface mounts are built into the shell and contoured pillows provide comfortable neck support.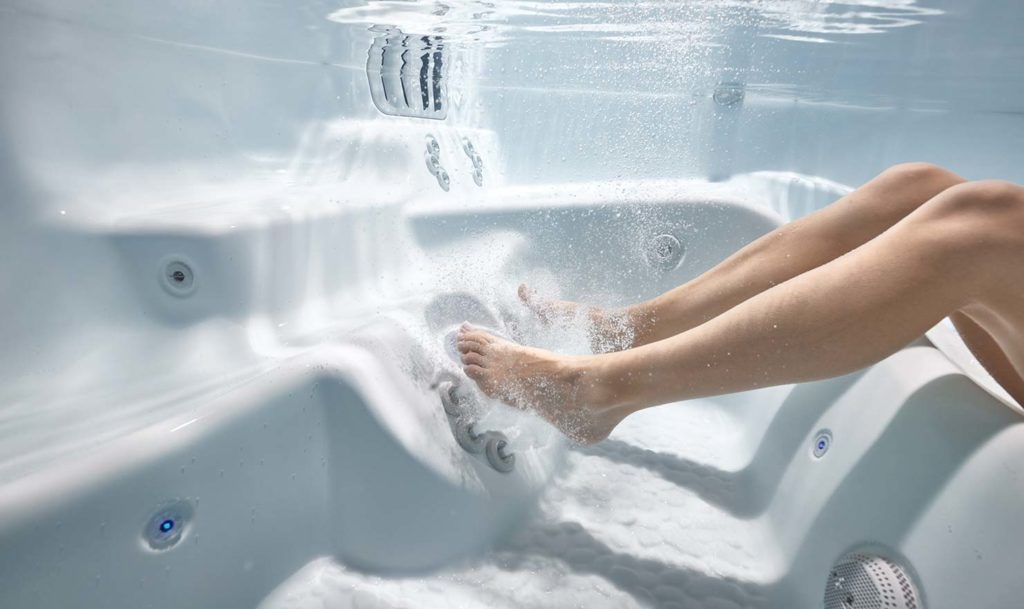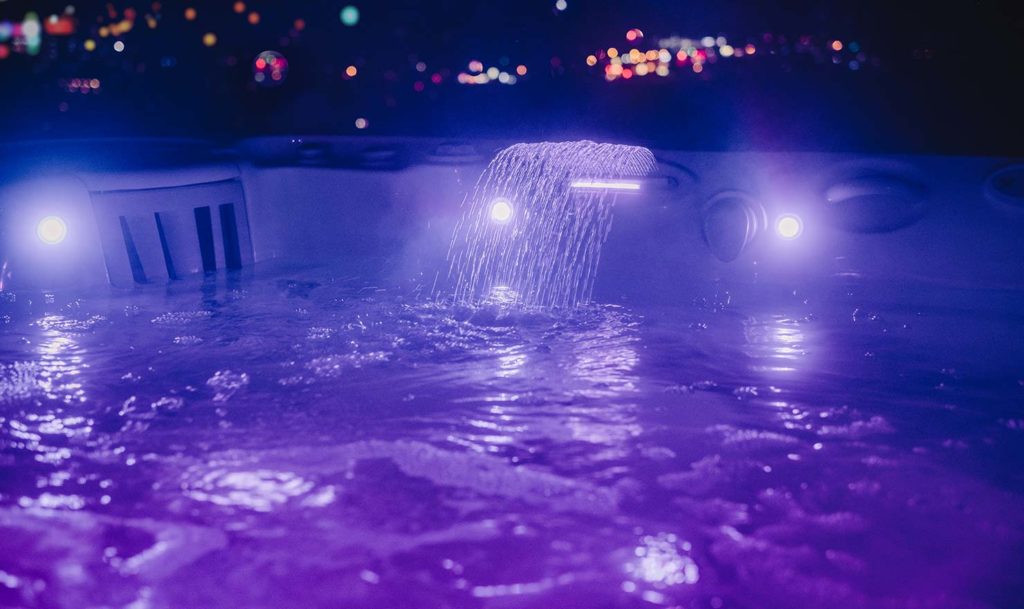 Enhanced Zone Lighting
The existing SpaGlo® zone lighting is now enhanced with an interior LED Points-of-Light multi-color system for even more dramatic impact.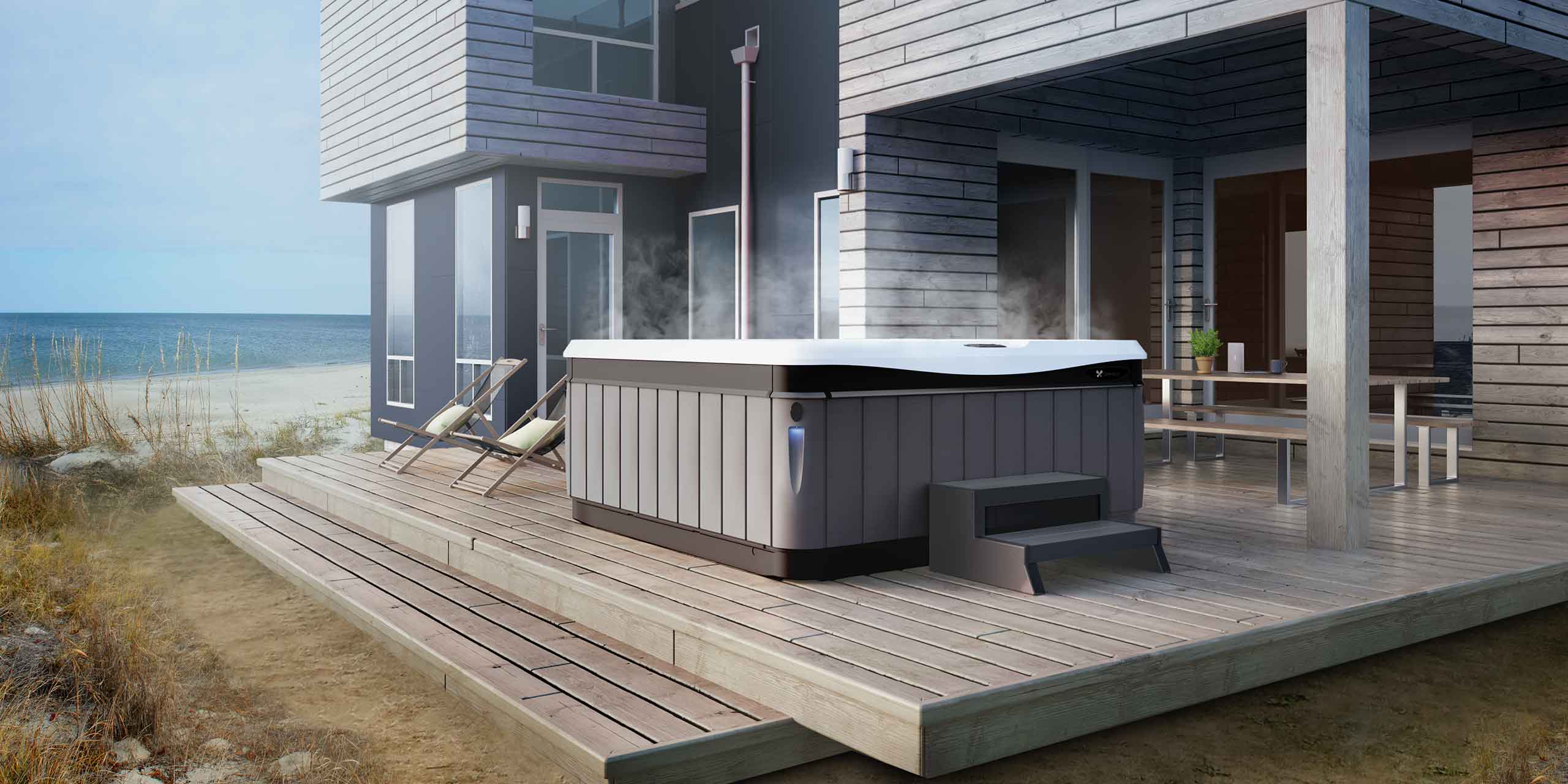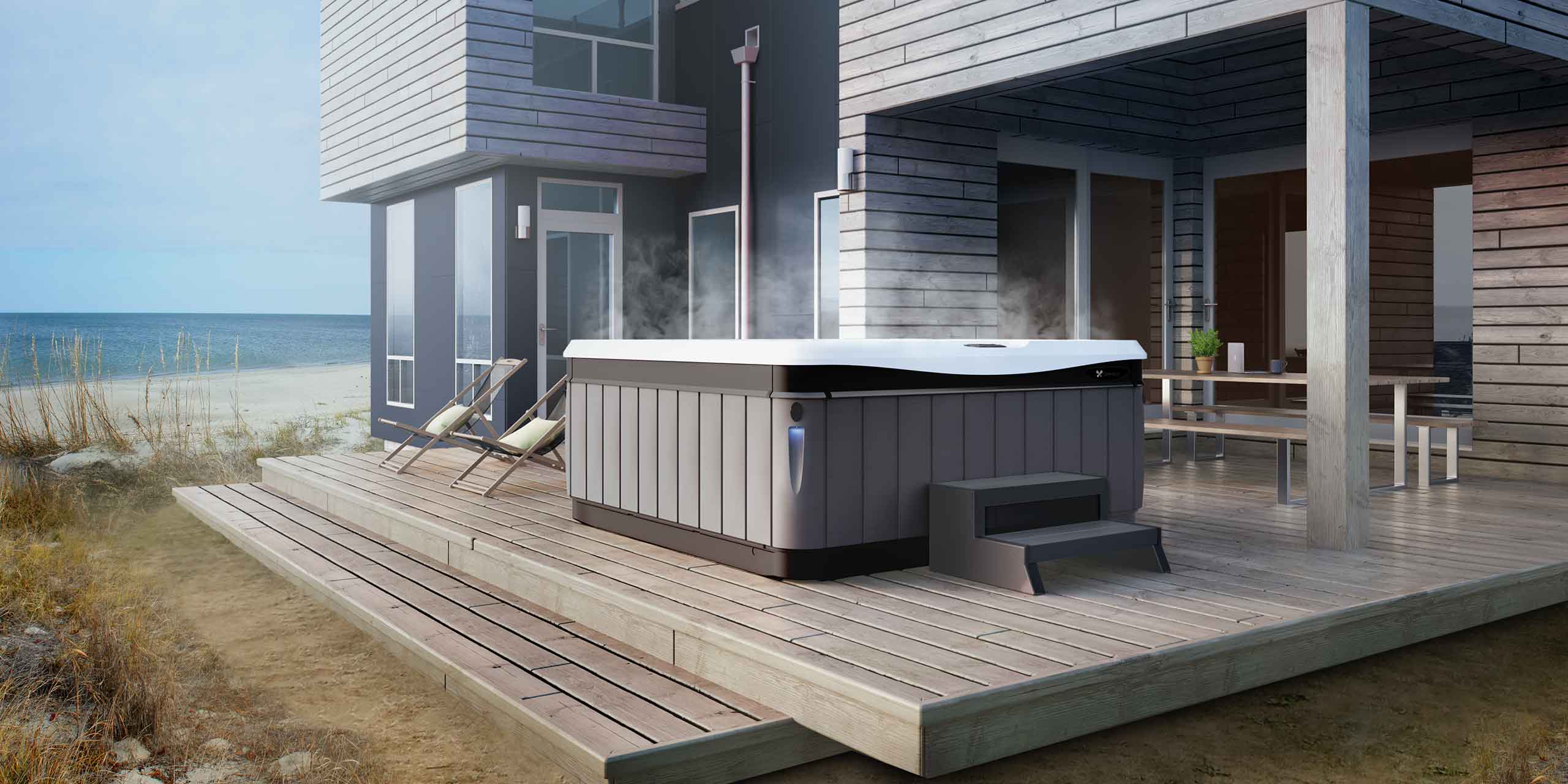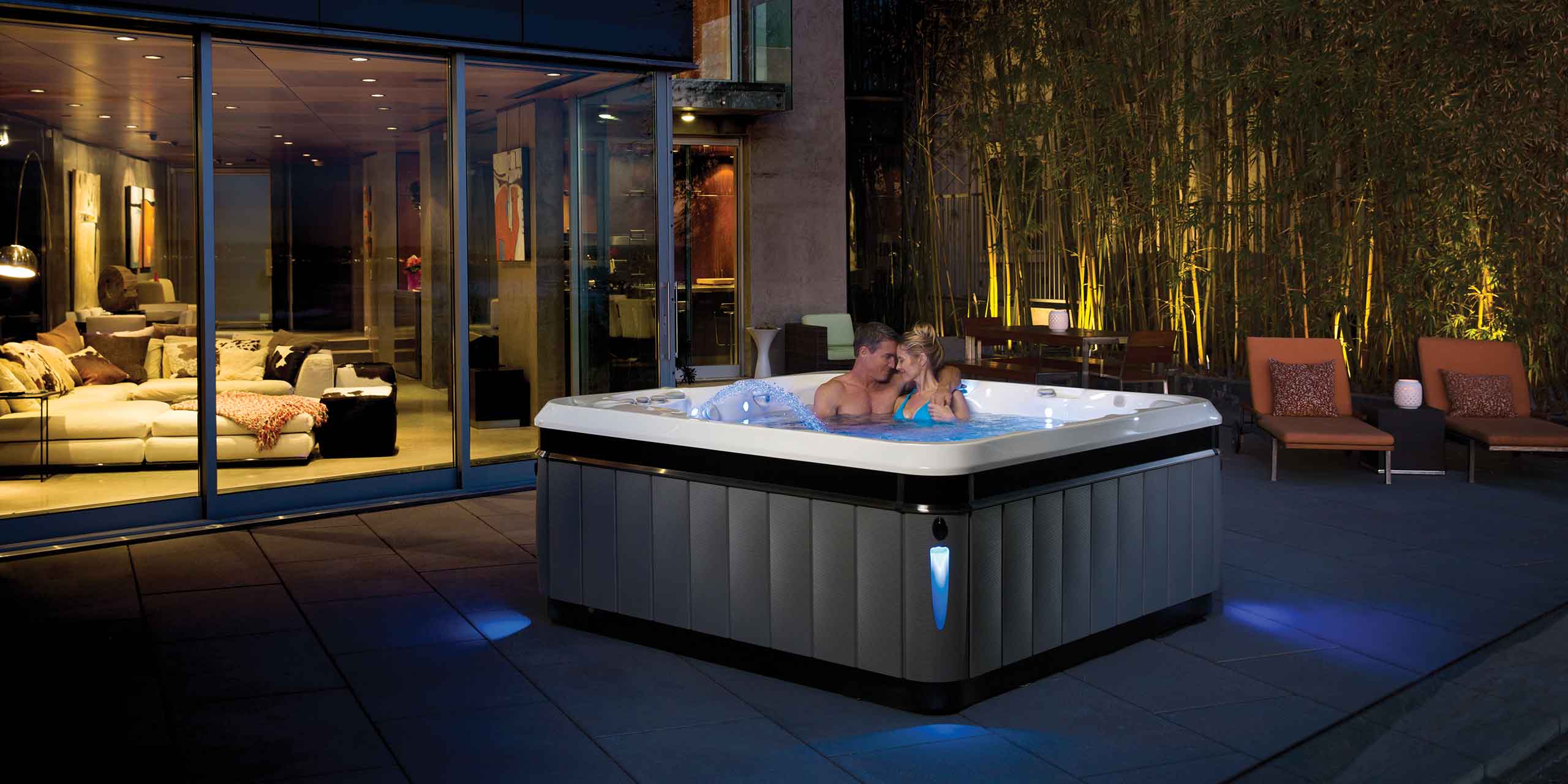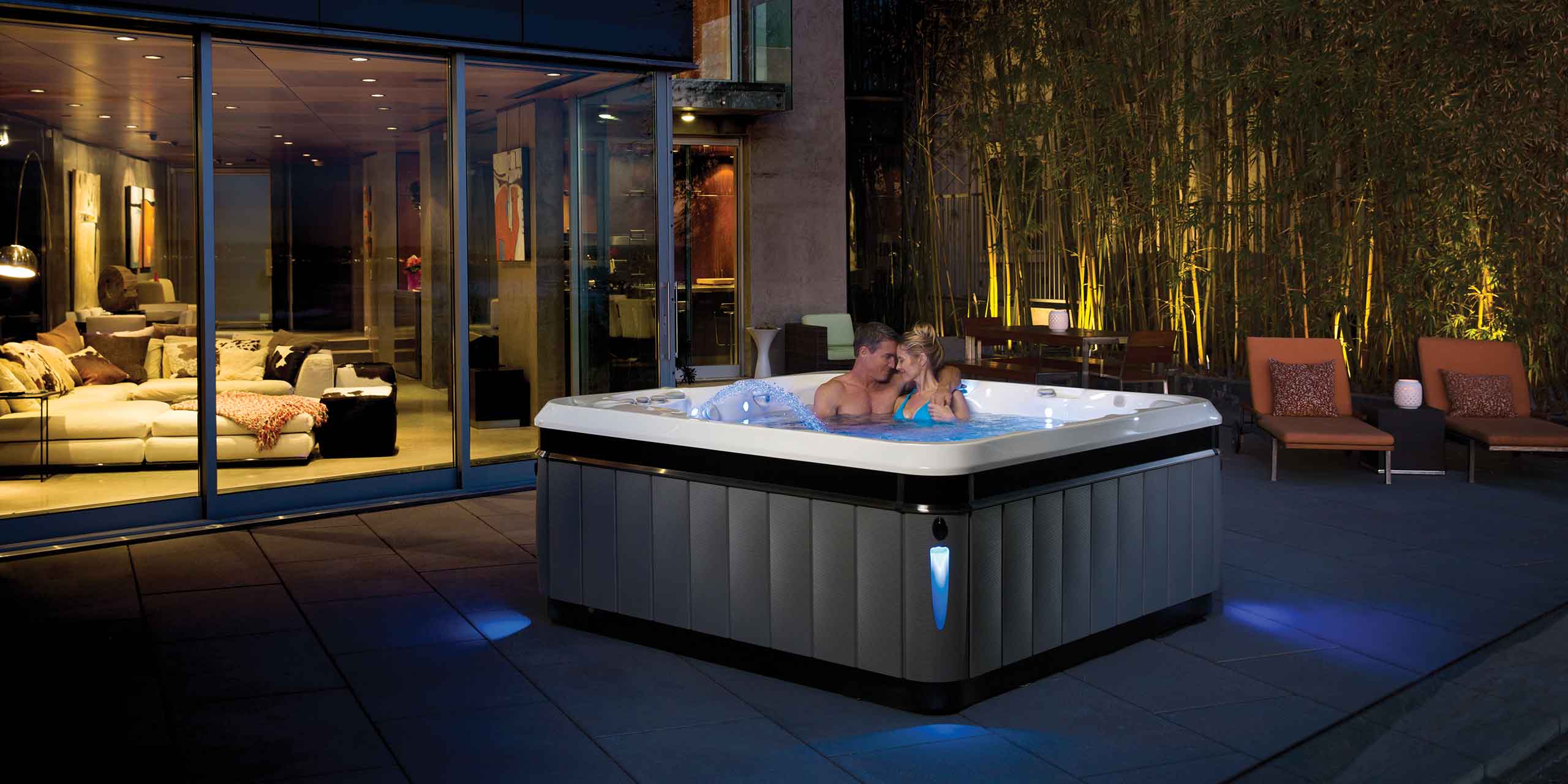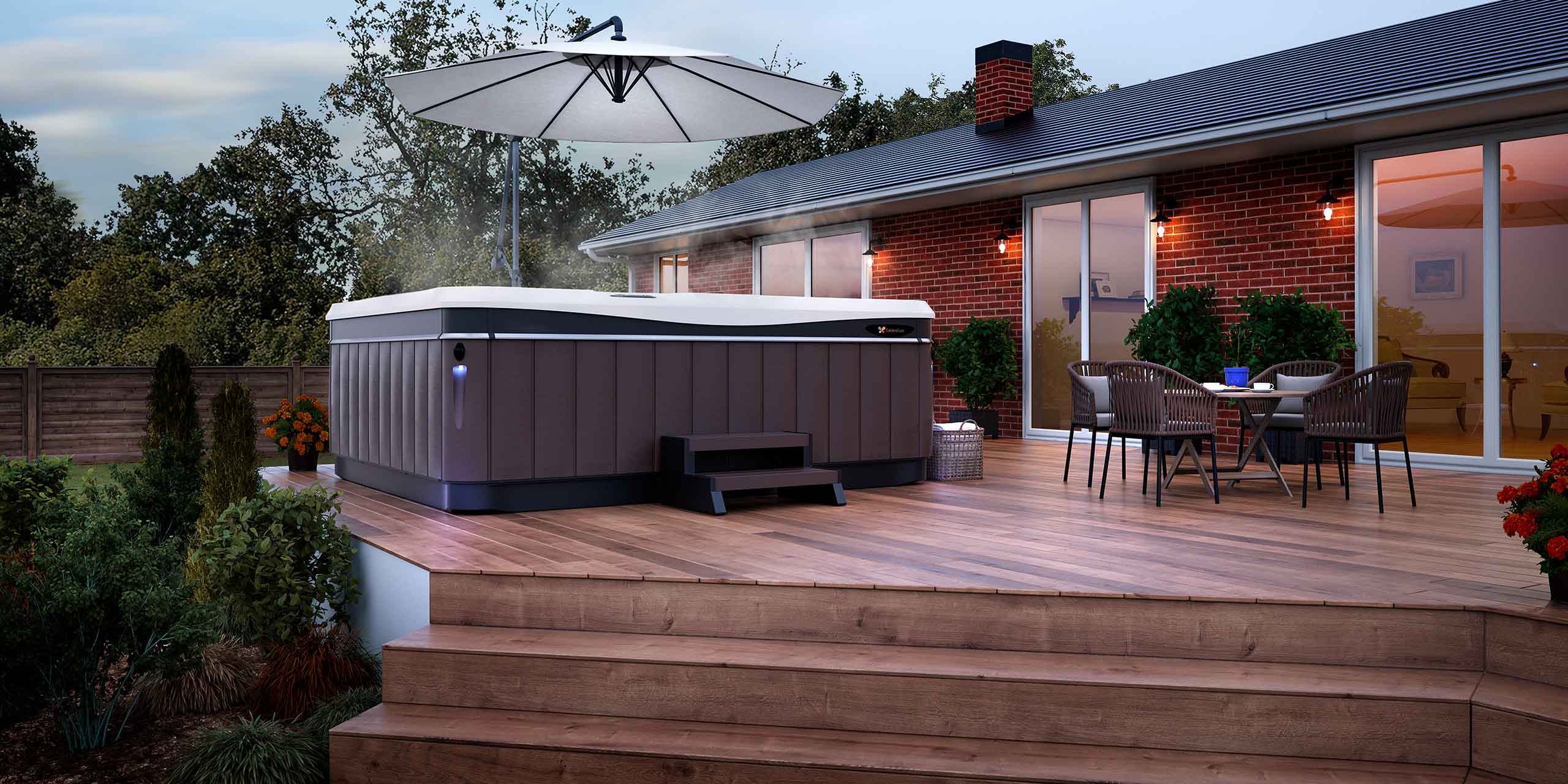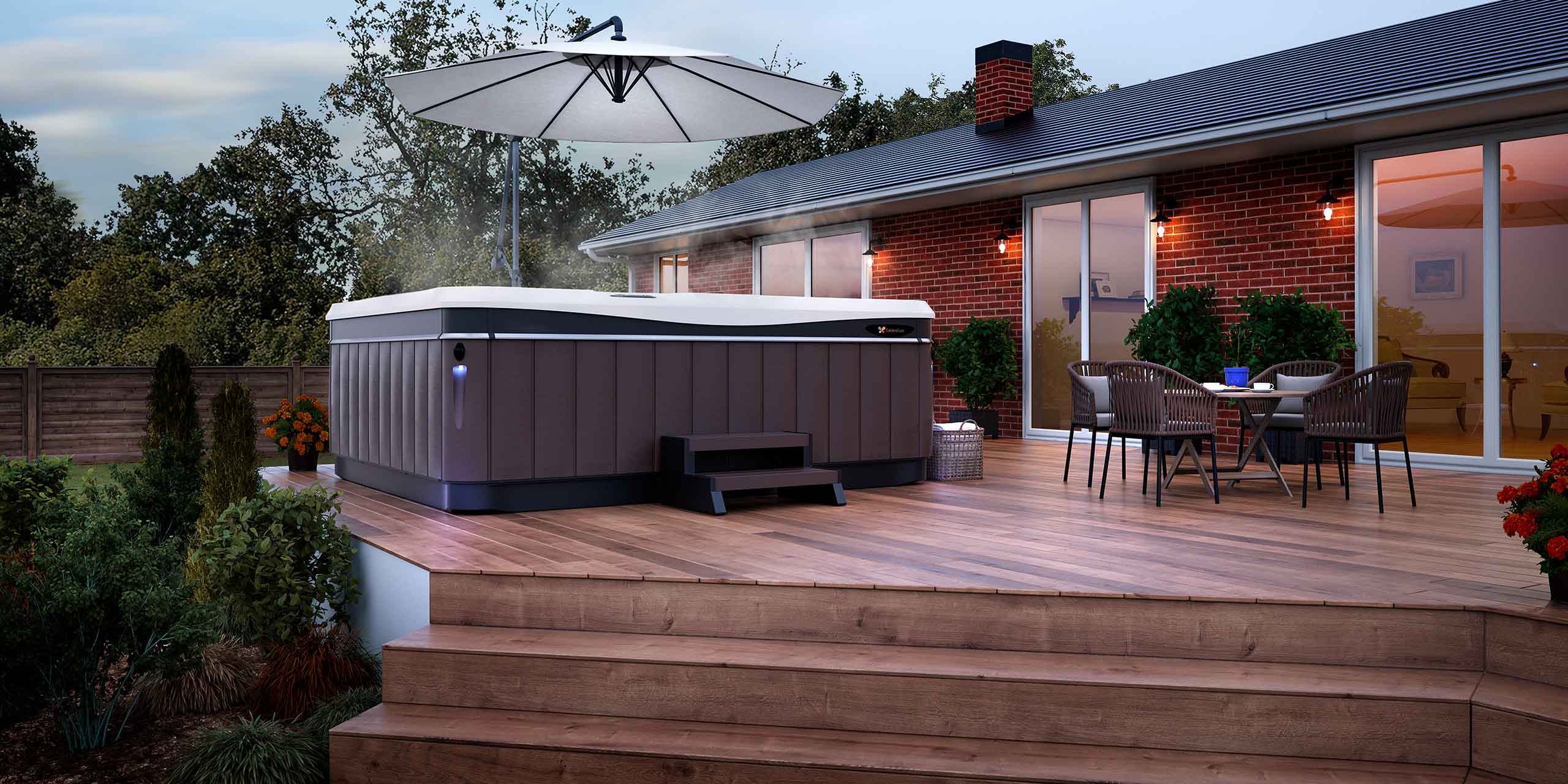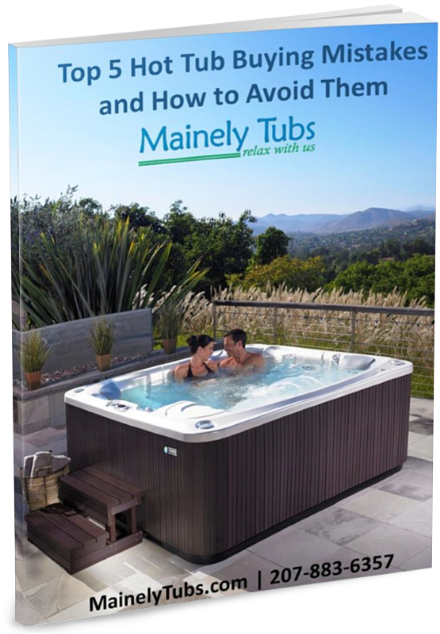 Top 5 Hot Tub Buying Mistakes & How to Avoid Them
Hot tubs are an investment in your health, happiness, and recreation. Coming from the experts, there is a lot to know about hot tubs. Look at our guide to learn what it is that you should avoid when considering a hot tub!
Product Specifications
Cabinet Colors



Shell Colors





Dimensions
6'6" x 7' x 35" / 198 cm x 213 cm x 89 cm
Water Capacity
265 gallons / 1,005 liters
Hot Tub Jets
1 Atlas® Neck Massage jet, 36 Euro jets, 2 VersaSsage® jets, 2 AdaptaSsage® jets, 2 OrbiSsage® jets and 1 Euphoria® jet
Water Care Systems
FreshWater® Salt System Ready
Jet Pumps
2 ReliaFlo® Pumps; 1 Dual-Speed
2.5 HP (5.2BHP) & 1 Single-Speed 2.5HP (5.2 BHP)
Control System
Advent® LCD Touchscreen Control with Auxiliary panel
Circulation Pump
EnergyPro® Circulation Pump
Heater Output
EnergyPro® Titanium Heater (4,000 Watts)
GFCI Sub-Panel
GFCI Sub-panel (50 amp) included
Ozone System
(Optional) Corona Discharge Ozone
Water Feature
1 Acquarella® Waterfall with LED lighting
Multi-Color LED Lighting
SpaGlo® Multi-zone LED Lighting with 10 Points of Interior Lights & 4 Corner Exterior Lights
Energy Efficiency
Fully-insulated with FiberCor® material, 2 lb. density, CEC-compliant
Branding
Large acrylic logo plate with On/Ready indicator light
Insulating Cover
3.5" to 2.5" tapered, 2 lb.-density foam core
Cover Lifter
(Optional) ProLift® II or ProLift® III
Entertainment Systems
(Optional) Wireless Bluetooth® Soundsystem, Subwoofer, Wireless TV
Step Type
(Optional) Avante™ Step in Brownstone, Slate, & Sand
Want More? Consider These Tubs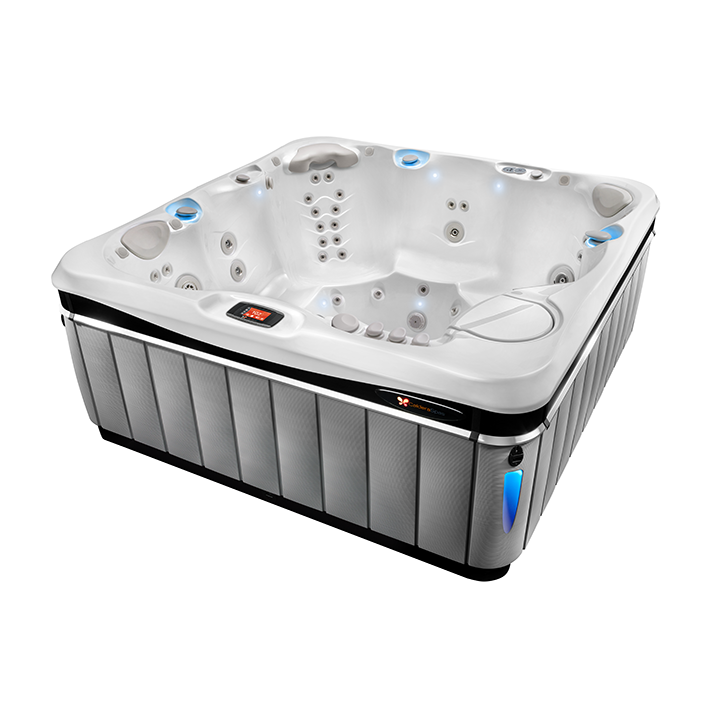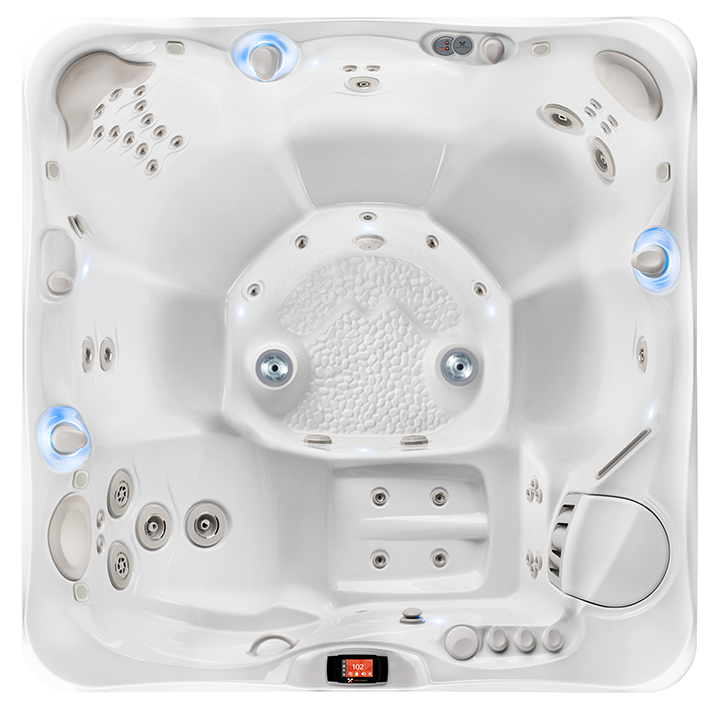 Caldera Utopia-Series Tahitian
Whether you are planning a party or looking to complement your workout routine, the Tahitian spa won't disappoint.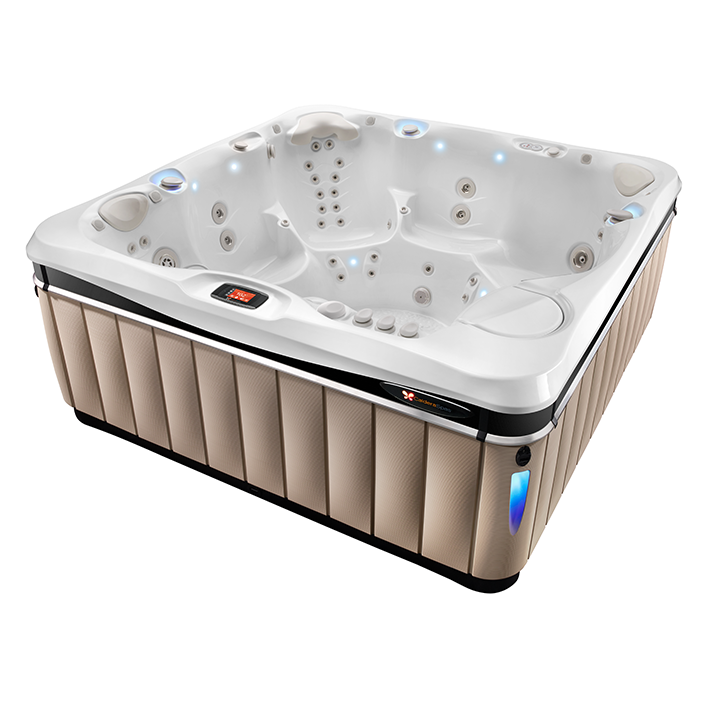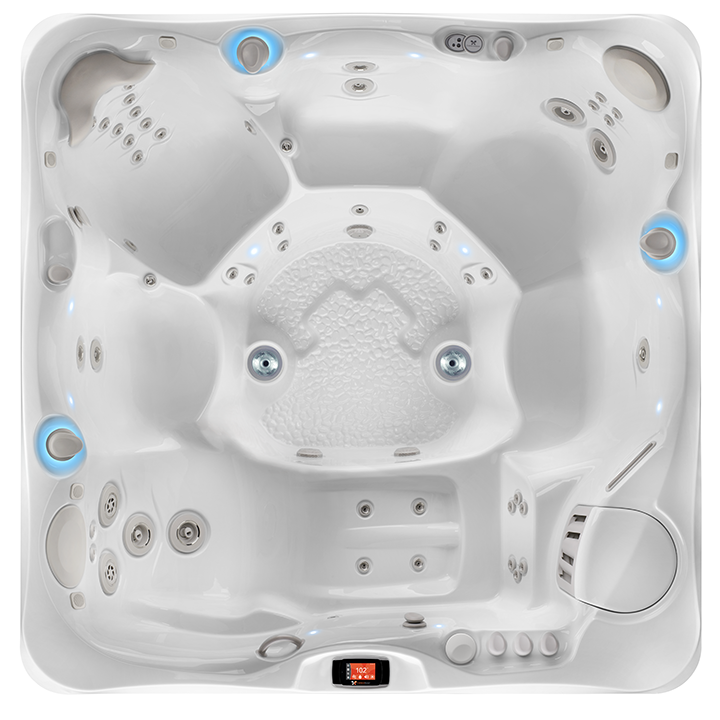 Caldera Utopia-Series Geneva
The Geneva® is a luxury hot tub featuring a spacious interior that seats six adults.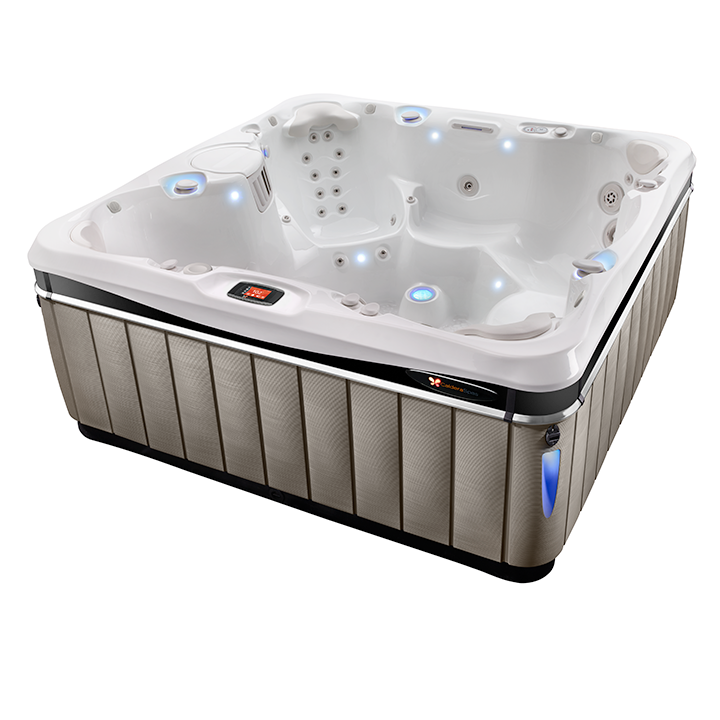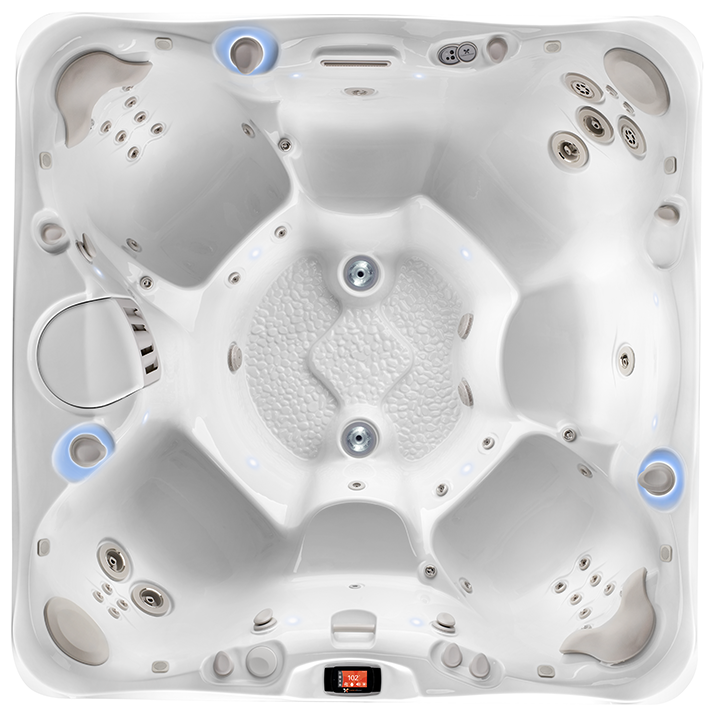 Caldera Utopia-Series Niagara
If you're looking for a spa that comfortably accommodates friends and family, seating seven adults, the Niagara® hot tub is a crowd pleaser.