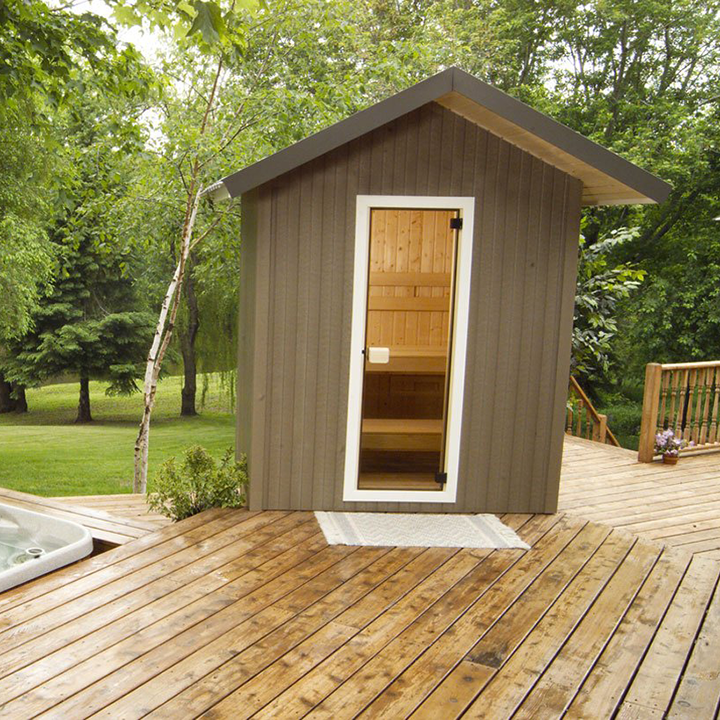 Finnleo's Patio Sauna is designed for today's busy, transient society. It can be delivered and in place in minutes–rather than hours.
The Patio sauna combines the popular characteristics of the Sisu series and the Metro Outdoor series. It includes simple panel construction and assembly of the Sisu series, but with the integral walls and gable system of the Metro series for a uniquely portable yet, strong and durable outdoor Patio sauna. Perfect fo the backyard or deck. The Patio sauna comes in four sizes: 4×5, 4×6, 5×6 and 5×7.
Abachi benches, backrests, headrests, heater guard and duck boards
Prebuilt, prefitted wall and ceiling panels — all completely blind nailed, Nordic White Spruce interior and exterior
Prehung door, hinged left or right, premounted in its own panel, Nordic White Spruce interior and exterior
Heater, rocks, bucket, ladle, light, thermometer and necessary hardware
Manufactured in the USA by Finnleo®
Quick and easy assembly
Quality Time Outside
Fully Insulated
Roof kit is full insulated. Choose plywood, cedar shingles, or metal roofing.
Scandinavian Styling
Built for a light, cozy, serene feel throughout
Easy to Assemble
Simple panel construction makes assembling easy
Comfortable to the Touch
Abachi wood remains comfortable to the touch even at high temperatures
Genuine Sauna Feel
White Spruce on cathedral ceiling & walls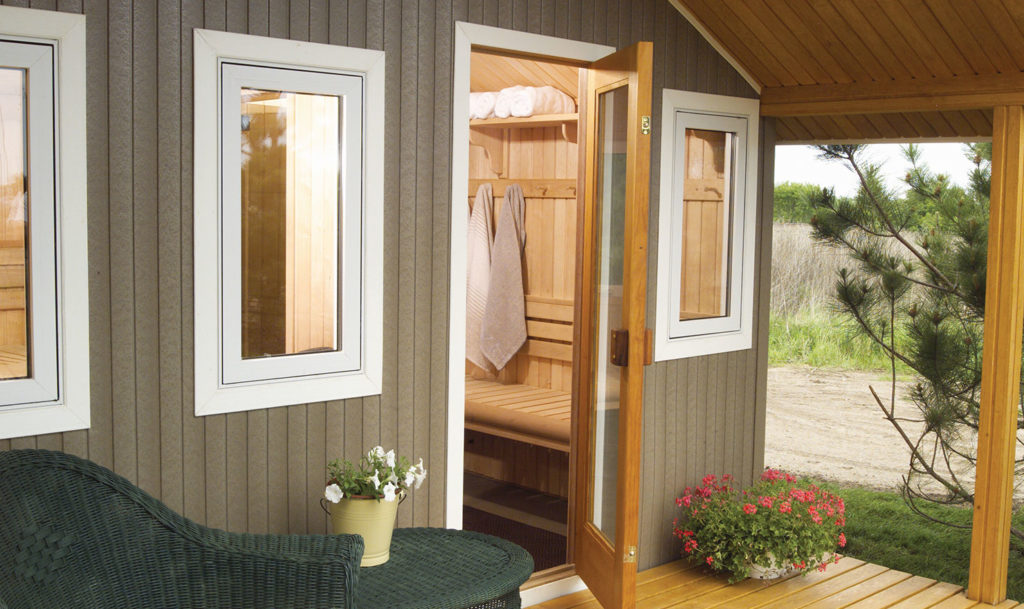 Beautiful. Durable. Welcoming.
The Finnleo Outdoor saunas' simple panel construction makes it easy to assemble anywhere you have space. At the same time, saunas integrated walls and gable system ensure you will enjoy a strong, durable sauna that will be perfectly at home outside for many years to come.
Enjoy a Real Sauna Experience
Inside, you'll enjoy all the comfort, style and attention to detail you expect from Finnleo.
Cathedral ceilings
Nordic White Spruce or Cedar
Fully insulated roof kit with choice of plywood (ready for your shingles), cedar shingles, or metal roofing
Abachi wood furnishings that stay cool to the touch despite the sauna's heat.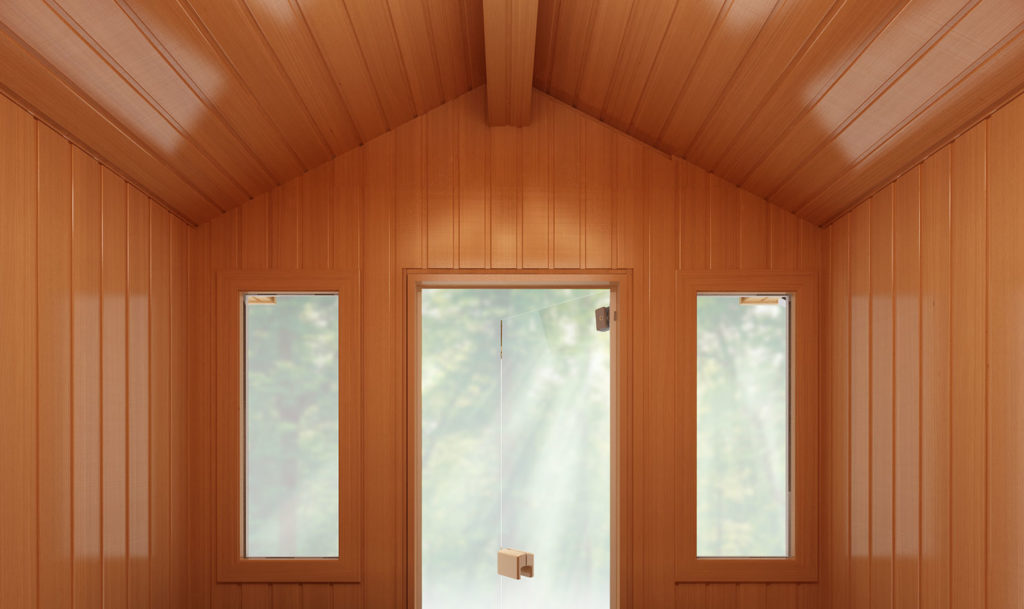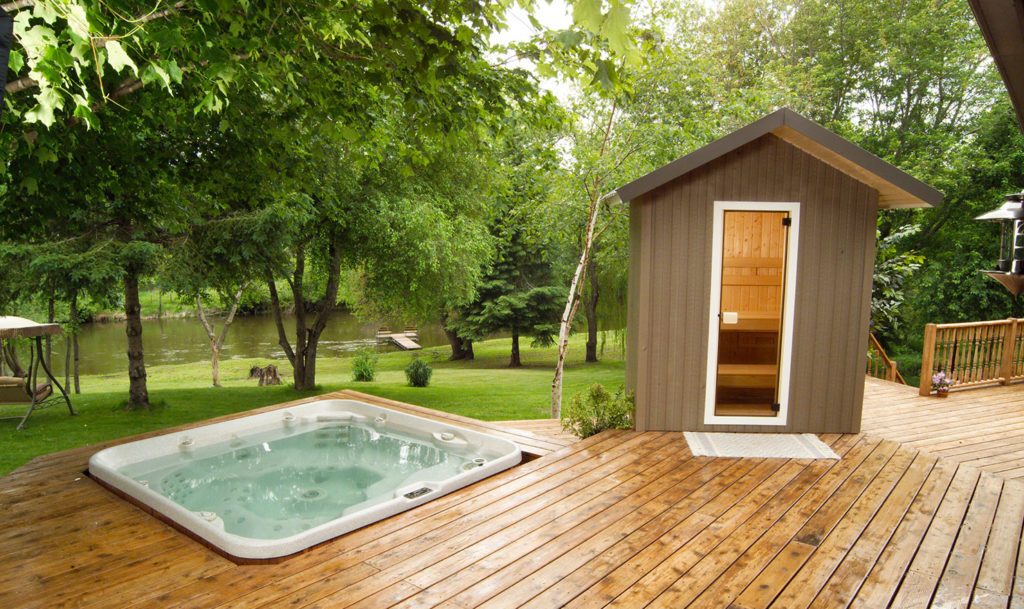 Build a Backyard Retreat
Already have a pool or hot tub? All the better! An outdoor sauna will only add to the pleasure you already get from them.
Product Specifications
Dimensions
4'x4′, 4'x6′, 5'x6′, 6'x6′, 6'x6′ Corner, 6'x8′, 7'x7′ Corner, 8'x8′, 8'x12′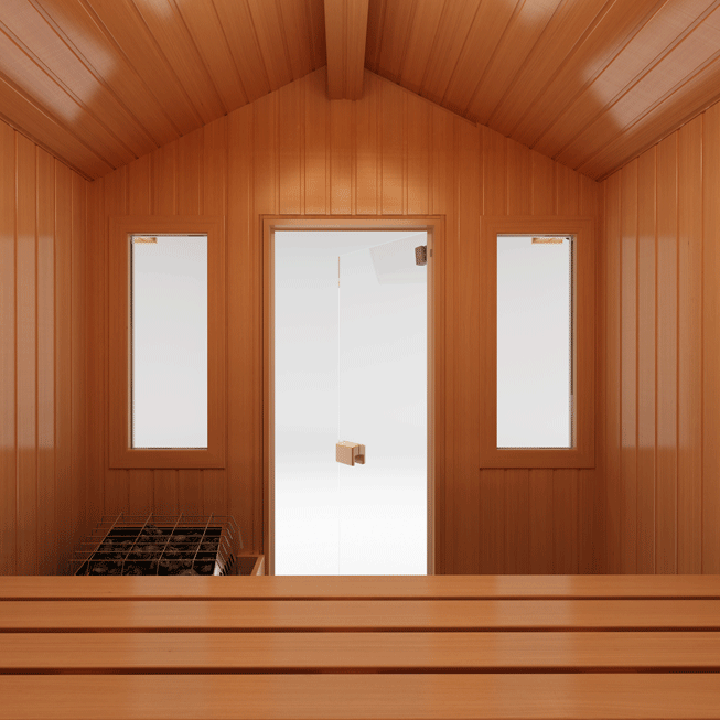 Want More? View These Saunas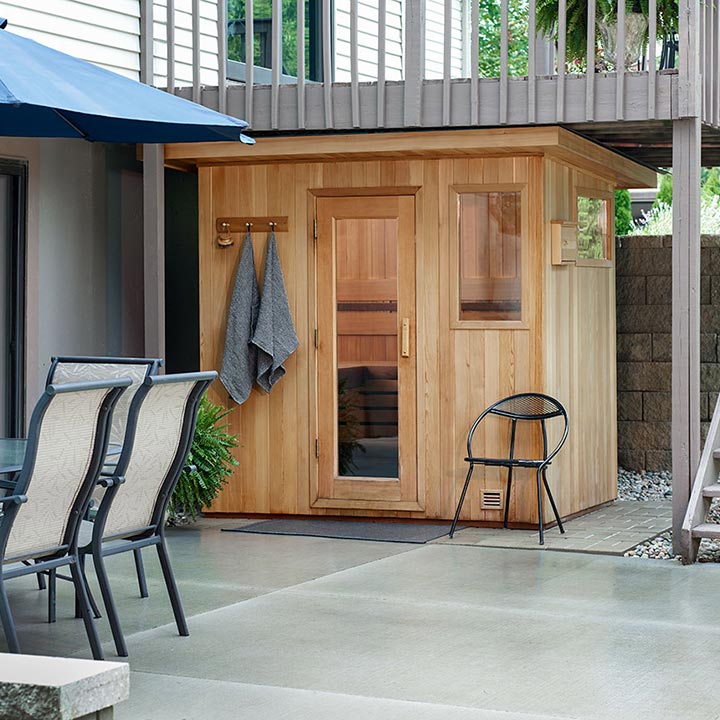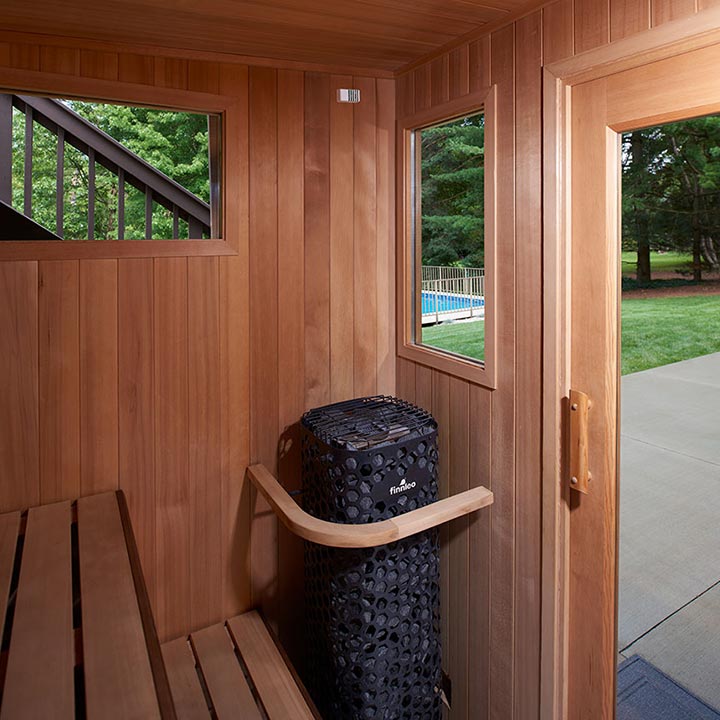 Finnleo Outdoor Euro Patio
An attractive variation of the popular Patio Sauna, the Euro outdoor sauna gives greater flexibility on where it can be installed, and a more contemporary European style design.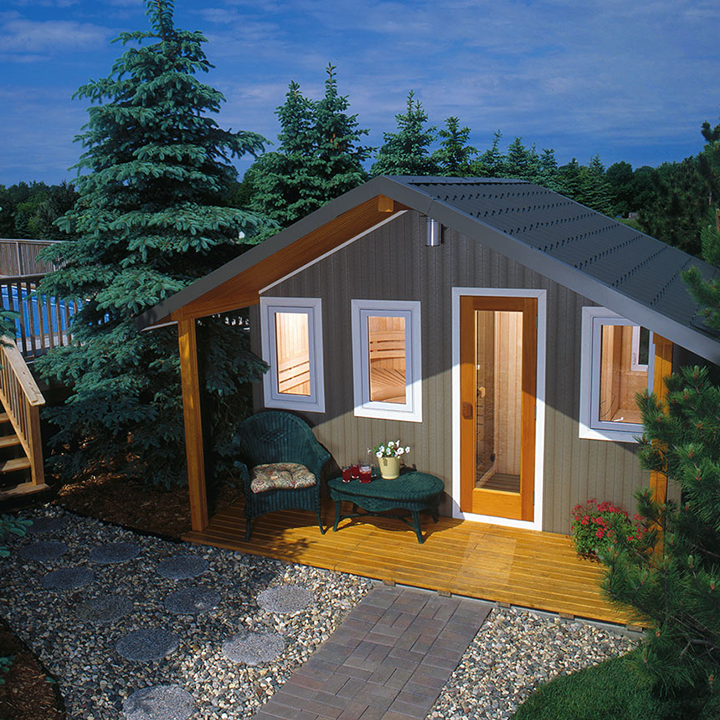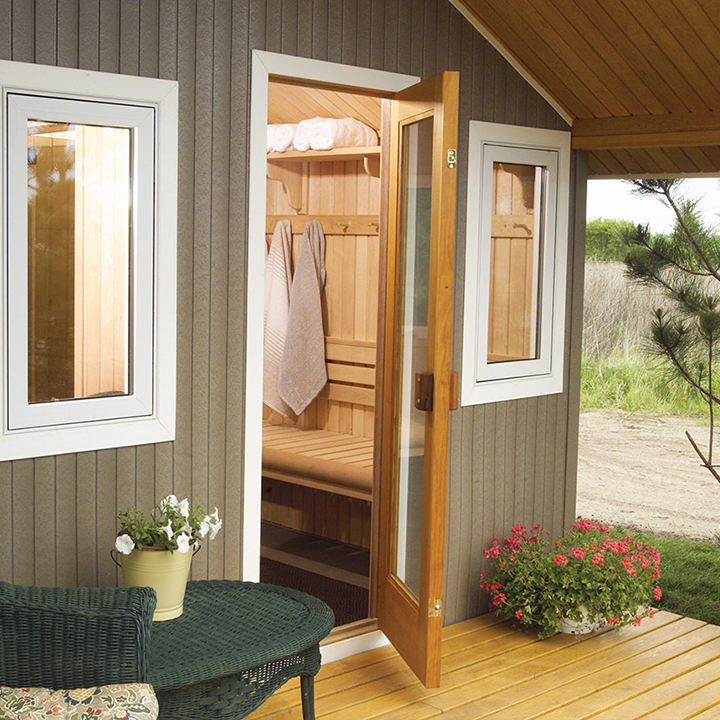 Finnleo Outdoor Metro
Finnleo's Metro outdoor saunas tie in perfectly with outdoor entertaining — pool side, spa-side, near the patio, or lakeside.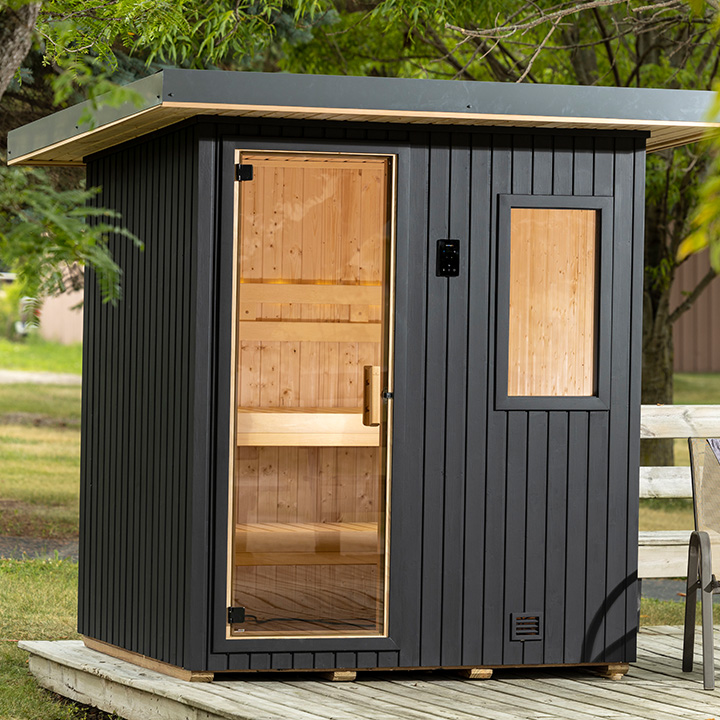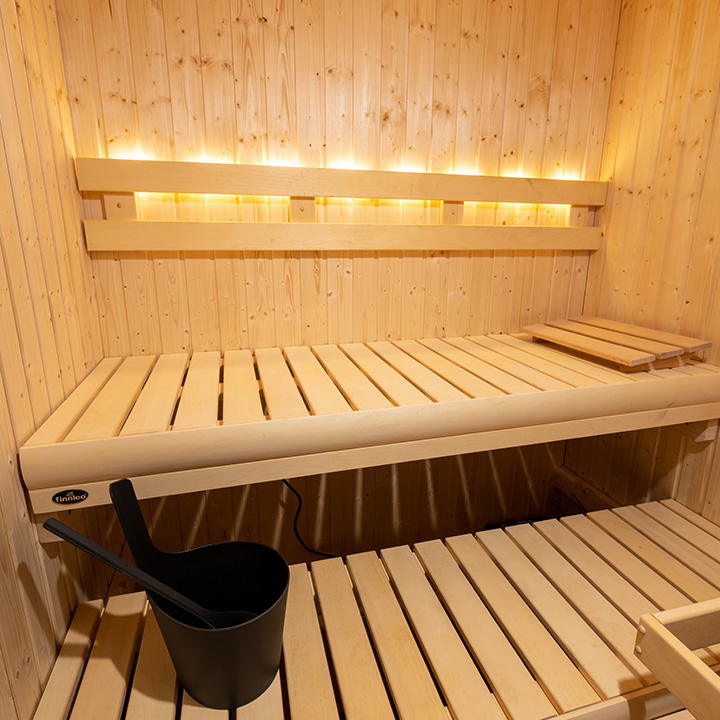 Finnleo Northstar NSO-56
The Finnleo NorthStar Outdoor Sauna's simple panel construction makes it easy to assemble in a few hours anywhere you have space-on a backyard patio, poolside, or even under a deck. The perfect complement to backyard living, the NorthStar Outdoor Sauna is easier than ever to use with your smartphone as a second control. No need to go outside to turn the heater on.