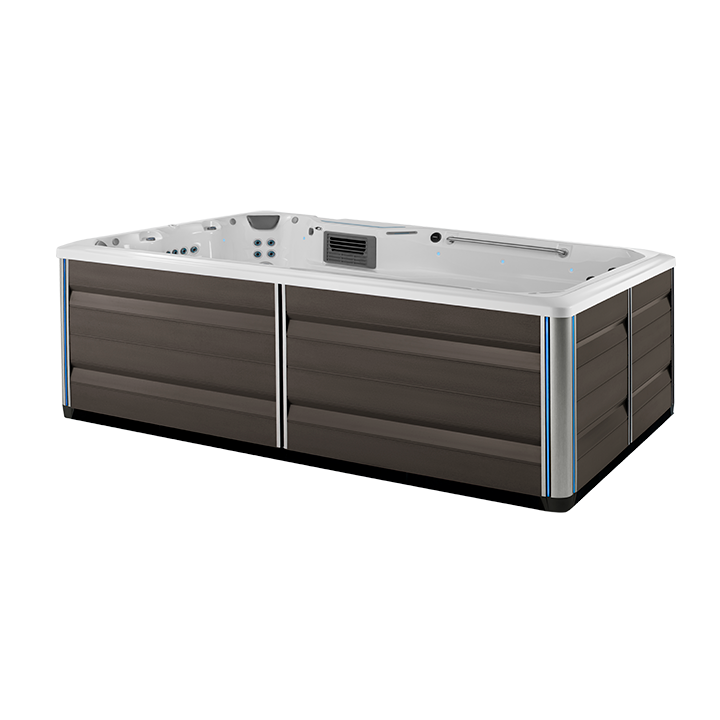 Imagine a day that begins with your wellness in mind. A sunrise swim or rigorous aquatic workout clears your mind and leaves you with a sense that there are unlimited opportunities for the day ahead. This day is made possible by the all-new SwimCross™ Exercise Systems, from the makers of Endless Pools®. The X200 blends the functionality of swimming and exercising in the privacy of your home with a uniquely beautiful design that puts SwimCross™ Exercise Systems in a class of its own.
Exercise. Play. Relax. Repeat.
Swim Jets
Using the Venturi effect, jets create less turbulence than other swim spas.
Durable Design
Steel frame and ABS base pan provide the ultimate strength.
Spa Seating
Bucketed hydromassage seats for back and foot massage, and more!
Anchors and Handrails
Attach fitness accessories including swim tether and resistance bands
Water Management
Eco-friendly CD Ozone to neutralize contaminants creates optimal water quality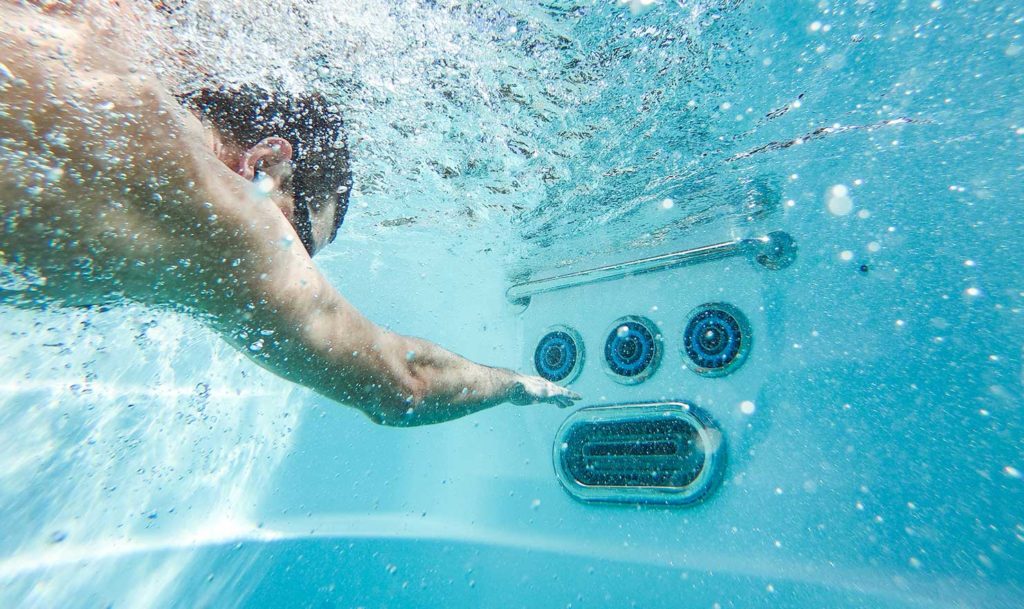 Resistance Swim Jets
The swim jets in SwimCross Exercise Systems are designed for both swim and water-workout options suitable for all ages, sizes and skill levels. Three round top jets, and an oblong river jet below, driven by two pumps, provide a steady stream of water that is more powerful than the average jet. The swim jet uses a Venturi effect, not air, to draw-in or entrain more water, effectively multiplying the volume of water. This design feature results in a water stream ideal for resistance swimming with less turbulence than other swim spas on the market.
Room for the Whole Family
The spa area of the X200 includes two bucketed hydromassage seats for back and foot massage and a 30-inch depth reef area located between the two seats; perfect for kids to play. Located next to the two bucket seats are the entry/exit steps on each side that also act as "cool down seats." Additionally, a bench style hydromassage seat is located next to the swim jets giving this unit comfortable seating for up to five and room for many more!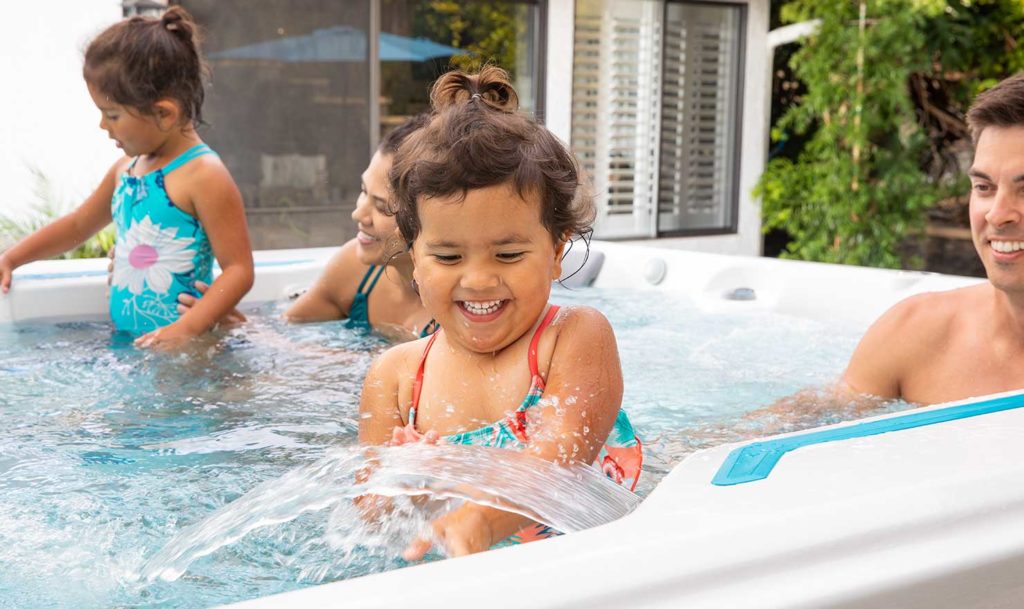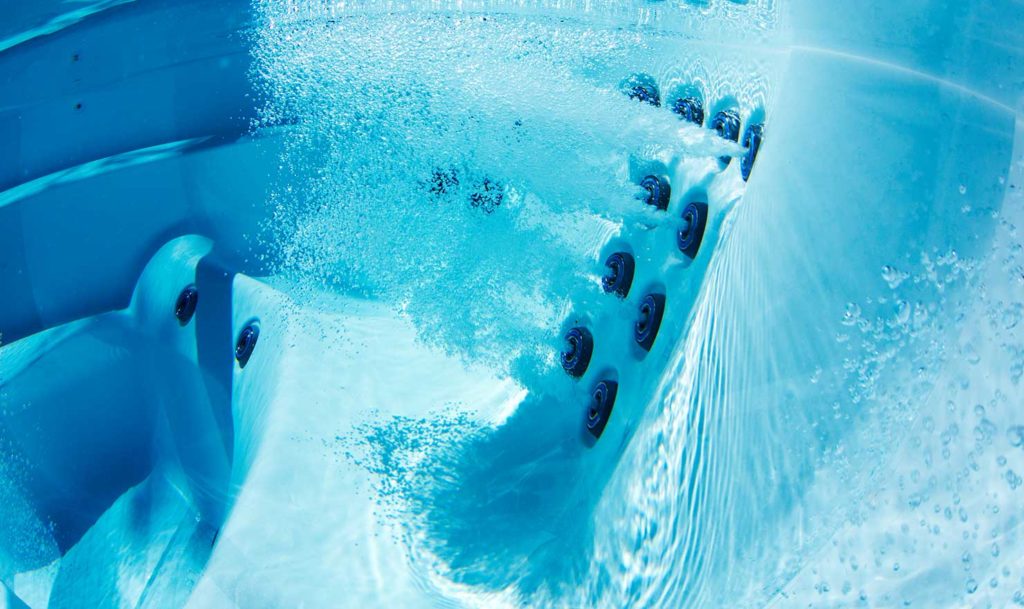 Hydromassage Spa Seating
Following your workout, there is nothing like a "cool-down" in the comfort of spa seating here hydromassage jets soothe your muscles. Perfectly positioned in two captain's chairs with pillows, plus a third middle seat, four jet types are combined in three configurations to deliver an ideal post-workout relaxation experience.
Mini Jet – A small and focused stream of water targeting specific areas of your upper back
Directional Jet – Similar to the mini, the directional is focused but with a larger stream of water
Rotary Jet – Same level of water pressure as the directional, but the jet moves to create a circular massage pattern to reach a larger area of the back.
Cluster Jet – A unique pulsating massage targeting your lower back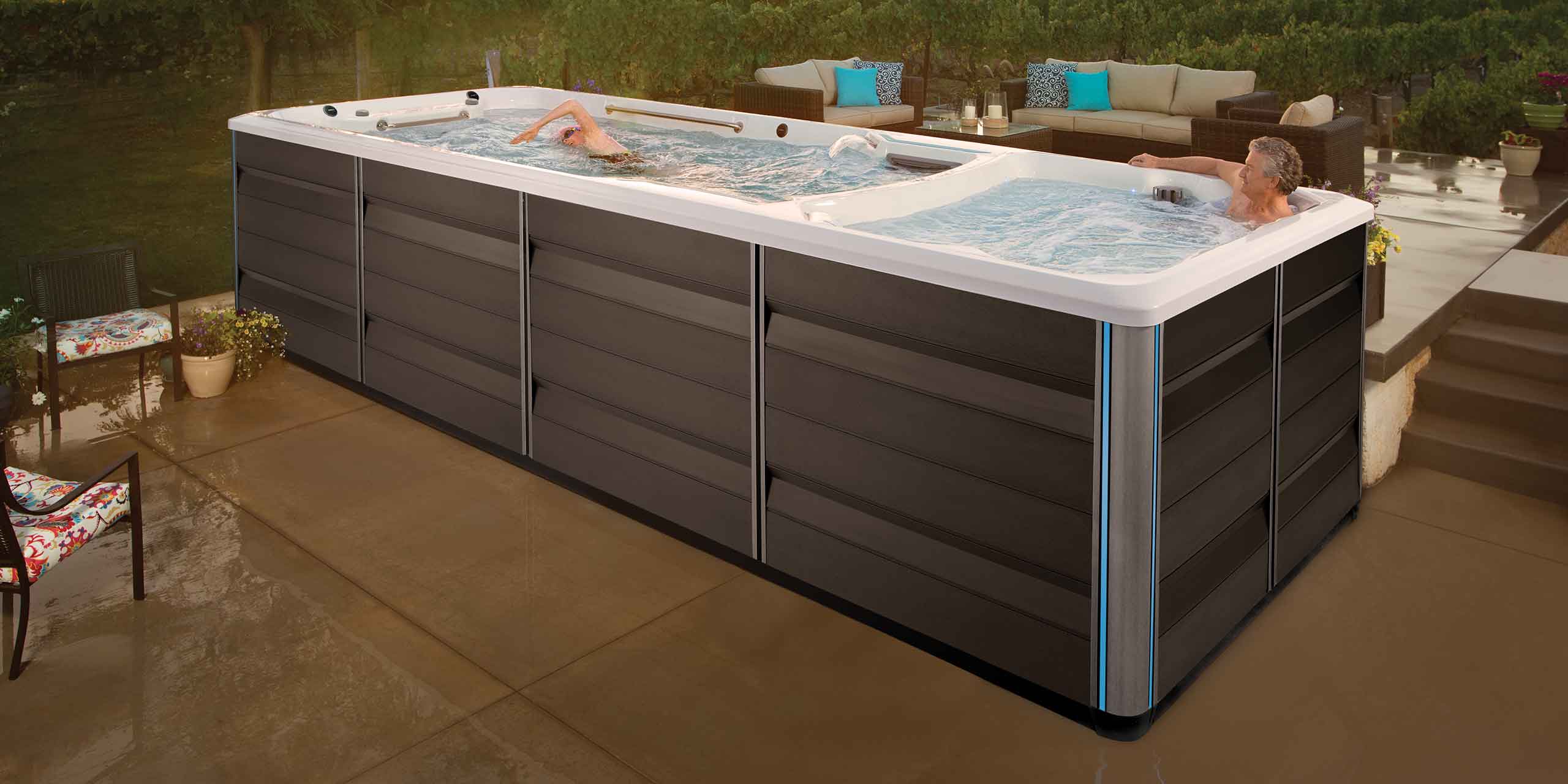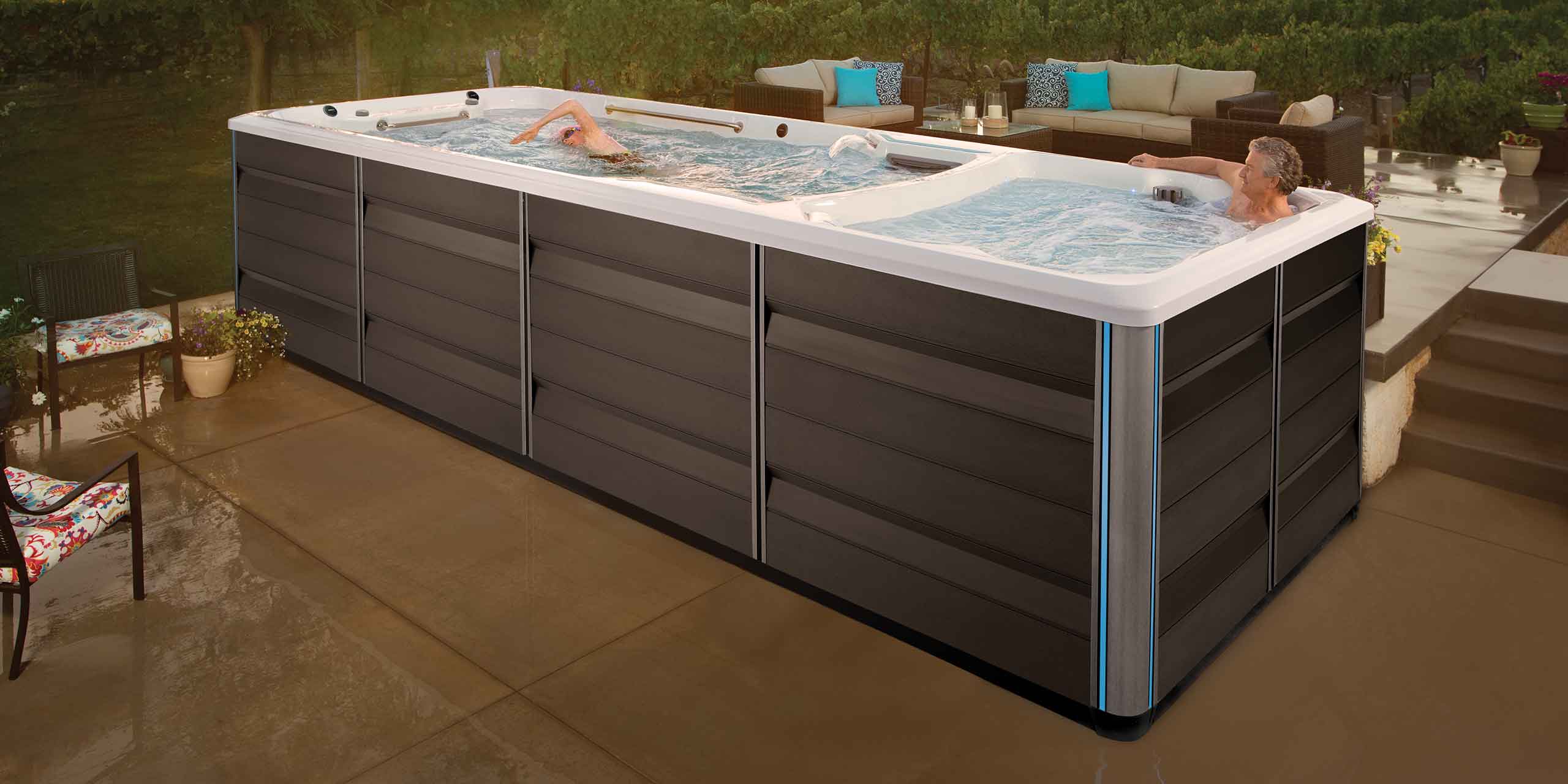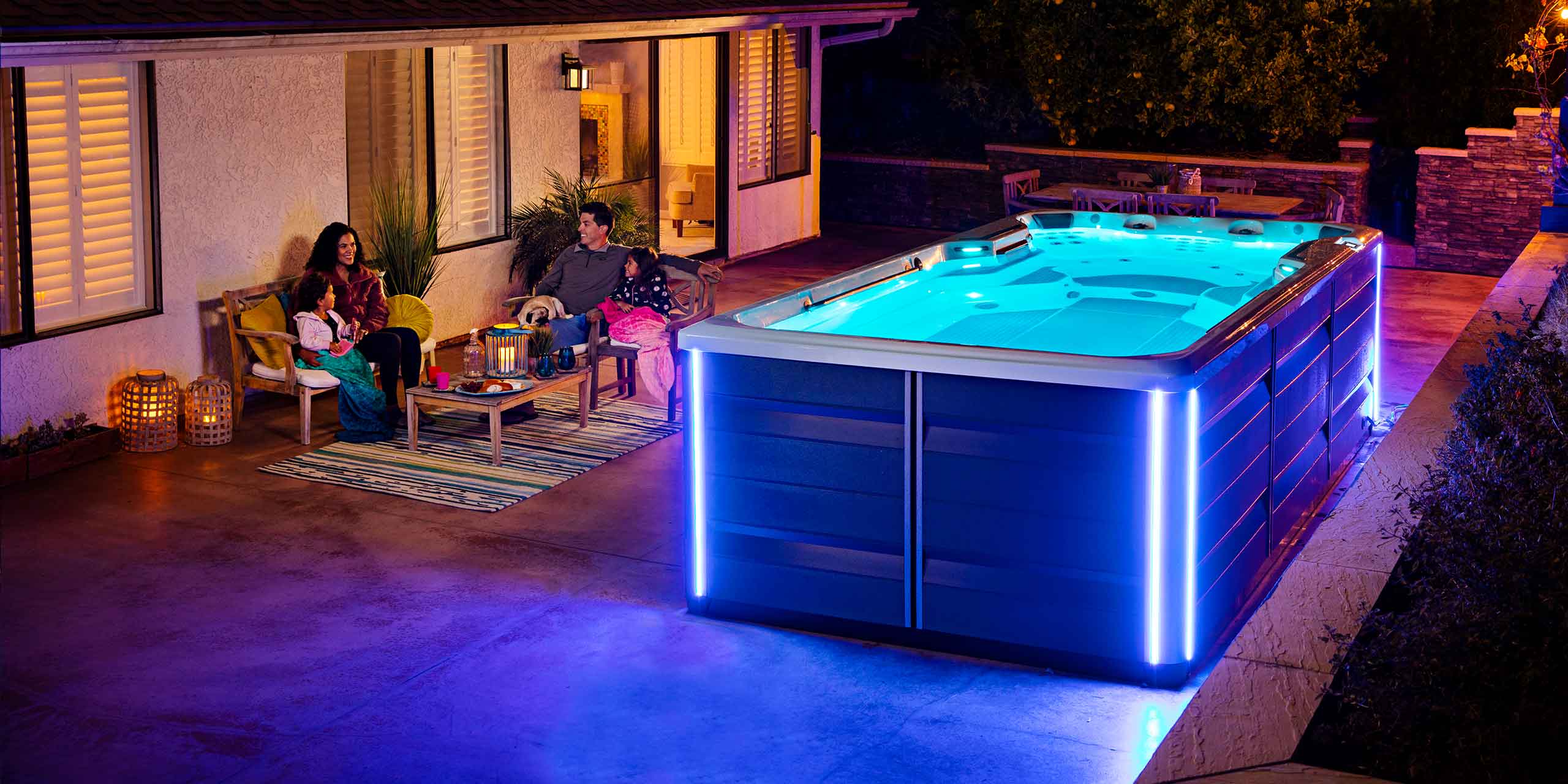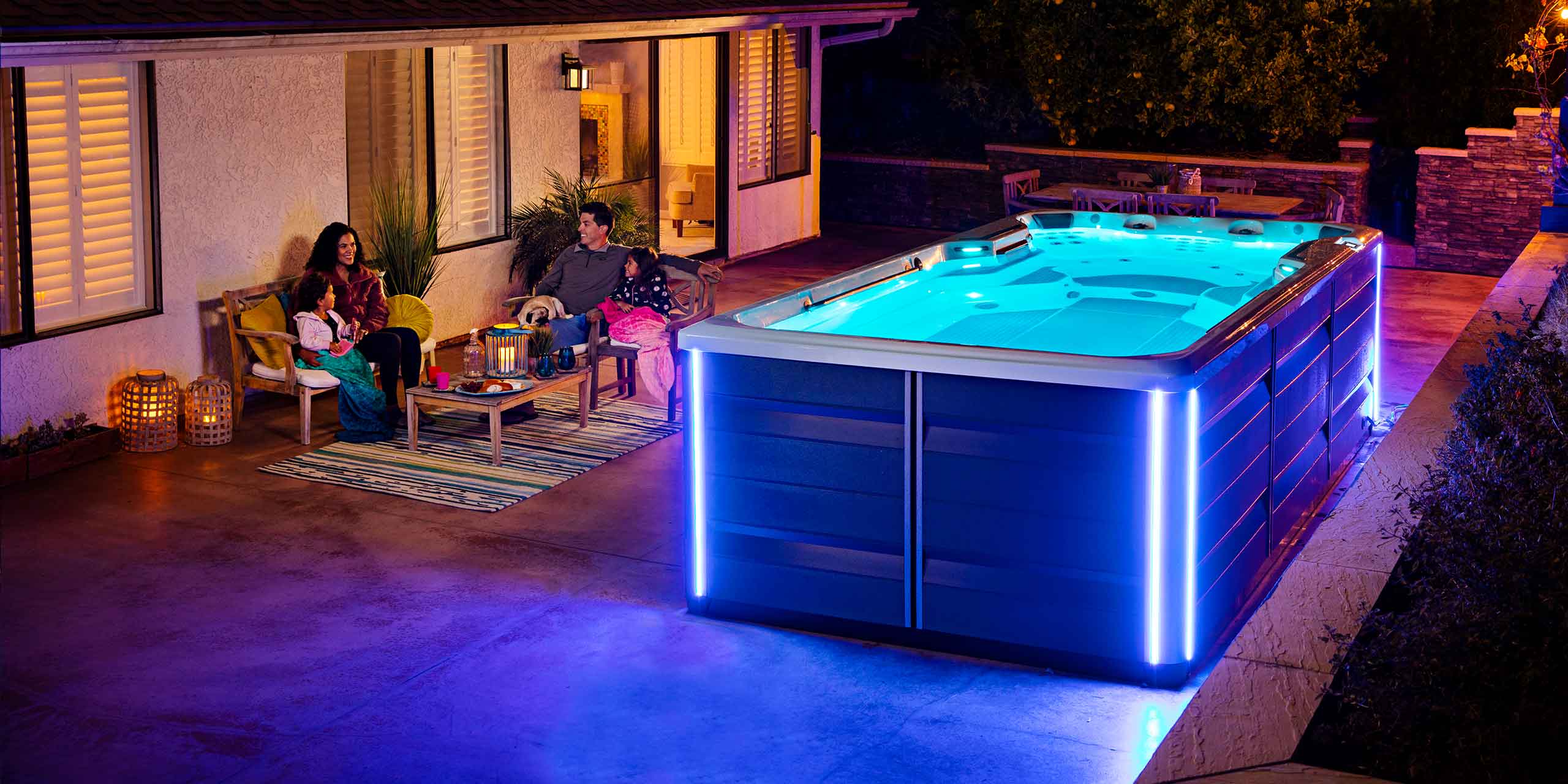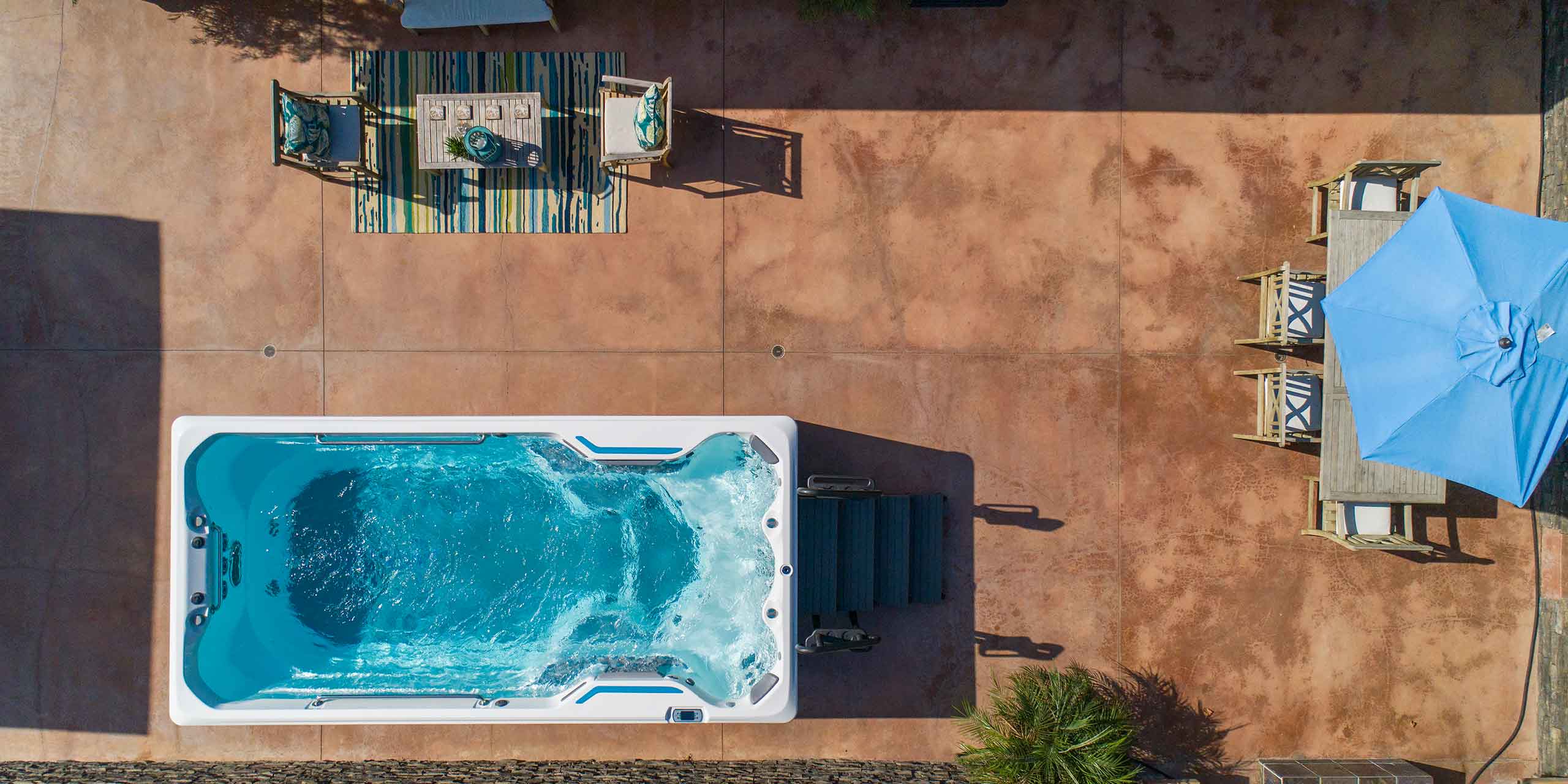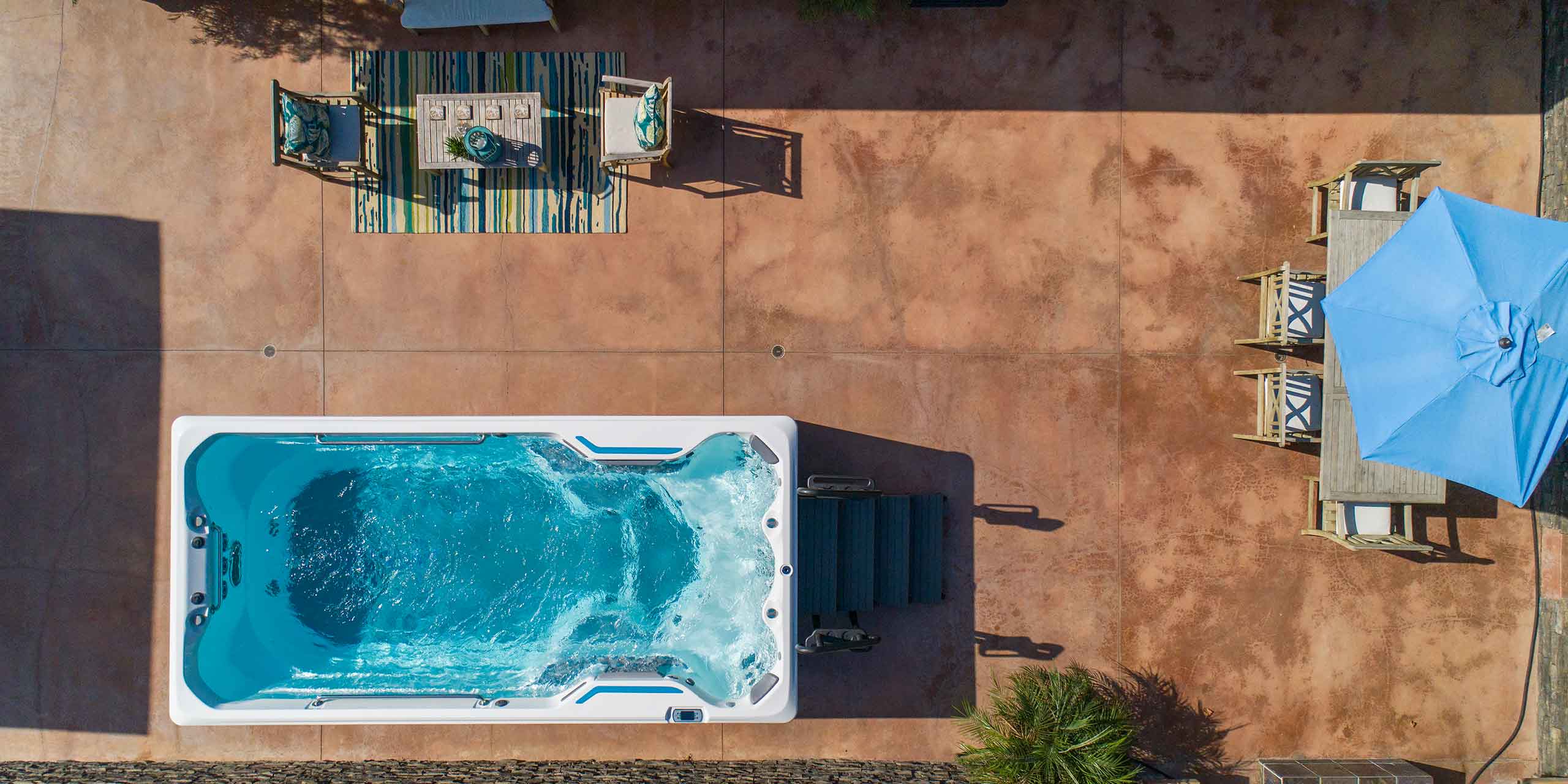 Product Specifications
Cabinet Color Options


Shell Color Options


Weight
2,255 lbs. (Dry) / 14,100 lbs. (Filled*)
Swim Technology
3 Round Jets on Top and 1 River Jet Below – Max 410 Gallons Per Minute
Swim Jet Pumps
2.5 HP Continuous Duty; 5.2 HP Breakdown Torque – (1) Single Speed & (1) Dual Speed
Hydromassage Jets – 27
1 Large Jet
2 Rotary Jets
2 Directional Jets
22 Mini Jets
Hydromassage Jet Pump
2.5 HP Continuous Duty; 5.2 HP Breakdown Torque – Dual Speed Pump
Control System
LCD Control Panel; 230v/60amp, 60 Hz, includes G.F.C.I. protected sub-panel
Effective Filtration Area
100 Square Feet (2 x 50 Square Feet)
Lighting System
15 Multi-Color LED Lights, Optional Exterior LED Lighting Kit
Substructure
14 Gauge Galvanized Steel Frame
Base Pan
Thermoformed ABS Base Pan
Energy Efficiency
Certified to the APSP 14 National Standard and the California Energy Commission (CEC) in accordance with California Law
Stainless Steel Grab Rails
3 Satin Stainless Steel Rails
Music Option
8 Speakers + Subwoofer, Bluetooth® Enabled
*Includes water and 10 adults weighing 175 lbs. each
Want More? Consider These Swim Spas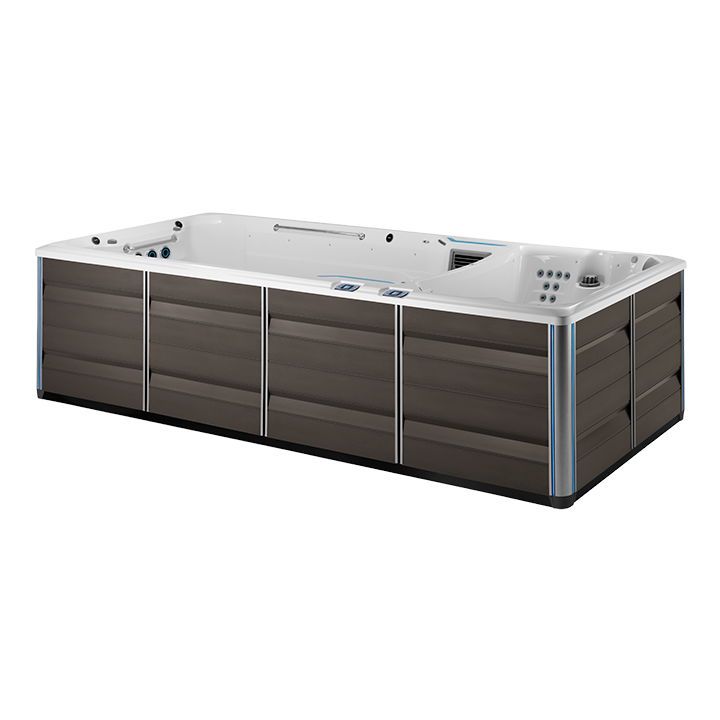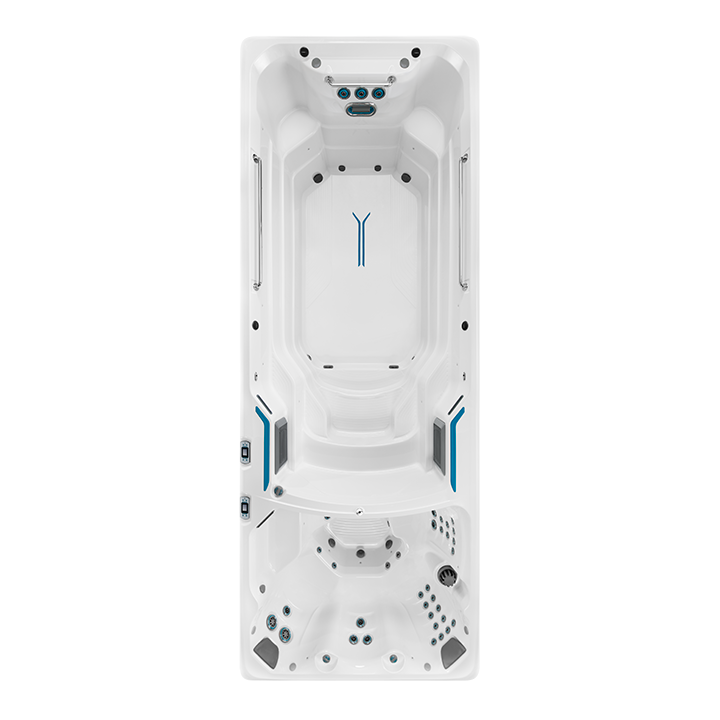 Endless Pools SwimCross X2000
Exercise, play, and relax, all in the comfort of your backyard, with the SwimCross™ Exercise Systems X2000.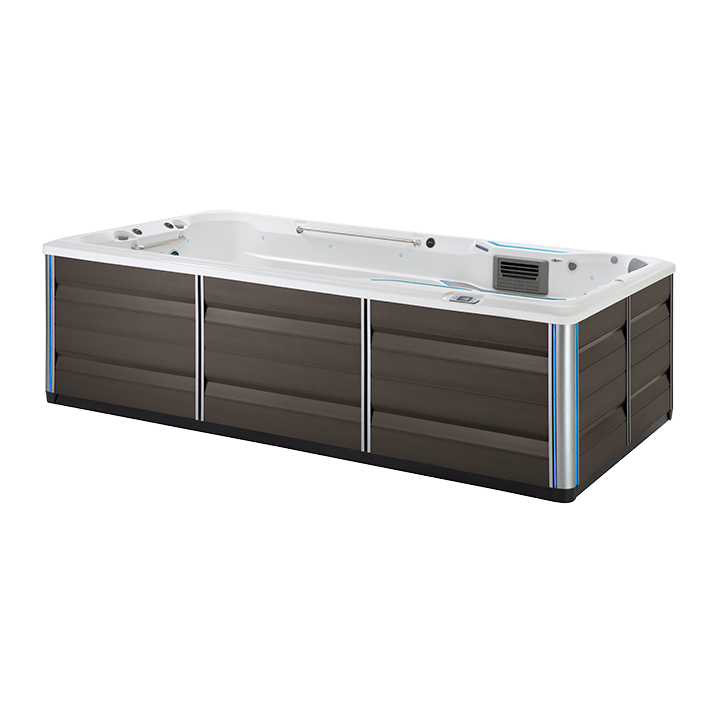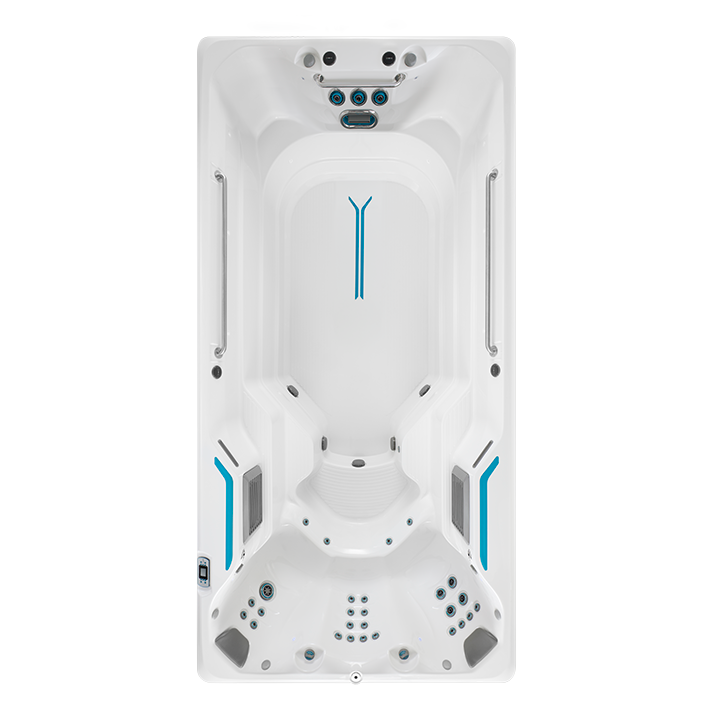 Endless Pools SwimCross X500
Our new jetted swim current lets you exercise with gentle resistance, and then unwind in ergonomically sculpted hydromassage seats.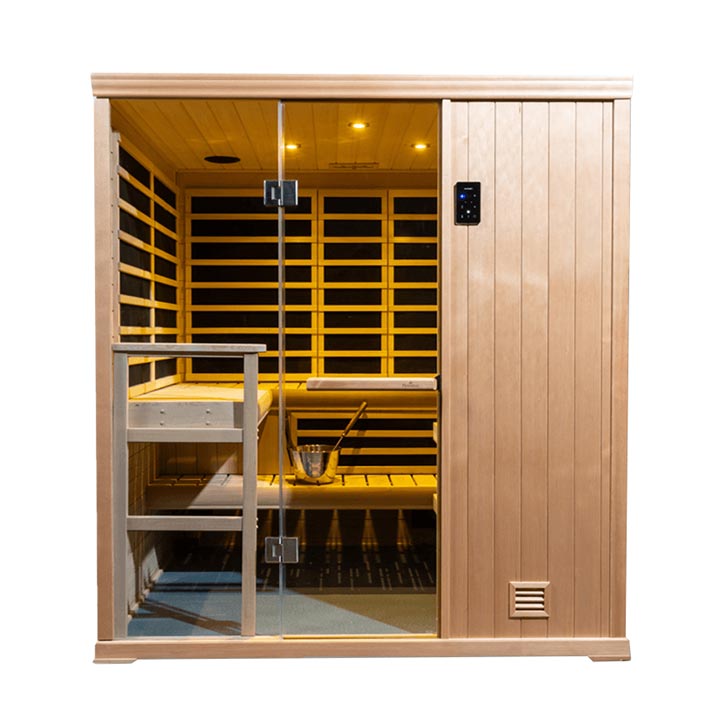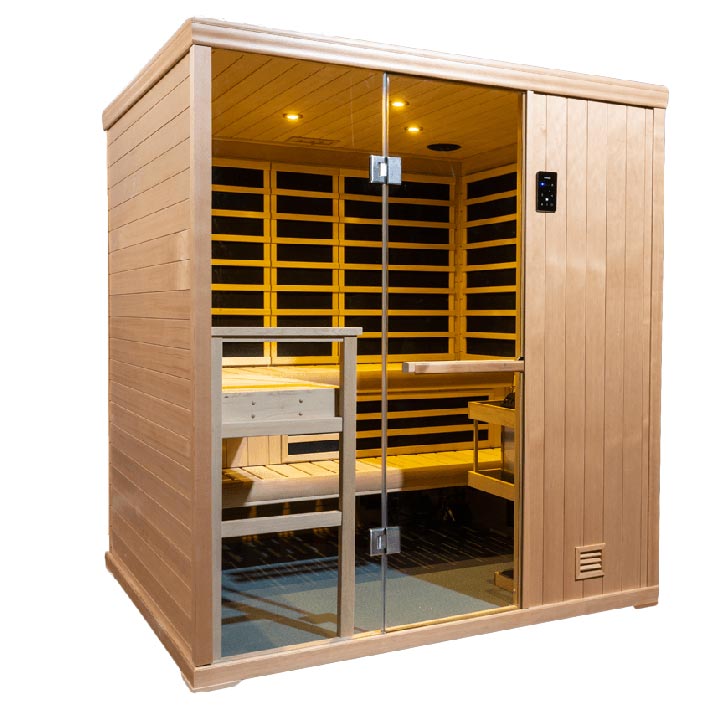 Finnleo InfraSauna IS565
This hybrid sauna features infrared or traditional use (the bather decides) in a family size sauna.