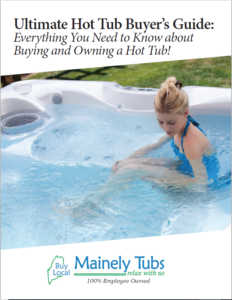 ULTIMATE HOT TUB BUYER'S GUIDE!
Download Today!
An amazing massage. A private retreat. Meaningful conversation. Family time. A starry night.
With a Hot Spring spa you can enjoy these special moments and wellness benefits day-in and day-out for years to come.
POPULAR FOR A REASON.
Our popular low-maintenance, energy efficient Hot Tubs have been enjoyed by Mainers (including us!) from Kittery to Rangeley to Presque Isle.
TRUSTED EXPERIENCE.
Since 1978 Mainely Tubs has been selling and supporting Hot Tubs in Maine. For you, this simply means you'll get the best personalization, backyard planning, delivery, watercare support, and warranty service – performed by our award-winning staff.
Come fly our jets!
Reserve the Private 'Test Soak' Room or choose any hot tub in the showroom. We'll provide the bathrobes, towels and tubs… you'll just need a suit!
START YOUR JOURNEY TOWARDS
YOUR OWN BACKYARD PARADISE
See Our Amazing Selection of Hot Tubs and Portable Spas In-Person
The Mainely Tubs showroom experience is second to none, with all of our incredible Portable Spas, 2-Person Hot Tubs and large Outdoor Hot Tubs on display. Whether you're looking for an incredible hydrotherapy experience, or simply a place to sit and relax at the end of a long day, we have you covered! Don't forget to ask about how you can take a test driver, and test soak any amazing hot tub you're considering.
The Best Hot Tub, Swim Spa and Sauna Dealer in Maine and New Hampshire
From planning to ownership and everything in between, we're here to make your hot tub buying experience the best it can be. Beginning with a free backyard consultation and planning session, our design experts will take you through shopping, delivery, and long-term ownership.
With outdoor hot tubs our specialty, we'll ensure you make the right choice in a quality hot tub that's sure to bring years of family fun, improved health and hydrotherapy to you and yours.
White Glove Service and Great Hot Tub Service and Repair
For the first 90 days of owning your new HotSpring, Limelight, or Hot Spot spa (30 days for a new Freeflow) we will send one of our skilled technicians to your home to help you understand and learn how to use your hot tub and balance your water properly.
Whether its a 2-person hot tub or one of our larger models, you're likely to have questions, and we're ready to help. A free service for new hot tub owners, we're happy to give you the knowledge you need to enjoy years of hydrotherapy and fun! Call our service department to schedule this complimentary service!
The Hot Tub Lifestyle – Home Hydrotherapy in Your Own Backyard
Outdoor hot tubs are no longer just for the affluent. In fact, with many great benefits beyond hydrotherapy, even portable spas and small hot tubs are an important part of a healthy lifestyle.
Twenty minutes a day can relieve stress and tension, ease muscle aches and pains, reduce soreness and stiffness from many chronic conditions, including arthritis, decrease insomnia, even reduce symptoms associated with type 2 diabetes! More customers than ever before are seeking out hot tubs and spas for improved health and entertainment, and we're pleased to be part of an exciting opportunity to benefit body and mind.