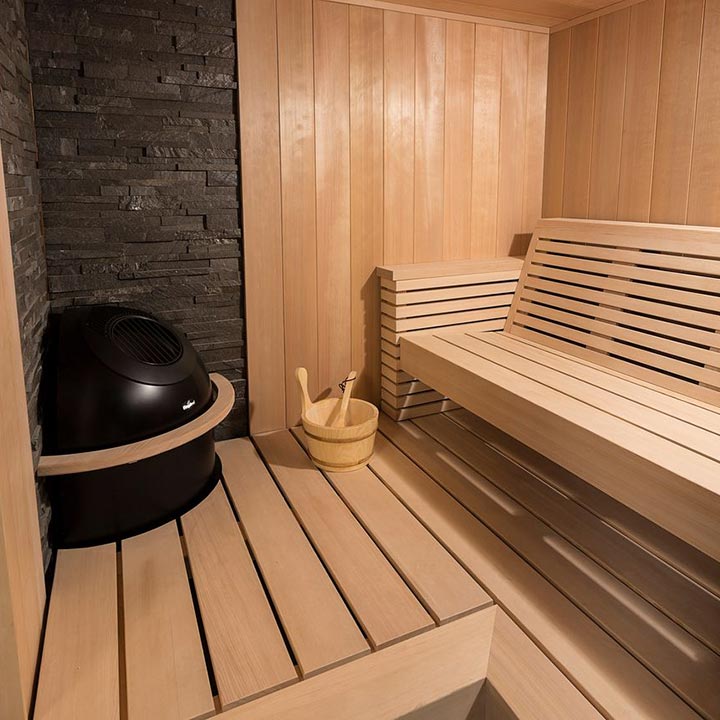 Finnleo's Seaside sauna recreates the feel of sitting "seaside" and relaxing on a comfortable reclining bench or chair. Add this interior to your custom-cut sauna.
Contemporary glass-to-glass corner creates an amazingly open feel
Luxury backrests
Recessed LED lighting
Two-tone combination of Western Red Cedar with Abachi to create a luxurious look and feel
Exterior of oil-rubbed cedar with contrasting black melamine background
Shown with Pikkutontu and Digi-I Control
iPod Locker optional
Available with new T1 Touch Control System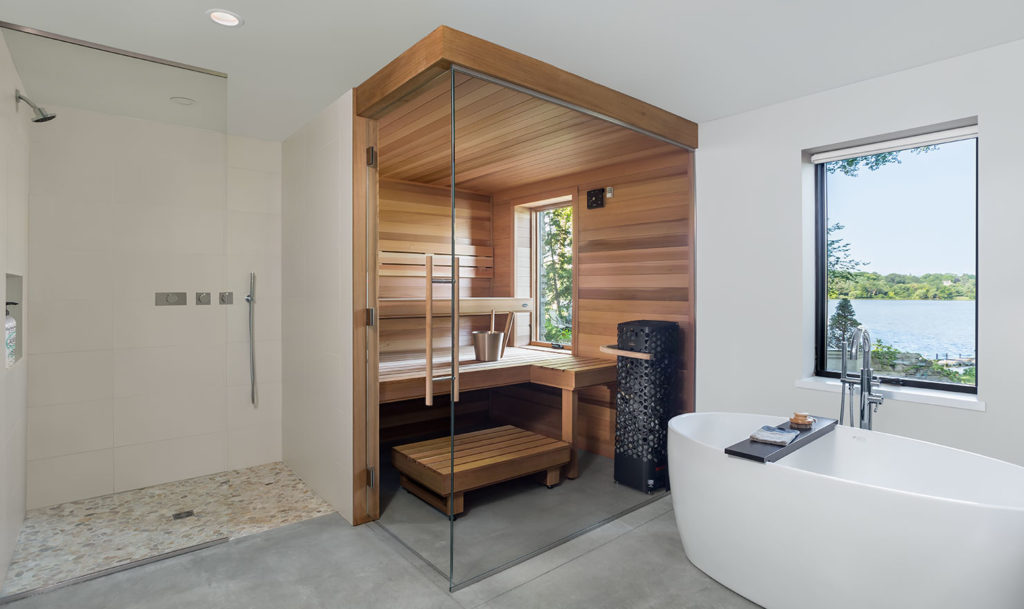 Unlimited Options
Innovative use of glass windows and doors. Unusual angles. Unique bench configurations. With a Finnleo Custom-Cut Sauna, you can achieve them all.
All Finnleo® Custom-Cut Saunas include:
Interior walls and ceiling, cut-to-length, tongue and groove, Nordic White Spruce (or other woods of your choice)
All interior trim
A genuine Finnleo® heater, rocks and heater guard
Pre-assembled benches, headrests and backrests. Widest standard bench widths in the industry (24″ wide for sauna depths 5′ or more)
Pre-hung All-Glass door (or other door options)
Room light, duckboard flooring, thermometer, and foil vapor barrier
Stainless Steel or Copper bucket, ladle, and all hardware
Manufactured in the USA by Finnleo® Choose from six door options, several interior options, and four wood options: Nordic Whitewoods and Abachi — the trademark of Finnleo® Saunas, or clear Western Red Cedar, or Canadian Hemlock with Abachi
Your Design. Our Expertise.
Your design, in partnership with Finnleo experience and quality, assures unmatched form and function. If you can design it, we can build it. We'll pre-cut the finest materials for your walls and ceiling, and pre-build the benches and door all for final installation on your framed walls. Simply provide the inside dimensions, the door location and your preference for bench configuration, and we'll do the rest.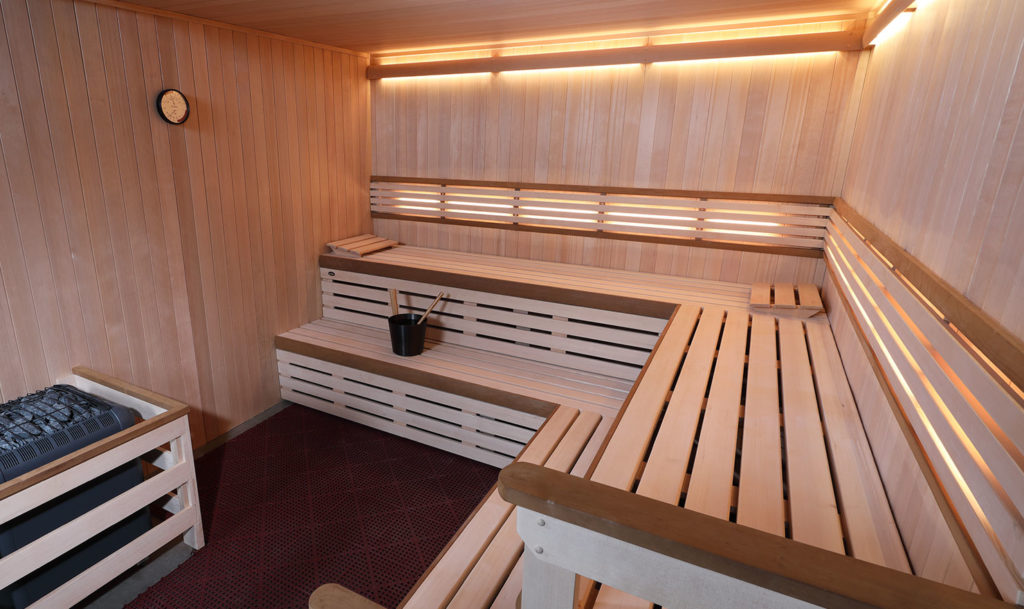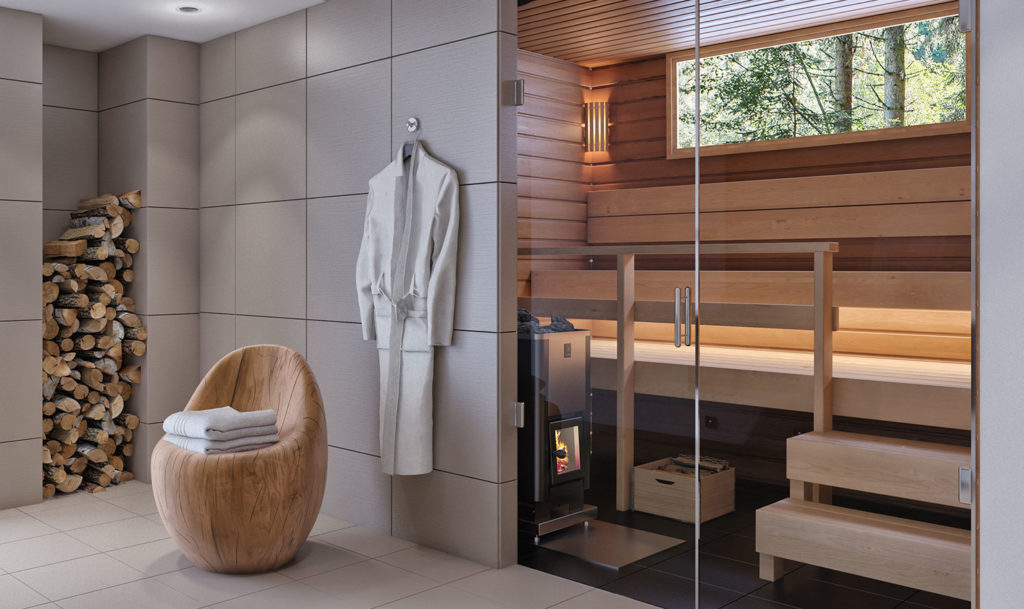 Need a Design Assist?
If you need design assistance to overcome potential challenges, we can help. Contact us. We'll provide free recommendations and C.A.D. drawings.
Product Specifications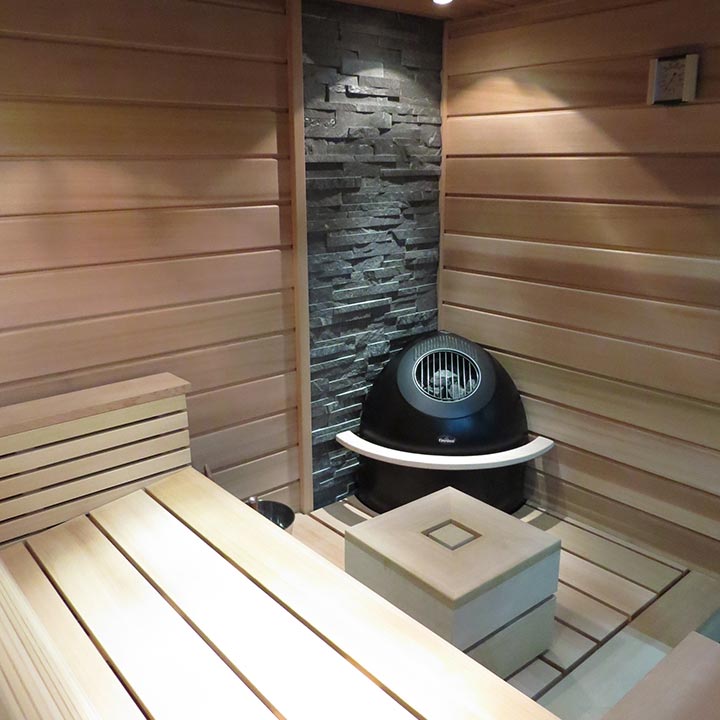 Want More? Try These Saunas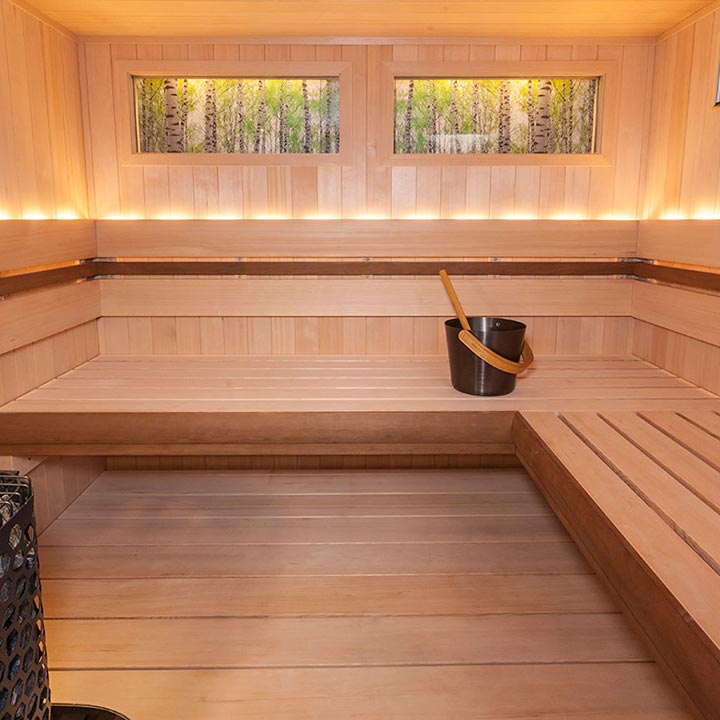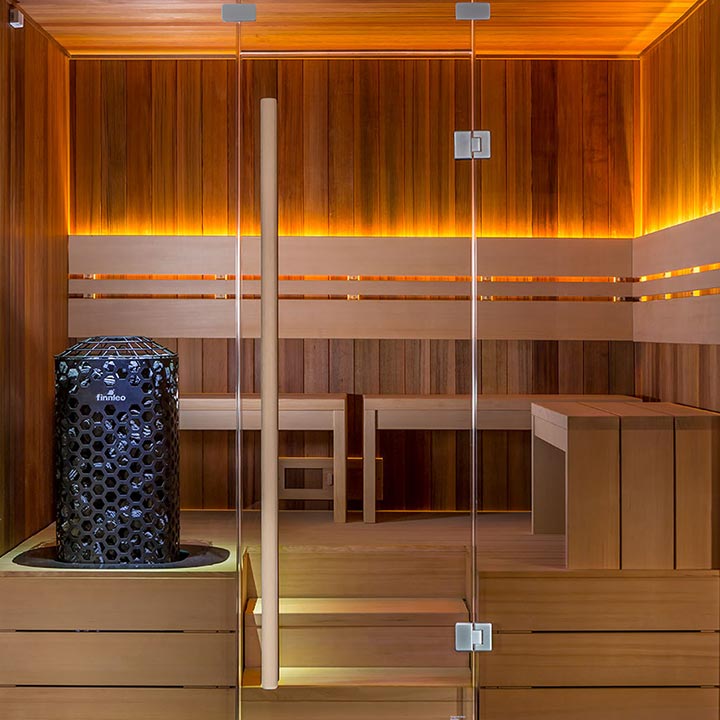 Finnleo Custom Cut Deco Interior
Deco takes the art of interior sauna design to new heights.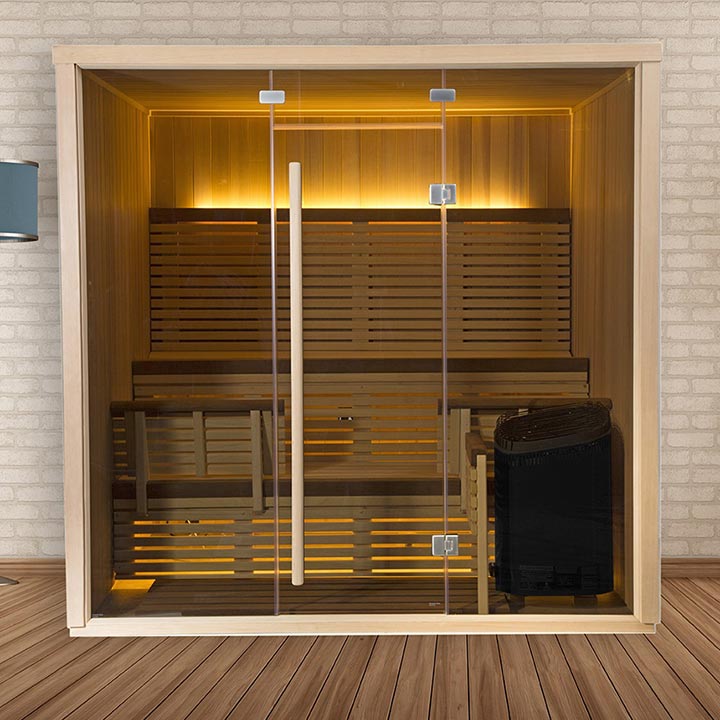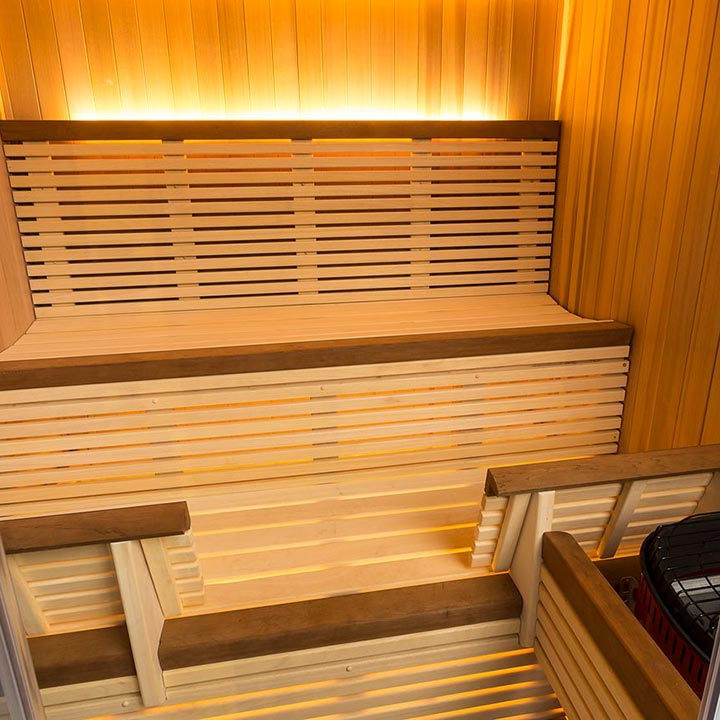 Finnleo Custom Cut Serenity Interior
The Finnleo Serenity encompasses several features, including a 3-tier benching system for maximum heat enjoyment and easy step-up.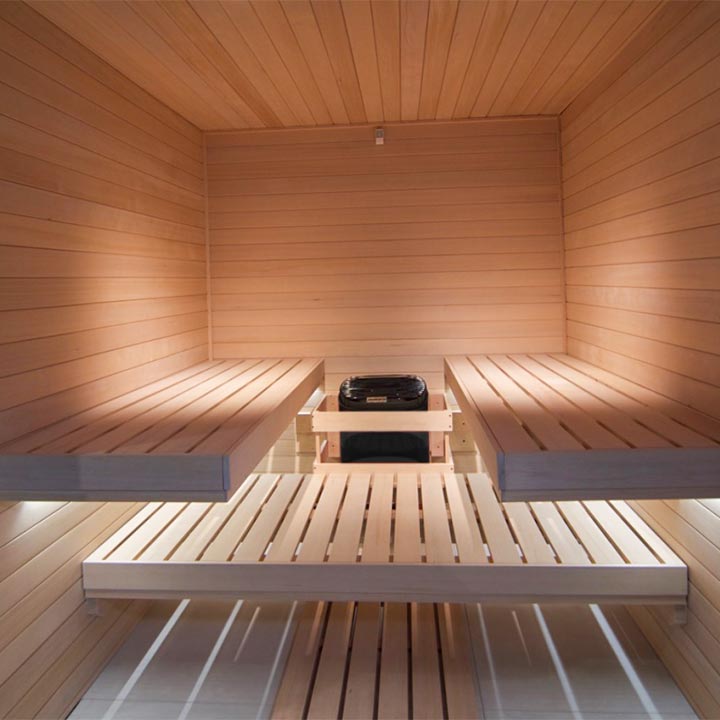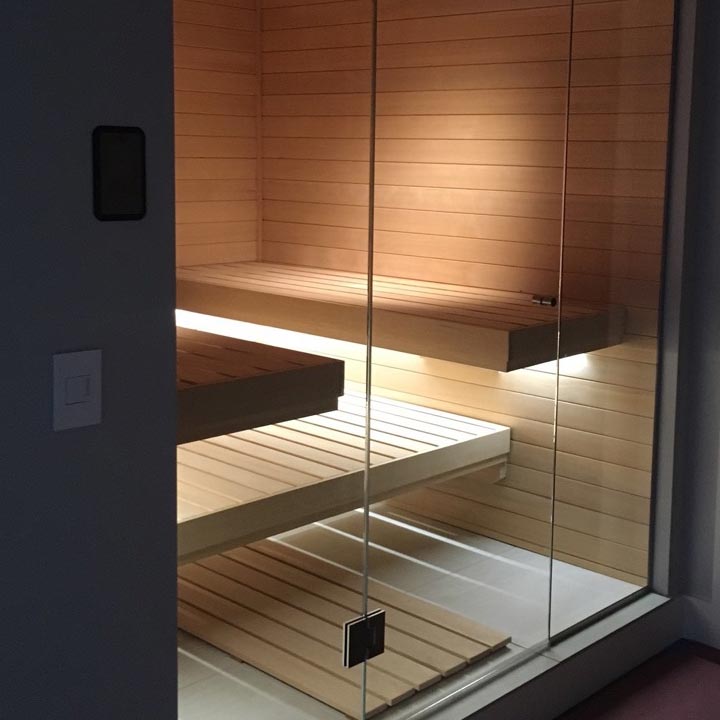 Finnleo Custom Cut Floating Bench Interior
Floating Bench Interior can be incorporated into almost any Custom-built Finnleo sauna that has non-glass sidewalls.