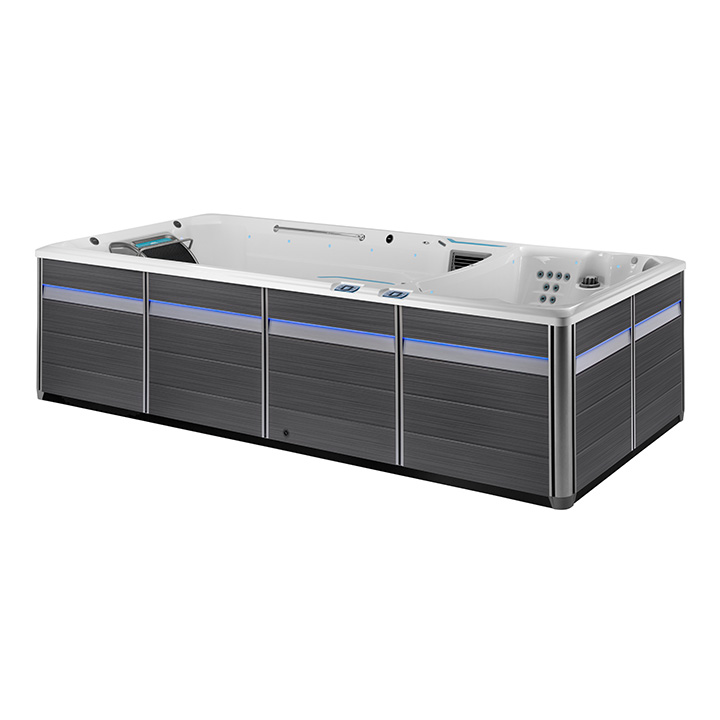 The ultimate for wellness, fitness and relaxation.
The E2000 delivers on that promise. The E2000 boasts the industry's best swim-in-place experience, now with a dedicated spa side, so you can regulate temperatures on both sides, independently. We've paired the industry leading Endless Pools Swim Machine with our optional underwater treadmill, low-impact exercise equipment plus relaxing warm water hydrotherapy. Swim, run, exercise and then relax, all in the privacy of your backyard, any time you want.
Designed for Shareable Moments
Swim Machine
Custom-made, hydraulically powered propulsion system
Full Home Wellness
Options provide a full body workout, whatever your pleasure
Low Impact Running/Walking
Be kind to your body with optional underwater treadmill
Swim Lane Marker
Lane markers help you stay centered in the swim lane
Spa Seating
Hydromassage jets soothe muscles post workout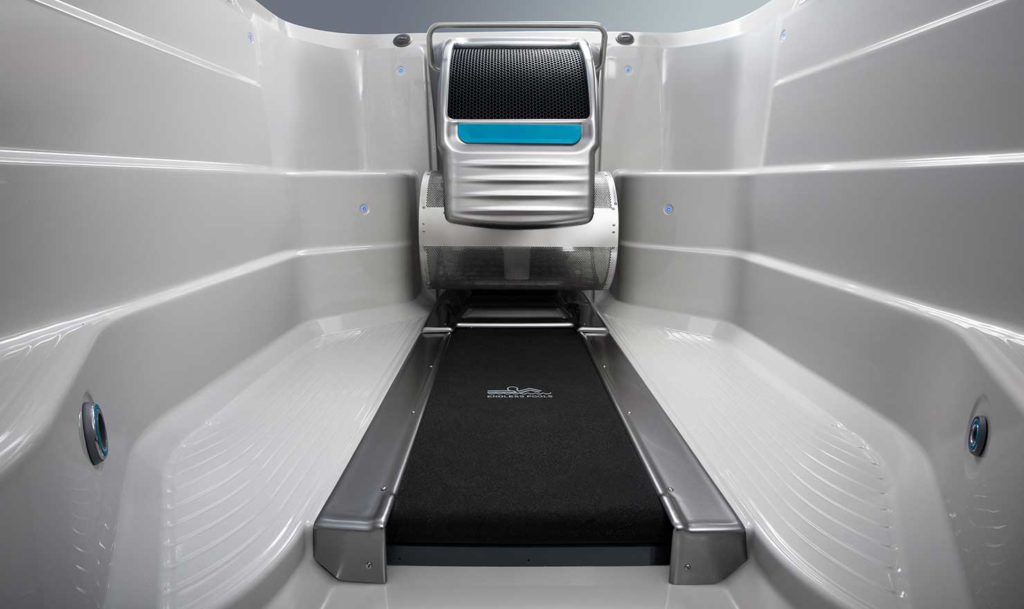 Endless Pools Shell Design
The shell design is revolutionary in the way its advanced look and feel will provide you with a fitness system that you can be proud to own and have as the centerpiece of your backyard. The bar top completes the beautiful and modern style, which flows gracefully from the spa seats to the swim current generator. Upon first glance, it's immediately clear that the collaboration between our designers and engineers has resulted in a shell that stands above in both form and function. The shell is available in Alpine White or Ice Gray.
The Original Endless Pools Swim Machine
Unlike any other swim spa. Endless Pools' flow is wider than your body and deeper than your stroke.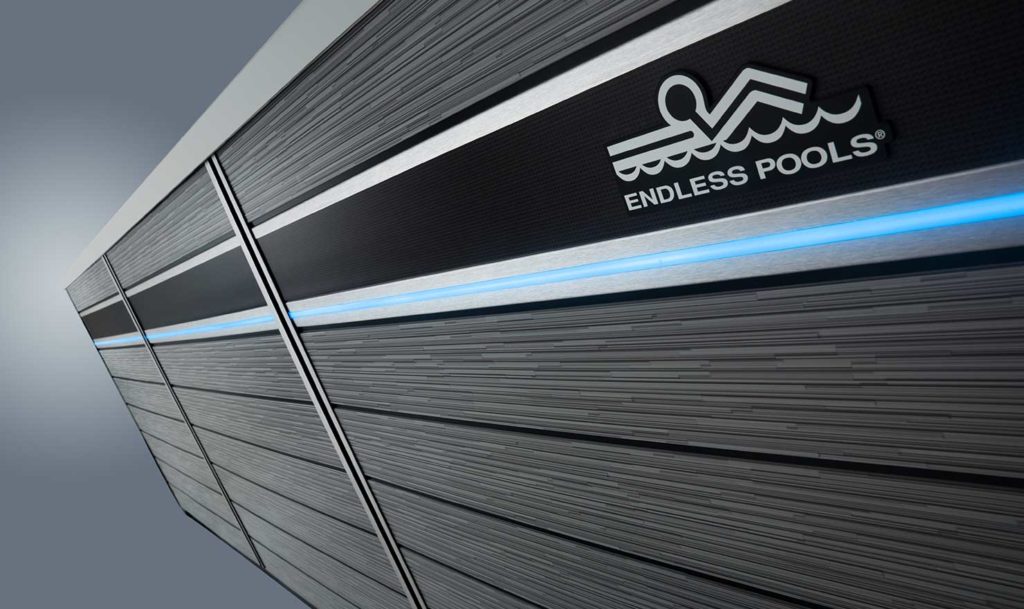 All-Season Cabinet
The Endless Pools® Fitness Systems maintenance-free cabinet was specifically designed for durability and beauty, with a rich finish that creates a feeling of depth while delivering simple maintenance. The panels are available in two distinctive colors – Dark Mocha or Gray Oak – and are attached to the frame by innovative T-Spacers that hide hardware and help tie together the complete look.
Hydromassage Spa Seating
Perfectly positioned in two captain's chairs with pillows, plus a third middle seat, four jet types are combined in three configurations to deliver an ideal post-workout relaxation experience.
Mini Jet – A small and focused stream of water targeting specific areas of your upper back
Directional Jet – Similar to the mini, the directional is focused but with a larger stream of water
Rotary Jet – Same level of water pressure as the directional, but the jet moves to create a circular massage pattern to reach a larger area of the back.
Cluster Jet – A unique pulsating massage targeting your lower back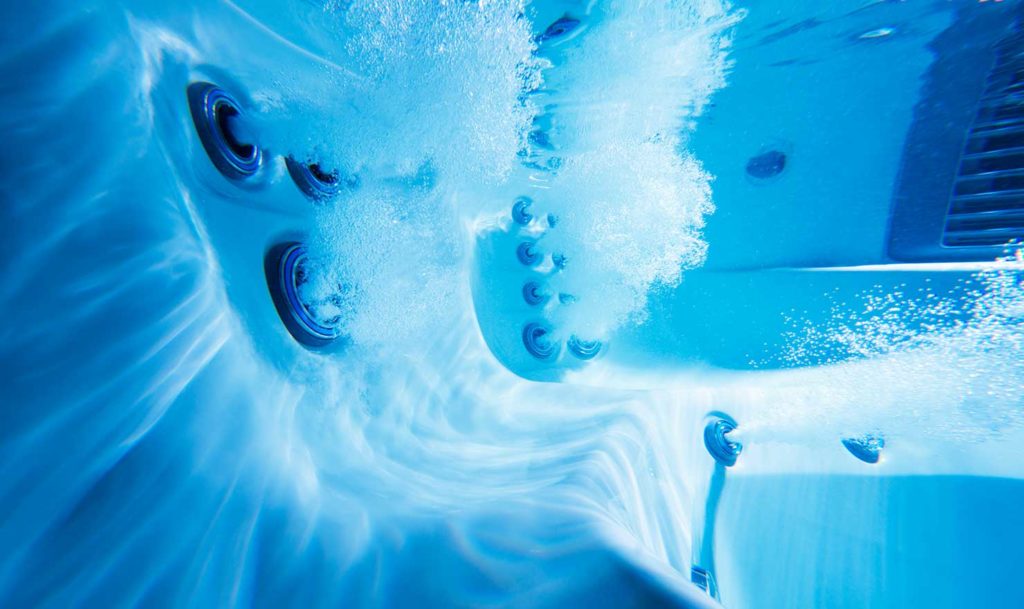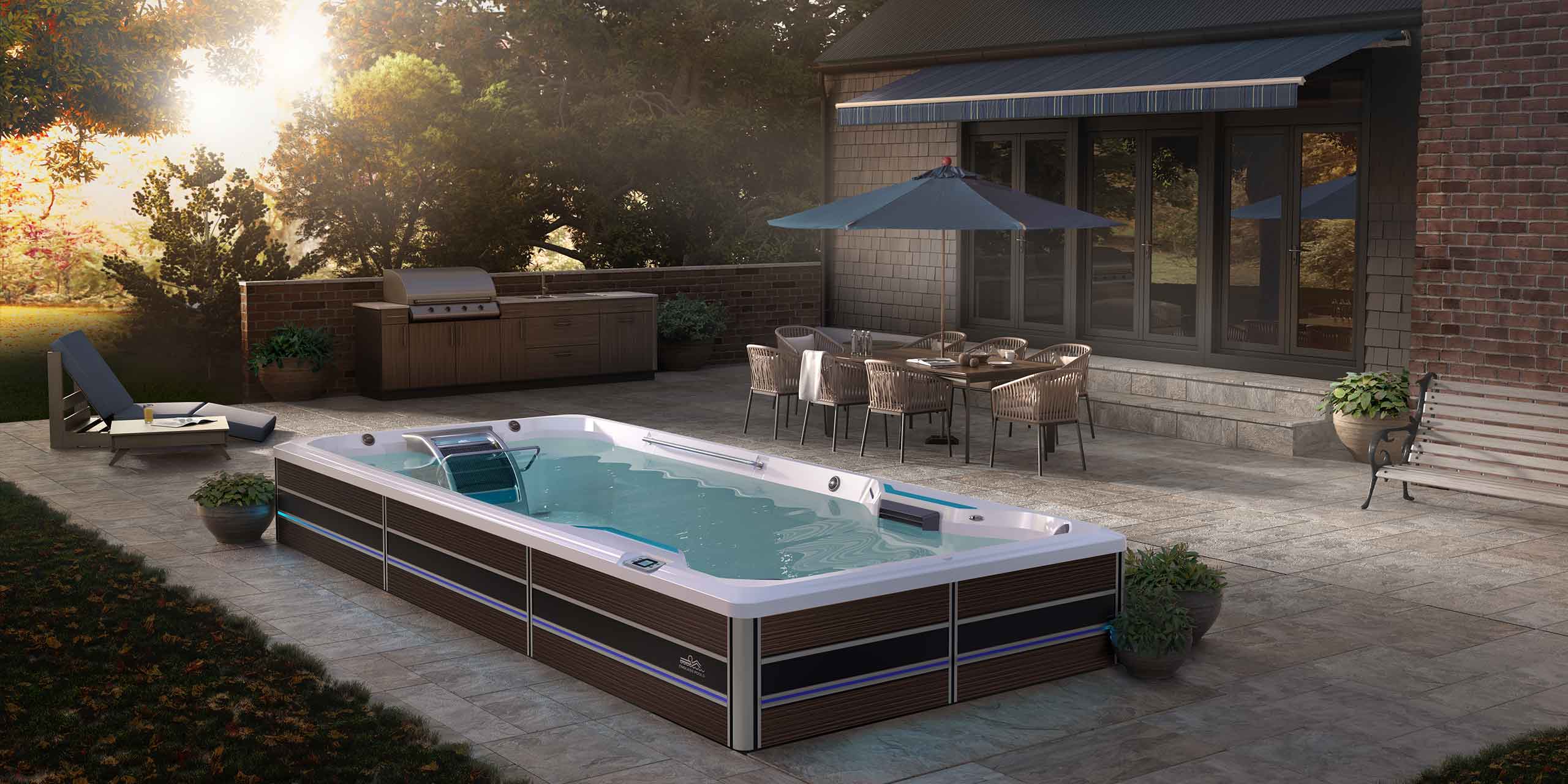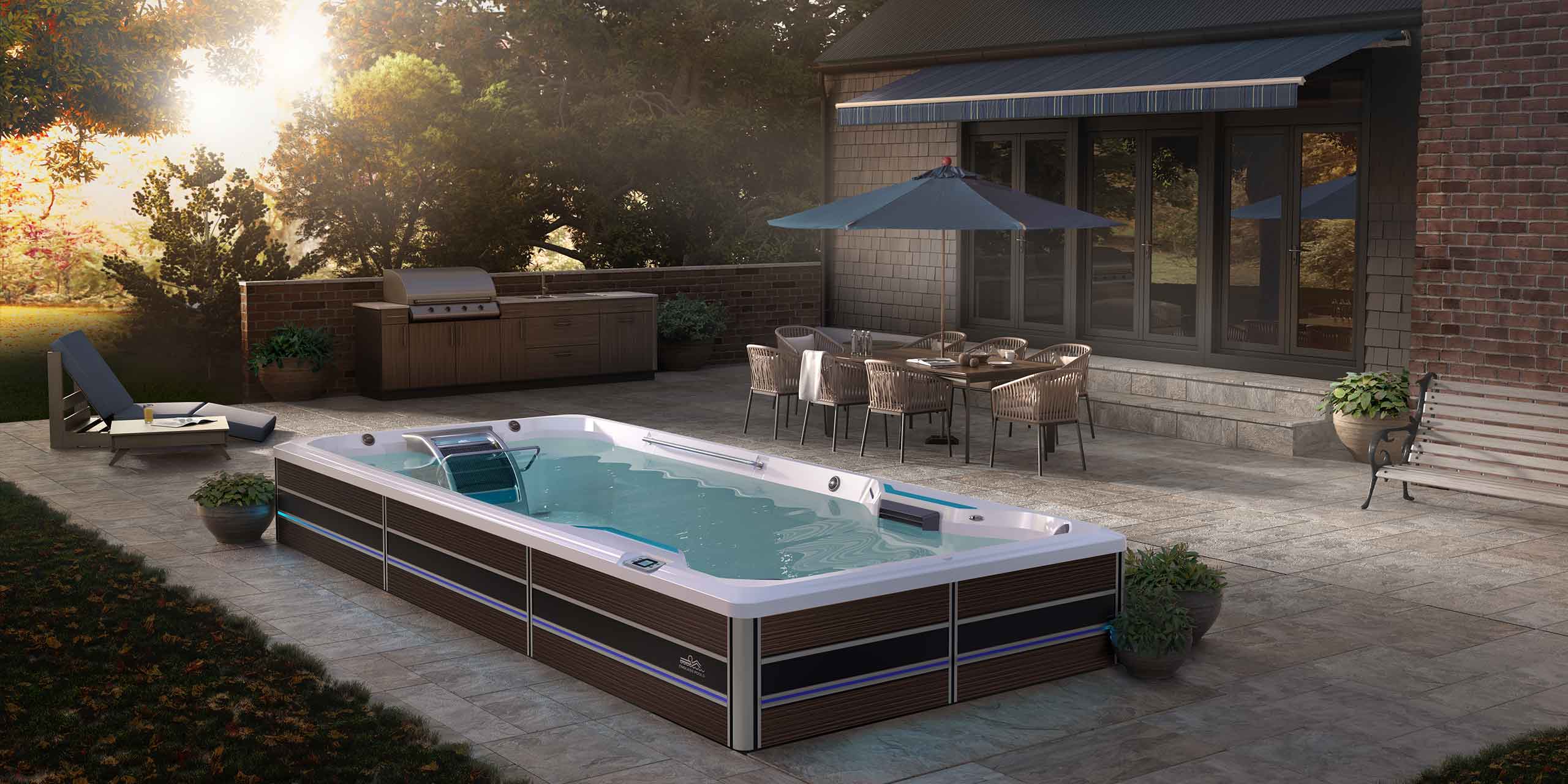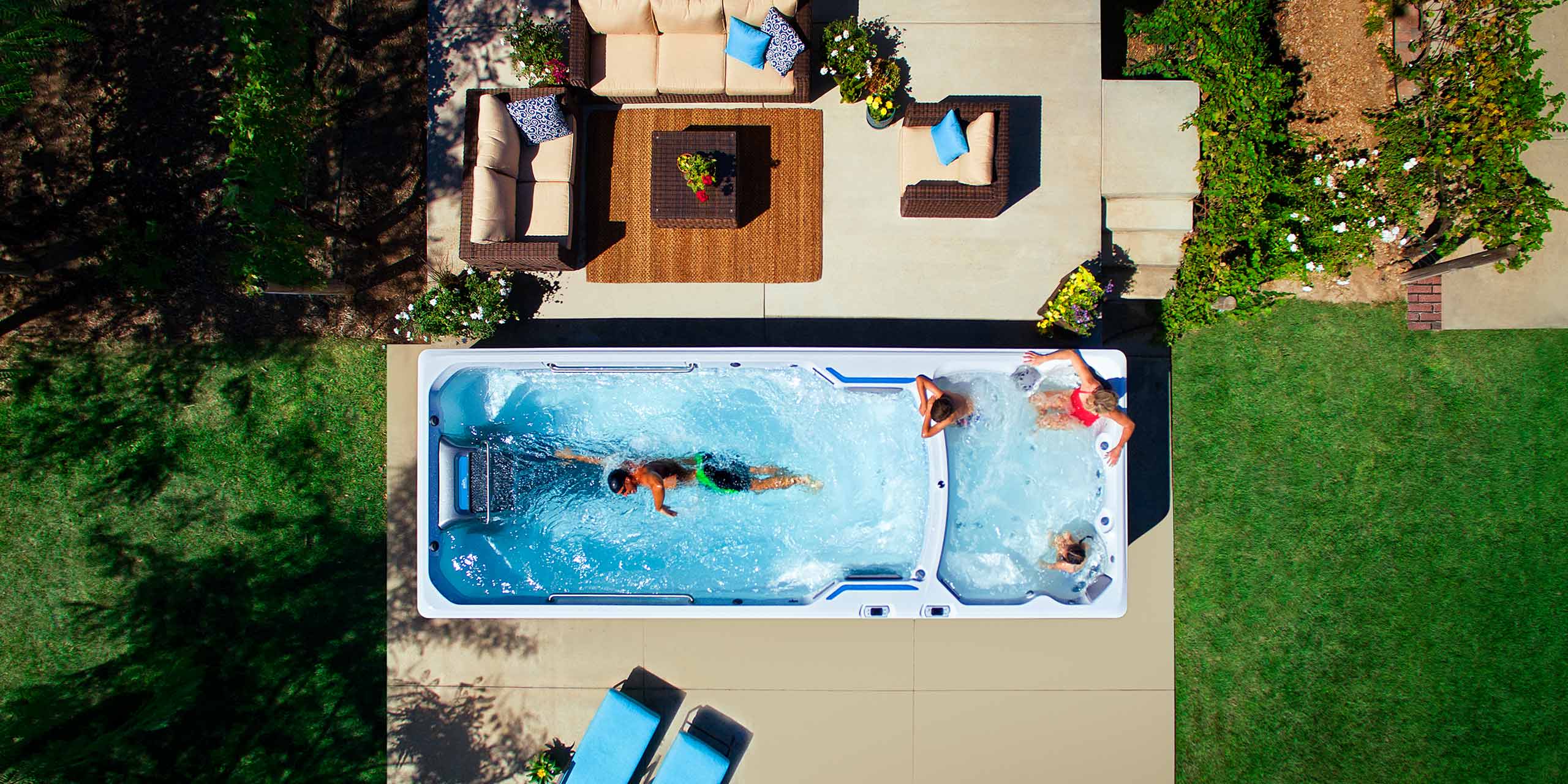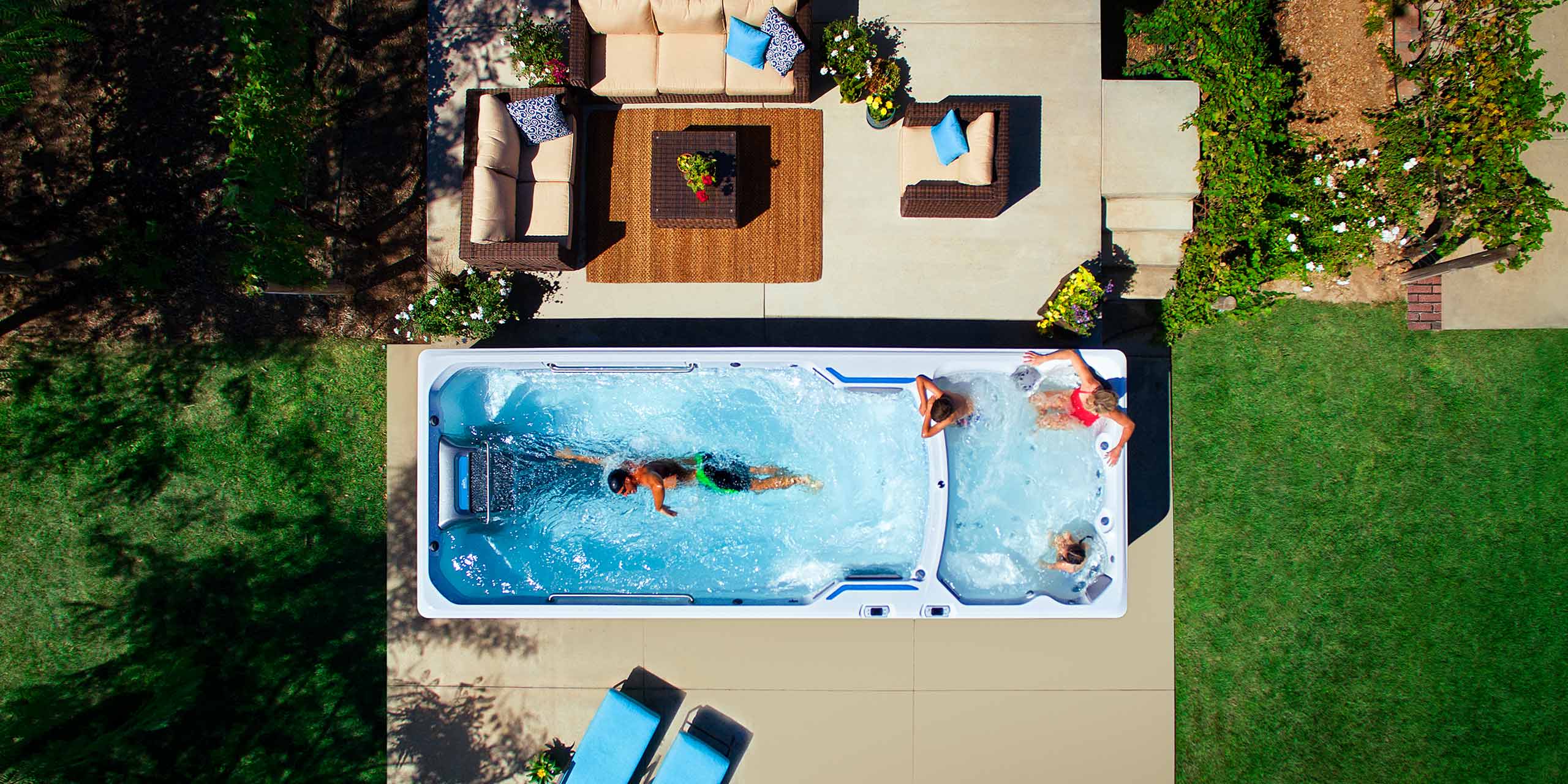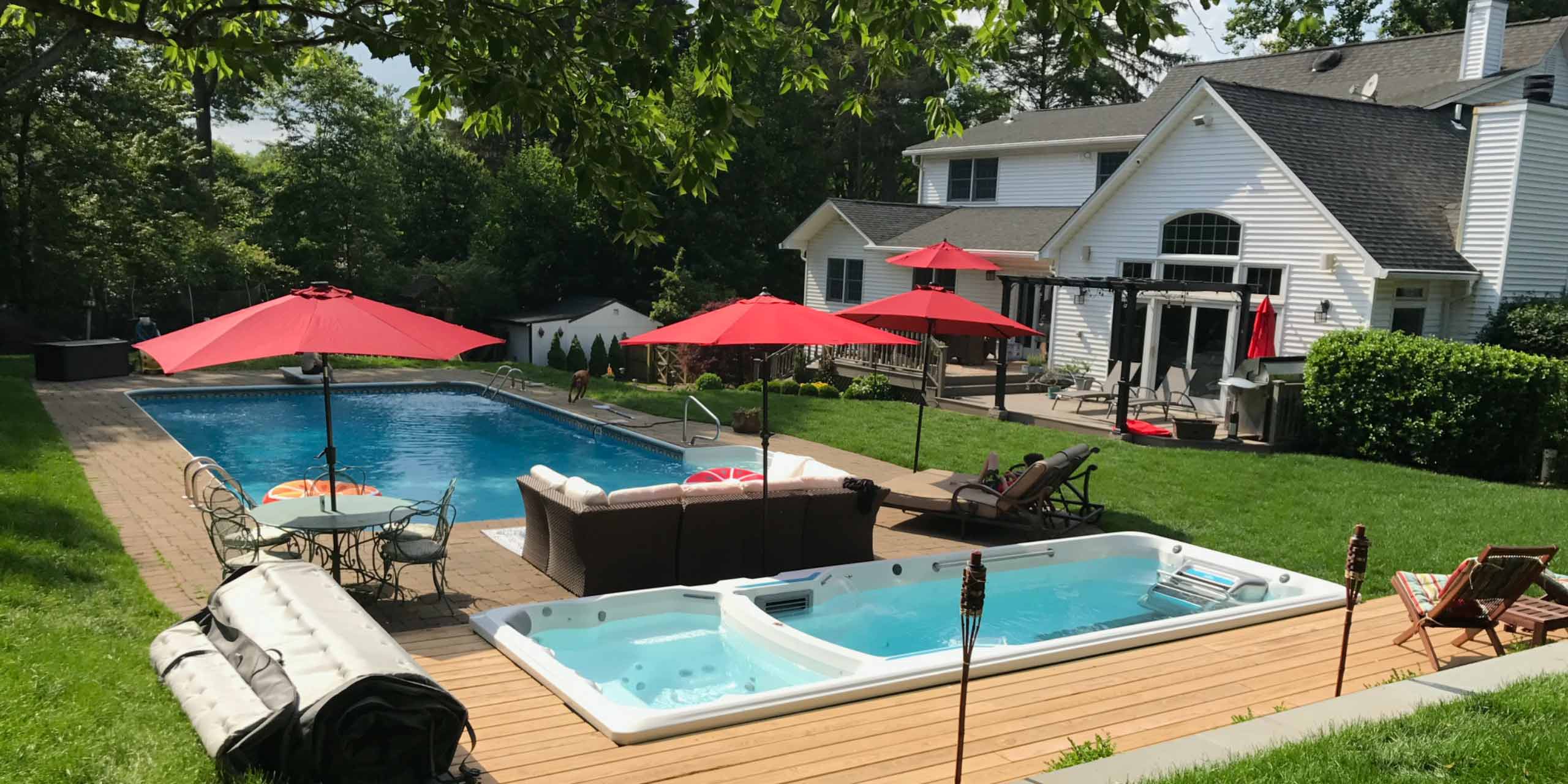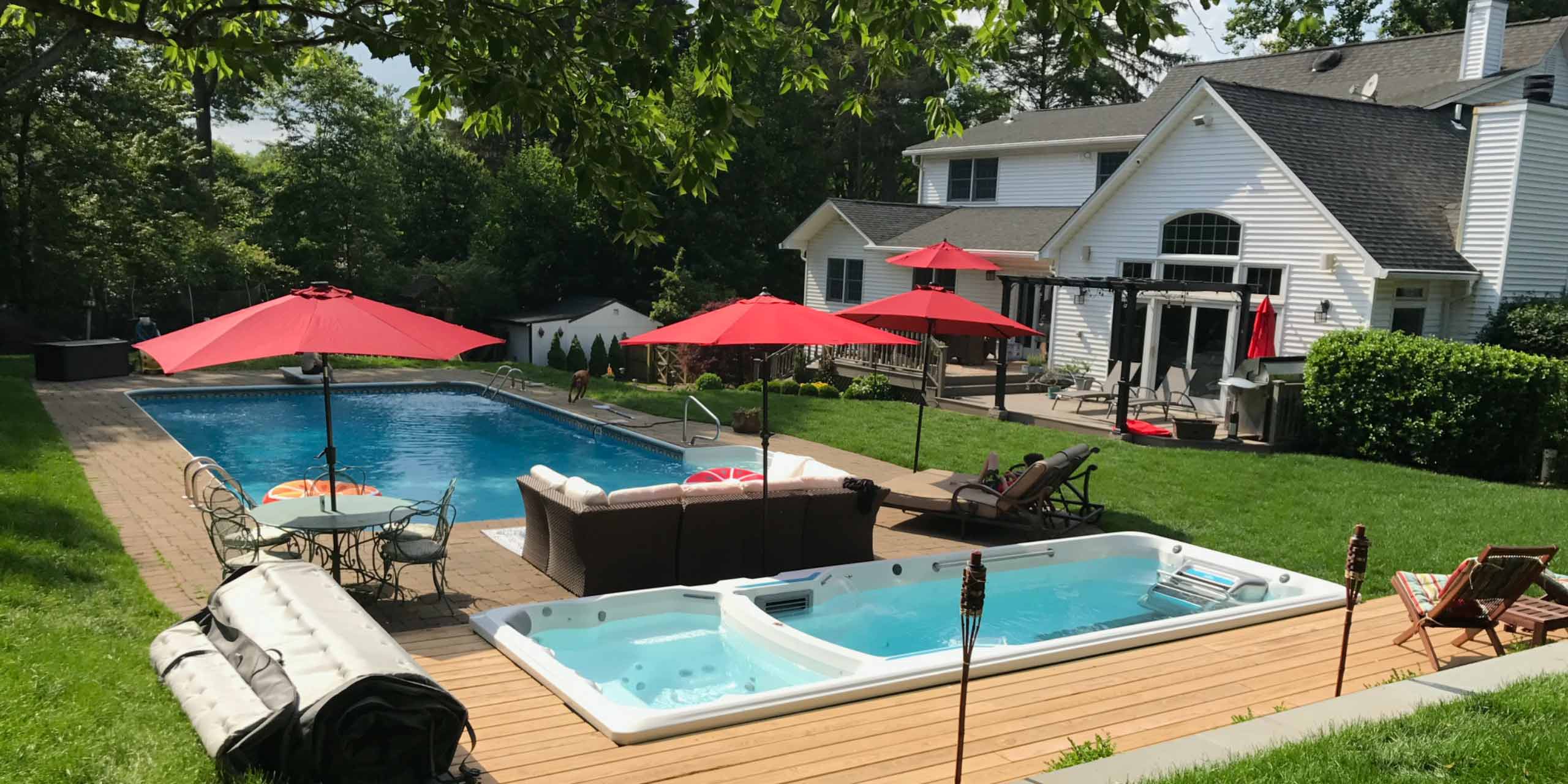 Product Specifications
Model Type
58" Swim & Treadmill / 58" Swim
Cabinet and Shell Colors
Cabinet Colors: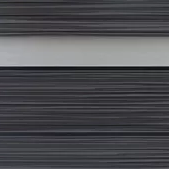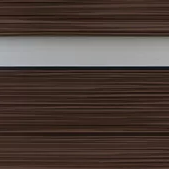 Shell Colors: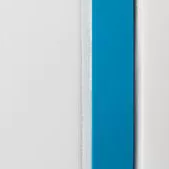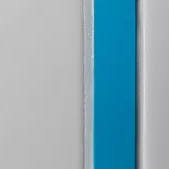 Dimensions
20' L x 89" W x 58" H
Swim Side: 15' L x 89" W x 58" H
Spa Side: 5' L x 89" W x 36.5" H
Water Capacity
58″ Swim & Treadmill: 2,350 Gallons
Swim Side: 2,000 Gallons
Spa Side: 350 Gallons

58" Swim: 2,395 Gallons
Swim Side: 2,045 Gallons
Spa Side: 350 Gallons
Weight
58″ Swim & Treadmill: 4,195 Lbs (Dry) / 25,545 Lbs (Filled*)
58" Swim: 4,090 Lbs (Dry) / 25,795 Lbs (Filled*)
Swim Technology
Endless Pools® Swim Machine
Power Unit
5 HP Hydraulic Power Unit
Control System
2 LCD Control Panels 230v/60amp, 60 Hz, includes G.F.C.I. protected sub-panel
Substructure
14-Gauge Galvanized Steel Frame
Base Pan
Thermoformed ABS Base Pan
Energy Efficiency
Certified to the APSP 14 National Standard and the California Energy Commission (CEC) in accordance with California Law
Music Option
8 Speakers + Subwoofer, Bluetooth® Enabled
Vinyl Cover & Lifter Options
Watkins Bi-Fold Covers & Lifters or VacuSeal® Cover System
Additional Options
Endless Pools® Pace Display, Floor Mirror, Gecko® In.Touch Wi-Fi & Mobile App
Seats
Swim Side: Bench Seat
Spa Side: 4 Hydrotherapy Seats + Cool Down Seat
Hydrotherapy Jets – 36
Spa Side: 2 Large Jets, 2 Rotary Jets, 6 Directional Jets, 26 Mini Jets
Hydromassage Jet Pump
Spa Side: 2 – 2.5 HP Continuous Duty; 5.2 HP Breakdown Torque – 1 Speed Pumps
Water Feature
Swim Side: 2 Illuminated Waterfalls
Spa Side: 1 Illuminated Waterfall
Water Management System
Swim Side: UVC + CD Ozone
Spa Side: CD Ozone
Effective Filtration Area
Swim Side: 200 Square Feet
Spa Side: 50 Square Feet
Lighting System
Swim Side: 14 Multi-Color LED Points of Light & LED Illumination Bar
Spa Side: 12 Multi-Color LED Points of Light
Exercise Equipment Options
Swim Tether and Rowing Kit
*Includes water and 10 adults weighing 175 lbs. each
Want More? Consider These Swim Spas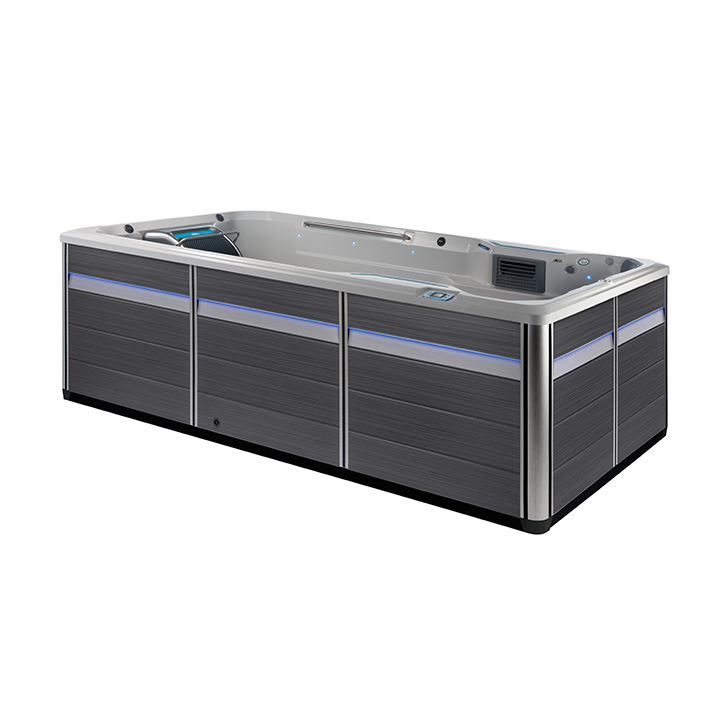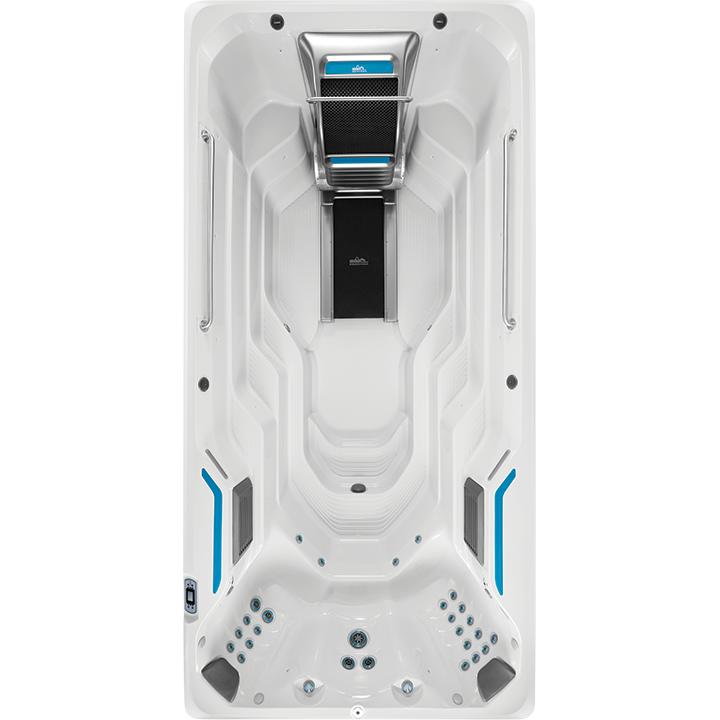 Endless Pools Fitness Systems E500
Enjoy the signature Endless Pools swim current in a convenient, plug-and-play model. Swim, exercise, play, and relax all in one sleek, modern installation!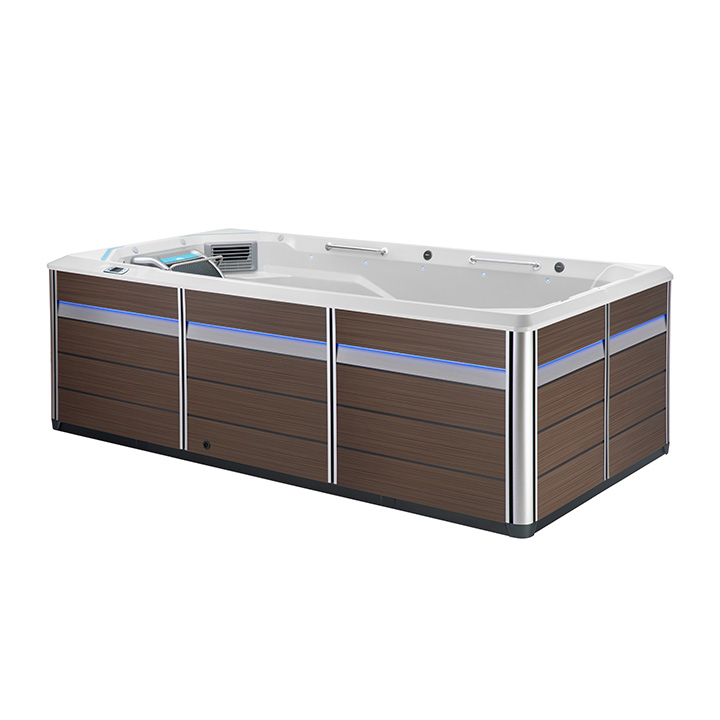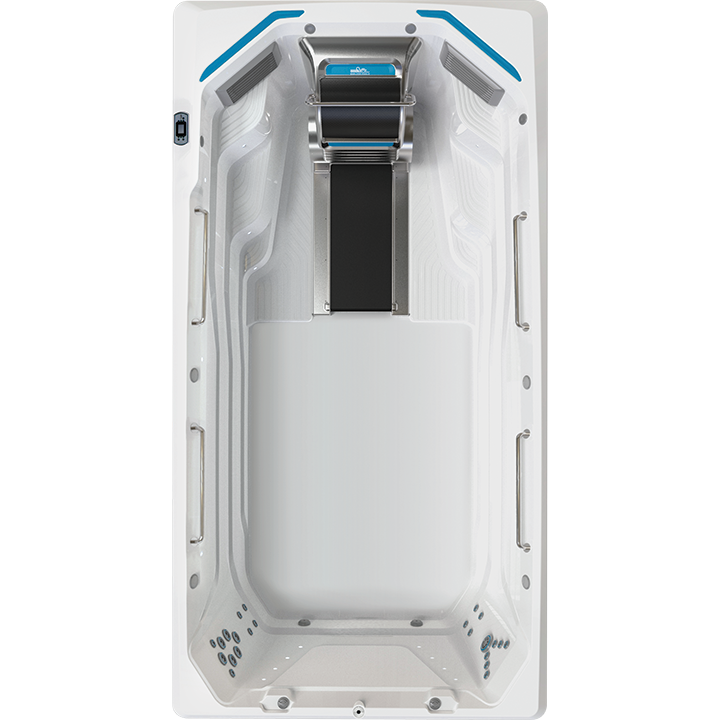 Endless Pools Fitness Systems E550
With more room dedicated to swimming and exercising, including standing spa jets for post-workout rejuvenation, the E550 is the most spacious Fitness System for all your exercise needs.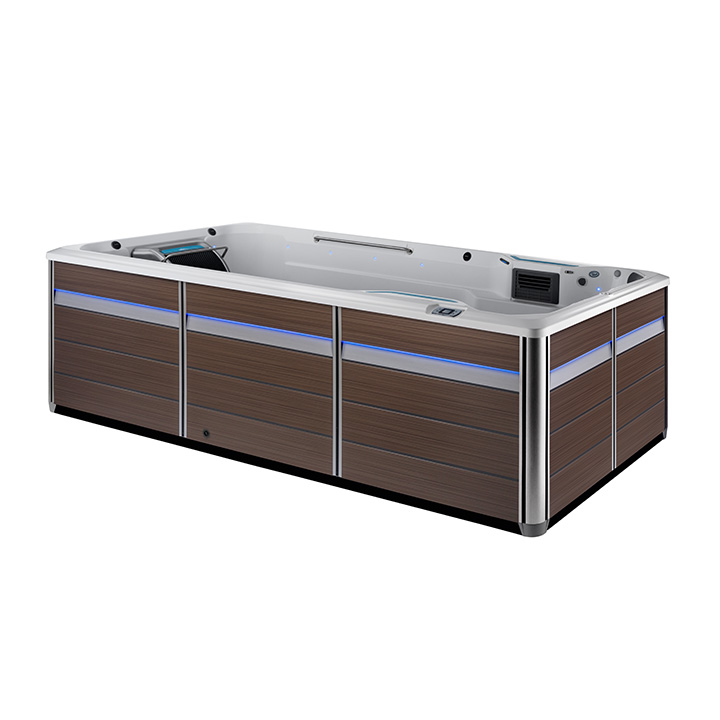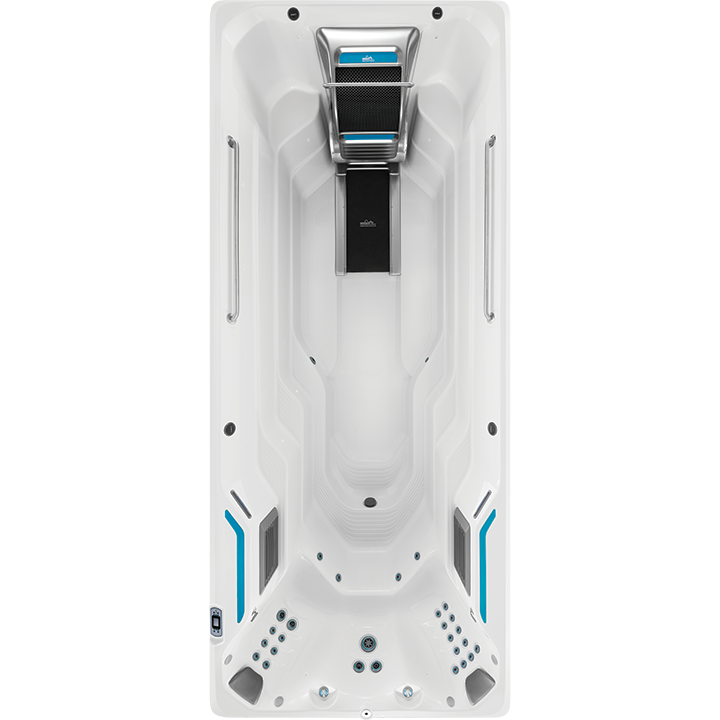 Endless Pools Fitness Systems E700
A spacious step up from our E500 swim spa, this model perfectly suits families and swimmers who enjoy jetted hydromassage after a vigorous aquatic workout.