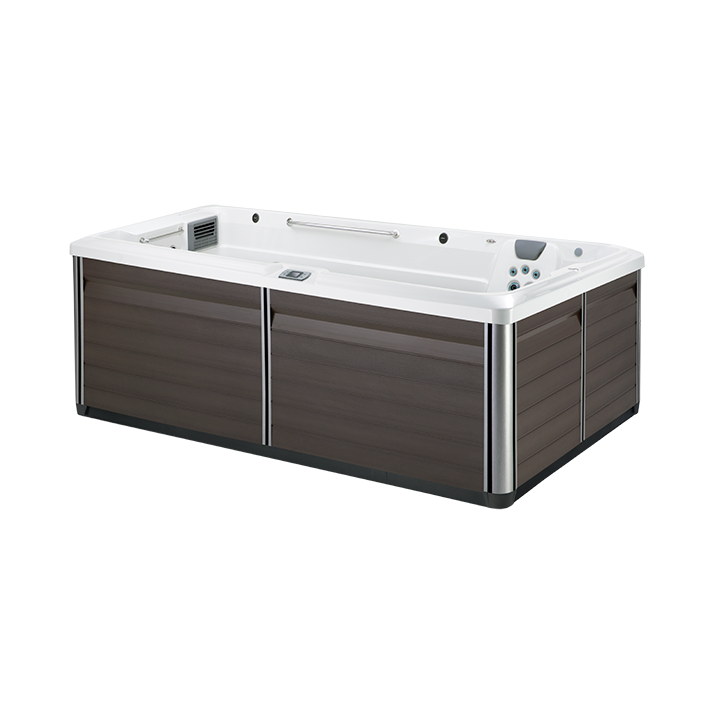 Your wellbeing is supported by more than just exercise. Family time, 'me' time, relaxation time – all combine to keep you healthy and happy. The R200 swim spa helps you sink into total mind-body wellness.
With the R200, you can enjoy swimming in place, low-impact aquatic exercise, hydromassage relaxation, and family fun time – all at our lowest price for a jetted swim spa.
You can comfortably swim in place with the RecSport's smooth, adjustable current. Or use the three airless swim jets for more core resistance during your aquatic workouts.
After your swim or aquatic workout, relax in your choice of five ergonomic spa seats with 27 hydromassage jets. Between the bucket seating, a 30″-deep reef makes an ideal kids' play area! This swim spa comfortably accommodates up to 10 adults when you're entertaining.
With the R200, you and your family get the essential swim spa features of any Endless Pools Fitness System: from the exercise-ready grab rails, to the durable frame and stylish, insulated cabinet.
Dip into the R200 for fun, fitness, and relaxation – at home, on demand, and for the most affordable price.
Designed for Shareable Moments
Swim Jets
Provide a steady stream of water more powerful than the average jet
Shell Design
Maximizes space for exercise, play, and relaxation
Spa Seating
Bucketed hydromassage seats for back and foot massage, and more!
Anchors and Handrails
Attach fitness accessories including swim tether and resistance bands
Water Management
Eco-friendly CD Ozone to neutralize contaminants creates optimal water quality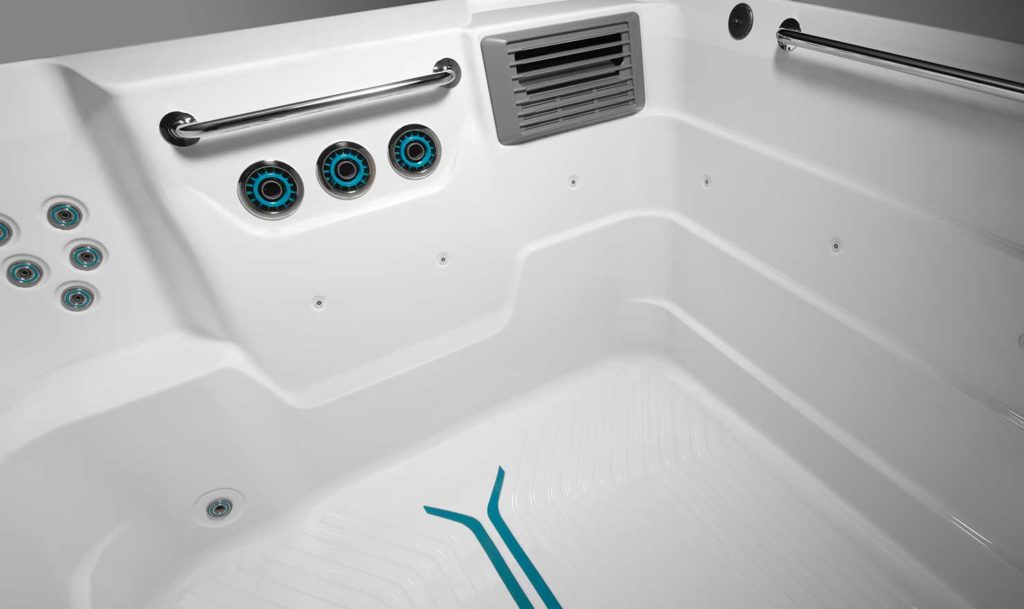 Swim Jets
The swim jets in RecSport® Recreation Systems provide the ideal environment for aquatic recreation at an affordable price. Three linear swim jets provide a steady stream of water that is more powerful than the average jet. The swim jets use a Venturi effect, not air, to draw-in or entrain more water, effectively multiplying the volume of water. This design feature results in a water stream with less turbulence than other swim spas on the market.
Room for the Whole Family
The spa area of the R200 includes two bucketed hydromassage seats for back and foot massage and a 30-inch depth reef area located between the two seats; perfect for kids to play. Located next to the two bucket seats are the entry/exit steps on each side that also act as "cool down seats." Additionally, a bench style hydromassage seat is located next to the swim jets giving this unit comfortable seating for up to five and room for many more!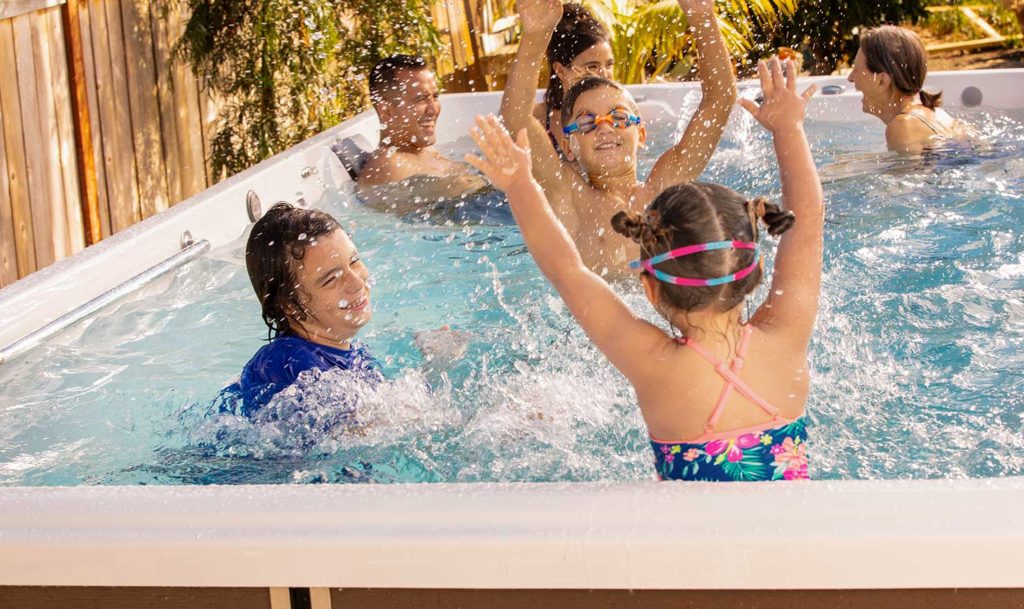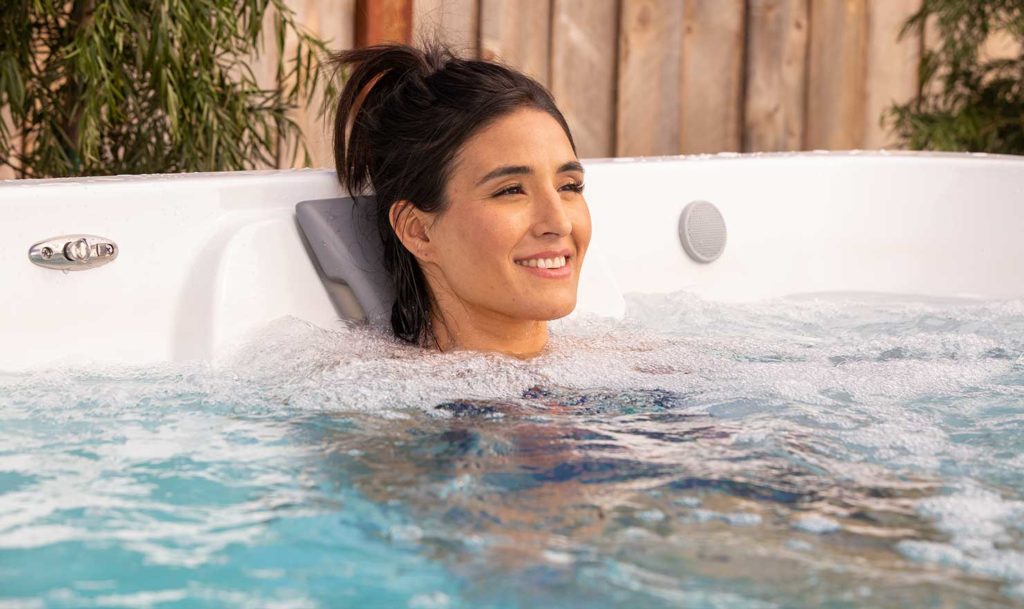 Hydromassage Spa Seating
Perfectly positioned in two captain's chairs with pillows, plus a third middle seat, four jet types are combined in three configurations to deliver an ideal post-workout relaxation experience.
Mini Jet – A small and focused stream of water targeting specific areas of your upper back
Directional Jet – Similar to the mini, the directional is focused but with a larger stream of water
Rotary Jet – Same level of water pressure as the directional, but the jet moves to create a circular massage pattern to reach a larger area of the back.
Cluster Jet – A unique pulsating massage targeting your lower back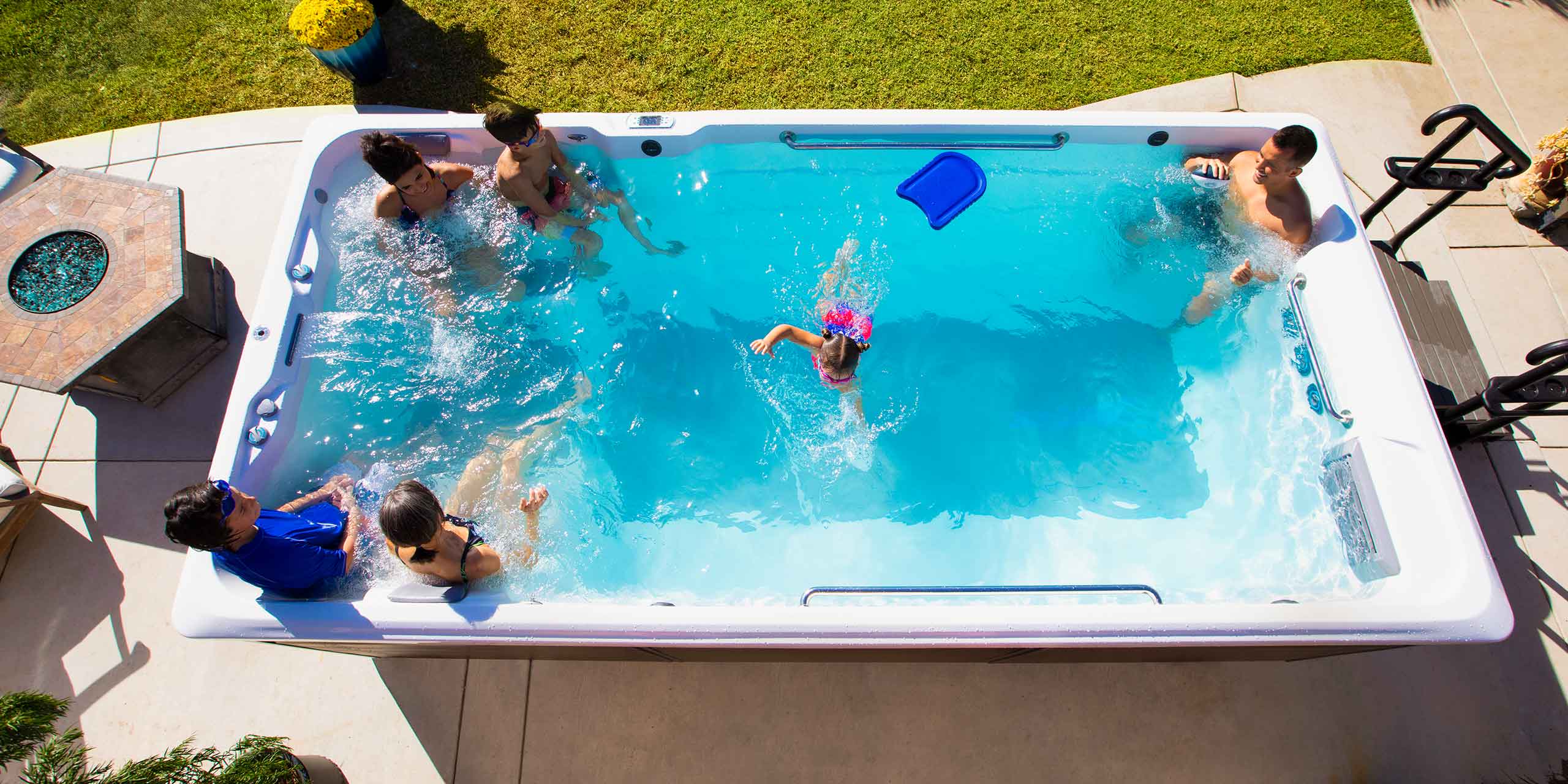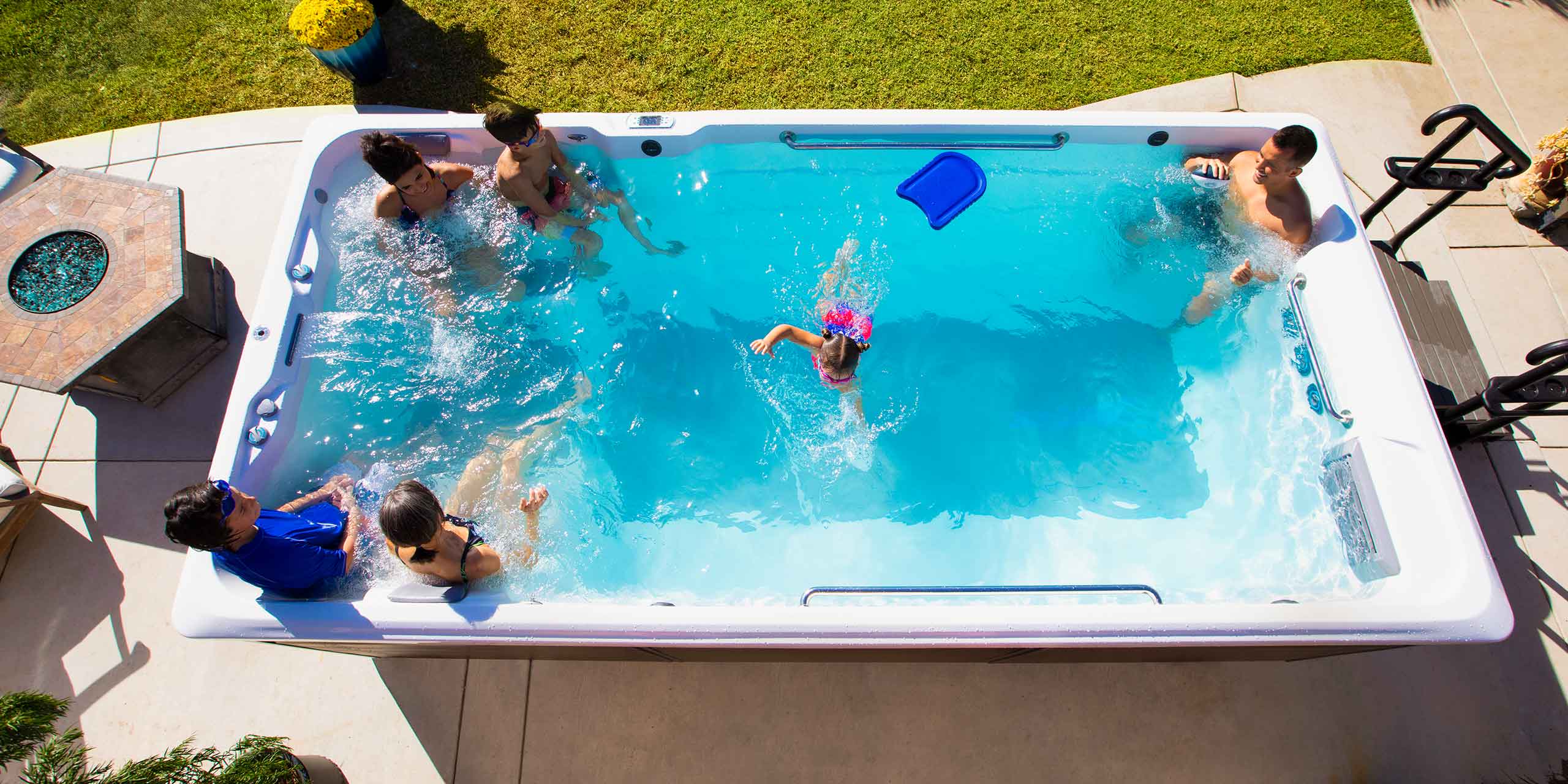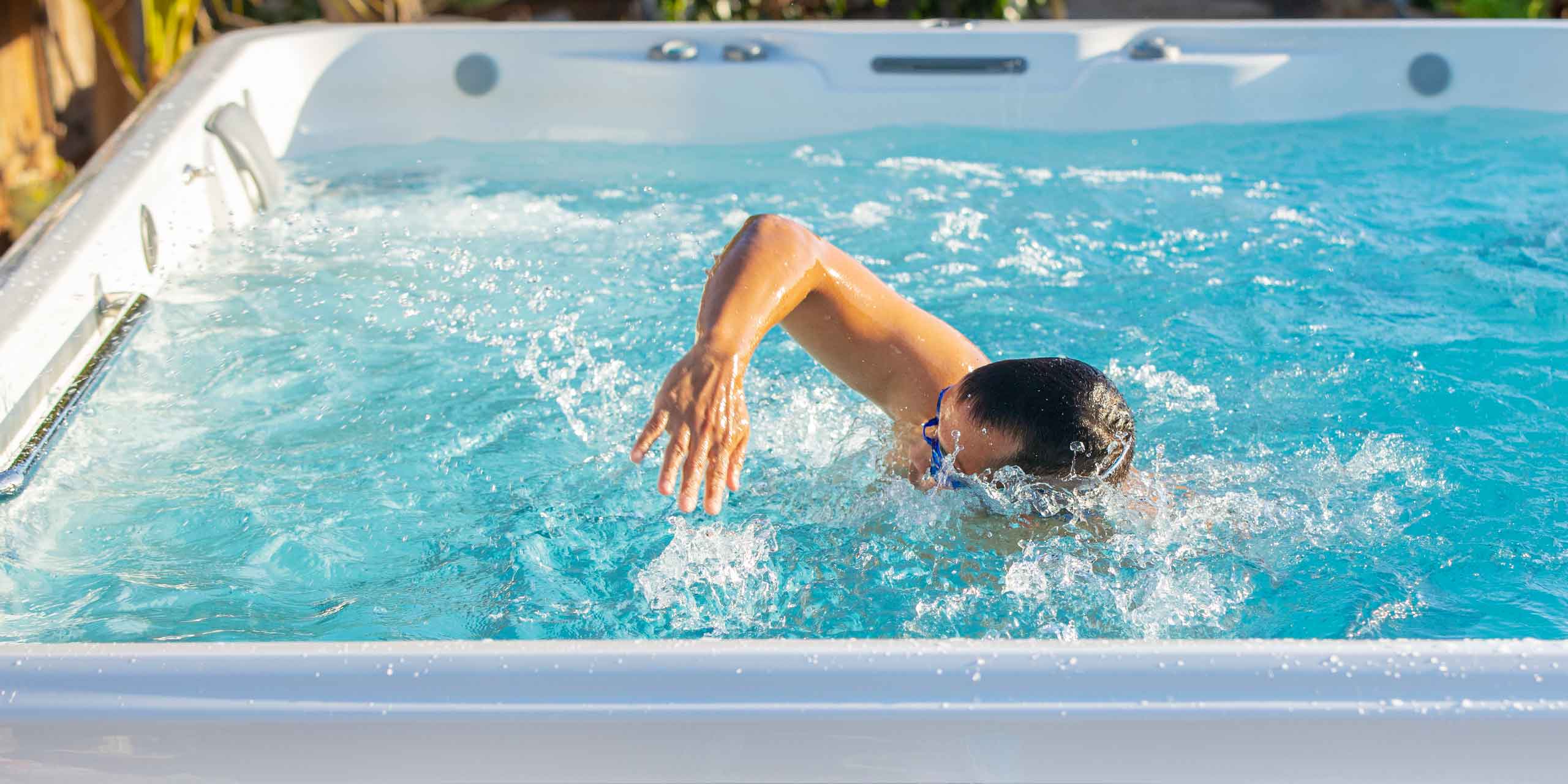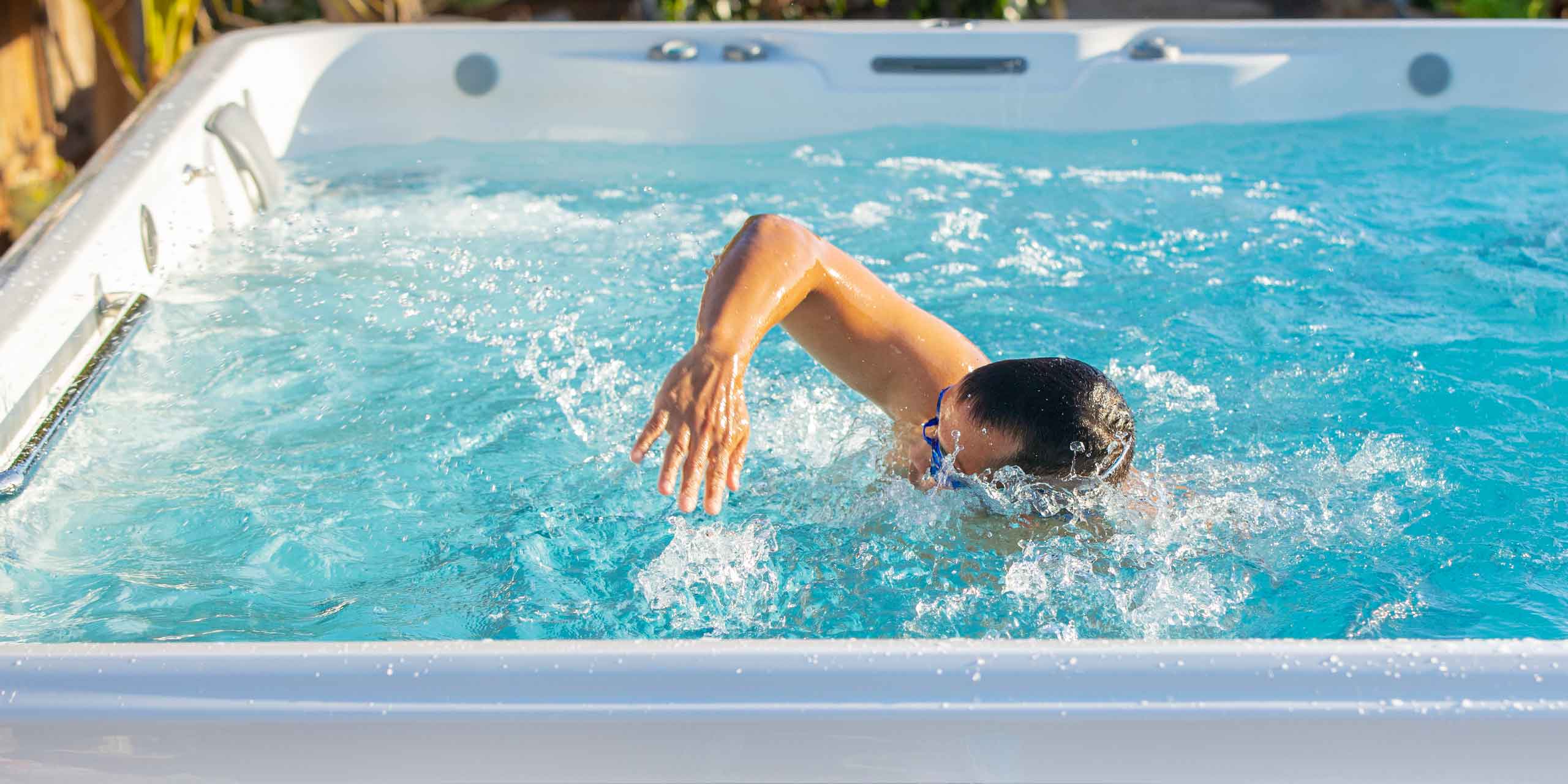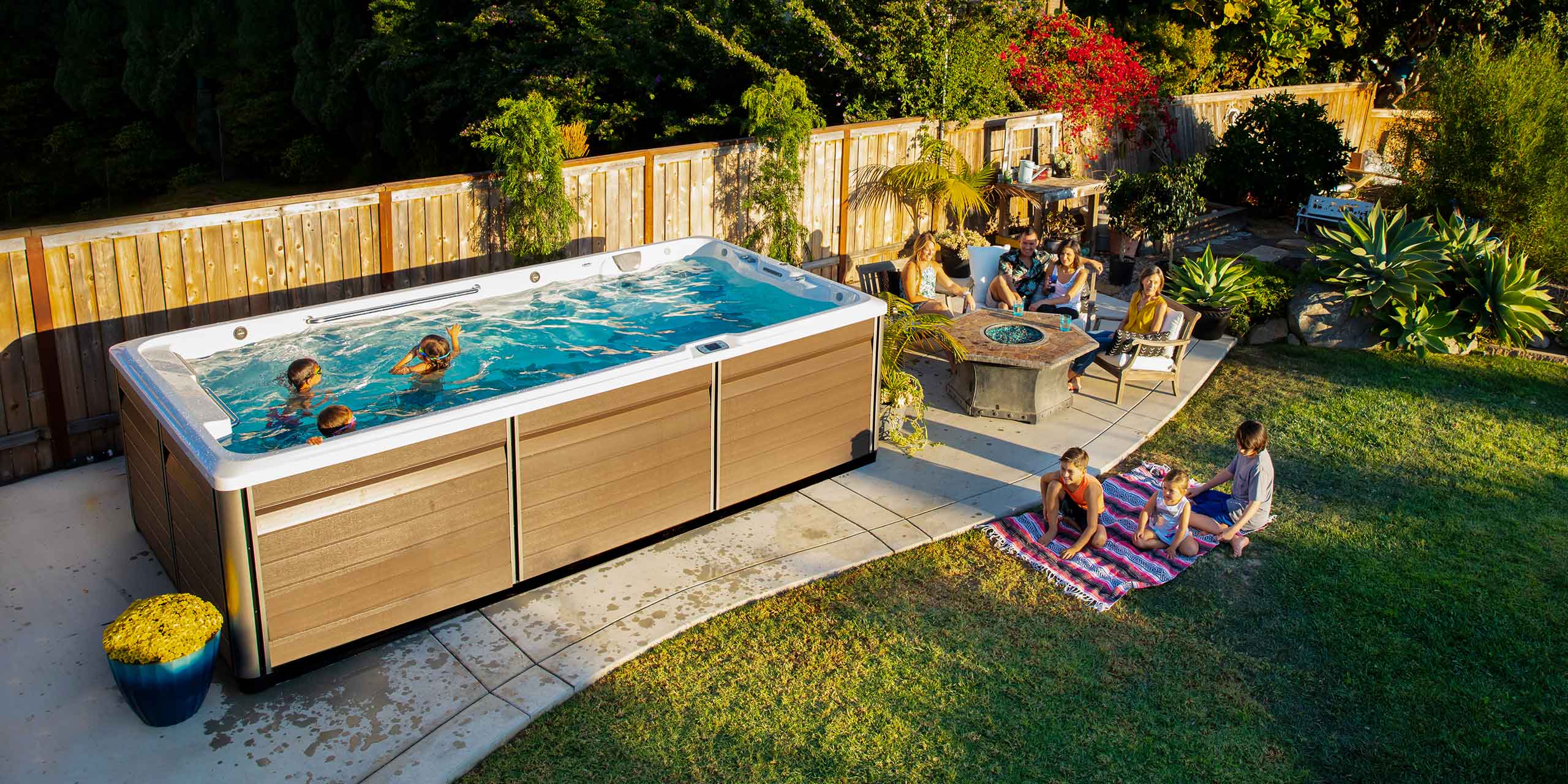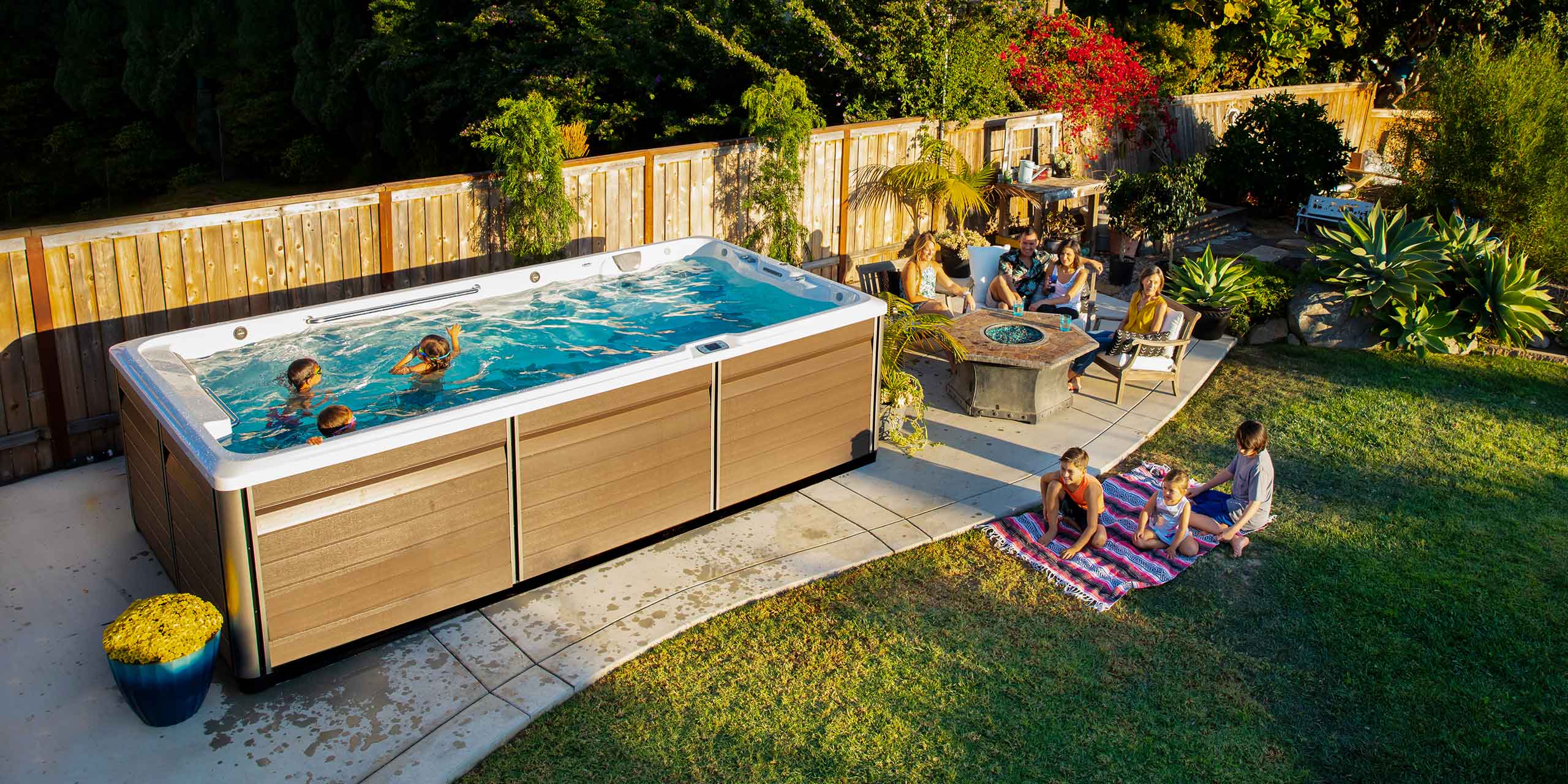 Product Specifications
Shell Color Options


Cabinet Color Options


Weight
1,845 lbs. (Dry) / 14,730 lbs. (Filled*)
Swim Technology
3 Swim Jets – Max 215 Gallons Per Minute
Swim Jet Pump
2.5 HP Continuous Duty; 5.2 HP Breakdown Torque – (1) Dual Speed
Hydromassage Jets – 27
1 Large Jet
2 Rotary Jets
2 Directional Jets
22 Mini Jets
Hydromassage Jet Pump
2.5 HP Continuous Duty; 5.2 HP Breakdown Torque – Dual Speed Pump
Control System
LCD Control Panel
230v/30amp, 60 Hz
Field Adjustable 230v/60amp
Effective Filtration Area
Lighting System
20 Multi-Color LED Points of Light, Optional Exterior LED Lighting Kit
Base Pan
Thermoformed ABS Base Pan
Energy Efficiency
Certified to the APSP 14 National Standard and the California Energy Commission (CEC) in accordance with California Law
Grab Rails
3 Stainless Steel Grab Rails
Music Option
8 Speakers + Subwoofer, Bluetooth®-Enabled
Fitness Accessories
Swim Tether, Resistance Bands
Cover & Lifter Options
Watkins Covers & Lifters, VacuSeal® Cover System, CoverCradle®/ProLift® III
Additional Options
CoolZone™ Cooling System, Floor Mirror, Gecko In.Touch™ WiFi and Mobile App, SwimDek® Surface Kits
*Includes water and 10 adults weighing 175 lbs. each
Want More? Consider These Swim Spas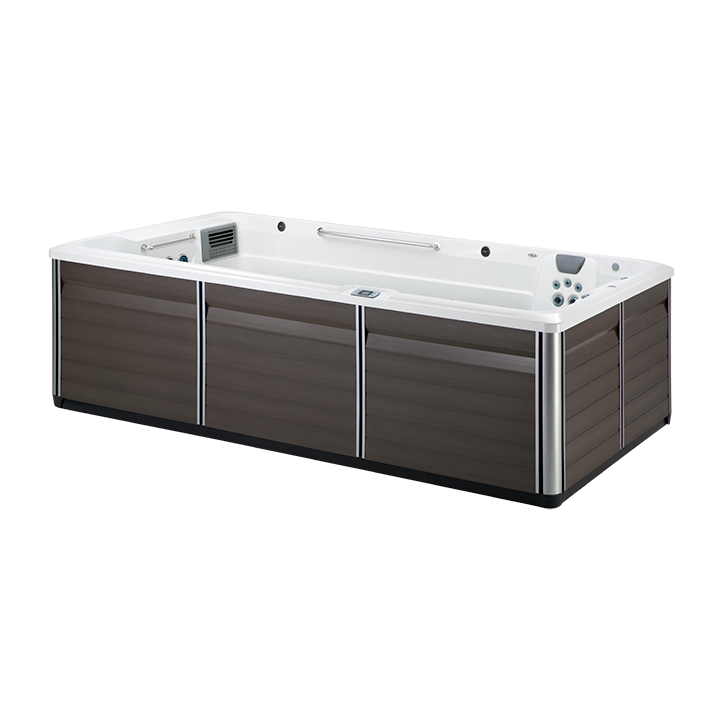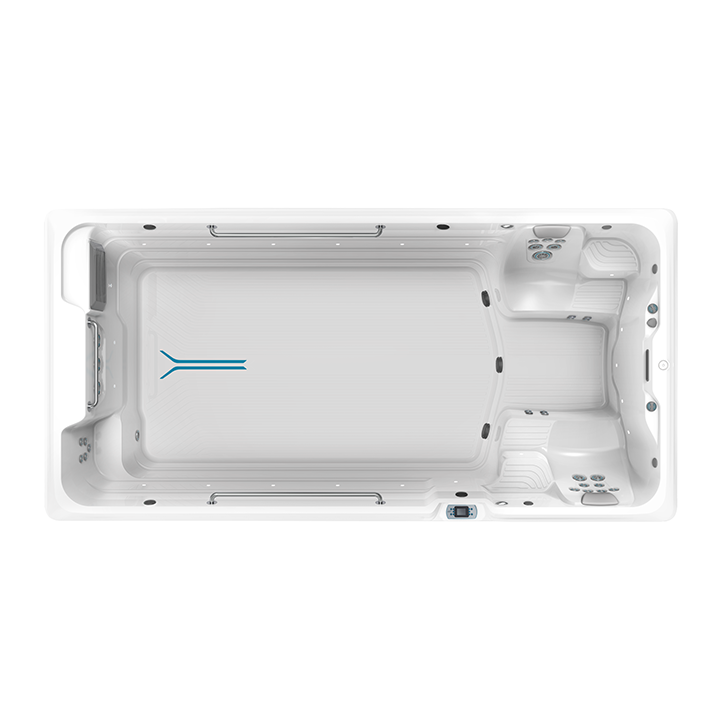 Endless Pools RecSport R500
With our most expansive recreation space yet, the unique design of the R500 maximizes the interior space to provide a wide-open space, comfortable spa seating and a 30-inch deep reef area for kids to play.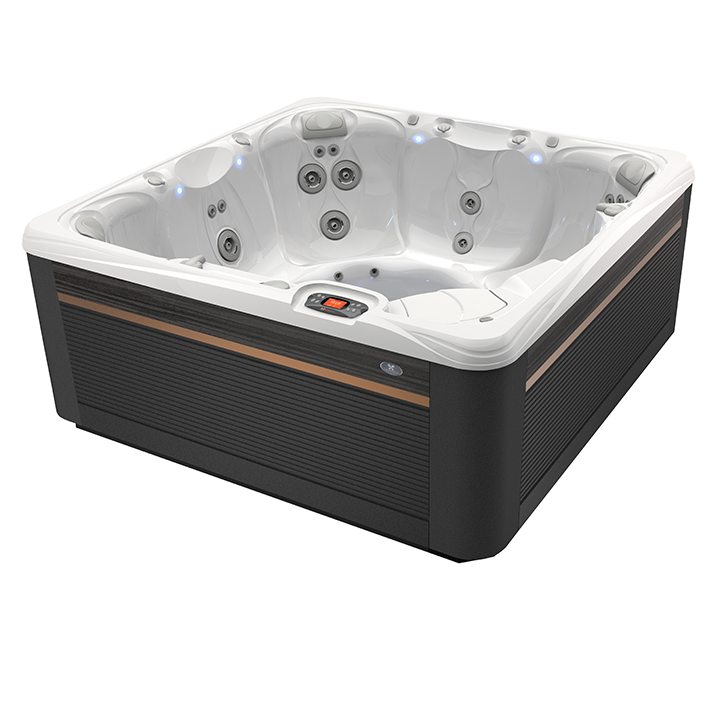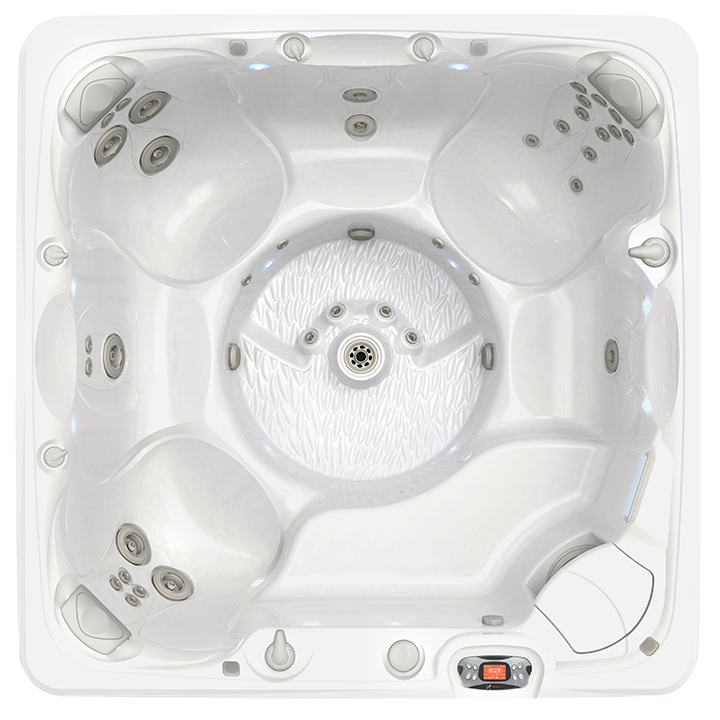 Caldera Paradise-Series Reunion
The Reunion™ is so easy to maintain, you'll feel like you're on vacation every day.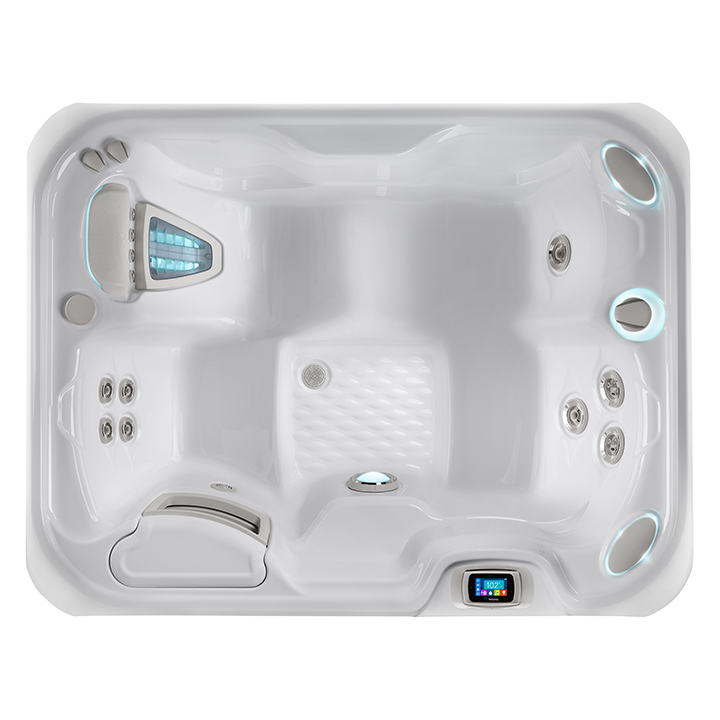 Hot Spring Highlife Jetsetter
Designed for small spaces and easy installation, the Jetsetter is ideal for shoppers seeking a luxury spa that can operate on either 115 or 230 volts