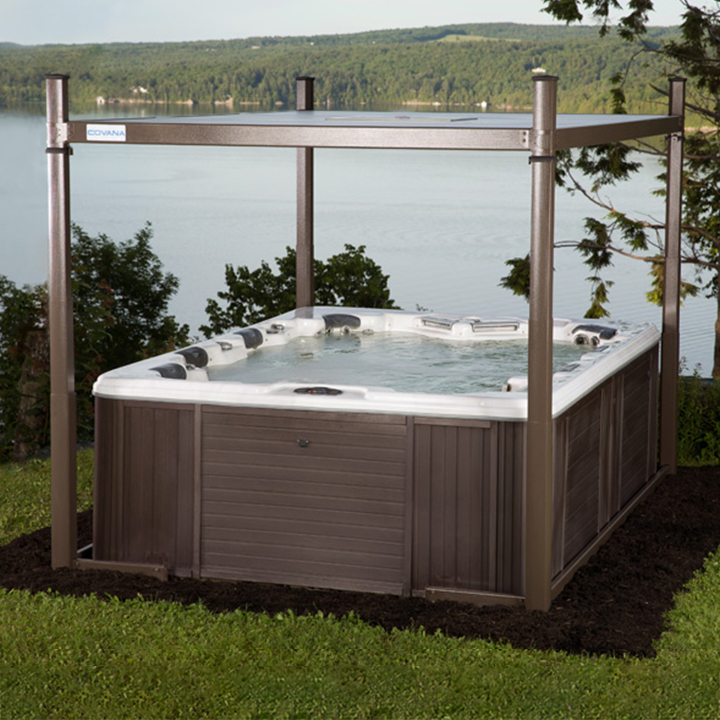 The COVANA EVOLUTION offers a wide range of solutions as it is compatible with square hot tubs from 7' to 8' and rectangular units from 8' x 9' to 8' x 11' and also for the first time, an automatic solution for round hot tubs up to 8'.
Its refined design gives the COVANA EVOLUTION a sleek and streamlined look while its adjustable size offers the greatest range of possibilities to fit larger hot tubs. We are proud to make elegance, security and ease-of-use available to you to make your spa experience a unique one!
The Covana Hot Tub Cover / Automated Gazebo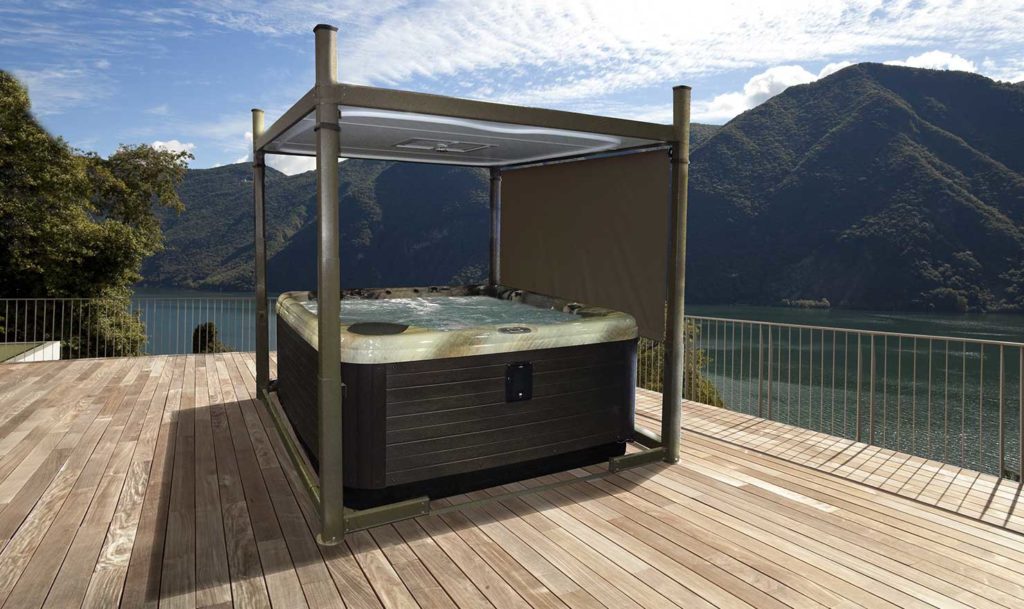 What if you could access your hot tub with the simple turn of a key without ever again having to struggle with opening a cover or removing snow, ice or other debris? With Covana, you can equip your spa with one of the highest insulation covers on the market and then transform it into one of the most easily accessible … all within a mere 20 seconds and little effort!
Covana systems are more than just hot tub covers. They are also completely automated gazebos which offer you maximum comfort, safety and intimacy. Made in Canada using the latest, state-of-the-art materials, our products are designed to endure the most rigorous climates while saving you money on unnecessary water, heating bills and maintenance products.
The COVANA is the most innovative solution ever invented for optimizing the use of your hot tub.
This four season gazebo can be raised and lowered with a key switch – saving you the trouble of lifting and keeping children and intruders out. The COVANA protects you against harsh weather and ultra violet rays. Optional retractable screens offer peace and privacy.
The COVANA is made to handle the toughest winters. With its energy efficient design, this gazebo offers an insulating value higher than a standard cover and seals the spa, keeping heat and energy in. Optimal water retention means the COVANA saves water, energy and maintenance products.
The COVANA is a fully automated spa gazebo designed to provide years of trouble-free protection and performance. Less work, more comfort: that's the COVANA promise.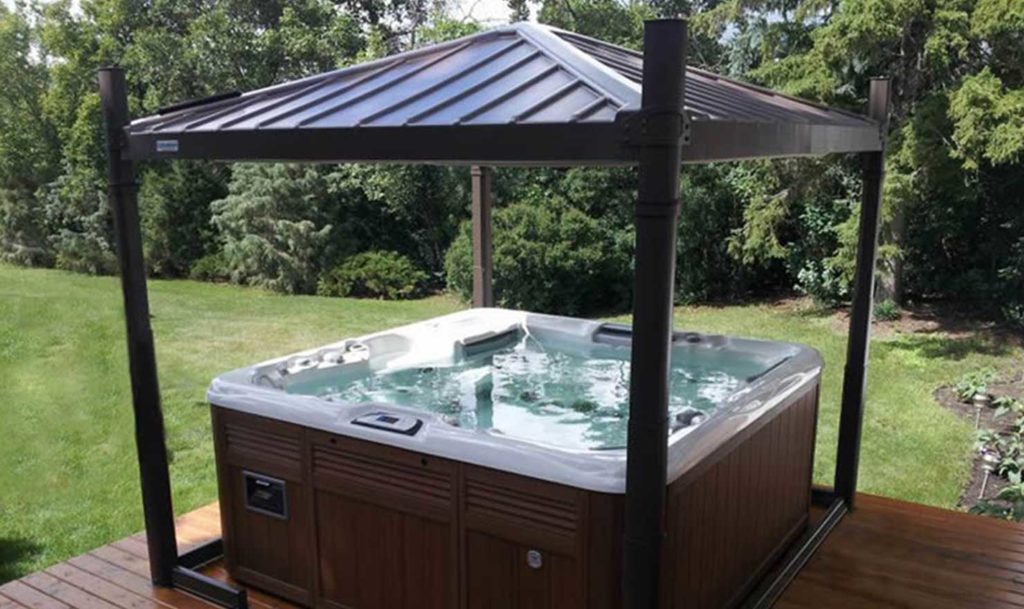 Product Specifications
Energy Efficient
Insulating value higher than a standard cover
Innovative Design
Aluminum structure and rigid roof made of seamless ABS thermoplastic
Cover can support up to 600 lbs (272kg)
Simplicity and Safety
Requires a 230-volt/10-amp circuit for Europe and a 115-volt / 15-amp circuit for North America.
Equipped with a manual emergency opening/closing system
Locking design keeps roof safely in place.
Installation Surfaces
Concrete base / Wood/ Other solid stable surfaces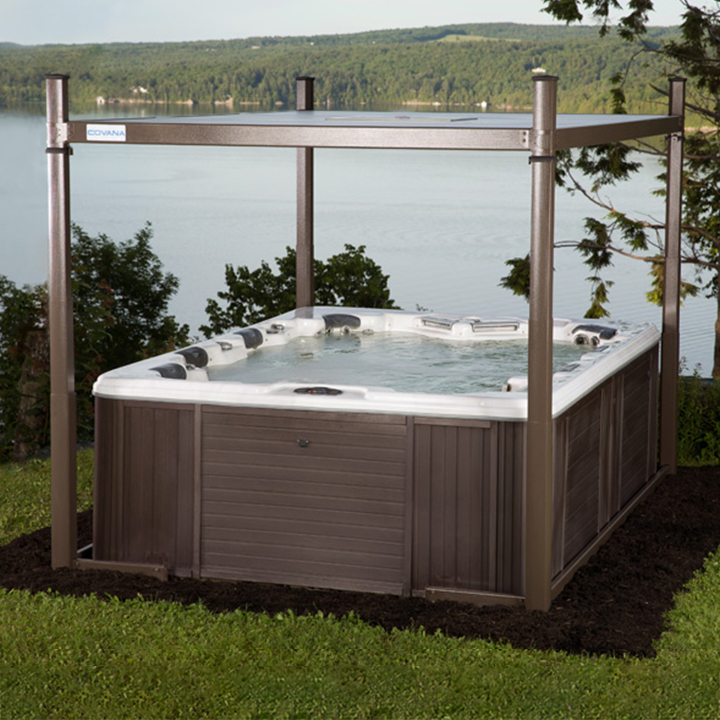 Want More? Try These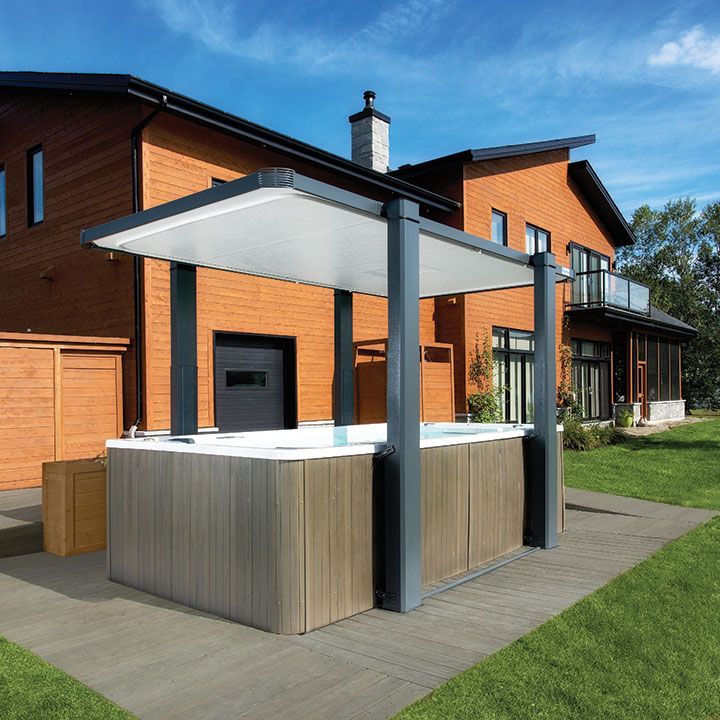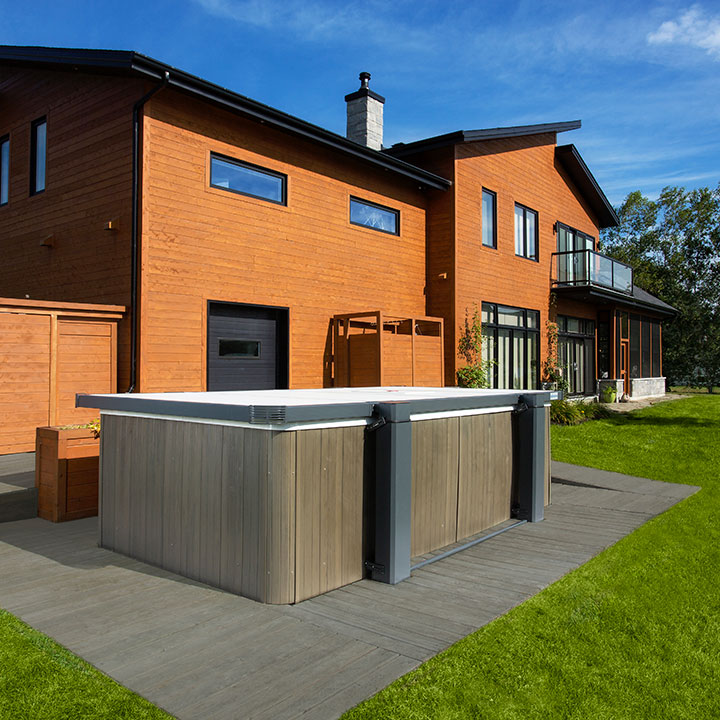 Manual & Automated Cover Lifters Covana Legend Swim Spa Cover
With the Covana LEGEND, your swim spa will be more accessible and easier to use than ever!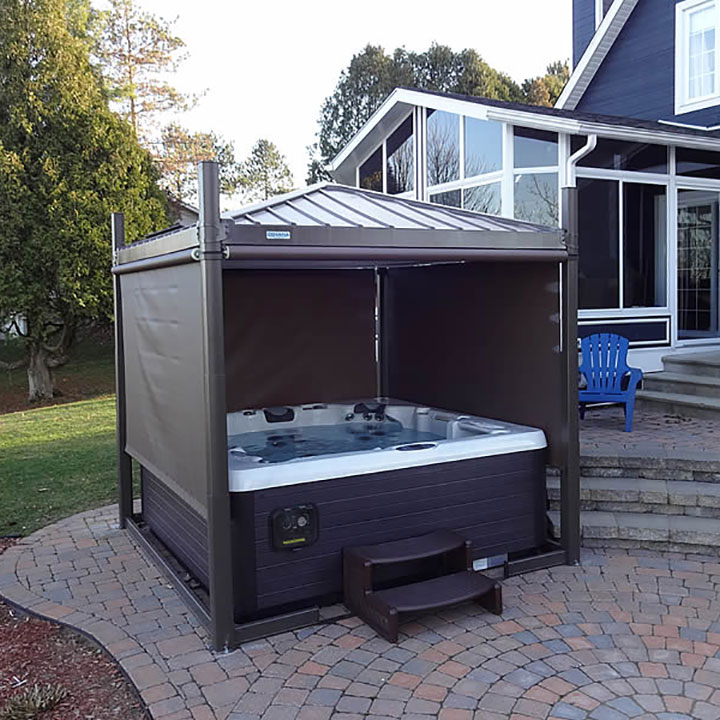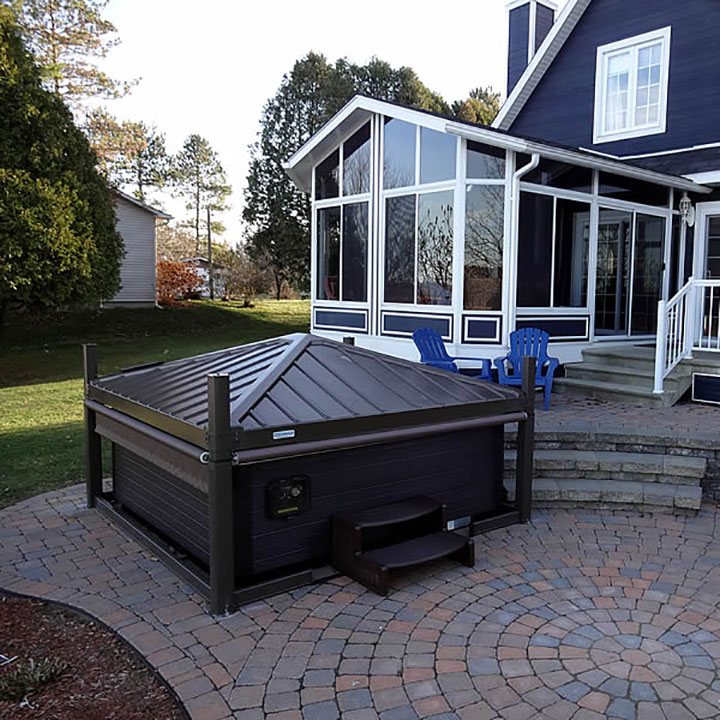 Manual & Automated Cover Lifters Covana Oasis Hot Tub Cover
You are not dreaming! The Covana OASIS is not only a hot tub cover, it's also an automated, state-of-the-art, easy-to-use gazebo!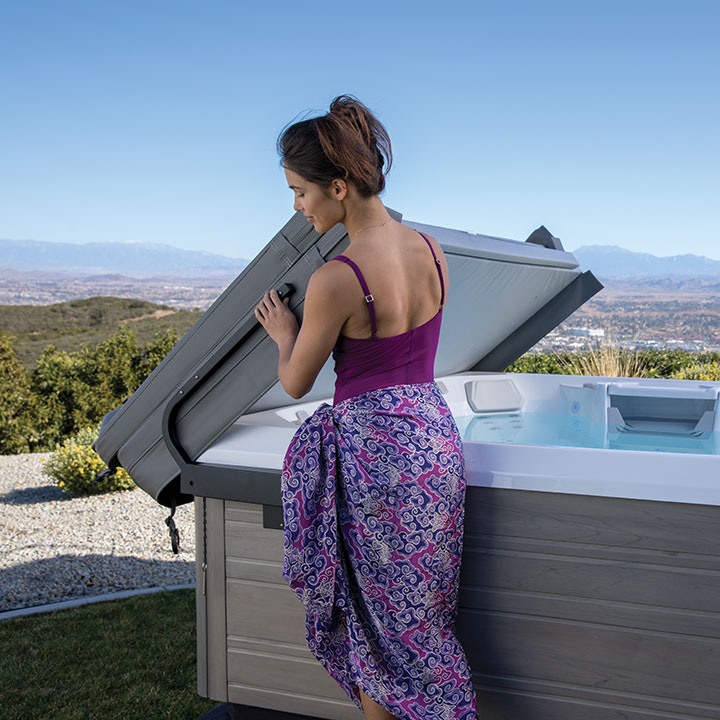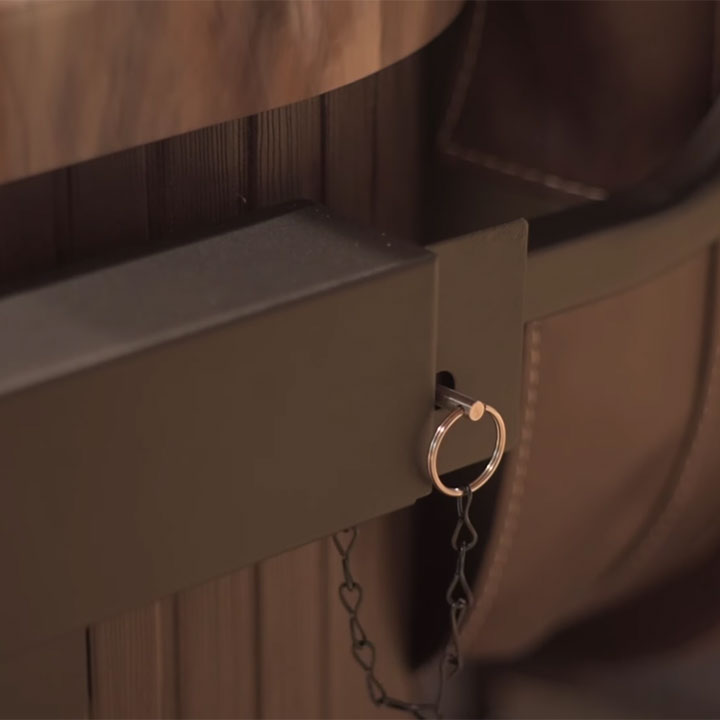 Manual & Automated Cover Lifters Hot Spring Lift N' Glide® Cover Lifter
Easy meets economical with the Lift N' Glide® cover lifter, which uses a gliding action to help you easily remove your spa cover as you get ready to use your hot tub. Requires 14″ clearance.