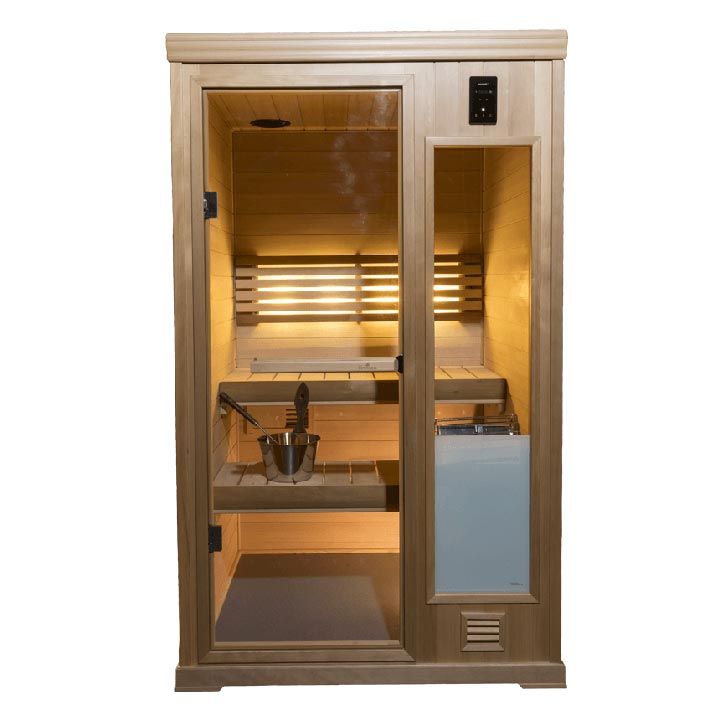 Imagine having a luxurious Finnish sauna experience quickly, easily and wherever you like. With the 6-panel Hallmark, you can — it truly is portable! The Hallmark comes equipped with the same features as other Hallmark saunas, but with 120-volt plug-in instead of 240. Simply assemble, plug into the closest outlet, and you're ready — no finishing work, no plumbing and no electrical.
A new addition to the HM44 is the SaunaLogic2 Digital Control with an optional worldwide mobile app giving you access to your sauna controls from anywhere in the world.
Seating for up to 2 people
Clear Canadian Hemlock interior and exterior
Exterior finished with biodegradable wood treatment for a luxurious look and for ease in maintenance
Bluetooth sound system (styles may vary)
Interior low voltage lighting & color therapy lighting system
Built-in floor with vinyl surface
Simple hook & pin panel design; easily installs in less than an hour
Stainless steel Junior wet/dry sauna heater
SaunaLogic2 Digital Control with optional worldwide mobile app
All Hallmark saunas are 80″ high
Instant Gratification
Choose Your Size
Choose from 4×4, 4×6, 5×5 corner, 5×7 and 6×6 corner
Ease of Maintenance
Built-in floor with vinyl surface, makes cleaning & maintenance a breeze
Fast Assembly
Pin & hook design easily installs in less than an hour
Music to Soothe
Each Hallmark sauna comes with a bluetooth sound system
Exterior Finish
Biodegradable wood treatment creates a luxurious look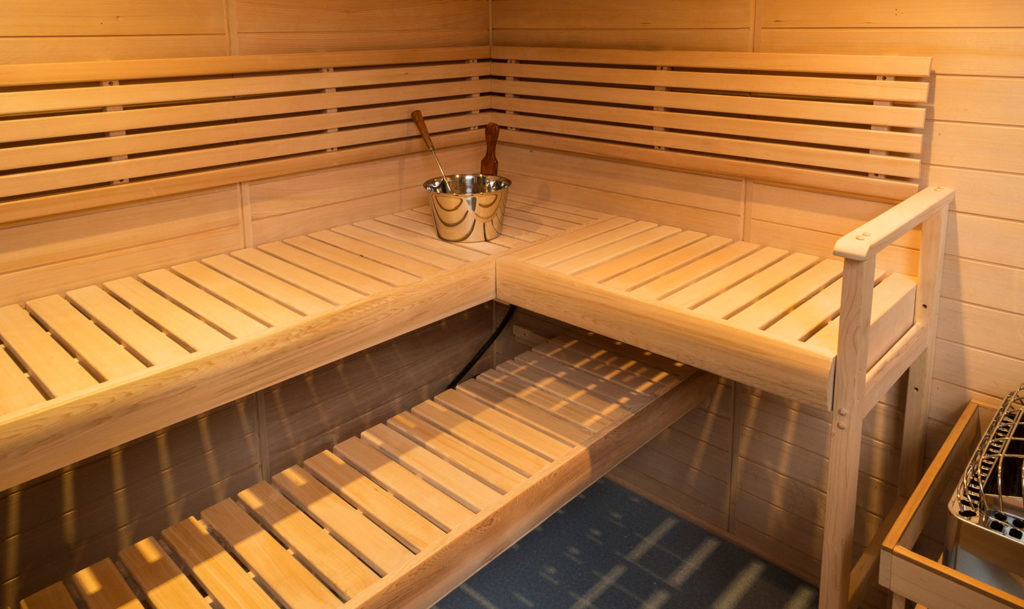 Your Own Personal Oasis
Finnleo's Hallmark Series makes owning a personal oasis at home easier than ever. Easy to assemble, yet loaded with upgrades usually found only in designer-type saunas, Hallmark puts the opportunity for a daily chance to relax and recharge within reach of everyone.
Attractive in More Ways than One
To the eye, top quality clear Canadian Hemlock inside and out reflects golden light in a warm, comforting glow. The exterior is protected with a biodegradable finish for a luxurious look and ease in maintenance. Integral backrest low voltage lighting system with color therapy and integrated Bluetooth sound system complete the aura of luxury.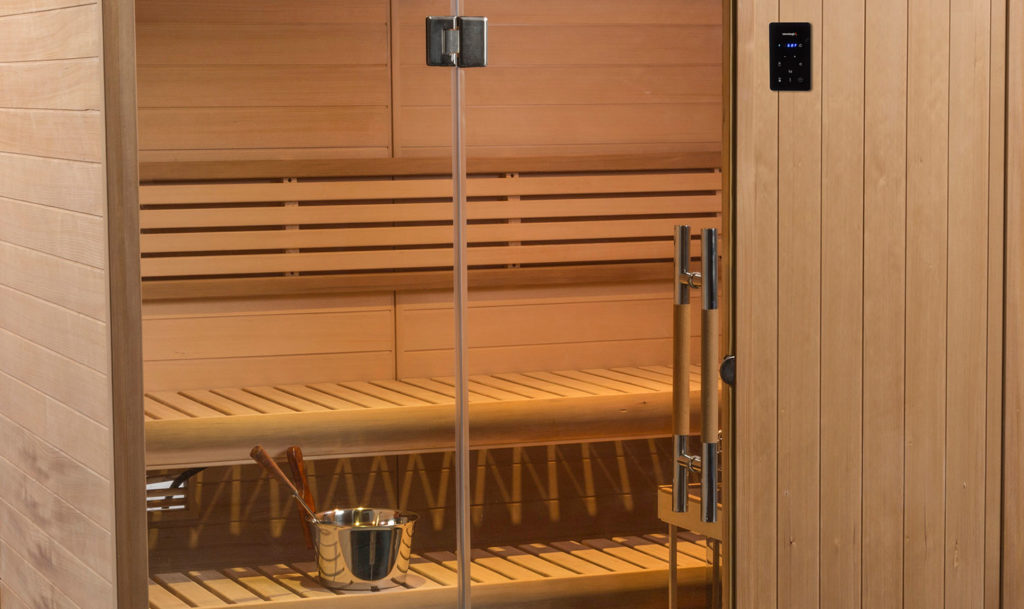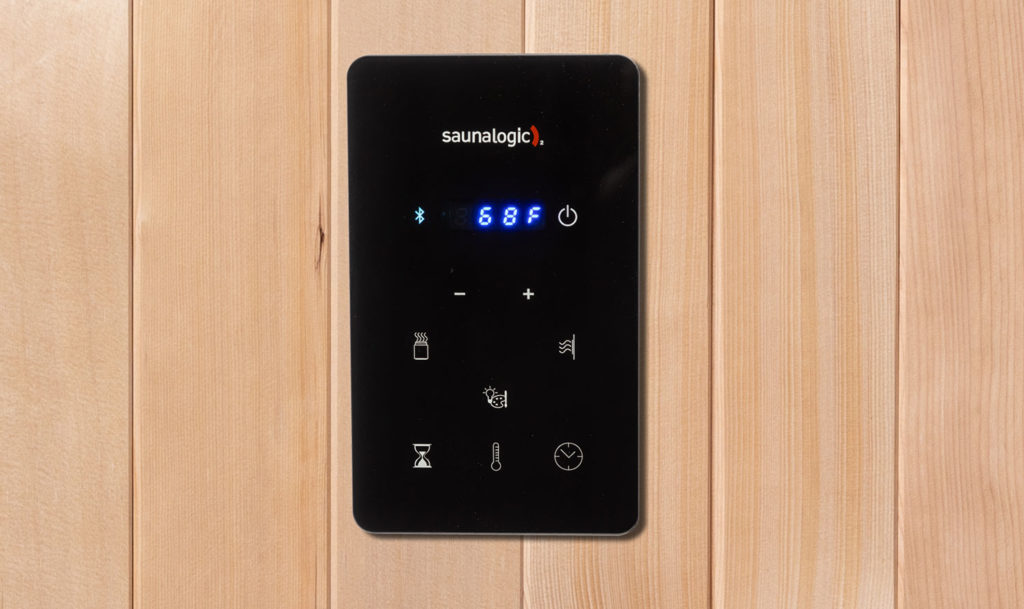 One of the Best Values Around
You wouldn't know it by looking at it, but Hallmark is well-known as one of the best values in traditional saunas.
Clever hook & pin panels design mean Hallmark is easily assembled in less than 1 hour
Powered by stainless steel Finnleo Junior or Designer wet/dry sauna heaters
Finnleo SaunaLogic2 Control with optional worldwide mobile app
Interior low voltage lighting & color therapy lighting system
Want More? Consider These Saunas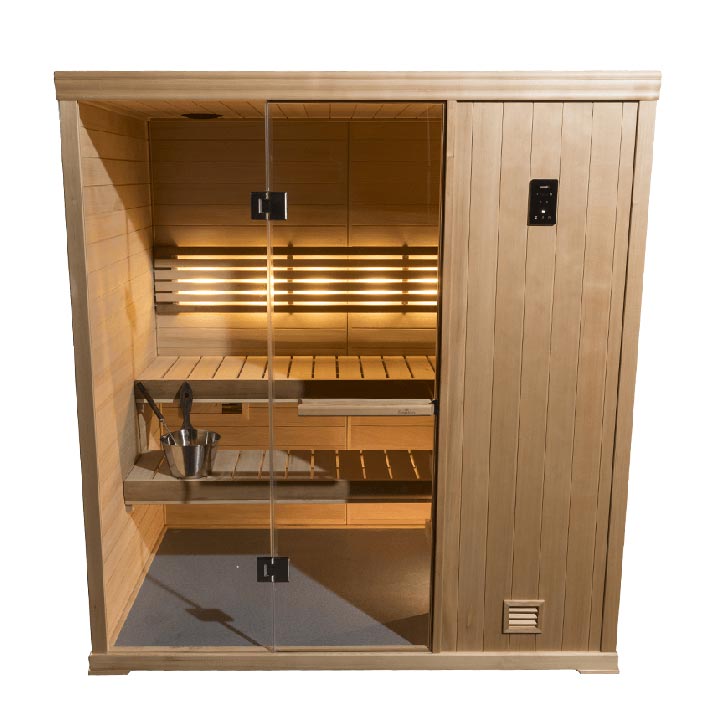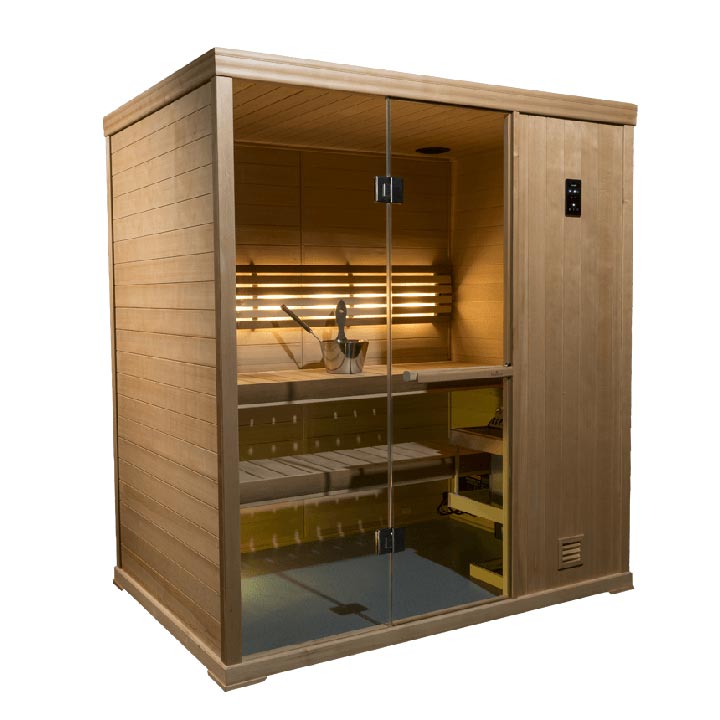 Finnleo Hallmark HM46
Clear Canadian Hemlock interior and exterior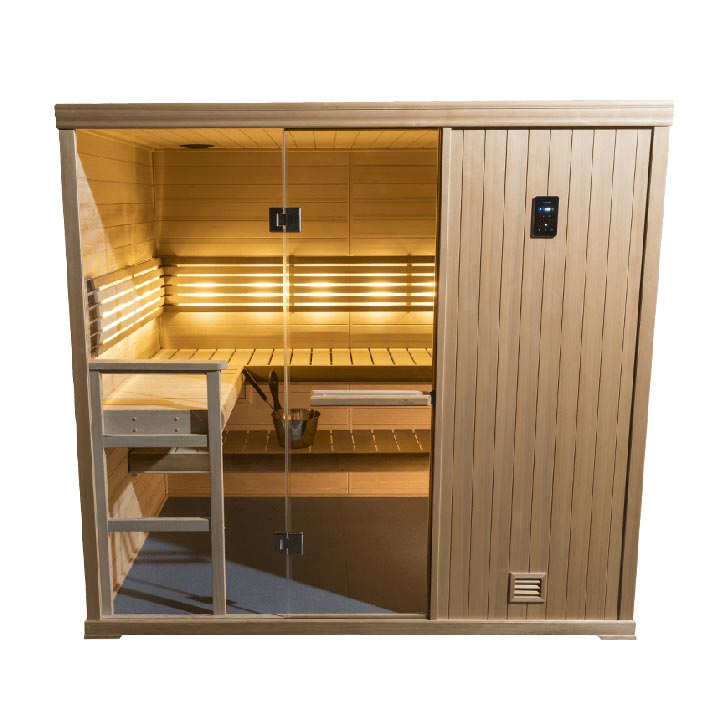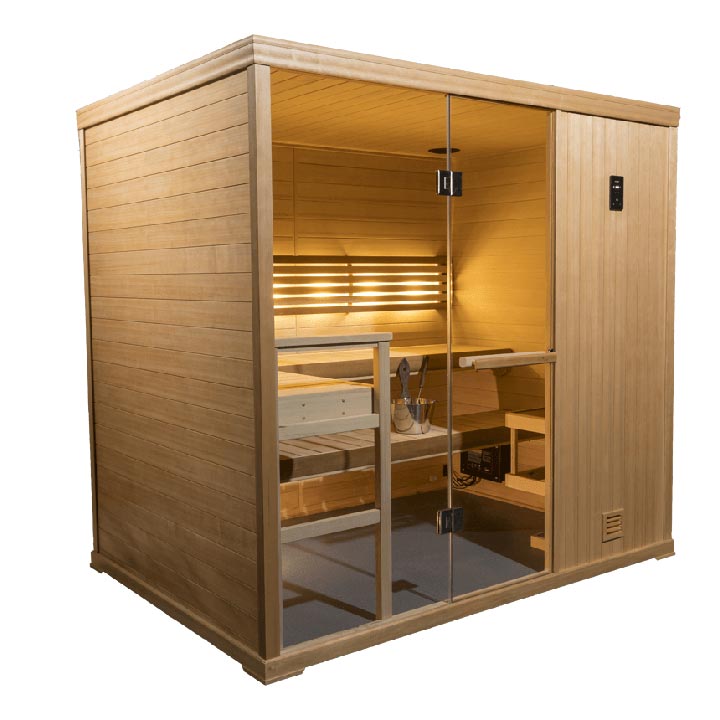 Finnleo Hallmark HM57
Exterior finished with biodegradable wood treatment for a luxurious look and for ease of maintenance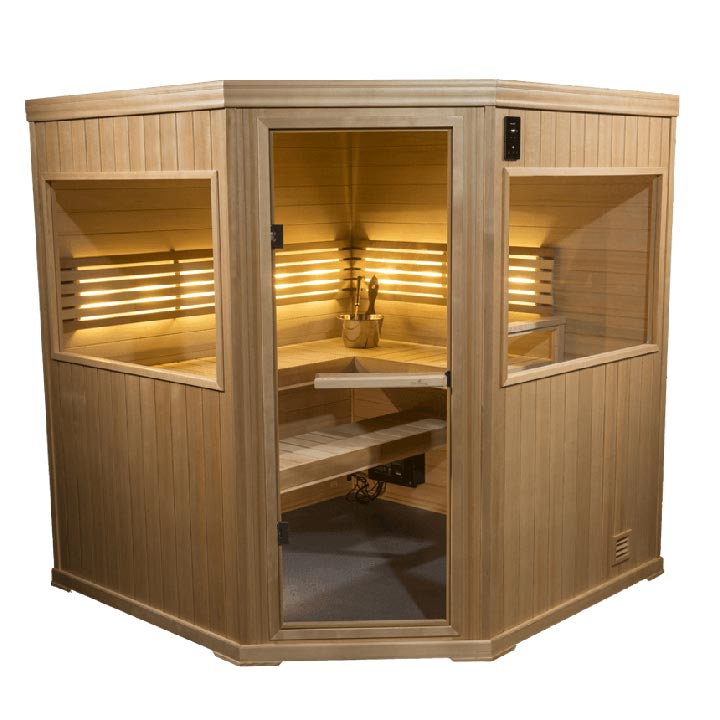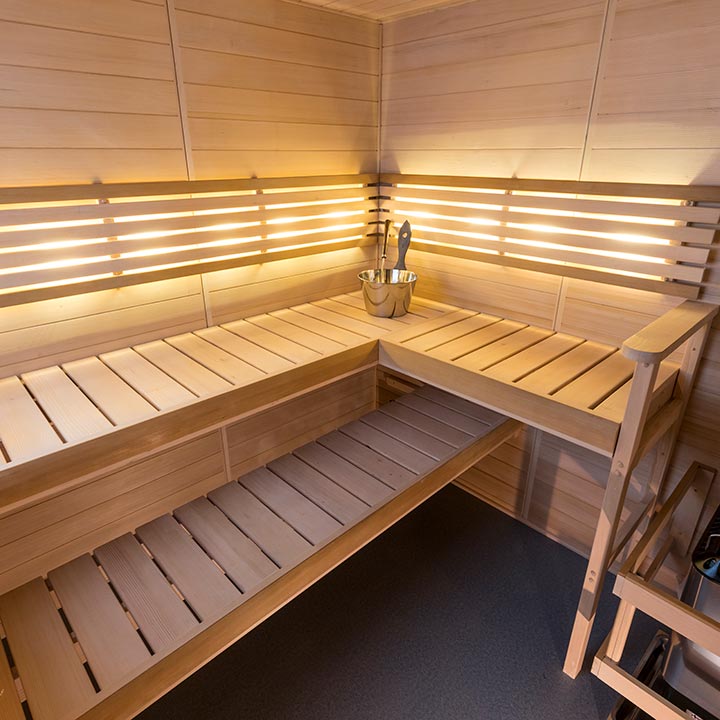 Finnleo Hallmark HM66C
Exterior finished with biodegradable wood treatment for a luxurious look and for ease in maintenance