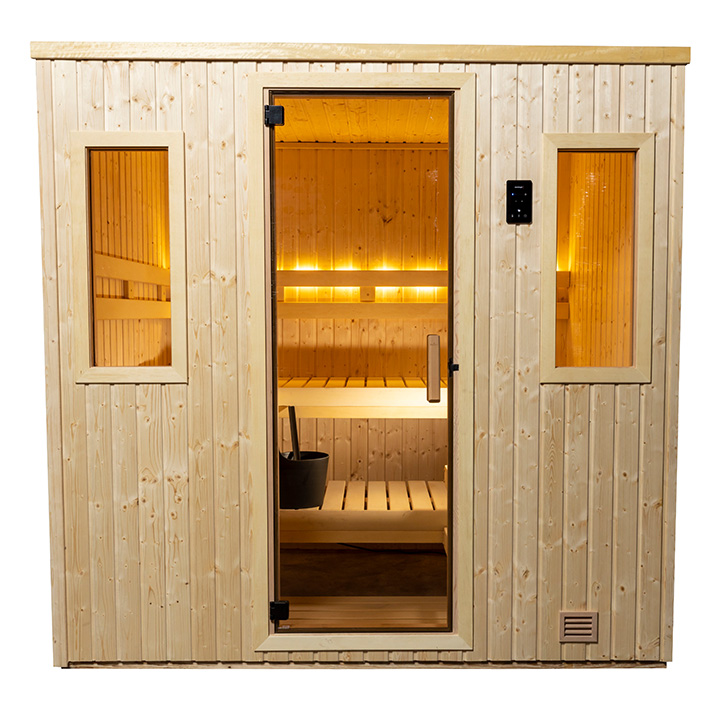 The NSI-57, one of the most popular models, is amazingly roomy, yet only takes up 35 sq. ft. of floor space. With an L-shaped top bench, it comfortably seats four or five people and plenty of room for two to lie down. The NSI-57 includes a Viki 6.0 kW stainless steel heater with SaunaLogic2 control and mobile app.
Traditional Sauna Elements for Your Home
Integral Backrest LED Lighting
RGBW color light therapy
Full Body Comfort
Benches, and backrests in clear Aspen or Abachi wood
Rento Pisara Bucket and Ladle
Pause for a moment, cleanse your body and purify your soul
Form Meets Function
All-glass door, bronze tinted glass
SaunaLogic2
Operate your sauna from anywhere you have cell service
Sauna. For Your Health
For centuries, the Finnish people have known sauna improved their health. Now, numerous medical studies prove the health & wellness benefits of sauna: from cardiovascular and brain health to faster recovery after workouts.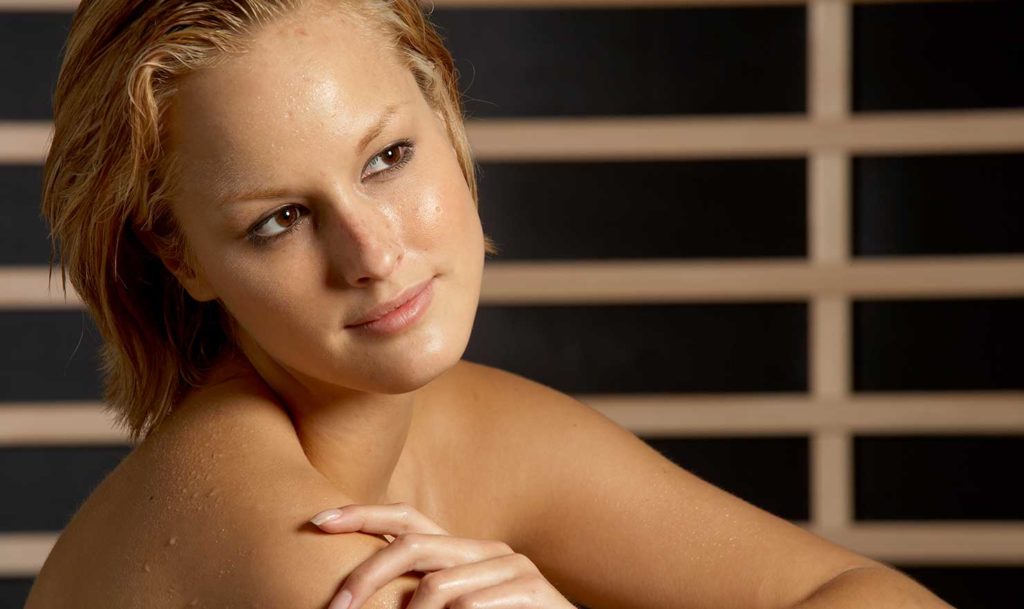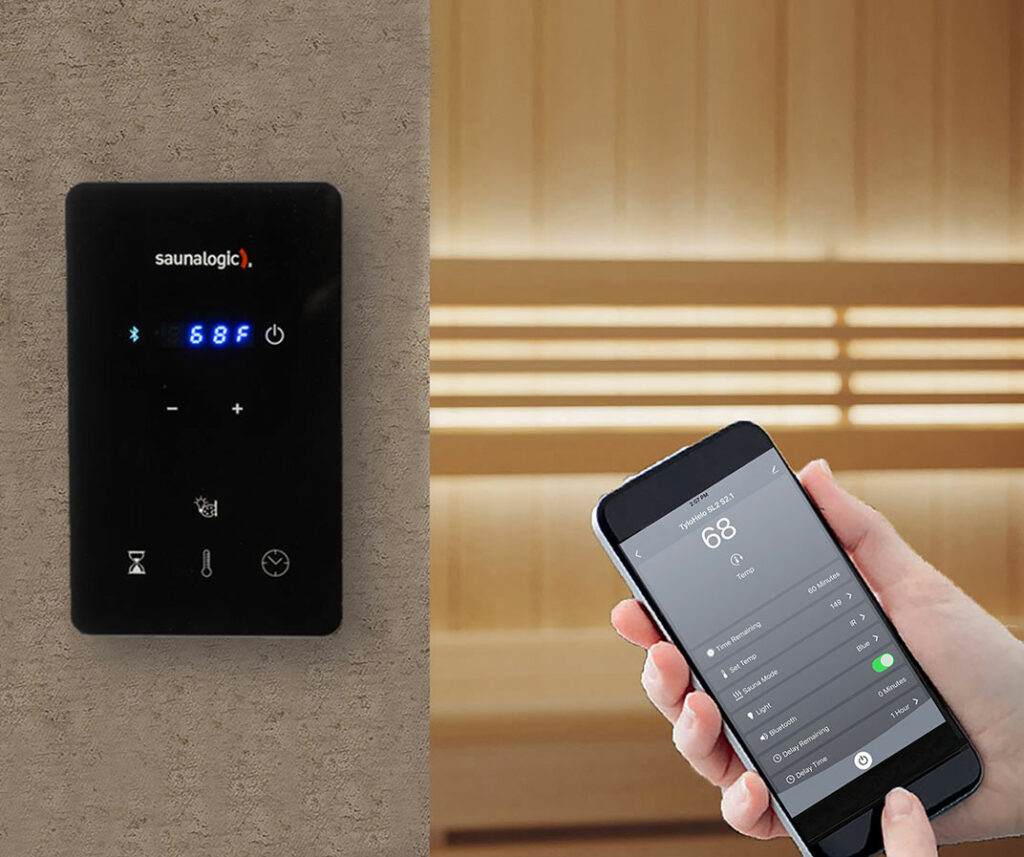 Control All Sauna Functionality From the SaunaLogic Mobile App
The fully customizable mobile app-operated control has powerful capabilities and goes well beyond simple on/off functionality. The SaunaLogic app allows users to control all functions and programming of their sauna from wherever they are. Within the app, the user can adjust temperature, choose the light color (built-in RGBW light control with dimmer), turn Bluetooth on/off (for use with optional SL2 Audio Kit), set a delay time (up to 24 hours), use the 60-minute timer, create daily/weekly/monthly schedules, and more.
Color Therapy
All NorthStar Series Saunas include color therapy lighting systems-discreetly integrated into the backrests. In addition to white light, the LED lighting system can create six different colors (Red, Green, Blue, Yellow, Turquoise and Violet); choose the color according to the mood desired.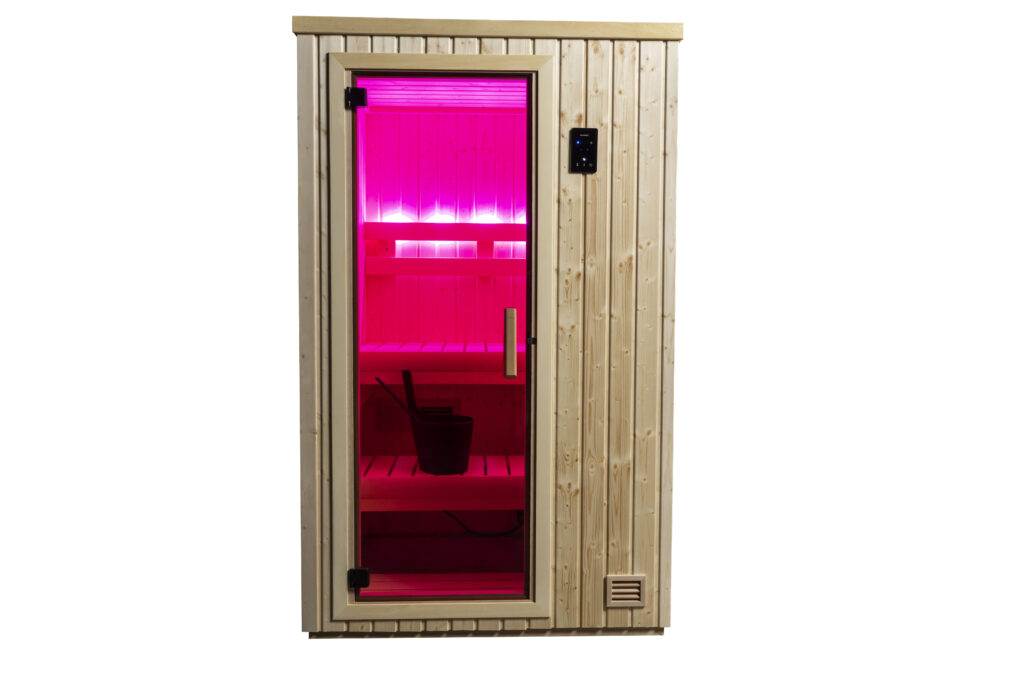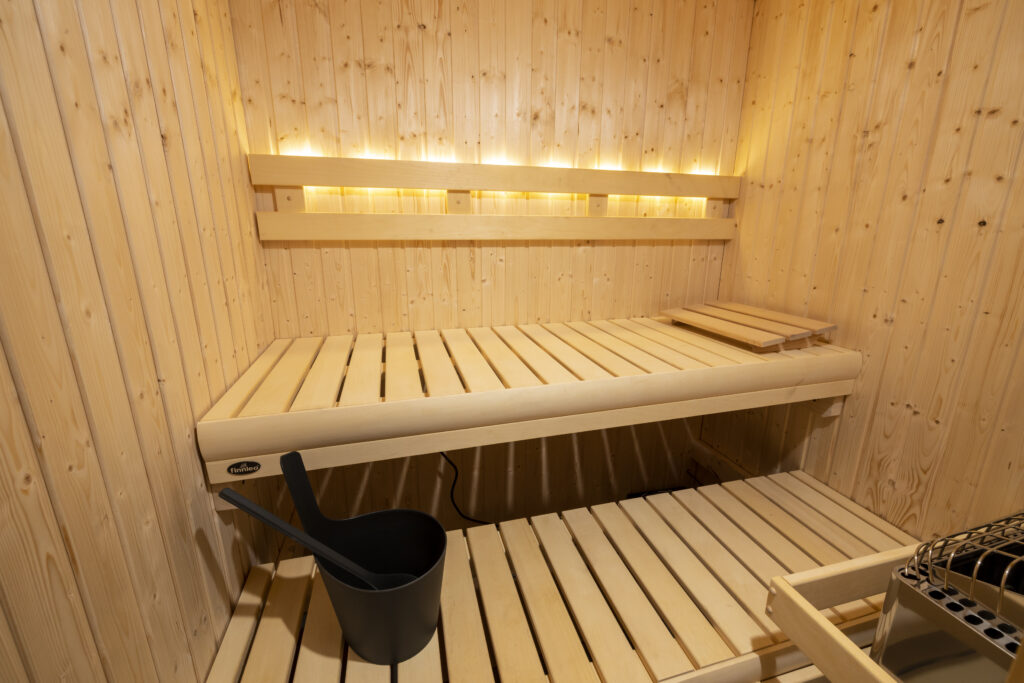 Reimagined for Today
The NorthStar series saunas are modular/free-standing, making them easy to incorporate into an in-home fitness area or anywhere there is as little as 16 sq. ft. of floor space.
Product Specifications
Cabinet/Siding
Nordic White Spruce (NWS) interior and exterior
Want More? Consider These Saunas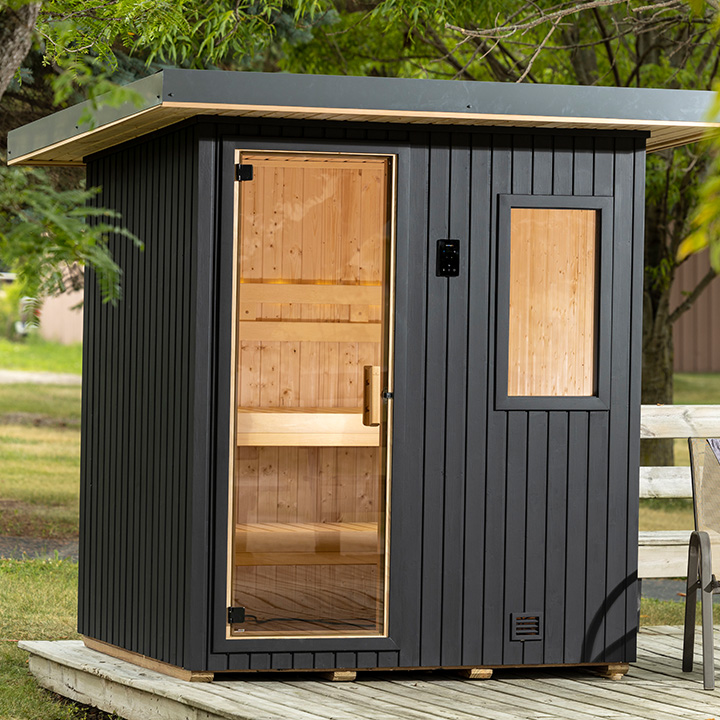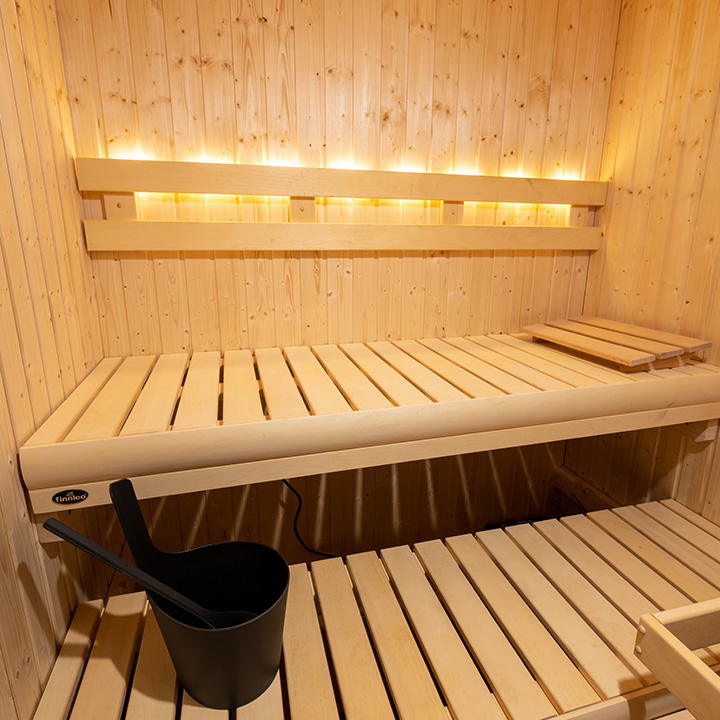 Finnleo Northstar NSO-56
The Finnleo NorthStar Outdoor Sauna's simple panel construction makes it easy to assemble in a few hours anywhere you have space-on a backyard patio, poolside, or even under a deck. The perfect complement to backyard living, the NorthStar Outdoor Sauna is easier than ever to use with your smartphone as a second control. No need to go outside to turn the heater on.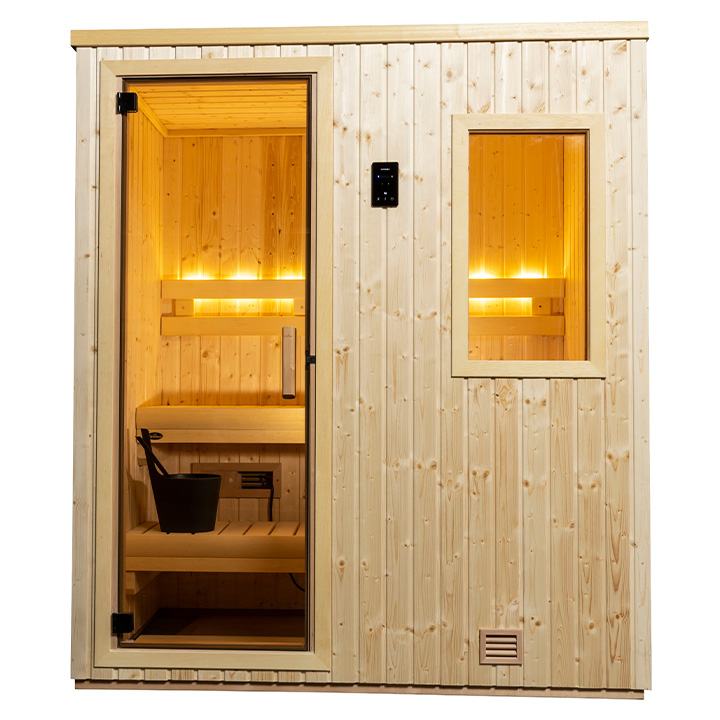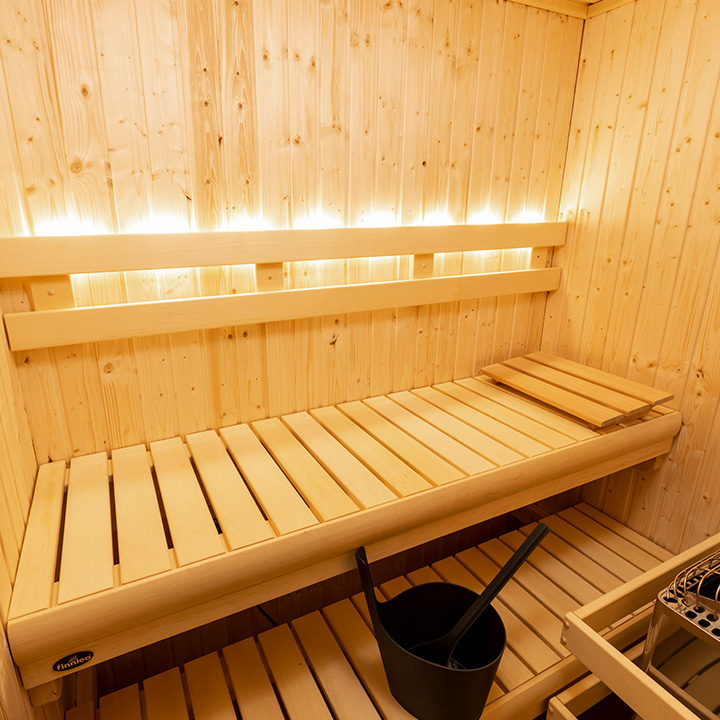 Finnleo Northstar NSI-46
This 4'x6′ sauna is ideal for two or three people, including a top bench long enough to comfortably lie down.
The NSI-46 includes a Viki 4.5 kW stainless steel heater and SaunaLogic2.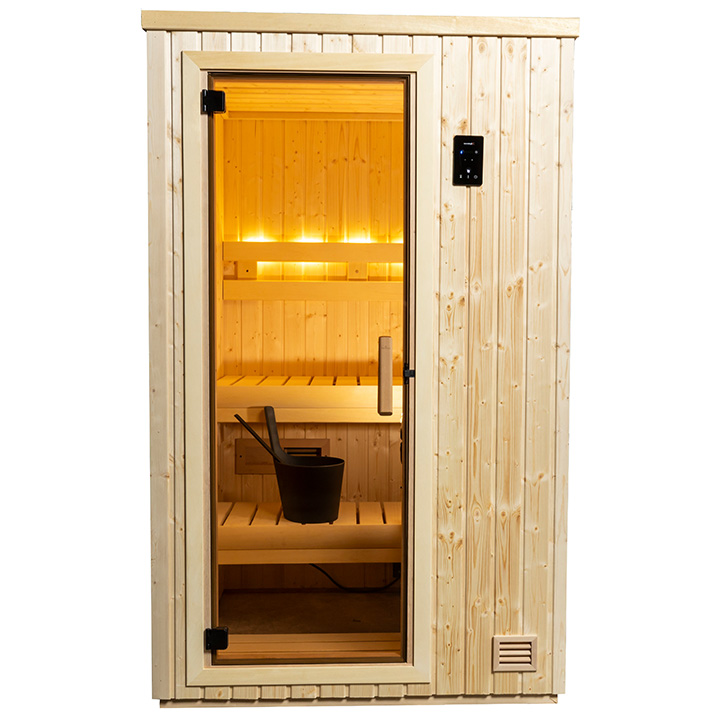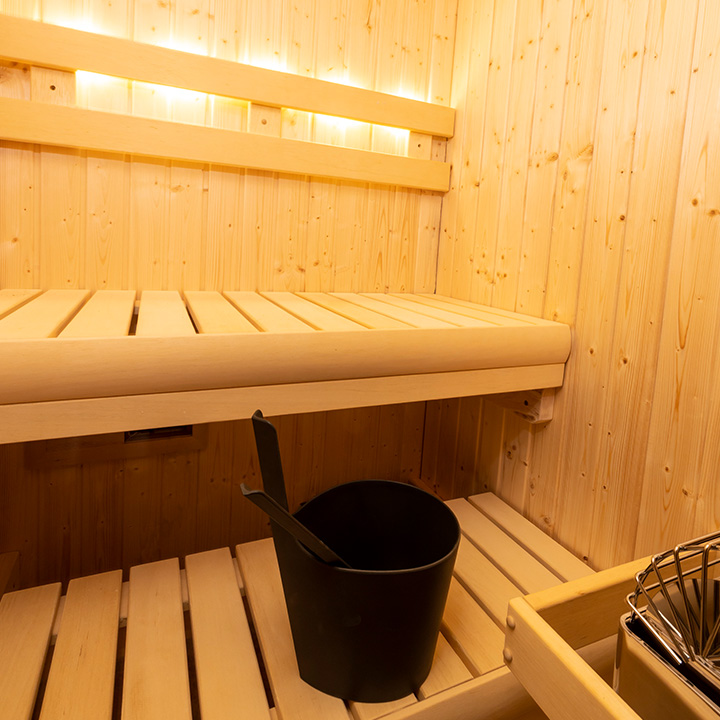 Finnleo Northstar NSI-44
With the NSI-44, a true Finnish sauna experience is possible in only 16 sq. ft. of floor space. The NSI-44 comes equipped with the same features as other NorthStar saunas, but with the 120-volt stainless steel "Junior" heater (1.7 kW or 2.2 kW/120V/with cord/plug) instead of a 240-volt heater.
Simply assemble, plug it into the closest dedicated outlet and you're ready—no finishing work, no plumbing and no electrical.  As with all NorthStar saunas, the NSI-44 includes a SaunaLogic2 control with worldwide mobile app.