If you've been thinking about becoming a hot tub owner, but don't think you can handle the maintenance of owning one, you can stop worrying now. With today's innovative hot tub models and options, it's easy to maintain your hot tub without spending a lot of your free time doing so. While it does take some work, it pales in comparison to all the relaxing hours you'll spend soaking blissfully in your tub! In this article, we will break down everything you need to know about how to keep your hot tub in tip top shape.
How Much Maintenance Is a Hot Tub? What Parts Am I Maintaining?
First off, you won't need to maintain the outside of the hot tub at all! Staining and sealing the wood was a thing of the past with older models. Today's hot tubs have synthetic wood cabinets that require almost no maintenance at all, and they just need an occasional hose down for easy cleaning. 
Hot Tub Water Care: As Little As 15 Minutes Each Week
If the term "balancing the pH" intimidates you, don't worry! With guidance from your expert hot tub dealer and key products on hand, it's simple to keep your water balanced, clear, and clean. Hot tub water care is composed of a few steps: balance the water at start-up, make sure there is a certain amount of sanitizer in the spa water before each use, and monitor the levels with a quick spa test strip once a week to ensure it's all correct. It's also important to note that your water care requirements will be dependent on the system you choose (chlorine, bromine or salt water sanitization, and the presence of an ozonator). Ask your hot tub retailer about how these systems compare with one another for maintenance requirements.
Hot Tub Filter Care: As Little As 15 Minutes Each Month
Why do you have to clean your spa filters? Because mineral particles or calcification from hard water can clog any water filtration system. Depending on your hot tub, you'll have between 1 to 5 filters that need to be cleaned with some basic steps:
Rinsing filters: Once a month (there are also many filter sprays)
Deep cleaning filters: Every couple of months, soak them in a bucket with special cleansers.

Some filters are even dishwasher-safe, making this even easier and faster.

Replacing filters: Filters should be replaced on the requested replacement schedule or as needed, especially if the cleaning is no longer doing the trick. And, if one filter is dirtier than the other filters, it's probably connected to a separate low speed circulation pump and is doing most of the filtering.
Draining and Refilling the Hot Tub
Draining and filling can be as little as one time each year with a salt water system (3-4 times each year with traditional water care). To ensure your hot tub stays in mint condition, especially if the balanced water isn't looking as crystal clear, it's time to roll up your sleeves. It's important to realize that bacteria can survive in your spa despite the sanitizer you add due to a sticky substance that forms in your hot tub plumbing called biofilm. These bacteria can be host to various illnesses, and the goo inside the lines can't be removed through normal spa water circulation or regular cleaning.
How to Drain the Hot Tub
Before you drain your spa, flip the hot tub breaker to cut all power and eliminate risk of electrical shock. If your hot tub has a floor drain, simply remove the cap from the drain, attach a garden hose, and open the drain valve OR use a sump pump that will speed up the process (but be sure to shut it off when it stops pumping water!). As a side note, make sure your first double check with your city's ordinances on hot tub drainage regulations, as some cities require you to drain your hot tub water into the sewer system. This is NOT a storm drain, since that leads to natural bodies of water. If you don't have sewer access, you can run a hose into the drain of a utility sink or water the lawn or gardens with old spa water once the chemicals have dissipated.
Luckily, when you add a line flush product as the first step of your draining process, the special cleaner breaks down biofilm. Once you've added it, let it circulate for a minimum of 20 minutes. (If it's your first time cleaning your hot tub, but you haven't been using a line flush, you should allow the line flush product to circulate for a few hours. Just follow product directions). It's going to look gross while it's cleaning, but that is the power at work!
How to Clean the Hot Tub
Once the water is gone, it's time to give the shell (the inner core of the hot tub) a good clean. Be sure to know what products are best for your tub, as it cannot stand up to harsh chemical cleaning products. Hot tub cleaner, diluted white vinegar, or diluted bleach can all be good options depending on your tub, and be sure to use a soft cloth or non-scratch nylon scrubber to remove residue. Don't forget about getting to those nooks and crannies, a prime hiding spot for possible mildew, algae, or bacteria. Then, rinse really well and drain all this water, and double check that all your jets are open after your cleaning session, so the air won't be trapped. This is also the perfect time to clean your hot tub cover and any spa pillows. If you decide on a salt water system that extends the spa water life up to 12 months with proper care, you may only need to drain, clean and refill the spa as little as once a year.
How to Refill the Hot Tub
You are almost done! First, perform a quick check: the breaker is off, the drains are closed, and the sump pump is removed. When refilling your hot tub, use a hose filter to reduce impurities such as calcium and copper that may affect your water chemistry and overall spa health. This is a quick fix for higher quality water and reduced staining risk. However, if you've had staining problems in the past, it's worth adding a dose of metal sequestrant during refills. Now, insert your hose into the filter compartment (helping force trapped air in your circulation system), and then begin filling your spa. Do not overfill your tub as it can cause big issues like backflow into your heater. If you overfill it, drain the excess right away. Finally, turn your spa breaker back on.
How to Restart the Hot Tub
Now that your spa breaker is back on, and the water is filled, let it reheat back up! Allow the water to circulate and heat up to at least 80°F (27°C). Be sure to turn off air valves if you have them, so they don't disrupt chemical distribution. Test the water and adjust pH, alkalinity, and calcium hardness if necessary. Then, cover the spa for 24 hours to let the water warm up and the chemicals circulate. Finally, retest the water when the spa reaches 100°F (38°C). You likely won't need to adjust anything, but this final step ensures the water is balanced and you are ready to soak!
How Do You Winterize a Hot Tub?
Having a hot tub in a colder climate during the winter is an amazing luxury to enjoy, but it also has some considerations depending on your plans. Before we get into the how of winterizing a hot tub, let's quickly determine if you need to!
If you are spending most of the winter at home:
Keep your hot tub running! Winterizing your hot tub can be complicated, so if you plan to enjoy it, keep it filled, test and treat your water on schedule, and keep it ready for you!
If you are taking a short (up to two consecutive weeks) vacation during winter:
Good for you! Before you head out on vacation, make sure the filters are clean, the water is freshly sanitized, and you secure your tub with a childproof cover. To save energy, you can also lower the spa temperature by five or ten degrees but make sure it stays warm since freezing damage can be extremely detrimental to your hot tub.
If you are going to be a snow bird this winter and heading out the entire season:
You will absolutely need to winterize your tub, and since this is an extensive process that requires precision, it's ideal to seek the help of a professional service to do this right. In fact, the most damage that occurs to hot tub spas is caused by improper winterization. Damage from freezing is very expensive to repair, so if you have any doubts, contact a local spa professional to do this for you, so you can focus on your vacation!
The process is extensive but as a very quick overview it involves:
Planning ahead with an early start; the water must be cleaned before draining and the temperature must be above 40 degrees Fahrenheit to do so.
Turning off the circuit breaker for the spa's electrical line, and if possible, unplug the unit.
Draining: Once the power is turned off, the tub needs to be drained and dried thoroughly so no remnant water can freeze. This will require wet-dry vacuuming and careful towel drying. All filter cartridges also need to be removed, cleaned, and stored indoors along with any wireless panel remotes.
Turn off your spa heater.
Open drain plugs and remove water. The same goes for blow jets since water can get trapped in your jet plumbing and damage your hot tub if it freezes. Make sure this is drained completely, either manually or by a shop vac.
Adding Propylene Glycol antifreeze into the specified openings where water may enter or leave your spa (jets, filter standpipes, etc). to keep your spa's pipes from freezing. For safety, never use an antifreeze containing Ethylene Glycol (the kind you use in your car) in your hot tub since it's toxic.
Cover your tub and put plywood boards on top of the cover to protect from snow and ice damage, finishing it with a plastic tarp on top of everything.
On portable, cabinetized spas, close and secure the equipment hatch door. Often, creatures will try to nest inside spa cabinets over the winter and cause expensive damage with wire-chewing!
When you get back, all traces of the antifreeze must be removed, and then the tub should be properly refilled.
Again, this is a very specific process susceptible to human error, and it's a great idea to get help from professionals if you will be winterizing your tub this season!
And, a few other quick tips for keeping your spa perfect in the winter:
Consider a Winter Blanket: Keep your spa hot year-round, even in areas with freezing temperatures, to maximize energy efficiency.
Check for wear and tear, as well as ensuring the seal is tight, on a regular basis.
Remove snow and ice: Routinely brush snow off of your spa cover and splash warm water on ice rather than prying it off.
How Do You Keep Hot Tub Water Clear?
Talk to your hot tub professional about what products are best for your specific hot tub! If you have cloudy water, probable causes may include:
Dirty filters
Excessive oils or organic matter
Improper sanitizing
Suspended particles or organic matter
Overused or old water
Metals in your water. If you're not using a hose filter when you fill your tub, metal contaminants in your hard water could be making it cloudy.
Nature: tree seed pods, dead leaves, grass clippings, and all the other natural matter can get into the hot tub. Not only may sanitizers try to attack these instead of bacteria, this nature debris can contribute to clogging.
Poor water chemistry
Insufficient sanitizer levels, especially if you have had many spa bathers! Since humans have quite a bit of elements on our skin, a shower before a soak is always a must to maintaining a clean tub!
With the right maintenance and products, your water can stay clear and balanced for all of your hot tub soaks!
OK, I Can Handle Hot Tub Maintenance! Now What?
At Mainely Tubs, we are happy to help you hit the ground running! Whether you want to discuss this maintenance more in depth, get a feel for hot tub options and costs, or get ready to make a purchase, we are here for whatever stage you are in the process.
We suggest reading our convenient online Hot Tub Buyer's Guide or simply download our "Ultimate Hot Tub Buyer's Guide." It's a complete printable reference guide with in-depth insights into everything you need to know about buying and owning a hot tub.
Need additional help? Give us a call, email us, or pop by our Scarborough or Rye location. At Mainely Tubs, we're here to help you learn more about all things hot tubs!
About Mainely Tubs in Maine, New Hampshire, and Massachusetts
Mainely Tubs is a 100% Employee Owned premier Hot Spring Spas dealer. We sell and service new hot tubs, used hot tubs, portable spas, swim spas, saunas, hot tub accessories, hot tub water care, and more. Our Brands Include: Hot Spring Spas, Caldera Spas, Freeflow Spas, Endless Pools Swim Spas, Finnleo Saunas, Covana, Leisure Time, Fresh Water, Silk Balance, and other brands you can trust.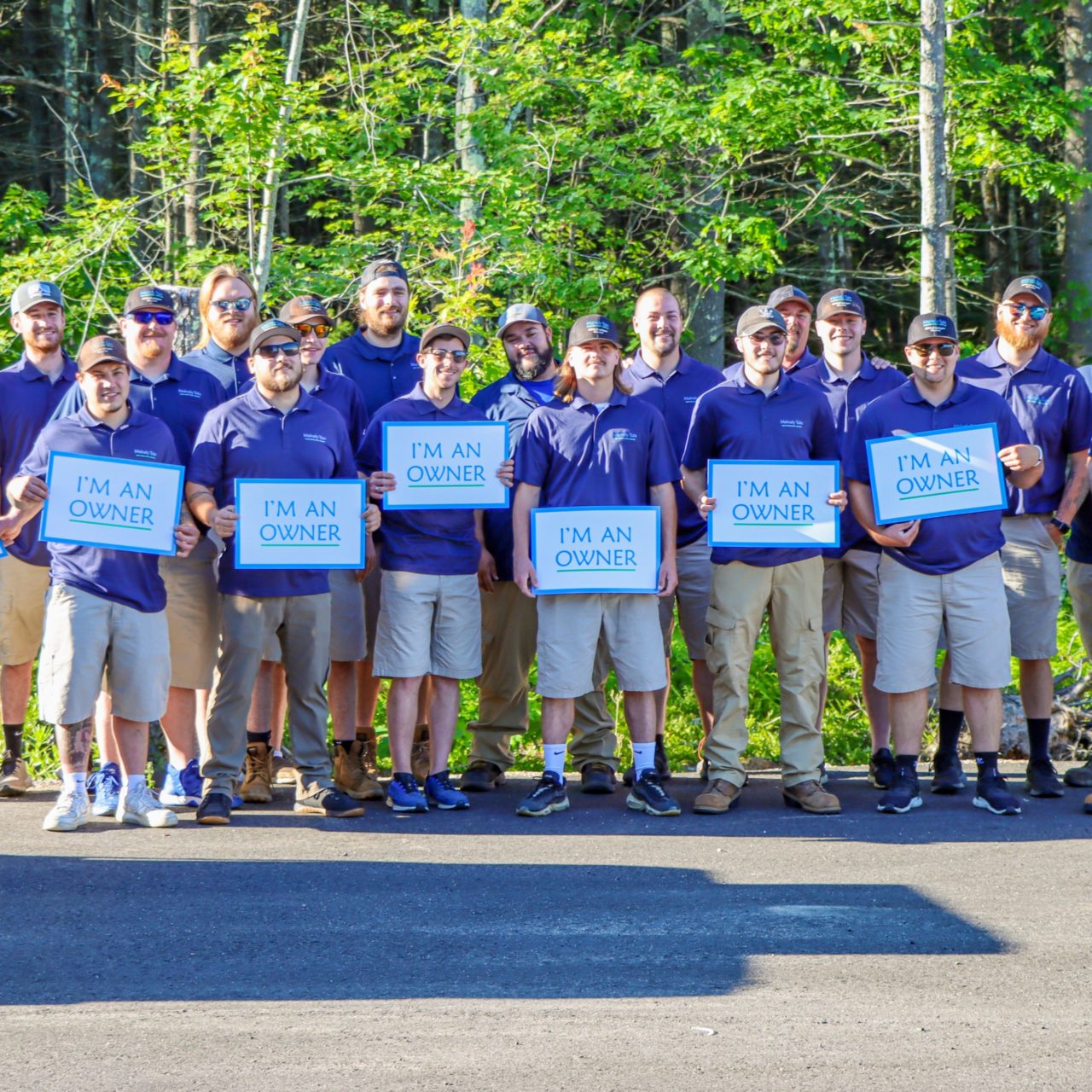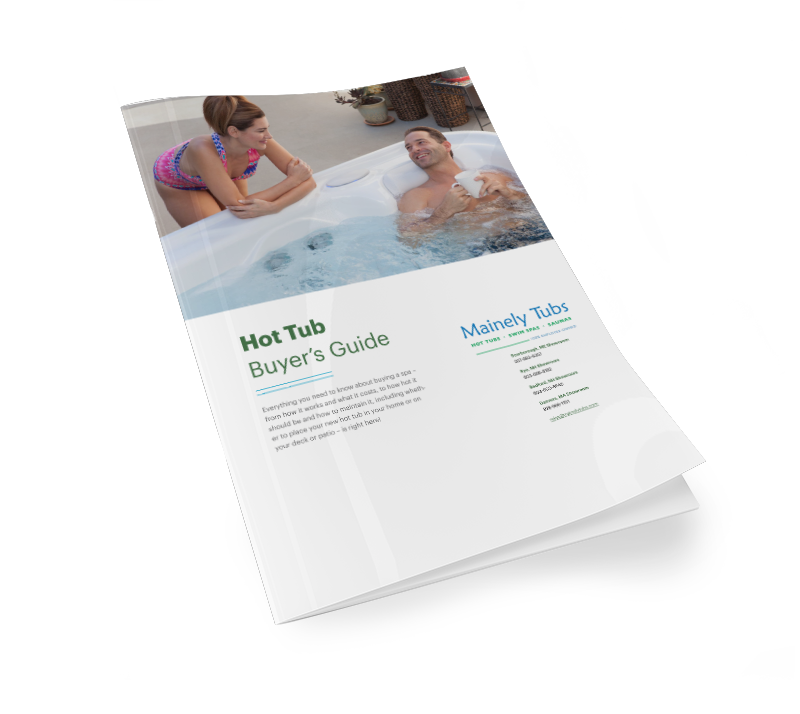 Download the Ultimate Hot Tub Buyer's Guide
Here's Everything You Need to Know!
We've pulled together everything you need to know about buying a hot tub. Learn about everything from hot tub functions & features to hot tub maintenance & costs all in one convenient guide.