If you read about the many impressive sauna advantages of owning a 24/7 accessible wellness oasis and its many amazing health benefits, you may still be curious about how a sauna works and the components that provide sauna therapy. Let's get started.
How Does A Sauna Work?
Saunas are a heated, enclosed, wood-lined room with different options for benches, seating, design, and capacity. The intense heat provides what has been called, "a bath from the inside out." This heat encourages detoxifying perspiration, relief from aches and pains, and deep relaxation among many other health benefits.
Before we get into the common components that are universal across all saunas, it's important to note the distinction between the two different types of sauna technology, traditional and infrared, captured concisely below:
If you enjoy steam in the sauna, higher temperatures, and a more social environment, then a traditional sauna may be the best sauna for you.
These saunas can be indoor or outdoor. Here are some other quick facts about traditional saunas:
The median temperature is between 185-190 degrees Fahrenheit
Traditional saunas heat the air to heat the body
Heat and humidity: Very dry until water is sprinkled over hot rocks. Both temperature and humidity are adjustable (by adding water to rocks); you can also incorporate essential oils into the water for aromatherapy.
It requires 30-40 minutes to preheat rocks before use
Proper ventilation will be required
Bathers enjoy 10-15 minutes – optimal time for use
If you prefer lower temperatures but with body-penetrating heat, an infrared sauna may be your best sauna choice.
These saunas are designed only for indoor use. Here are some other quick facts about infrared saunas:
Optimum temperature is between 125-130 degrees Fahrenheit
Infrared saunas directly heat your body. The infrared energy penetrates the body and raises the core temperature – activating a more pronounced sweating. The EMR (electromagnetic radiation) and EF (electrical field) on some models that utilize certain types of technology are lower than the ambient in your home. The EMR and EF levels are far below even Sweden's toughest radiation standards.
Heat and humidity: Relatively dry with average humidity. Temperature is controllable; humidity is not.
No pre-heat time required
Since water isn't used with an infrared sauna, there's no concern about ventilation. It's a completely dry heat that maxes out at 150 degrees.
10-15 minutes is optimal time for use, but bathers often stay 25-30 minutes (due to lower temperatures).
Basic Sauna Components
Wooden structures
Why are saunas made of wood? Saunas get very hot and they need to be designed to let bathers be comfortable in them. Even at maximum temperatures upwards of 190 degrees Fahrenheit, wooden benches and wooden walls stay relatively cool to the touch – allowing people to lay on the benches or lean against the walls without getting burned. Other materials (like tile) would be too hot to touch in a sauna environment.
Usually, the seating boards are built from either Abachi or Cedar woods. Walls are most often covered with Nordic White Spruce, Hemlock, or Cedar wood types.
Not only do these wooden materials hold heat and moisture, but they are also very easy to keep clean.
Seating benches
To get the most efficiency from your sauna and to increase the amount of people that can enjoy it (which is more specific to traditional saunas), it's important to maximize bench space and minimize wasted floor space. Typically, a sauna plan should include space for both a lower bench and an upper bench (except for some smaller models optimized for space and less people, which generally just have one bench for sitting only). The upper bench area can be used as the main calculation in terms of how many users you'd like to accommodate and it's smart to factor in about 2' of bench space per individual sauna bather.
Heaters
The heart of the sauna is its heater! You will want to work closely with your local sauna dealer to ensure you have the best heater model, best heater placement, and corresponding heater control options to perfect your sauna experience.
With a traditional sauna, you'll be looking at traditional sauna heaters and high-quality sauna heater stones. Speaking of good stones, here are some quick tips to consider before you select them:
They need to withstand high temperatures and significant heat fluctuations.
They cannot create dust or discharge any odors.
They must sufficiently deliver the heat, grab water and prevent the dripping of water – making an uneven surface preferable as opposed to an even one.
They must be large enough so that the air can circulate between them for operational efficiency
They must hold heat well. Once the room reaches temperature, a rock that properly holds the heat will use less energy to stay hot and will produce wonderful steam.
All sauna heater stones should be recommended and tested by the heater manufacturer.
With infrared saunas, you'll be looking at the infrared technology where an emitter produces infrared waves to provide heat.
Doors
All-glass doors have become the standard, given their stylish and durable characteristics—and functionality. The glass is resistant to high heat levels as well as wet and dry steam fluctuations.
Proper ventilation (for traditional saunas)
Did you know that colder air mass will always try to move downwards? It's true—sauna room temperature air sinks down to the floor level unless it can be circulated properly with the air mass inside the sauna. To achieve the "natural draw effect" and to pull fresh air through the sauna room, and to avoid heat loss while still keeping it high enough to achieve adequate air exchange, you'll want to discuss specifics with your local sauna dealer dependent on the make and model of your sauna.
Energy use
An in-home sauna is an inexpensive luxury to operate and it may end up being one of the most energy efficient assets in your home! In fact, for most families, the cost to run an in-home sauna is less than the typical costs to run a washer and dryer. While your total energy cost will be dependent on YOU (how often you use the sauna and for how long, the amp of the heater in the sauna, average costs for electricity in your area), here are some general estimates:
Traditional saunas: On average, if you use your sauna 3 times per week, a 6kW heater will cost approximately $4 to $6 per month. On the other hand, a 2.1 kW heater would use less and cost approximately $2 per month.
Infrared saunas: On average, these typically run at about $3 to $5 per month.
Want to Learn More About Becoming A Sauna Owner?
At Mainely Tubs, we'd love to work with you on the next steps of helping you find the sauna that is exactly right for you! From initial consideration, to sauna comparisons, to delivery day, we are here for you throughout the entire process. When you are ready, give us a call, email us, or drop in our showrooms in Scarborough, Maine or Rye, New Hampshire. We're always happy to help you make the first steps to becoming a new sauna owner!
About Mainely Tubs in Maine, New Hampshire, and Massachusetts
Mainely Tubs is a 100% Employee Owned premier Hot Spring Spas dealer. We sell and service new hot tubs, used hot tubs, portable spas, swim spas, saunas, hot tub accessories, hot tub water care, and more. Our Brands Include: Hot Spring Spas, Caldera Spas, Freeflow Spas, Endless Pools Swim Spas, Finnleo Saunas, Covana, Leisure Time, Fresh Water, Silk Balance, and other brands you can trust.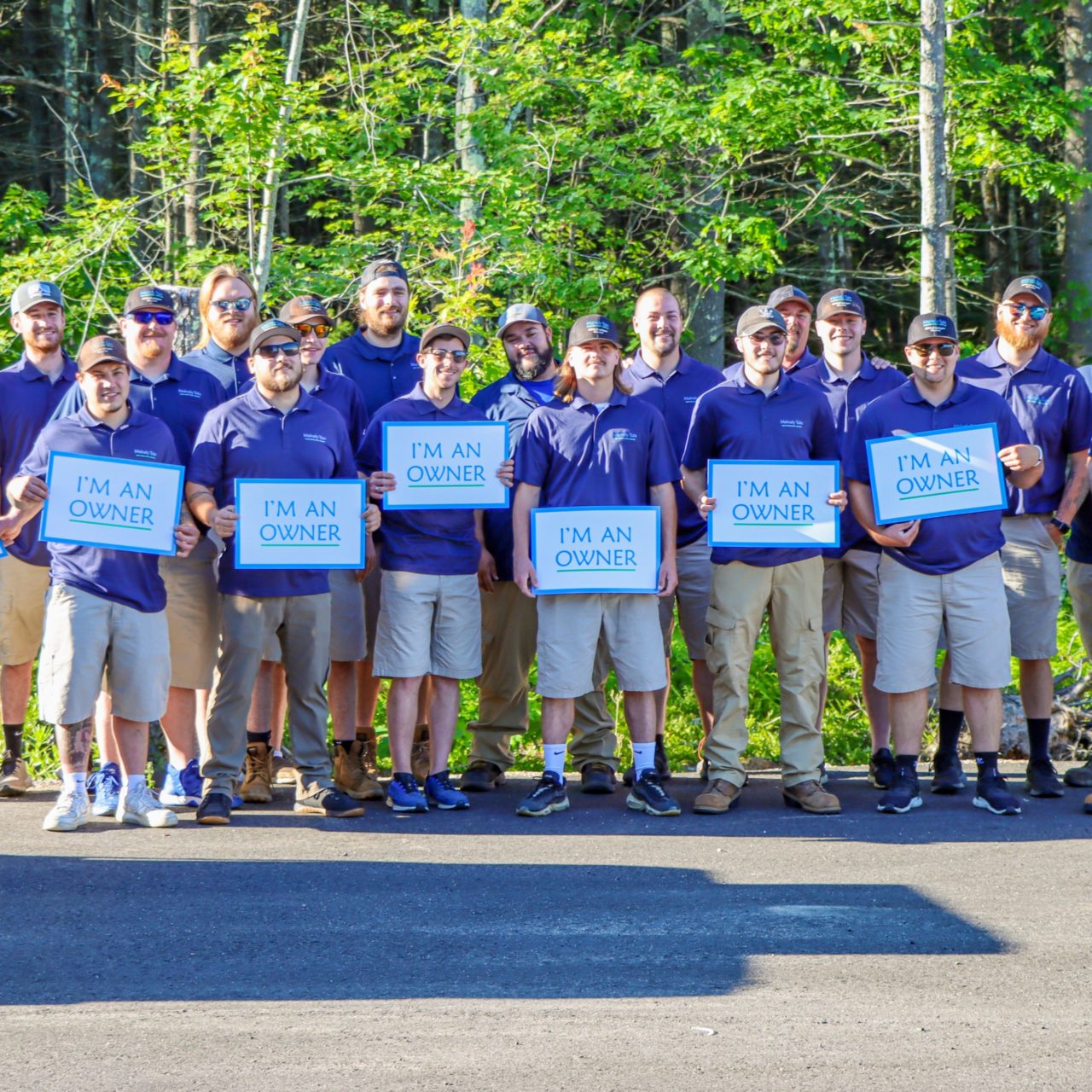 Related Sauna Articles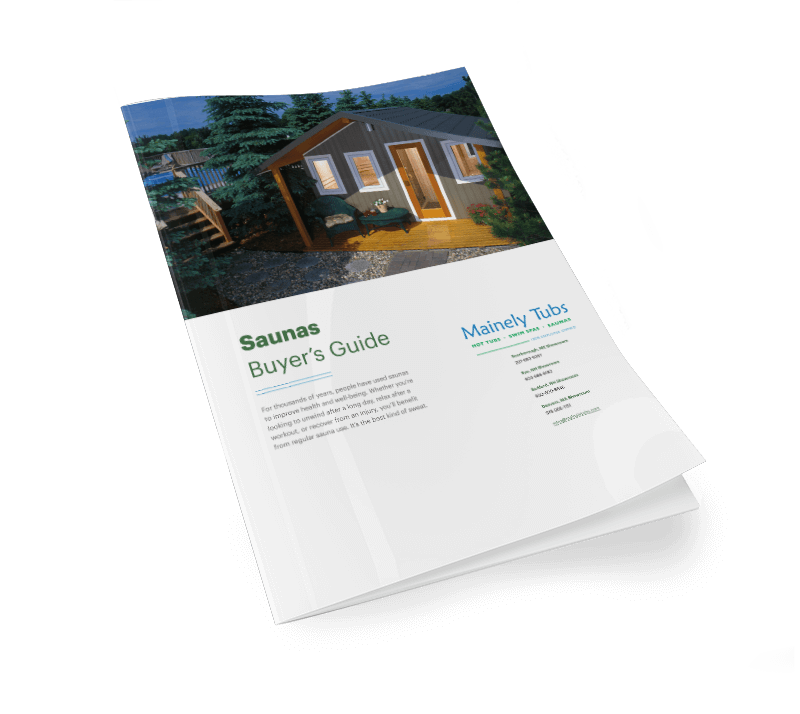 Download the Sauna Buyer's Guide
Here's Everything You Need to Know!
We've pulled together information about all things sauna. If you have questions, you'll find the answers here. Get your free guide now!