Was it the health and wellness benefits of a swim spa that led you to consider this exciting new addition to your home? If so, congratulations! However, if you are new to the world of swim spas and still actively exploring these products for the first time, you may ask, "What are the benefits of a swim spa?"
We've got plenty of great answers, but let's start with six of the top health benefits here.
1. You Have 24/7 Access to a Full Wellness Retreat at Your Home
If you've ever had a gym membership, you know the hiccups that come with the territory: specific (often inconvenient) hours of operation, long wait times for equipment, overcrowding, germs, and limited pool hours only to find the lanes are already at capacity by the time you arrive. It's easy to spend more time traveling to and waiting at the gym than you spend actually working out. The recent COVID-19 crises and the need for social distancing adds another big obstacle to people's gym routines.
When you own a swim spa, you have a complete, safe 24/7 fitness and wellness system at your fingertips whenever you want it, all year-long, even in the coldest climates and even when it's snowing. Whether it's crushing a workout, relaxing, or entertaining, your swim spa has it all for you, exactly when you want it.
2. You Can Enjoy an Amazing Swim Experience
If you are a swimmer, you know how challenging it can be to get your favorite workout in. Finding an inside pool can be hard, outside pools are often limited to a few summer months in colder climates, and the ocean is frigid and too choppy most of the time to get a reliable swim in.
The biggest and best swim spa health benefits are centered on swimming. Even though swim spas have a small physical footprint, this "swim-in-place" technology allows you to get the best swim experience possible, no longer stopping for a flip turn in a traditional inground pool after a few short strokes. Your "open water" swim is at your control.
In finding the best swim spa for you, it's important to understand the different swim current functionality across the three distinct categories within the swim spa family:
Entry-level Systems
As the most affordable options, these systems offer a basic and smooth swim-in-place exercise. Some models and brands even offer a turbulence-free experience through airless jets as opposed to the jets that rely on air pressure to generate resistance. If you are looking for more from the swim-in-place experience, continue onto the next two swim spa categories.
Mid-level Systems
These systems utilize the currents found in entry-level systems but usually employ a greater number of jets geared towards delivering more resistance with a superior feel. These systems are for people that want more versatility in the types of exercises they can do and more space to do it. In general, you will have access to more options with the mid-level systems compared to the entry-level systems, including a more customizable swim-in-place experience. If you still want even more, the next swim spa category has it all.
Premier/Premium Systems
These systems are designed to deliver the best swimming and exercise experience.This category offers more unique options when it comes to the generation of swim currents and resistance that go beyond jets for the best swim-in- place experience. Some brands utilize propellers or paddlewheels to deliver non-turbulent currents, while others offer swim machines to produce a swimming lane with laminar flow that is deeper and wider than your swimming stroke. If you want the best swim experience that most mimics swimming in open water with zero turbulence, you'll want to explore premier/premium systems more with your local swim spa dealer.
3. You Can Get the Dynamic Workout YOU Need!
Whether or not you consider yourself to be a fitness fanatic or an exercise novice, swim spas work for you. You can swim, run or walk on a hydraulically run underwater treadmill*, power up some aerobics, cycle underwater, enjoy rowing, or tackle other resistance exercises like strength training or conditioning workouts like barre – all depending on the swim spa and accessories that you choose. If you want to learn more about the powerful workout swim spa benefits that you can access, check out our Ultimate Swim Spa Workout!
(*exclusive to select premium/premier systems)
4. Enjoy A Low-Impact Exercise Routine That Is More Effective and Gets You in Better Shape
Yes, really! Pain is not always gain, especially if you tend to have trouble with your joints, if you are recovering from an injury, or if you just prefer low-impact workouts. Swim spa therapy is all about utilizing the natural resistance and buoyancy of the water; in fact, buoyancy can make you feel up to 90% lighter. This important swim spa health benefit takes pressure off the hips, knees, ankles and back. So, it has to be a less effective workout, right? Nope. Consider this: Dry land jogging burns 6 calories per minute and water jogging burns 11 calories per minute. Talk about a win-win scenario with aquatic exercise!
5. You Can Have A Swimming Pool Without All the Chemicals
Many people are sensitive to the chemicals and chlorine of traditional inground pools (especially due to the large volume of chemicals that pools require), and this is where swim spas change the game. As a great swim spa benefit, these compact and effective systems require fewer chemicals and far less chlorine than a regular pool. They are virtually odor free, even indoors, so your home won't smell. And your skin will thank you.
6. You Can Enjoy Hydrotherapy Massage (And in Some Swim Spa Models) Get A Hot Tub, Too!
Most swim spa models have seats and hydromassage jets, which is perfect for providing relief to aching muscles or enjoying an ideal relaxation retreat.
There are select swim spa models (within select mid-level and premier/premium systems) that take hydromassage to the next level with their dual-purpose and dual temperature-control options, allowing for separate swim and spa areas with individual temperature controls. In the swim area you can work out in a comfortable 82-85 degrees and then you can head to the spa area for a 104-degrees hydromassage soak to unwind and relax.
We went deep into hot tub health benefits and these same health benefits of a swim spa will apply if you choose a dual-purpose swim spa with heated hydromassage. It's great for reducing inflammation and stiffness in joints, increasing blood flow, stimulating healing, relaxing muscles, and even boosting your mental well-being. Dopamine is released as we settle into the hot tub water, immediately sending our bodies and minds into a state of relaxation with less stress and less anxiety – something we always need more of!
P.S. If you are in the market for even more relaxation, a sauna may be a perfect pairing for your ultimate home retreat.
I Need These Health Benefits of a Swim Spa as Part of My Life. What's Next?
Swim spas are a wonderful fitness and wellness retreat for your home and lifestyle, and Mainely Tubs would love to help you learn more about all the benefits and options of these swim spas. When you are ready, give us a call, email us, or pop by our showrooms in Scarborough, Maine or Rye, New Hampshire. We're always here to help you decide what swim spa is right for you!
About Mainely Tubs in Maine, New Hampshire, and Massachusetts
Mainely Tubs is a 100% Employee Owned premier Hot Spring Spas dealer. We sell and service new hot tubs, used hot tubs, portable spas, swim spas, saunas, hot tub accessories, hot tub water care, and more. Our Brands Include: Hot Spring Spas, Caldera Spas, Freeflow Spas, Endless Pools Swim Spas, Finnleo Saunas, Covana, Leisure Time, Fresh Water, Silk Balance, and other brands you can trust.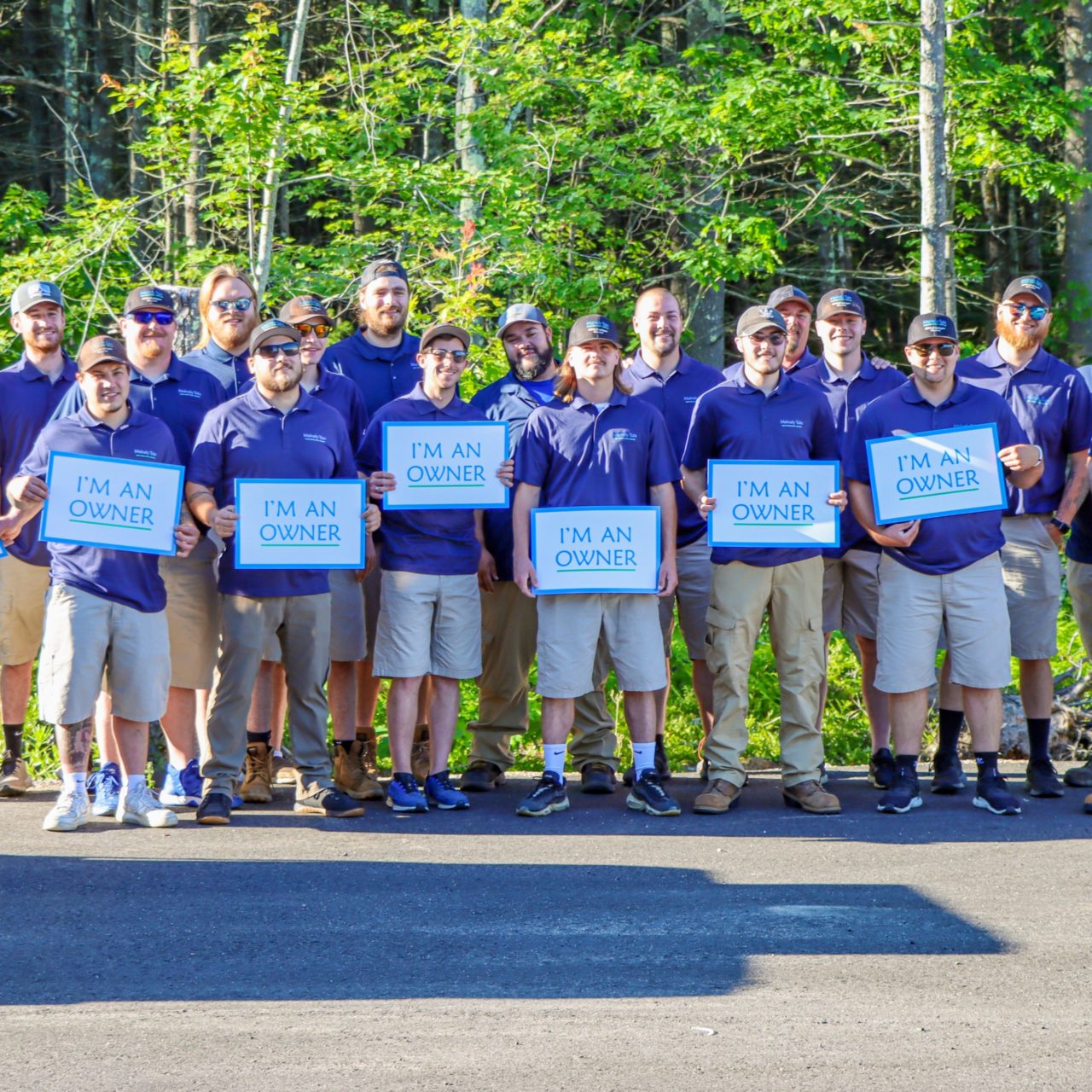 Related Swim Spa Articles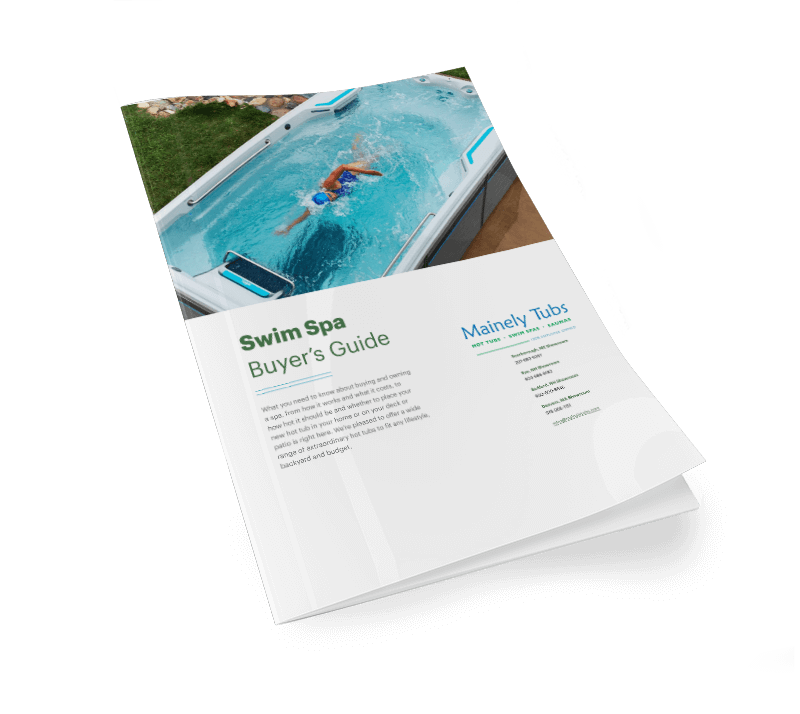 Download the Swim Spa Buyer's Guide
Here's Everything You Need to Know!
We've pulled together information about all things swim spa. If you have questions, you'll find the answers here. Get your free guide now!