Are you are considering a swim spa purchase for your personal 24/7 at-home fitness and wellness retreat with all of the great health benefits that go with it? If you are excited about swim spa workouts but aren't quite sure where to start, we've got you covered. Let's start here.
Aquatic Fitness vs. Land-Based Fitness
Before we jump into individual swim spa exercises, let's talk about the benefits of aquatic workouts. Consider these impressive statistics:
In water-based exercise 77% of calories burned are from stored fat.
You can build muscle strength 4-12x faster in water than with land-based exercise.
Swim spa fitness is a great way to build strength, maximize flexibility, and focus on cardiovascular health without harsh impact to your body. We'll break it down by individual workouts to show you what's possible.
Swimming
With swim spas, say goodbye to flip-turns, shared lanes, and stopping. By eliminating turns you get a better understanding of your true, open water endurance with swim-in-place technology. And, even though swim spas have a much smaller physical footprint than inground pools, swim spas pack a bigger punch for functionality, especially when it comes to swimming.
Do you have an idea of which specific swim-in-place technology you're looking for? You might not know that this functionality can differ between swim spas, so we'd like to illustrate the distinctions that span the three distinct categories within the swim spa family:
Entry-level Systems
As the most affordable options that are easiest on the budget, these systems offer a basic and smooth swim-in-place exercise. Some models and brands even offer a turbulence-free experience through airless jets as opposed to the jets that rely on air pressure to generate resistance. If you are looking for more from the swim-in-place experience, continue onto the next two swim spa categories.
Mid-level Systems
These systems utilize the currents found in entry-level systems but usually employ a greater number of jets geared towards delivering more resistance with a superior feel. These systems are for people that want more versatility in the types of exercises they can do and more space to do it. In general, you will have access to more options with the mid-level systems compared to the entry-level systems, including a more customizable swim-in-place experience. If you still want even more, the next swim spa category has it all.
Premium/Premier Systems
These systems are designed to deliver the best swimming and exercise experience.This category offers more unique options when it comes to the generation of swim currents and resistance that go beyond jets for the best swim-in-place experience. Some brands utilize propellers or paddlewheels to deliver non-turbulent currents, while others offer swim machines to produce a swimming lane with laminar flow that is deeper and wider than your swimming stroke. If you want the best swim experience that most mimics swimming in open water with zero turbulence, you'll want to explore premium/premier systems more with your local swim spa dealer.
If you are beginner swimmer and/or looking to improve your form: All swim spa models are equipped with an anchor for attaching an optional swim tether for additional assistance, stability, and added support.
Run or Walk Underwater Treadmill Workouts
A swim spa with a treadmill* kicks thing up a notch. Traditional treadmills are great workouts, but they also can be tough on your joints, hips, knees, or your back. Water buoyancy takes away this harsh impact, and instead provides an effective cross-trainer that is kind on your body and provides an effective workout. Not only that, you will burn more calories than you would with a dry-land treadmill! That's because water adds 360-degrees of resistance to your workout.
Check out these other distinct advantages of an underwater treadmill:
It's customizable (speeds generally vary from 0 – 5.5 MPH) and can be combined with the swim current for increased resistance against core, leg, and upper body muscle groups.
It offers effective workouts with minimal joint impact (no dry-land pounding)
It should help create less muscle soreness due to water's hydrostatic pressure (perfect for recovery runs)
*Exclusive to select premium/premier systems
Aquatic Swim Spa Therapy
Aquatic exercise is ideal for anyone, across all ages and all fitness levels, and you can perform various exercises in the swim spa. It's especially great for low-impact therapy and injury recovery since the buoyancy of water can reduce your body weight up to 90%. This low-impact, low-stress environment combined with the natural resistance of water (enhanced with swim current or jets) will provide you with a challenging workout without causing more pain.
The aquatic exercise benefits* may also include:
Increased flexibility and strengthened muscles.
Increased range of motion. It also allows for all-direction resistance for a more thorough workout.
Lower heart rate.
Alleviation of various medical condition symptoms. It's a safe, beneficial option for people with arthritis and other joint disorders; muscular dystrophy; muscle atrophy; and lower-extremity injuries.
Improved balance and agility.
Decreased joint swelling and reduced pain.
A safe and versatile way to get back into shape or recover from an injury. Rehabilitation exercises can start earlier in the water, helping you get back to your normal life sooner.
It's also important to note that select swim spa models (within select mid-level and premier/premium systems) have dual-purpose and dual temperature-control options, allowing for separate swim and spa areas with individual temperature control. In the swim area you can work out in a comfortable 82-85 degrees and then you can head to the spa area for a 104-degrees hydromassage soak to unwind and relax.
As a generalization, heated water for aquatic therapy can help relax muscles and increase blood flow to injured areas and may be especially therapeutic for customers who experience muscle spasms, back pain, arthritis and fibromyalgia.
*As always, with any exercise, please work directly with your personal physician and/or physical therapist about your specific approved exercise program and/or restrictions.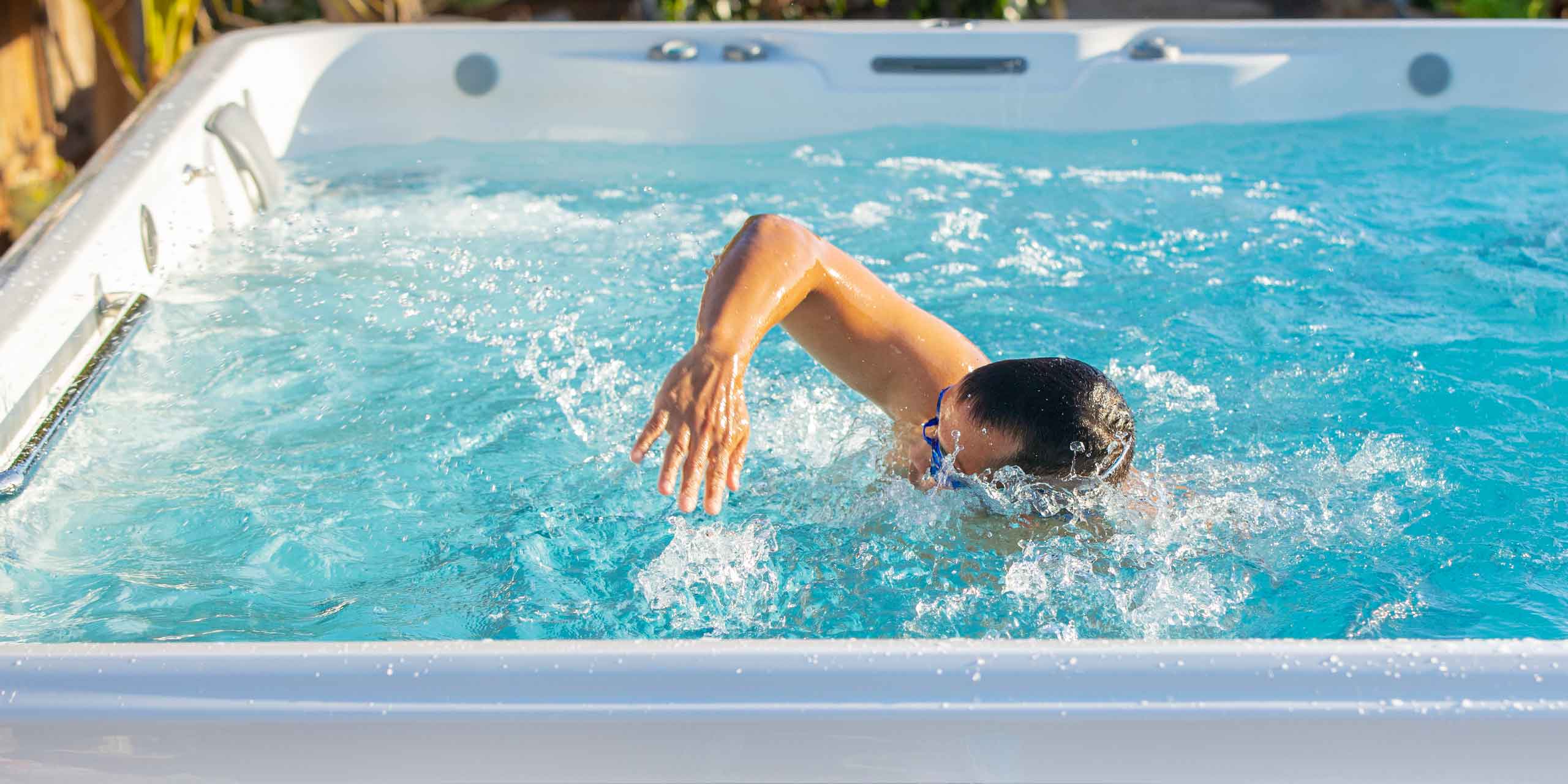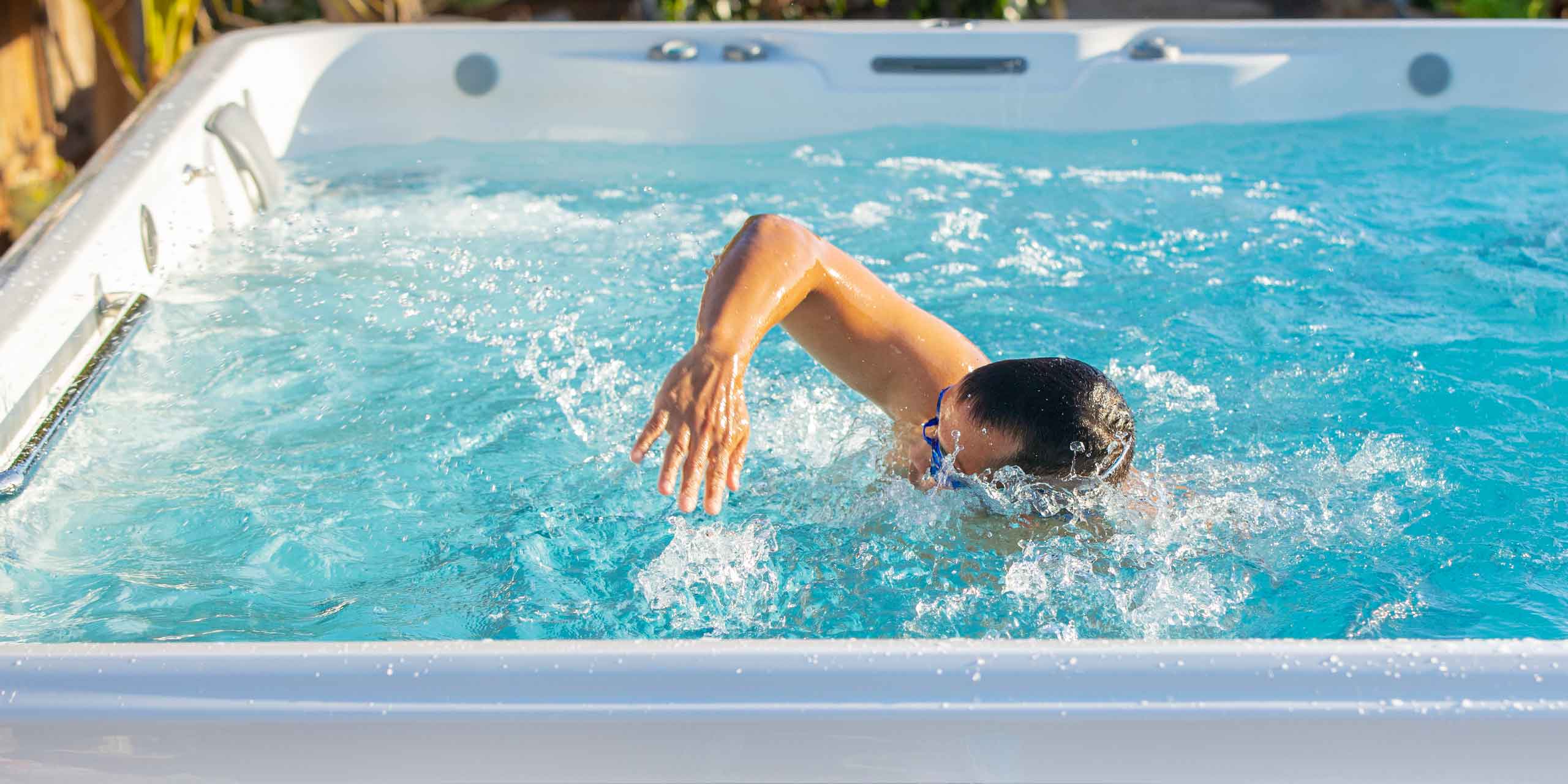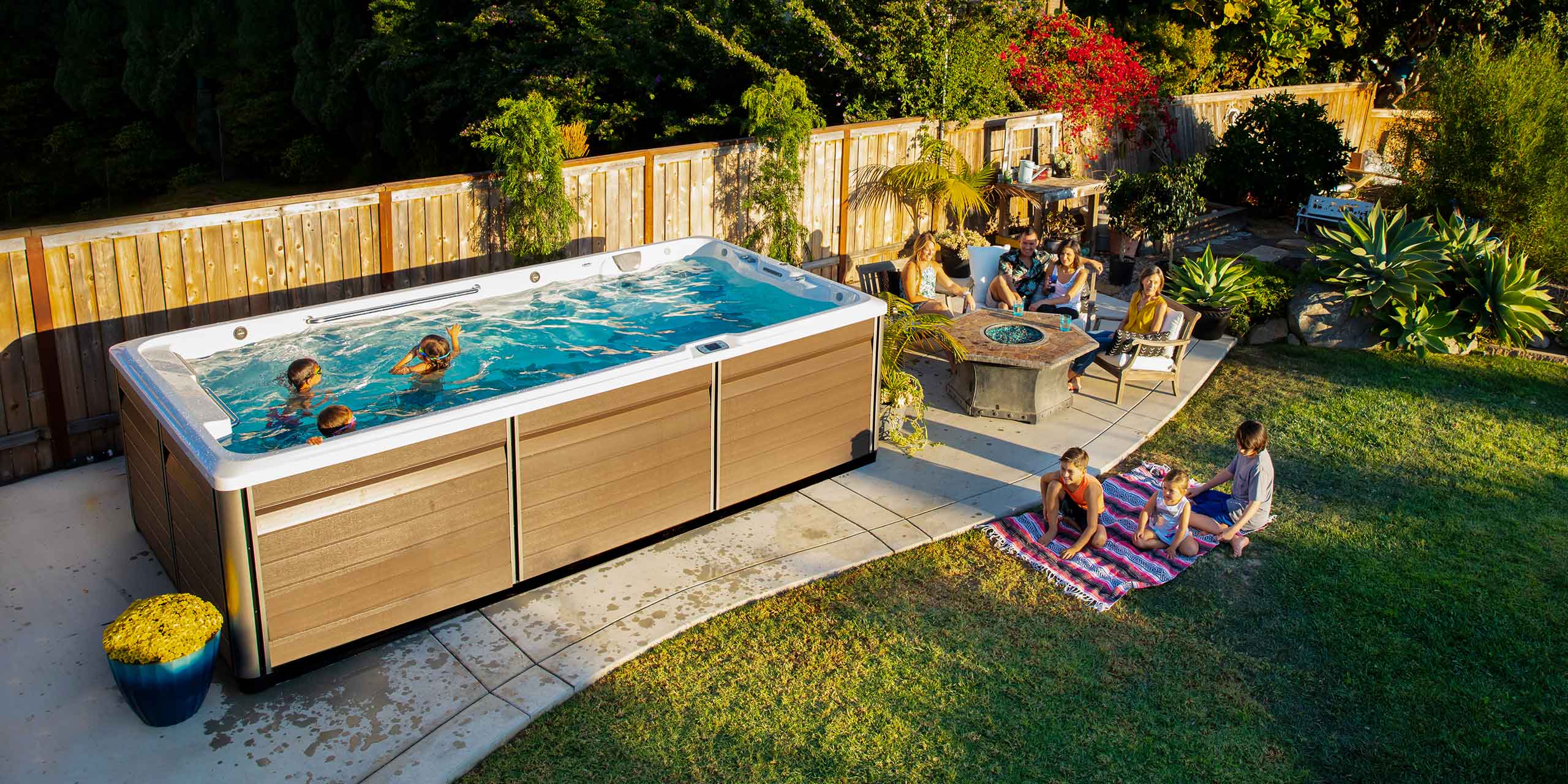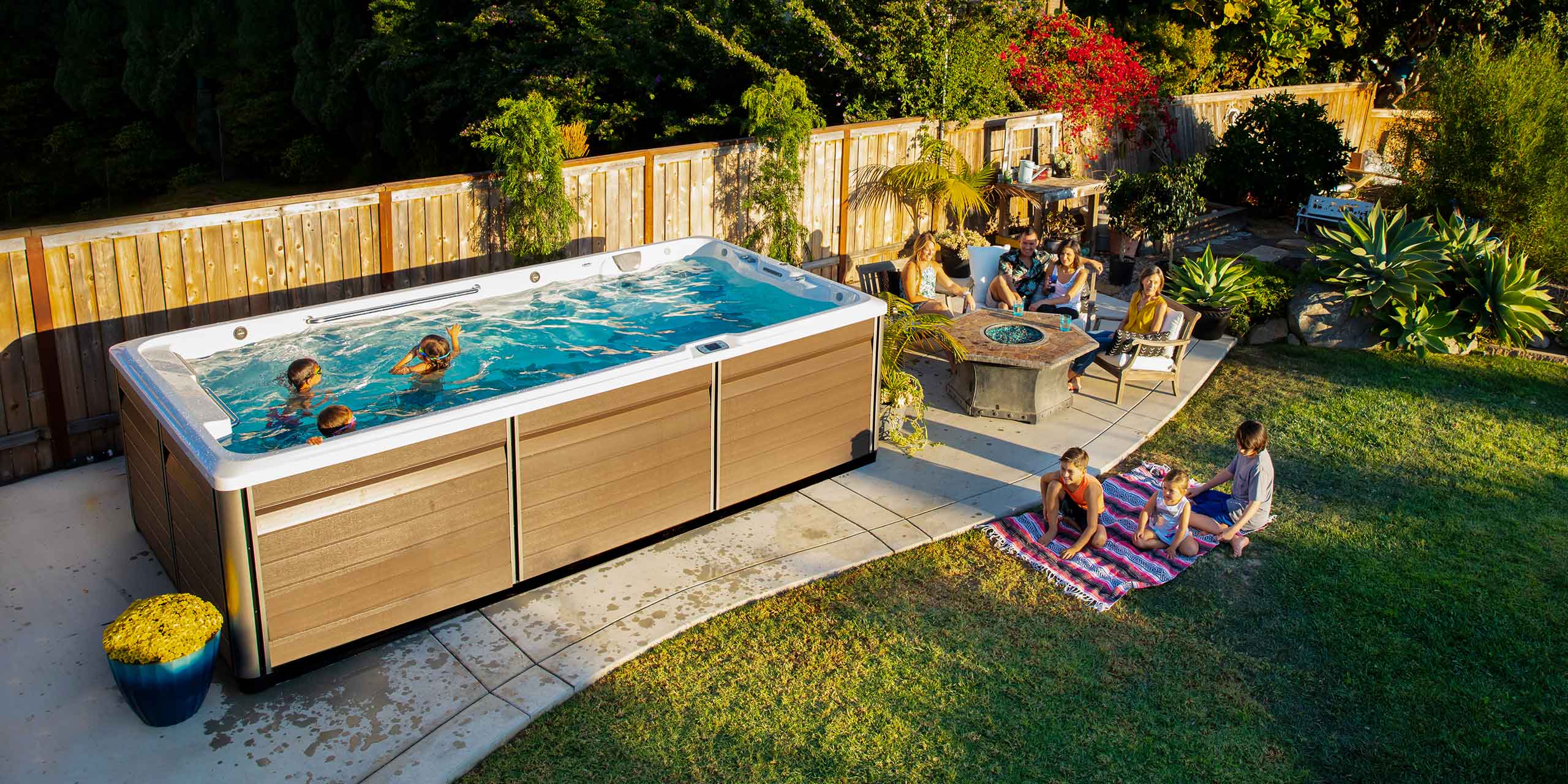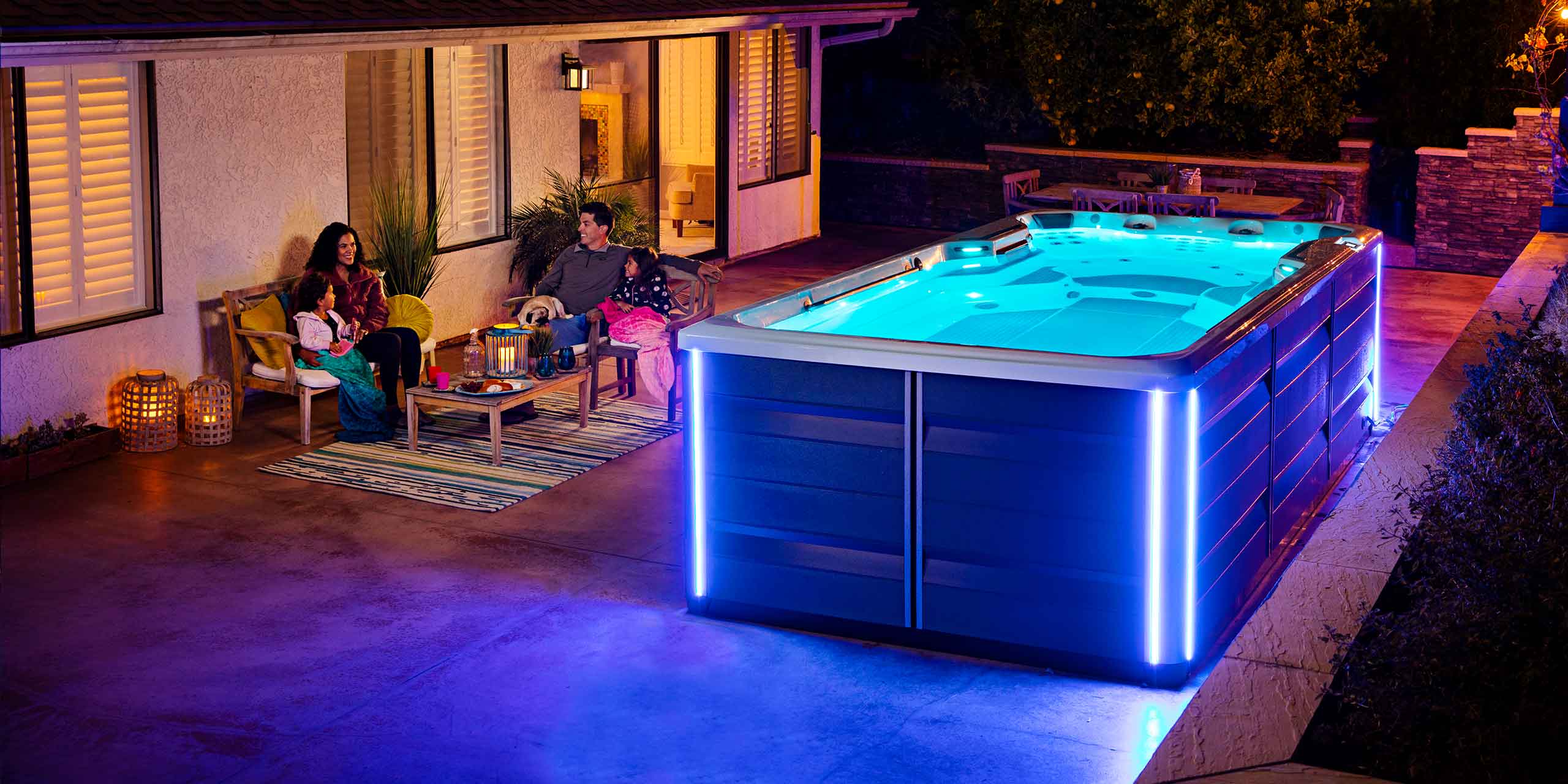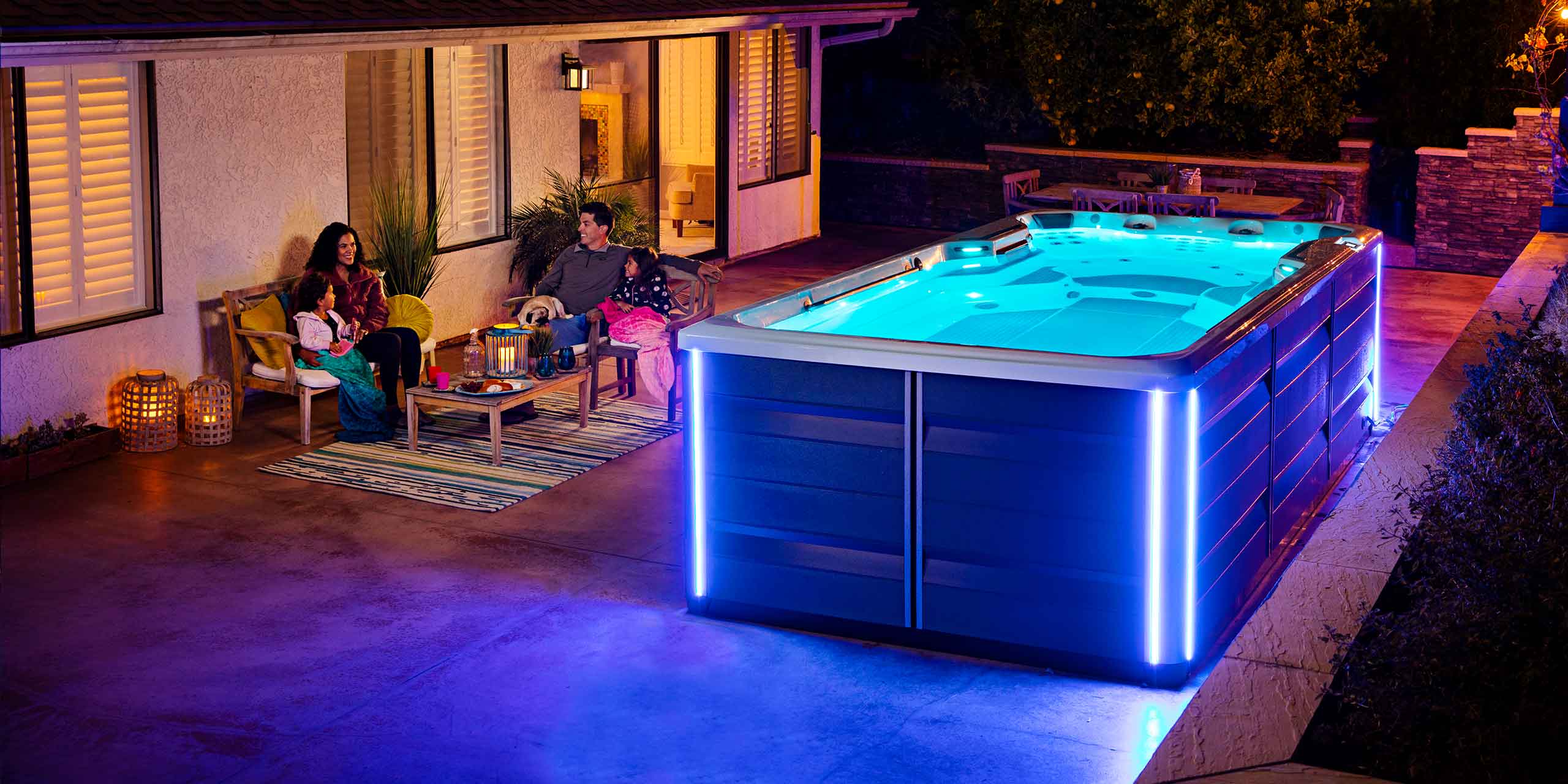 Aquatic Biking
Spinning fans, rejoice! Instead of fighting crowds for filled spin classes, put your aquatic stationary bike into your swim spa for the best workout around. You already know that cycling classes burn calories and promote heart health with minimal joint impact. But did you know that cycling in the water gives you the added benefit of water's 360-degree resistance? This extra intensity will work in your favor for your fitness goals!
Barre
Also super trendy these days, barre is a great fitness workout for improving flexibility and posture, defining muscle definition, losing weight, and reducing stress for all fitness levels. In a swim spa, the grab bar acts as the "ballet bar," allowing you to take this great workout to the water.
Aquatic Rowing/Resistance Training
If you are looking to make rowing or resistance training part of your workout plan, it's a great option to build core strength and keep your heart rate up. If this is something you are interested in learning more about, you should look into the accessory equipment (like rowing kits or resistance bands) that will give you the workout you are looking for.
Customizing Your Workout with Other Add-Ons
The cool thing about swim spas, especially when it comes to workouts, is they are exactly what you make them. If you are looking to pair your swims with underwater mirrors for form, relax with heated hydromassage while enjoying your Bluetooth®-enabled sound system, or train in with pace displays* and fitness app compatibility* to boost optimal workout personalization and measure performance, the options are pretty dynamic.
What do you want your swim spa to be and how much would it cost? This helpful Buyers 10 Top Tips Guide (which also includes our great Swim Spa "Matchmaker" Checklist to align your top needs with the right model), is a great place to start for everything you need to know at a quick glance.
*Exclusive for premium/premier systems
Ready to Build Your Own Swim Spa for Ultimate 24/7 Effective Workouts?
Let Mainely Tubs be the first stop on your fitness journey. When you are ready, give us a call, email us, or pop by our showrooms in Scarborough, Maine or Rye, New Hampshire. We're always here to help you learn more and happy to talk more about choosing and buying the right swim spa for you!
About Mainely Tubs in Maine, New Hampshire, and Massachusetts
Mainely Tubs is a 100% Employee Owned premier Hot Spring Spas dealer. We sell and service new hot tubs, used hot tubs, portable spas, swim spas, saunas, hot tub accessories, hot tub water care, and more. Our Brands Include: Hot Spring Spas, Caldera Spas, Freeflow Spas, Endless Pools Swim Spas, Finnleo Saunas, Covana, Leisure Time, Fresh Water, Silk Balance, and other brands you can trust.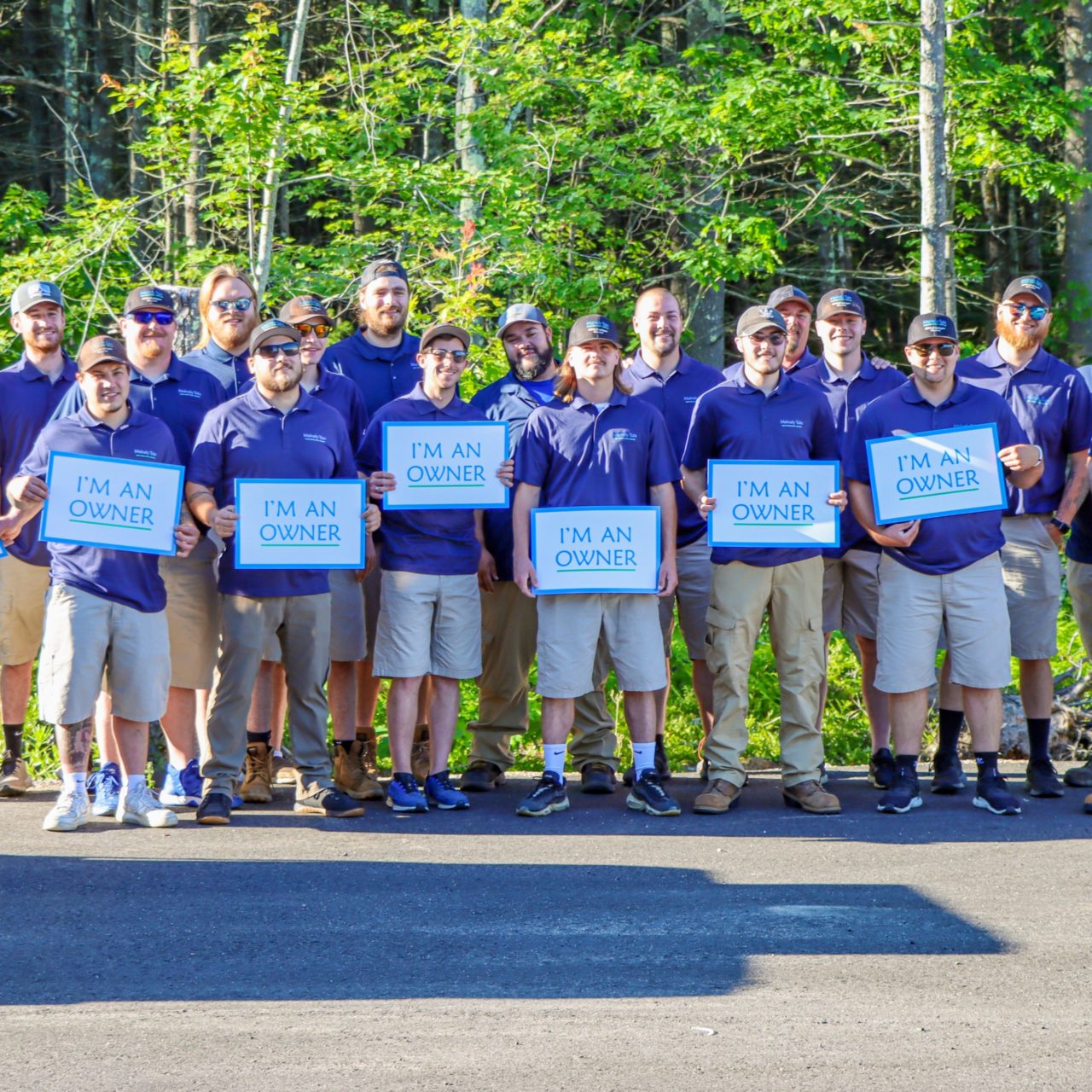 Related Swim Spa Articles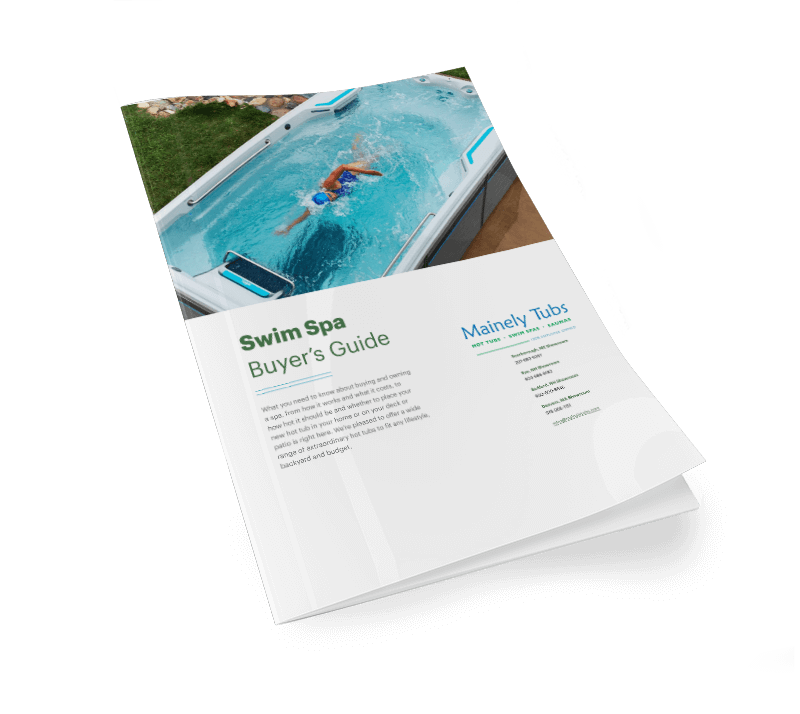 Download the Swim Spa Buyer's Guide
Here's Everything You Need to Know!
We've pulled together information about all things swim spa. If you have questions, you'll find the answers here. Get your free guide now!