As a hybrid of a spa (heated and hydromassage features) and a pool (size and versatility for more people, more ability to perform low-impact exercise), a swim spa is a much more affordable and space-friendly option than a traditional swimming pool. And it's more effective, since the "swim-in-place" technology eliminates the flip-turn stops after a few short strokes that are a common drawback with traditional swimming pools. So, how can a swim spa provide this dynamic experience? Let's take a closer look.
Swim Spa Functionality Overview
Before we get into the nuts and bolts of swim spa components (no puns intended), it's best to first understand all the powerful functionality of these products, outlined briefly below.
Swimming Currents
Since swim spas are mostly about the swimming, let's start here. As mentioned earlier, the swim-in-place technology is the top draw of these dynamic systems. Propulsion systems create the continuous current that allows people to "swim in place" for the most effective (and enjoyable) workouts and swim experience.
There are three distinct categories within the swim spa family, all with notable swim current technology and functionality:
Entry-level
As the most affordable options that are easiest on the budget, these systems offer a basic and smooth swim-in-place experience. Some models and brands even offer a turbulence-free experience through airless jets as opposed to the jets that rely on air pressure to generate resistance. If you are looking for more from the swim-in-place experience, continue onto the next two swim spa categories.
Mid-level
These systems utilize the currents found in entry-level systems but usually employ a greater number of jets geared towards delivering more resistance with a superior feel. These systems are for people that want more versatility in the types of exercises they can do and more space to do it. In general, you will have access to more options with the mid-level systems compared to the entry-level systems, including a more customizable swim-in-place experience. If you still want even more, the next swim spa category has it all.
Premier/Premium
These systems are designed to combine and deliver the best swimming and exercise experience. This category offers more unique options when it comes to the generation of swim currents and resistance that go beyond jets for the best swim-in-place experience. Some brands utilize propellers or paddlewheels to deliver non-turbulent currents, while others offer swim machines to produce a swimming lane with laminar flow that is deeper and wider than your swimming stroke. If you want the best swim experience that most mimics open-water swimming with zero turbulence, you'll want to explore premium/premier systems more fully with your local swim spa dealer.
Aquatic Fitness
Water's buoyancy makes you feel up to 90 percent lighter, providing great support for muscles and joints, not to mention effective resistance for workouts. Land-based workouts can be tough on joints, hips, and knees, but aquatic fitness solves this problem. Instead, you get the cardiovascular benefits of exercise without the harsh impact on your body. There are so many great swim spa workout options including swimming, spinning, walking/running on a hydraulically run underwater treadmill*, rowing, resistance bands, and barre.
(*exclusive to select fitness systems)
Hydromassage
Thanks to the technology of swim spa jets, hydromassage is one of the best parts of a swim spa. The swim spa jets configuration has ideal positioning alongside hydromassage spa seating to relax muscles. Whether it's post-workout rejuvenation or a relaxing night with family and friends, it's an ideal way to unwind. Hydromassage therapy options will range across different swim spa makes and models, but as a general rule of thumb, you'll get much more hydromassage functionality from the upper tiers of swim spas. For example, the premium/premier systems provide the highest level of hydromassage through more targeted jets and better ergonomics, if that's something you need. Talk to your swim spa dealer about which hydromassage functionality you want the most.
Dual-Temperature Control Swim Spas (a.k.a. A "Swim Spa Hot Tub")
You may wonder how swim spas are heated? The answer is, it depends on the swim spa that you purchase. Most swim spa models offer a warm, comfortable temperate for the swim spa workout (swimming, aquatic fitness), but only a few select models (within the mid-level and premium/premier category) provide the functionality of dual-temperature controls. In these select models, there are separate swim and spa areas with independent temperature controls, allowing you to work out in a comfortable 82-85 degrees and then head to the spa area for a 104-degrees hydromassage soak – essentially giving you a swim spa and a hot tub all in one system!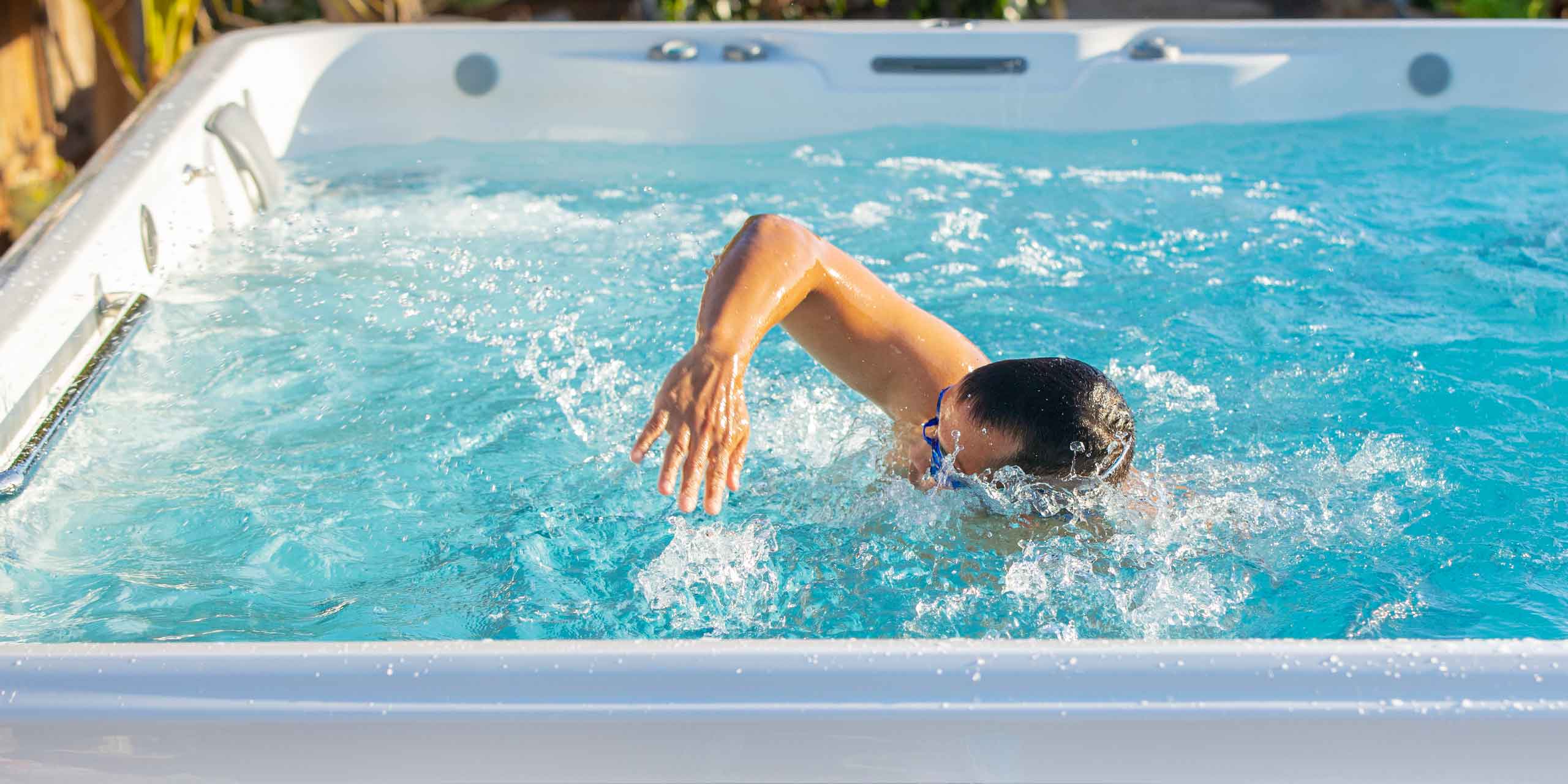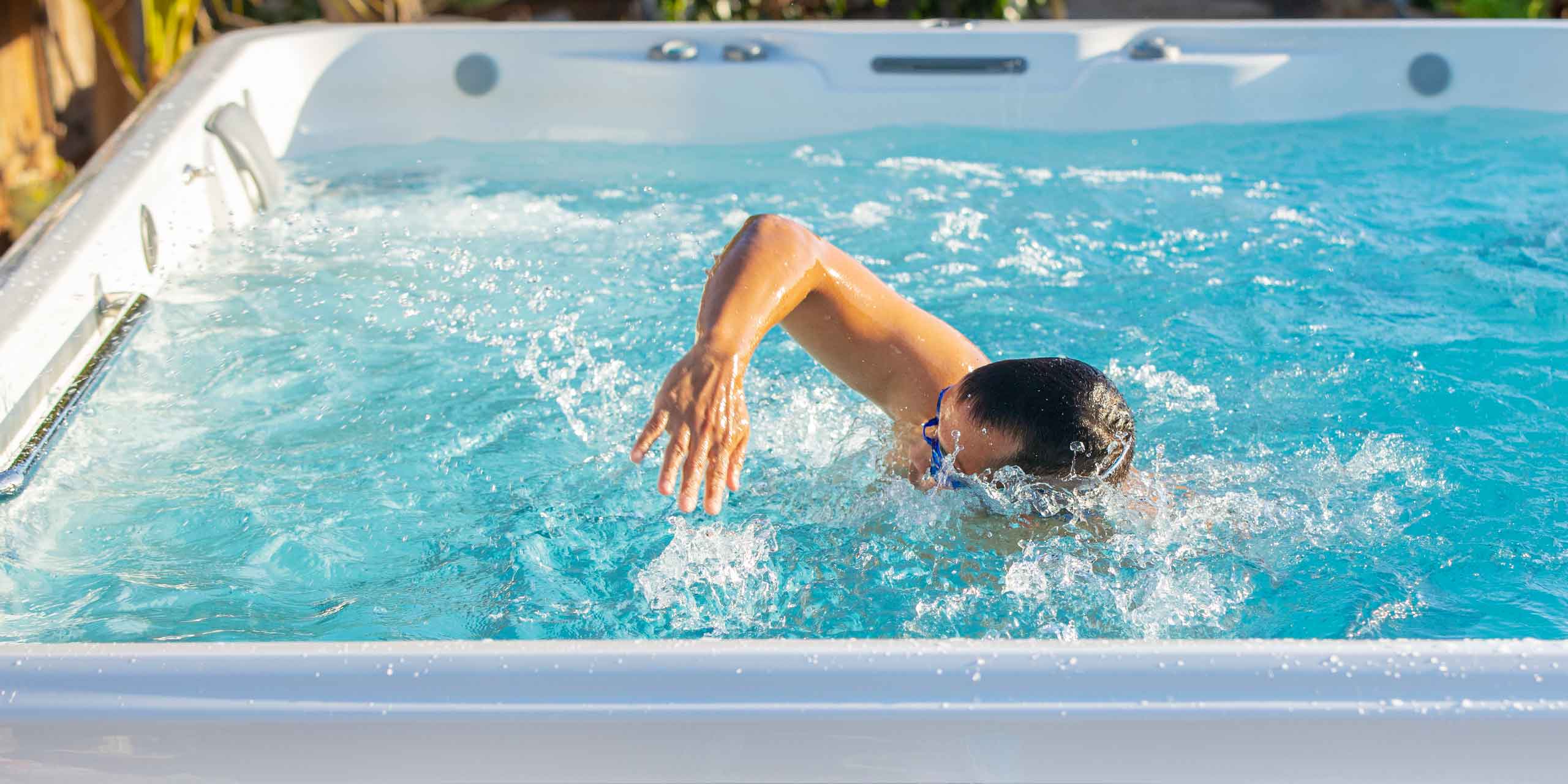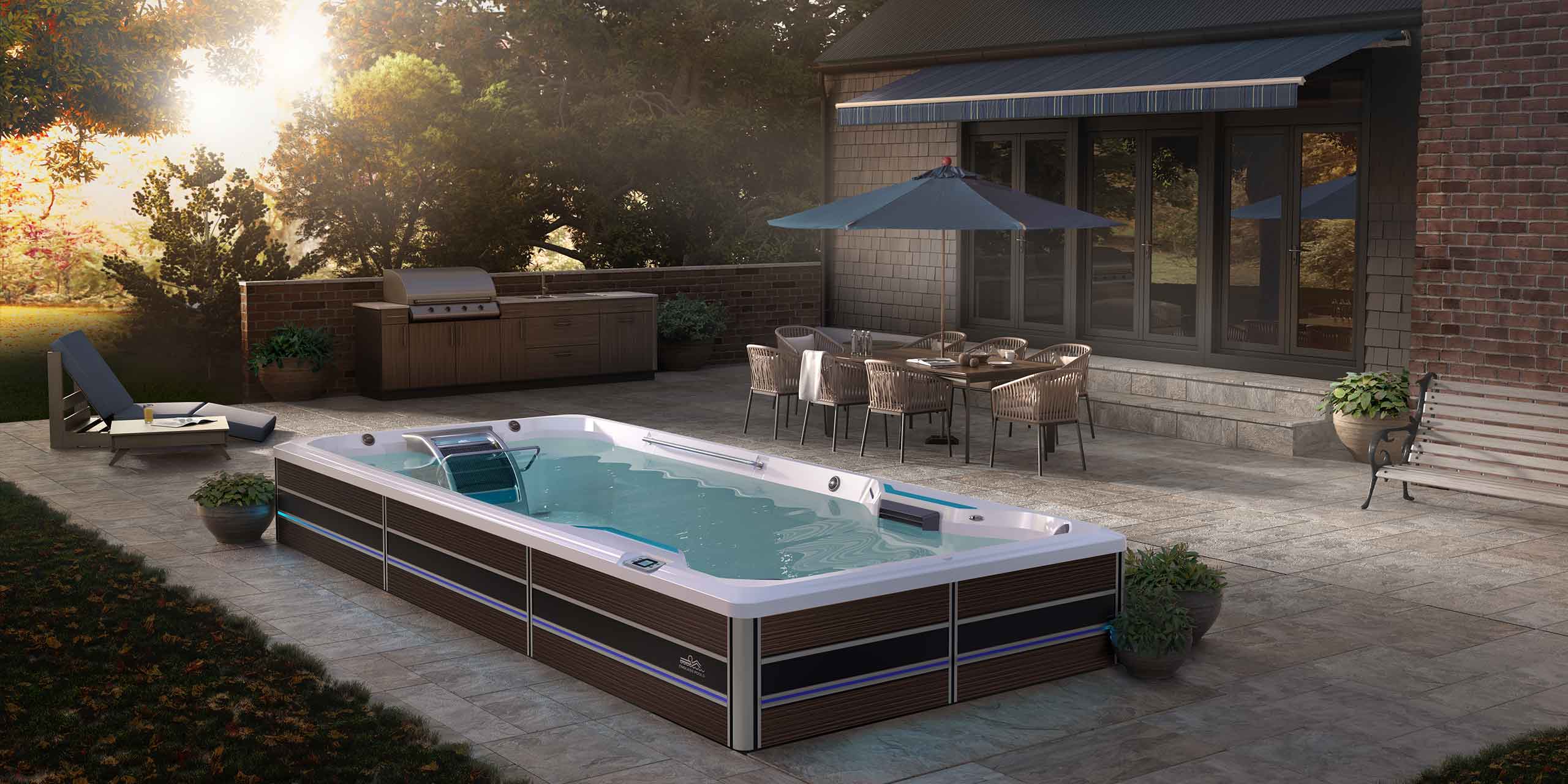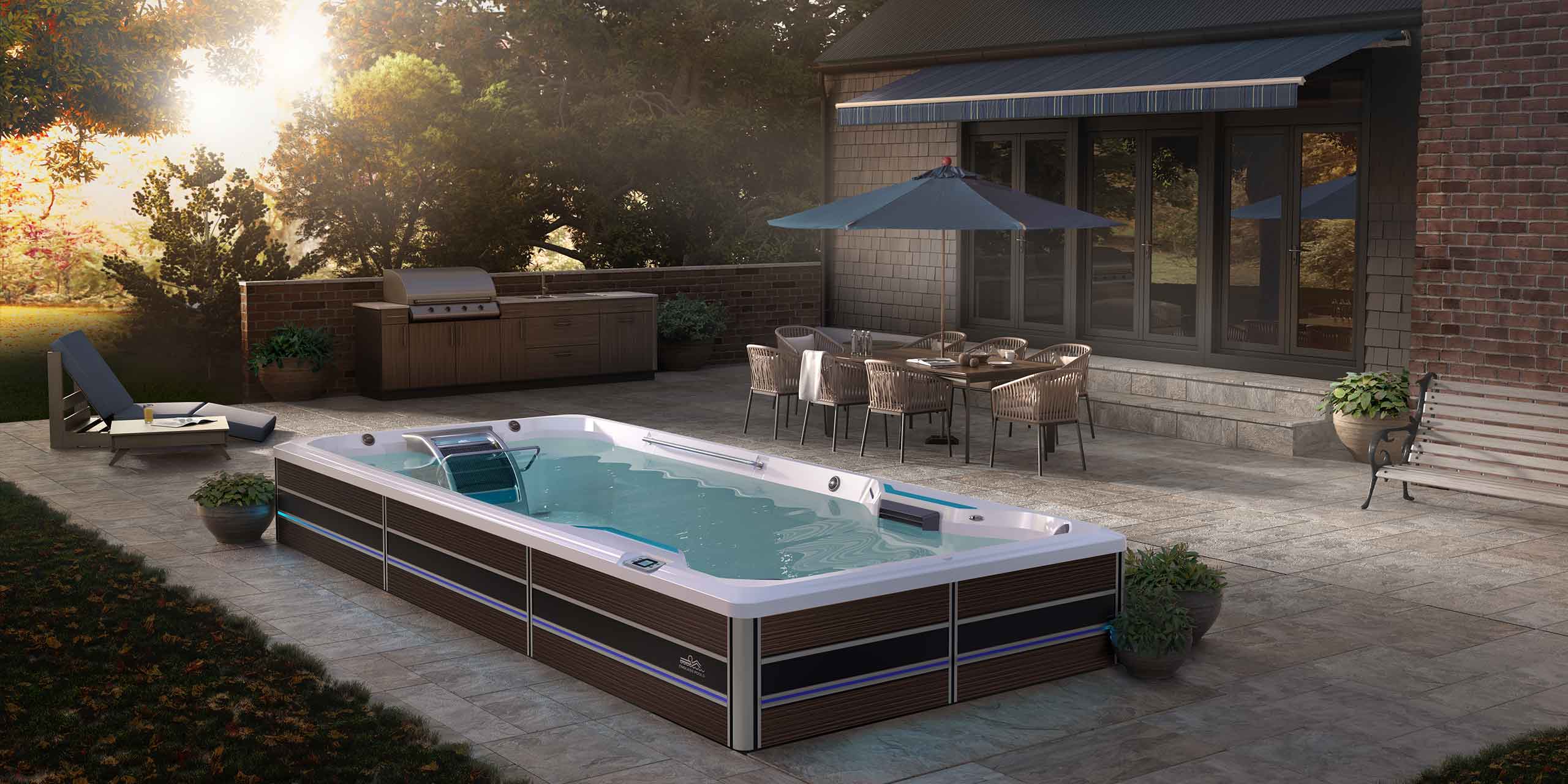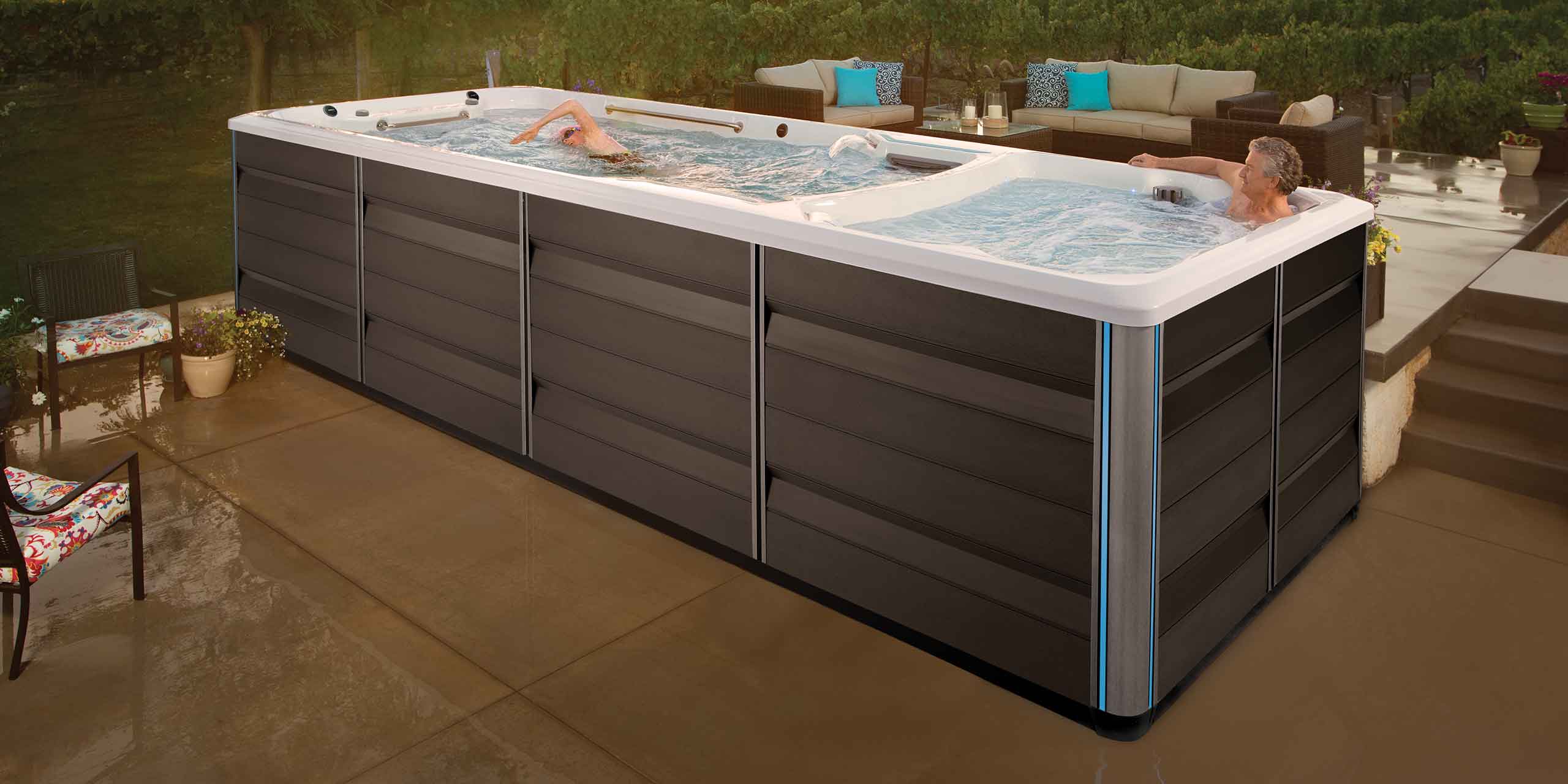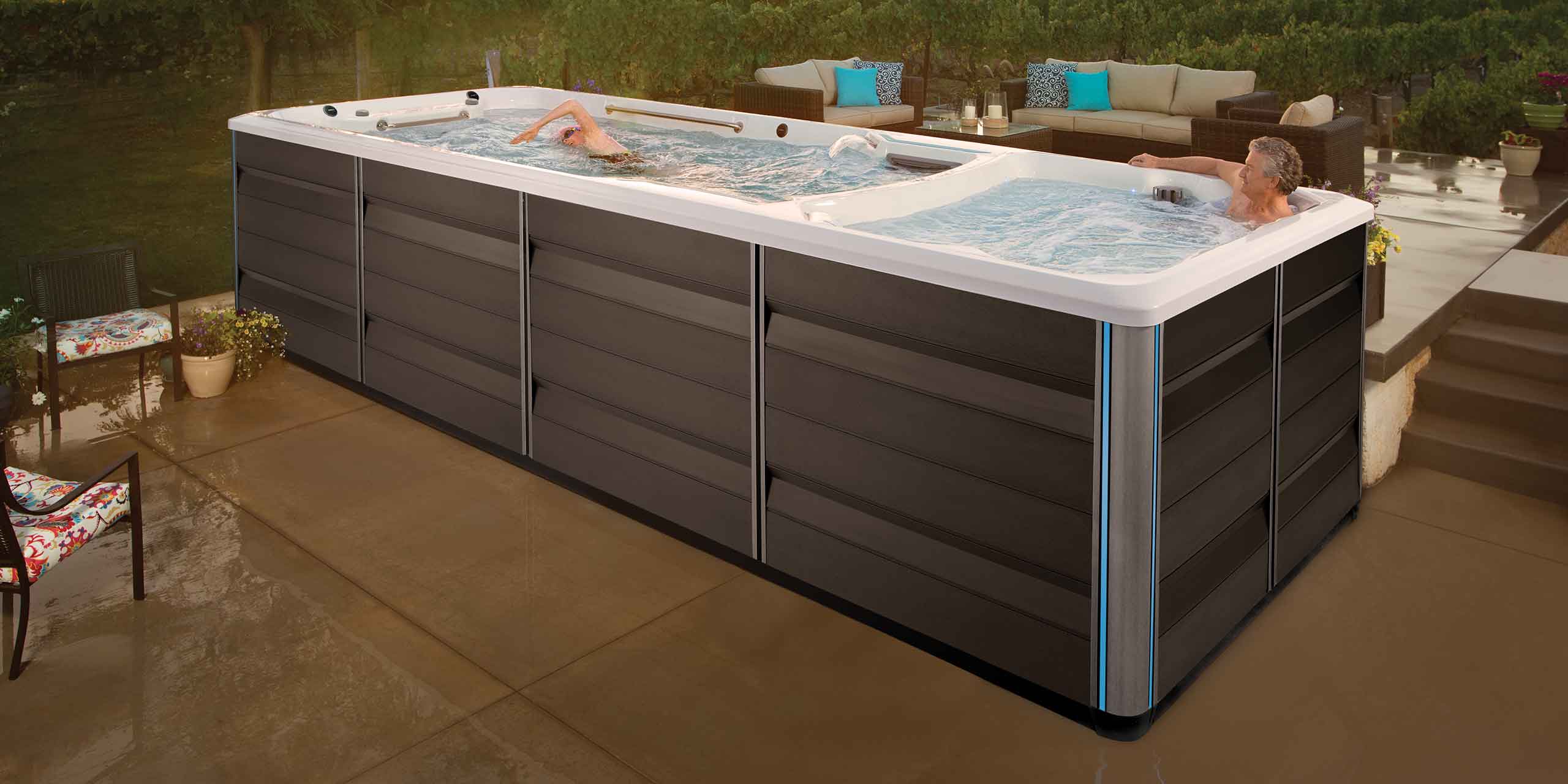 Swim Spa Components
Now that you understand the dynamic functionality of swim spas, let's take a quick look under the hood and show you the parts that make it all possible.
Swim spas are single-shell, molded, acrylic models that arrive pre-plumbed and pre-wired and are ready to install on any sound and level surface, such as your outdoor patio, garage, or even indoor basement/sunroom, or other enclosures. Included below is the short and sweet component "glossary" of its main parts:
Shell: Similar to a hot tub, the inner swim spa surface is made of acrylic that holds the water, has various seats in its mold, and provides mounting points for the jets. It is designed specifically to withhold the weight of water, equipment, and bathers. The color and style options will be specific to the make and model of the swim spa you choose.
Cabinet: Designed for durability and beauty with minimal/no maintenance requirements, the cabinet provides structural support for the shell and its equipment.
Pumps: Swim spa pumps circulate the water.
Jets: We covered these earlier, but jets are responsible for the effective resistance that powers swimming-in-place and hydromassage.
Control and AUX panels: Depending on the make and model of your swim spa, you may have an LCD control panel to control things like water temperature, swim jets, hydromassage jets, lighting, and water care. It also may have an auxiliary app plug-in option.
Covers and lifting system: There are different options for covering your swim spa. You may opt for a bi-fold cover/lifter that helps maintain heat and reduces evaporation, or you may prefer a lifting system that lends itself to easier operation (especially by a single user) and ensures a tight seal between covers, which prevents heat loss and evaporation, and optimizes efficiencies.
Bluetooth-enabled sound system: You'll want to discuss this option with your local swim spa dealer, dependent on your swim spa make and model, but it's a great pairing to your Bluetooth-enabled devices for added enjoyment and entertainment for the swim spa experience.
Wi-Fi/Mobile apps: Most swim spas have Wi-Fi modules, but specifics on apps (i.e., only the premier systems have fitness app compatibility) will be dependent on the swim spa you choose.
Ongoing Swim Spa Maintenance
We went deeper into this topic on our Swim Spa Maintenance page, but there are two primary areas you'll focus on with ongoing maintenance, quickly recapped below.
Water maintenance
Clean water is essential for your swim spa, but most of the hard work is already done for you – by the swim spa itself.
Some swim spa models (within the premium and mid-level systems), feature a dual water-purification system that combines Ultraviolet C (UVC) with eco-friendly CD Ozone for crystal clear water with fewer chemicals than standard swim spas. The installed ozone system destroys contaminants on contact.  Depending on the make and model, mid-level systems use the hydromassage swim spa pump on low speed with the same UVZ Ozone system for regular water circulation and optimal water quality, and the premium/premier systems rely on the continuous water rotation from the circulation pump, to ensure the water is always clean with minimal maintenance.
You'll also want to talk to your local swim spa dealer on the specific cleaning requirements for your system to keep your swim spa in tip-top shape year-round.
Energy costs
Keeping your energy bill low is important and the premier and mid-level systems are designed to do exactly that. Dependent on your swim spa make and model, there may be multiple layers of insulation that enhance energy efficiency and lower operation costs. Although the material that the insulation is comprised of heavily influences its heat retentive qualities, generally more layers of insulation will lead to higher efficiency and reduced operation costs.
Swim spa covers, touched on earlier, are also essential for keeping energy costs low.
Now That You Know How A Swim Spa Works, Learn More About How to Buy One!
There are so many swim spa features and many great options to choose from. Be sure check out our Buyers 10 Top Tips Guide to help you align your top needs with the right model), as this is a great place to start for everything you need to know at a glance.
When you are ready, give us a call, email us, or pop by our showrooms in Scarborough, Maine or Rye, New Hampshire. We're always here to help you learn more and happy to talk more about choosing and buying the right swim spa for you!
About Mainely Tubs in Maine, New Hampshire, and Massachusetts
Mainely Tubs is a 100% Employee Owned premier Hot Spring Spas dealer. We sell and service new hot tubs, used hot tubs, portable spas, swim spas, saunas, hot tub accessories, hot tub water care, and more. Our Brands Include: Hot Spring Spas, Caldera Spas, Freeflow Spas, Endless Pools Swim Spas, Finnleo Saunas, Covana, Leisure Time, Fresh Water, Silk Balance, and other brands you can trust.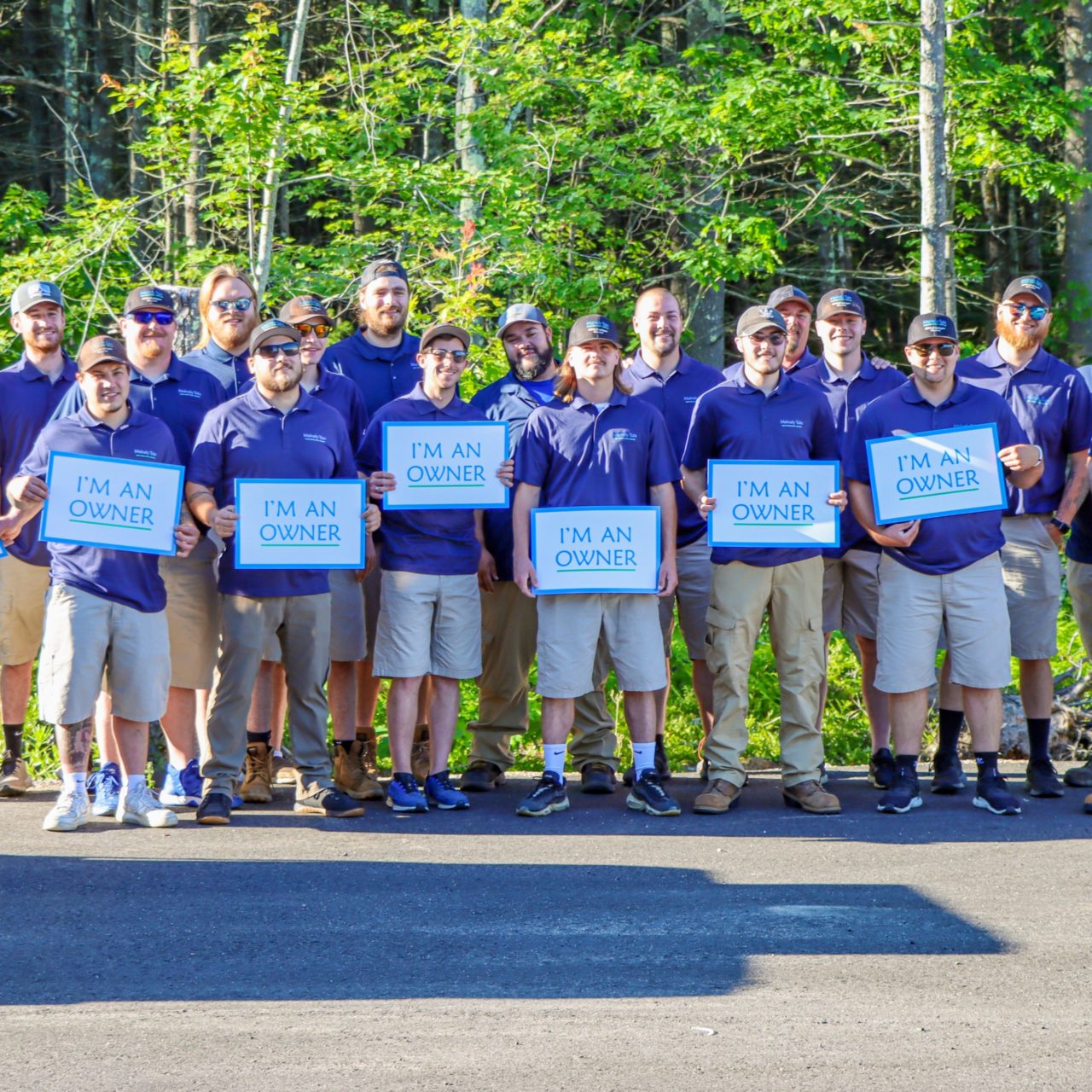 Related Swim Spa Articles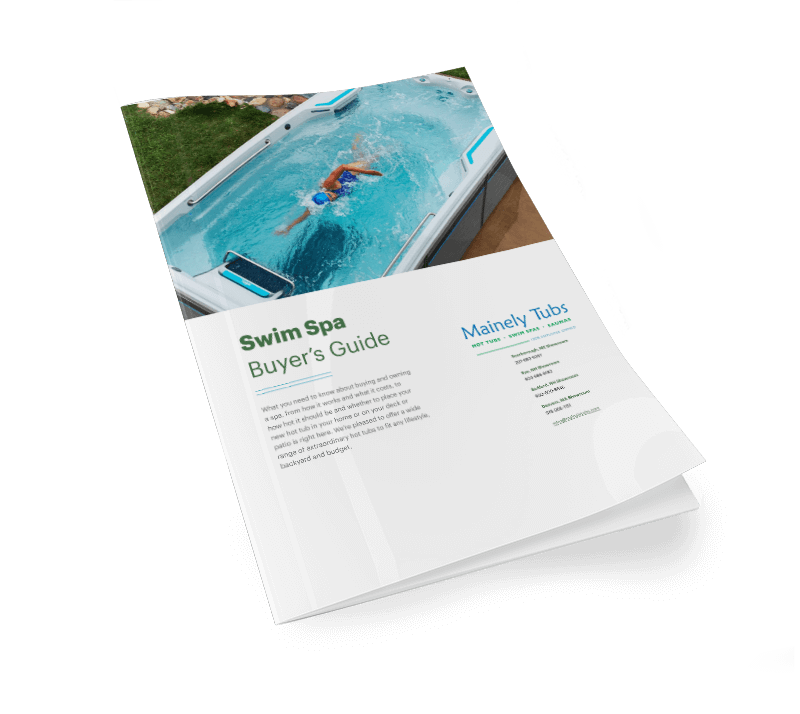 Download the Swim Spa Buyer's Guide
Here's Everything You Need to Know!
We've pulled together information about all things swim spa. If you have questions, you'll find the answers here. Get your free guide now!