If you have made the decision to become a sauna owner (congrats!) and you have moved into the logistics phase of planning, we are guessing these are your top next questions:
What is a standard sauna size?
What is the smallest sauna size?
What is the largest sauna size?
What is the optimal sauna size?
What size sauna should I get? (Factoring in sauna sizes capacity for who I want to use it!)
We will give you a complete sauna size guide in a moment, but first, do you know exactly what type of sauna you are shopping for? If you weren't aware, there are two different sauna types. Let's start here first!
Traditional vs. Infrared Saunas
We have a comprehensive side-by-side comparison illustrating all the many differences between traditional and infrared saunas, but we'll give you the top line right here:
If you enjoy steam in the sauna, higher temperatures, and a more social environment, then a traditional sauna may be the best sauna for you.
These saunas can be indoor or outdoor. Here are some other quick facts about traditional saunas:
The median temperature is between 185-190 degrees Fahrenheit
Traditional saunas heat the air to heat the body
Heat and humidity: Very dry until water is sprinkled over hot rocks. Both temperature and humidity are adjustable (by adding water to rocks); you can also incorporate essential oils into the water for aromatherapy.
It requires 30-40 minutes to preheat rocks before use
Proper ventilation will be required
Bathers enjoy 10-15 minutes optimal time for use
If you prefer lower temperatures but with body-penetrating heat, an infrared sauna may be your best sauna choice.
These saunas are designed for indoor use only. Here are some other quick facts about infrared saunas:
Optimum temperature is between 125-130 degrees Fahrenheit
Infrared saunas directly heat your body. The infrared energy penetrates the body and raises the core temperature – activating a more pronounced sweating. The EMR (electromagnetic radiation) and EF (electrical field) on some models that utilize certain technology are lower than the ambient in your home. The EMR and EF levels are far below even Sweden's toughest radiation standards.
Heat and humidity: Relatively dry with average humidity. Temperature is controllable; humidity is not.
No pre-heat time required
Since water isn't used with an infrared sauna, there's no concern about ventilation. It's a completely dry heat that maxes out at 150 degrees.
10-15 minutes is optimal time for use, but bathers often stay 25-30 minutes (due to lower temperatures).
General Sauna Size Dimensions
We're going to give you specific sauna size dimensions on this page, but here are some very general sauna size notes first:
The typical traditional sauna is 6 feet by 5 feet, with upper and lower benches, easily enough room for a family of four. Traditional saunas tend to be larger than infrared sauna sizes which require sitting in close proximity to emitters. As a general rule of thumb, traditional saunas tend to be more social, and accommodate bigger groups.
The minimum permitted ceiling height of any given sauna is 77 inches. Most often, however, an average sauna ceiling height is 84 inches and a maximum safe ceiling height is 96 inches – but be sure to check the numbers for your specific make and model.
If you plan on laying down in sauna: You'll need at least 6 feet in one direction, while ceiling space above 7 feet is typically wasted.
Bench configuration: The goal is always to minimize wasted floor space and maximize bench space for efficiency. Typically, there should be space for both a lower bench and an upper bench. An upper bench area can be used as the main calculation in terms of how many users you'd like to accommodate and it's smart to factor in about 2' of bench space per individual sauna bather.
Space around your sauna: Make sure to leave plenty of room to get in and out of the sauna and to have access behind it for maintenance.
Indoor saunas: Use a smaller heater, smaller circuit breakers, and provide more efficient heating.
Outdoor, traditional saunas: You can select the roofing type (i.e. plywood or metal roofing) that compliments your housing style and they're perfect on an outdoor patio or near your outdoor swim spa.
Custom-sized saunas: There are options for custom-cut saunas that can easily fit beneath a stairwell, or in a tiny home.
Indoor placement options: You can create a personal spa in a wide-open basement, transform the "extra room" (i.e., if your kiddo just went off to college) into a sauna room, or even renovate an existing closet space into a sauna oasis.
Your Specific Sauna Size Guide!
Since you are looking for specific size numbers, we listed some actual dimensions below. Just be sure to discuss these options with your local sauna dealer before finalizing your decision:
Wood options: Saunas can come with high-quality wood options including Nordic Spruce with Abachi benches & accents, clear Western Red Cedar, or Canadian Hemlock. With these options, your sauna keeps its high-end appearance looking brand new, and these wood options are all easy to maintain.
Door options: Whether you are looking for a bronze-tinted door to match accents in your home, an all-glass door to capture more light, or a Canadian Hemlock door to create more privacy, there are several options in a variety of sizes to create the sauna that looks exactly how you want.
Traditional sauna accessories: Buckets, ladles, and linens are available to help you create desired steam and humidity level during your experience while protecting your sauna from stains from perspiration.
Now here are the dimensions across both traditional saunas and infrared saunas in standard sizes and designs:
Indoor traditional saunas
An indoor traditional sauna can look like any of the sizes and arrangements below:
---
Best values in traditional saunas can use a hook and pin panel design that is easily assembled in less than an hour.
5 sizes available (4×4, 4×6, 5×5 corner, 5×7, and 6×6 corner)
Saunas are 80″ high
---
Some saunas use a frameless all-glass door, top panel and two full glass fixed side panels for an inviting and luxurious look.
72″x84″, 77″x84″ with ceiling overhang
Outside dimensions: Depth 84 inches, Width 72 inches, Height 84 inches
4 people
---
Some saunas have been created for the popularity of contrasting wood colors and glass. Expansive use of bronze-tinted glass with four sidelight windows and an all-glass door, creates a warm glow when viewing from outside and a panoramic view from inside.
72″x81 3/4″m 82 7/8″x93″ with ceiling overhang
Outside dimensions: Depth 72 inches, Width 81 3/4 inches, Height 84 inches
4 people
---
Some saunas have a gentle, wave-like curved glass front…the ultimate in design, features and comfort.
72″x72″
Outside Dimensions: Depth 72 inches, Width 72 inches, Height 84 inches
4 people
---
A broad-angled front wall gives an open and spacious feel and fits well in corner installations.
84″x84″
Outside Dimensions: Depth 84 inches, Width 84 inches, Height 84 inches
5 People
---
A curved glass front is great for mid-wall locations where a panoramic view is desired.
72″x84″
Outside dimensions: Depth: 72 inches, Width 84 inches, Height 84 inches
2 to 10 People
---
The contemporary glass-to-glass corner creates an amazingly open feel and has luxurious backrests and recessed LED lighting.
---
Some saunas have elegant design features with contemporary glass-to-glass corner, luxury backrests, recessed LED lighting, and accented wood features inside and out.
---
Some rooms are light-colored, well-ventilated, and comfortable. Some use Abachi white wood that makes it comfortable to the touch even at high temperatures.
4'x4′, 4'x6′, 5'x6′, 6'x6′, 6'x6′ Corner, 6'x8′, 7'x7′ Corner, 8'x8′, 8'x12′
2 to 10 people
---
Custom options are unlimited including the innovative use of glass windows and doors, unusual angles and unique bench configurations.
4'x4′, 4'x6′, 5'x6′, 6'x6′, 6'x6′ Corner, 6'x8′, 7'x7′ Corner, 8'x8′, 8'x12′ 2 to 12 People
Outdoor traditional saunas
An outdoor traditional sauna can look like any of the sizes and arrangements below:
---
Designed for outdoor entertaining and can easily double as a pool-house.
Available in 4×6 and 5×7 room footprints
---
Great for outdoor enjoyment.
4×5, 4×6, 5×6 and 5×7
2 to 5 People
---
Some are designed for today's busy, transient society. They can be delivered and in place in minutes–rather than hours. Perfect for the backyard or deck.
4'x4′, 4'x6′, 5'x6′, 6'x6′, 6'x6′ Corner, 6'x8′, 7'x7′ Corner, 8'x8′, 8'x12′
2 to 10 People
---
The barrel sauna design gives you a much smaller heating area than any rectangular sauna with plenty of room for bathers.
The red cedar barrel saunas come in various different sizes with endless options.
Indoor-only infrared saunas
An indoor-only sauna can come in any of these sizes:
---
36" X 36″ X 76 3/8″ H
1 person
40″ x 48″ x 76 3/8″ H
2 people
44″ x 64″ x 76 3/8″ H
3 people
44" x 72″ x 76 3/8″ H
3 people
52″ x 52″ x 76 3/8″ H
3 people
56″ x 72″ x 76 3/8″ H
4 people
60″ x 60″ x 76 3/8″ H
4 people
Ready to Explore Sauna Ownership Further?
Come and talk with us! At Mainely Tubs, we are here for you throughout the entire process – from initial consideration, to sauna comparisons, to delivery day. First, check out our helpful 10 key tips for buying a home sauna guide. Then, when you are ready, give us a call, email us, or pop by our showrooms in Scarborough, Maine or Rye, New Hampshire. We're always happy to help you make the first steps to becoming a new sauna owner!
About Mainely Tubs in Maine, New Hampshire, and Massachusetts
Mainely Tubs is a 100% Employee Owned premier Hot Spring Spas dealer. We sell and service new hot tubs, used hot tubs, portable spas, swim spas, saunas, hot tub accessories, hot tub water care, and more. Our Brands Include: Hot Spring Spas, Caldera Spas, Freeflow Spas, Endless Pools Swim Spas, Finnleo Saunas, Covana, Leisure Time, Fresh Water, Silk Balance, and other brands you can trust.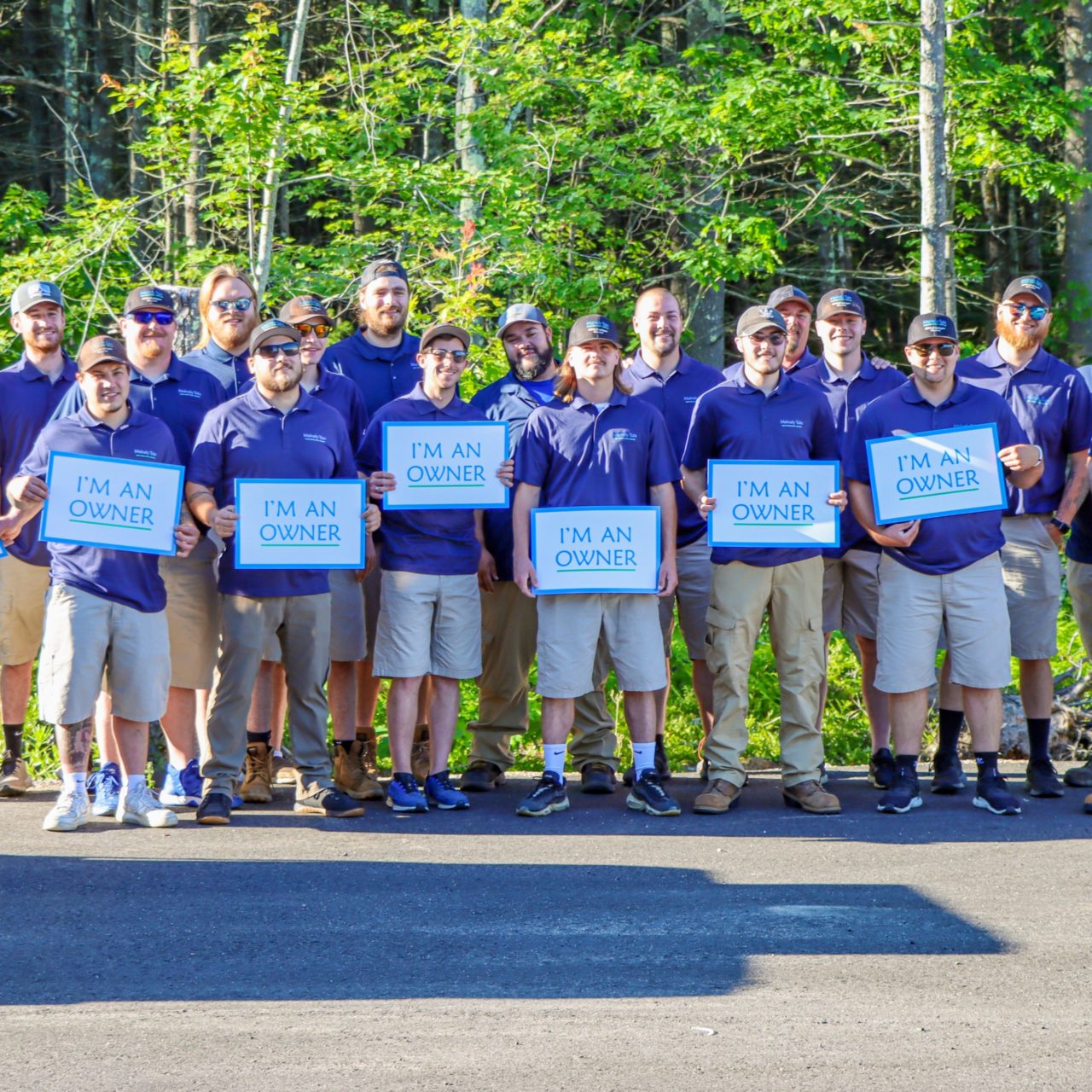 Related Sauna Articles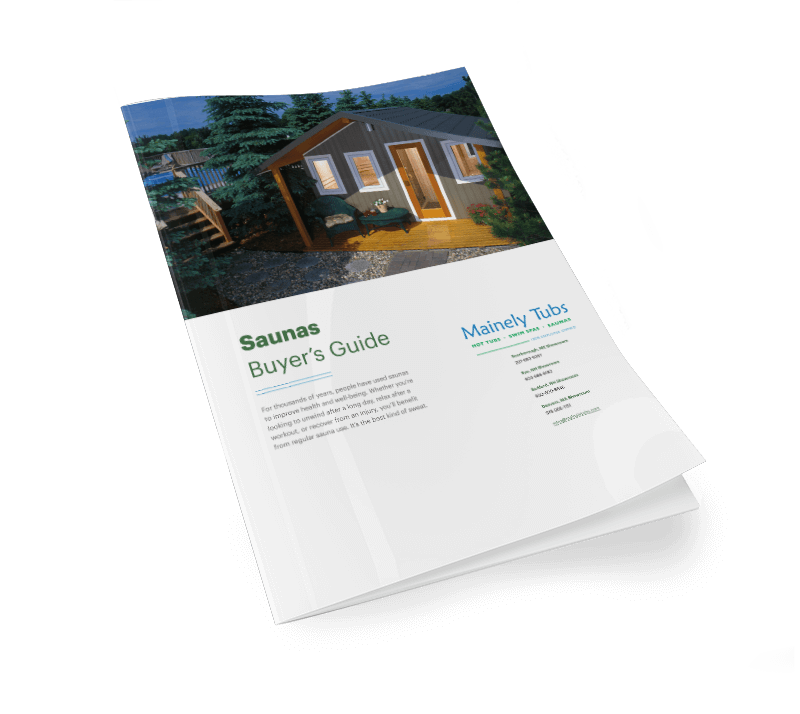 Download the Sauna Buyer's Guide
Here's Everything You Need to Know!
We've pulled together information about all things sauna. If you have questions, you'll find the answers here. Get your free guide now!