You may already know that you want a hot tub, but you'll need to do some thoughtful planning and preparation first. The good news is, you can work with your hot tub dealer to help you do that. In the meantime, let's answer some of the most frequently asked questions about hot tub site placement and site preparation planning here.
What Legal Logistics Should I First Clear with My Local Planning Department to Determine If I Can Have a Hot Tub?
A quick call to your Town's planning office would be useful; most municipalities are happy to learn about the standard cover locks in every Mainely Tubs hot tub.
Do I need a building permit?
Most cities and counties require permits for exterior construction and electrical circuits. Check in with your local planning department to see if a building permit is required specifically for hot tub installation.
Do I need a fence or a gate around my hot tub?
Consult your local or county building codes to determine the need for a fence or gate since some communities have codes requiring residential barriers (i.e. fences, self-closing gates) on the property to prevent unsupervised access to a hot tub by children under the age of five.
What Is Needed to Prepare My Home for A Hot Tub?
In determining where your hot tub will live, you need to decide if you have enough space, which will largely be determined by the hot tub specifications of your desired hot tub. However, the tub size itself is only one small piece of the puzzle, as you'll need to consider other factors such as:
Spa access
For both indoor and outdoor installation AND routine maintenance and repairs, you need to allow access to all sides of the hot tub. Serviceable equipment can be located anywhere in the cabinet, so it's essential to have the ability to remove all the panels. Additionally, if you are planning on surrounding the tub in a deck, you'll need to install hatches or a crawl space around the spa, providing 18" – 24" of space for a full-grown adult to access the inside of the tub.
Nearby drainage site
Some cleaning systems require draining up to 500 gallons from the tub every 3-4 months, so you need a proper drainage spot nearby, unless this is specifically outlined in your city regulations. If you are draining onto your property, note that while most plant life tolerates treated hot tub water with no chlorine content, avoid delicate plants like roses or vegetables.
Site access
Can you ensure the hot tub can be physically delivered to the spa destination at your property? If you know the specific hot tub that you want, get the dimensions of the delivered package from the manufacturer. Your mission is to now evaluate the delivery route. Armed with a tape measure, walk the actual path that the tub will travel and identify any trouble spots like low eaves, air conditioner units, gas/water meters, overhanging branches, narrow gates, consecutive stairs without landings, or anything difficult to maneuver around or over.
In your route, measure the width of doors, gates, steps and sidewalks to make sure the hot tub can get through on the day of delivery, paying close attention to any 90° turns to make sure it clears. If you will need to remove gates or parts of fences, do it in advance. These are all hiccups you do not want on delivery day, so do your homework ahead of time!
If you live on a hillside or difficult site, inquire about crane services to lift the spa over walls and other obstructions.
What About Electrical and Plumbing Needs?
Electrical
You will need an electrician to come to your house to verify your set-up can support a hot tub and ensure the right components, parts, and wiring are in place. You'll also need to know how far apart your main breaker box will be to your hot tub location; the further away it is, the more expensive it will be to wire it. As a general rule of thumb, all spas must be connected to a Ground Fault Circuit Interrupter (GFCI). This critical safety device shuts off power if an electrical short arises in as little as 1/40th of a second.
Additionally, you should talk to your hot tub dealer and brush up on the National Electrical Code to make sure you know what you need before an electrician comes to your property. And, always remember, extension cords can never be used for your hot tub.
Plumbing
You won't need plumbing since your hot tub is entirely self-contained! You will fill it using a garden hose and empty it via siphon with garden hose or submersible pump.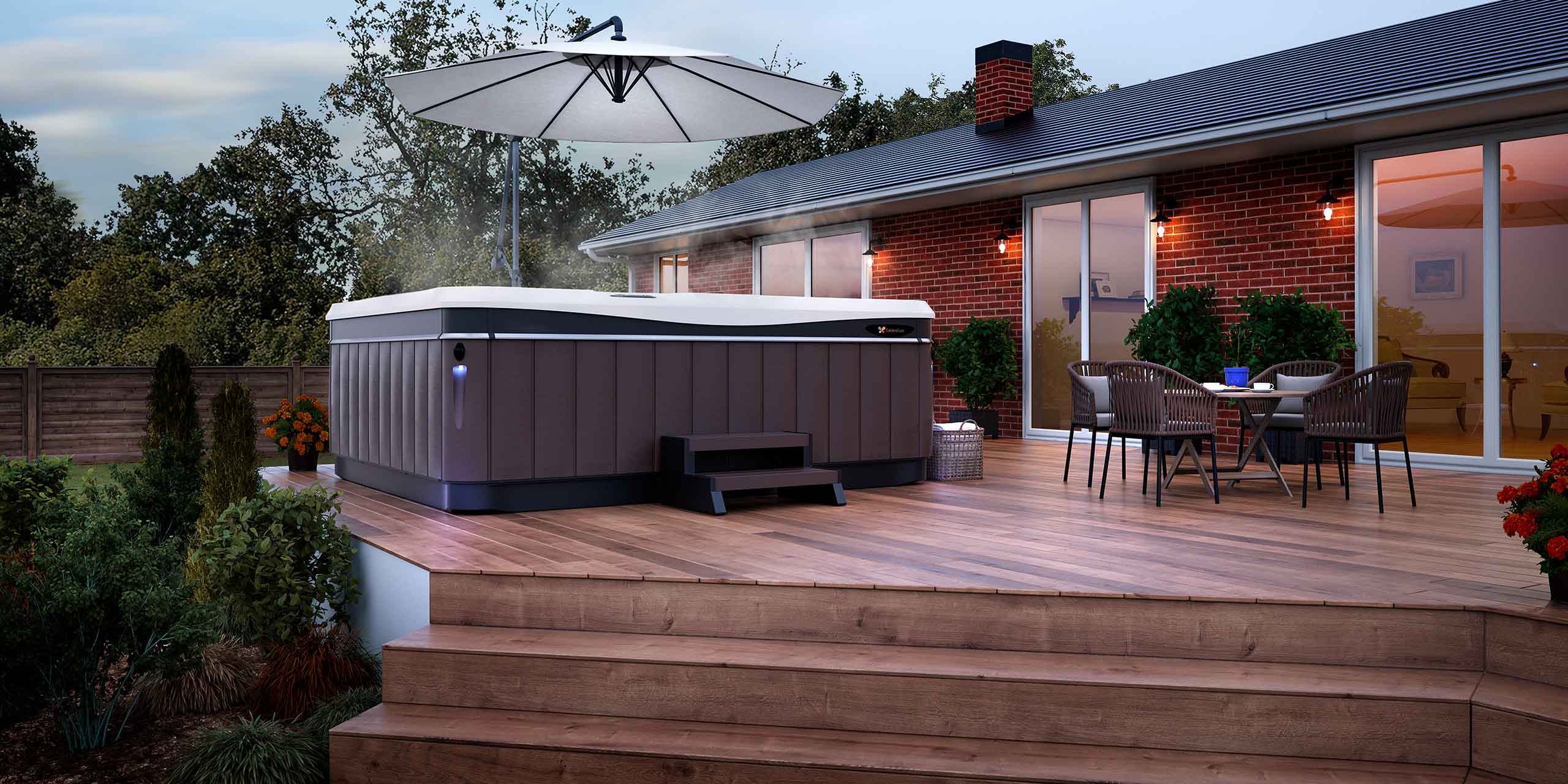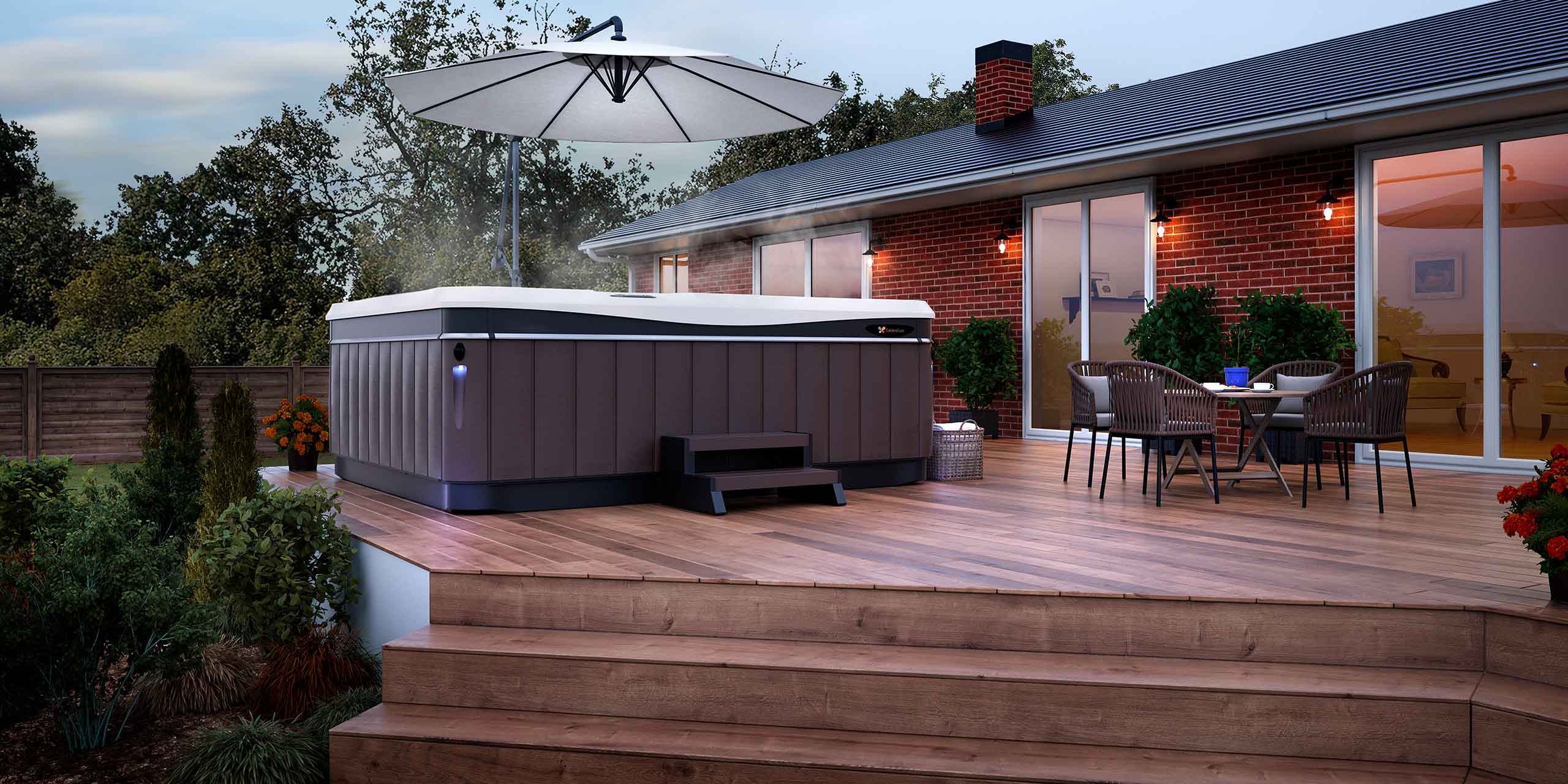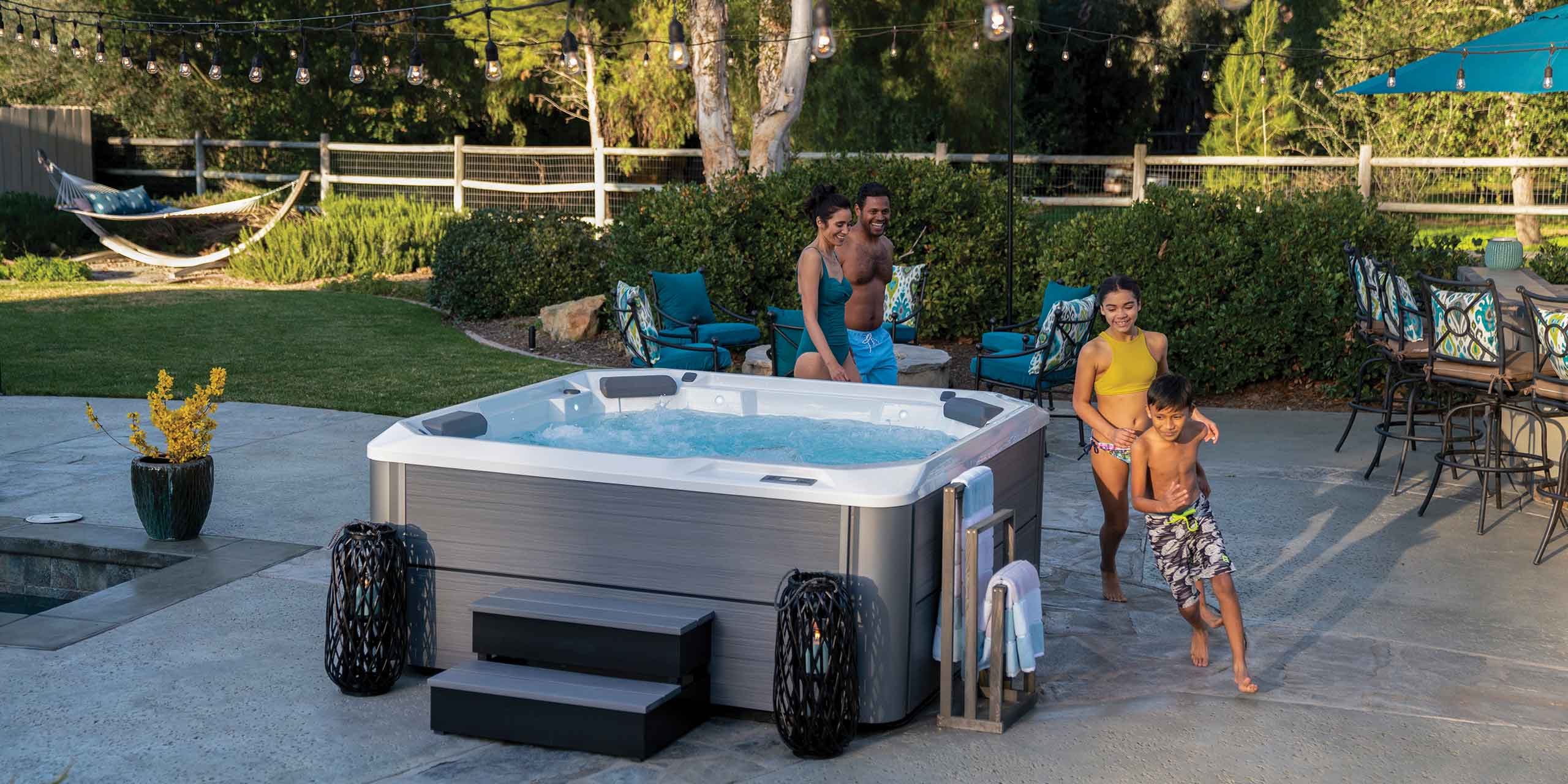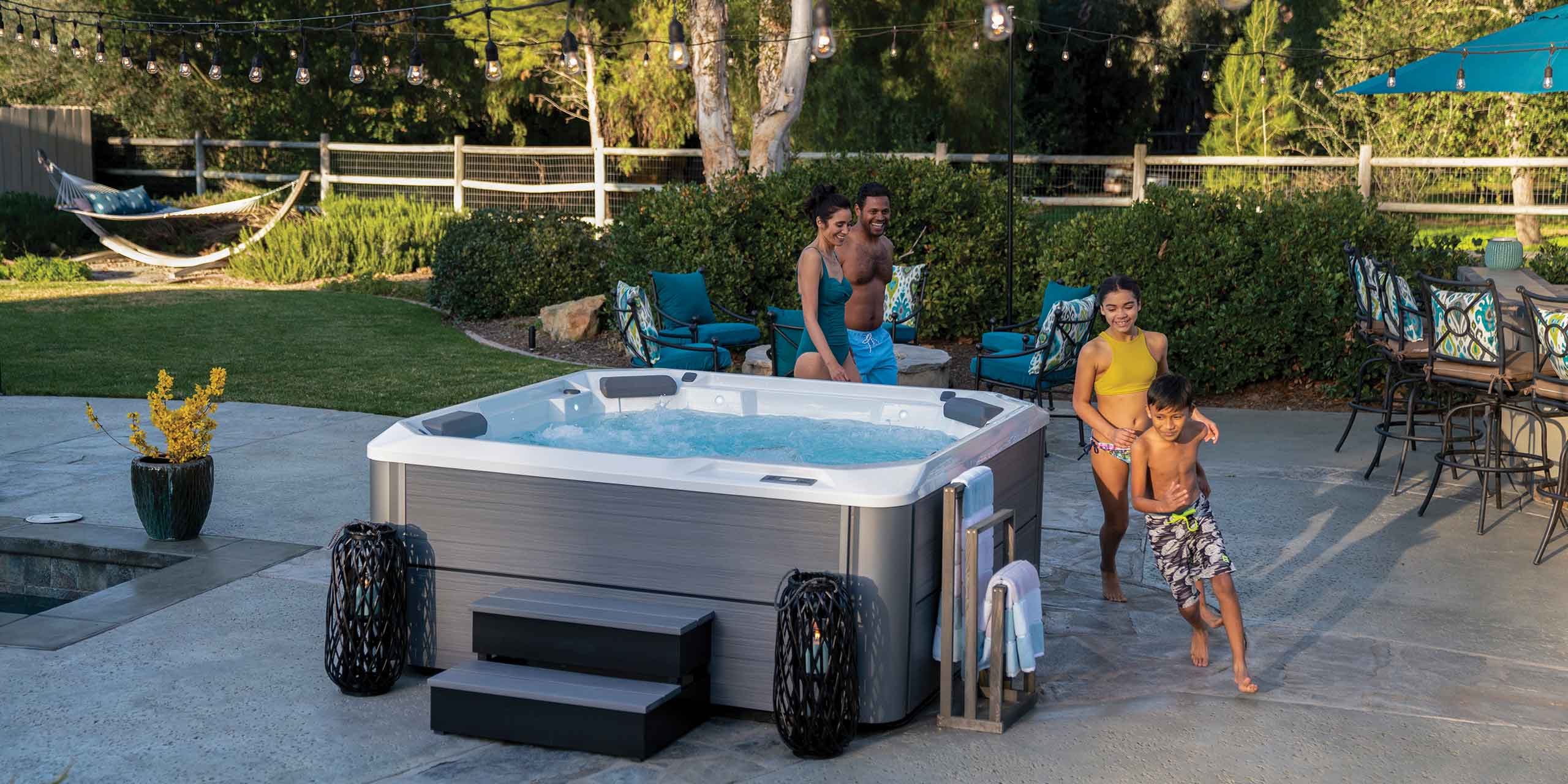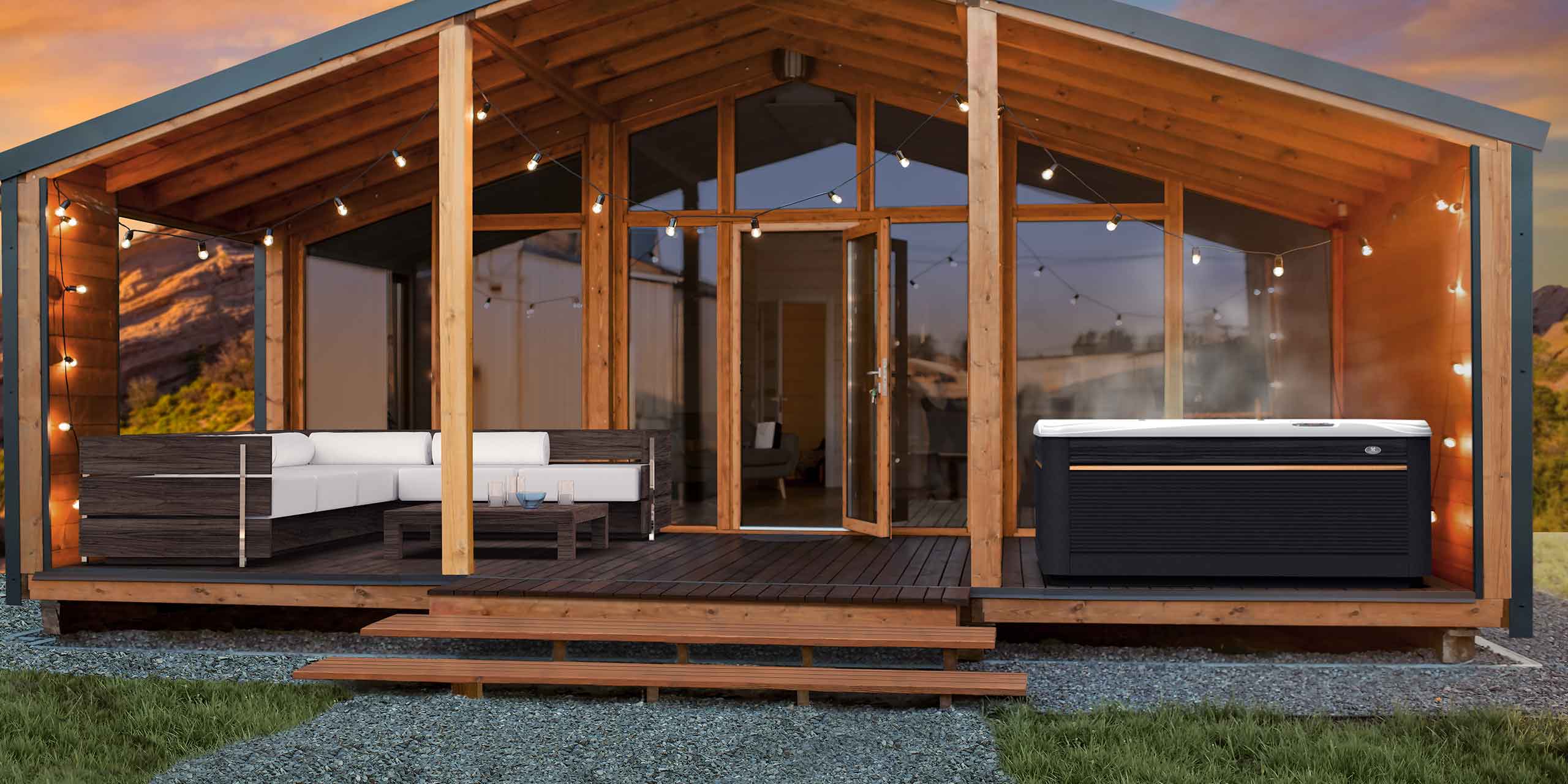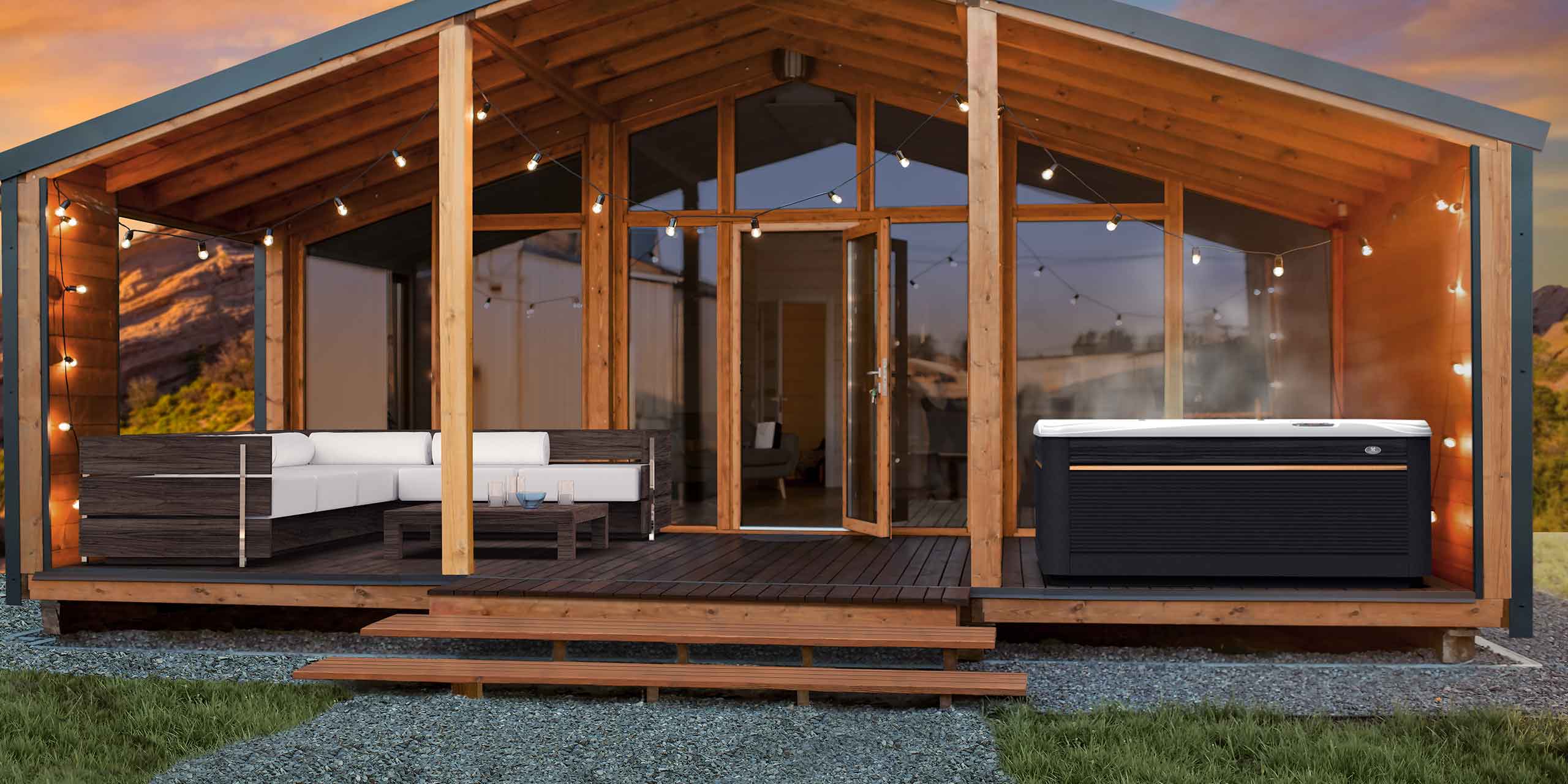 What Kind of Foundation Do I Need?
The sole purpose of a foundation is to support your tub. First, look at the weight of the actual hot tub itself. Can the outside foundation, deck, patio, or floor room support this massive weight even when it's unfilled? Now, it's time for the water. The floor load of a hot tub filled with water is around 115 lbs. per square foot. Your base should have at least 125 lbs. per square foot load capacity.
Do's of foundations:
Hot tubs must be placed on a solid, uniform, level surface. These adequate foundations are things like concrete floors, compacted crushed stone base, and decks/patios (if they are structurally sound to hold it). A hot tub must rest completely flush with its foundation. This hot tub foundation must easily hold the tub, the water, and bathers.
Place the tub on an elevated foundation so that water drains away from it.
Don'ts of foundations:
Hot tubs should never be placed on bare ground or grass.
Don't ever attempt to hand level or manipulate the hot tub onto a foundation if it is not naturally flush on the floor; this may crack your hot tub shell or cause other internal damage. And, damage caused by inadequate or improper foundation support is not covered by any manufacturer's warranty, and you will be completely responsible for the damages incurred.
Can I Reinforce an Existing Structure and Place It There? Or, Will I Build Something New for My Hot Tub?
If you are not comfortable with your foundation or if you are unsure if your foundation can support a hot tub, you'll definitely want to consult with a structural engineer or qualified contractor to have it inspected and add bracing if necessary. Some dealers have personnel on their staff who can inspect your structure and give you feedback.
Outside Hot Tubs: Should I Place a Hot Tub on a Deck? On a Patio? What Is Best? 
It is wonderful to have an outside hot tub to enjoy year-round! Here are some considerations to map out:
View and privacy: Picture yourself in your hot tub. What view do you want? Is it private enough?
Proximity to trees and plants: They are pretty, but how much leaves and debris could they drop into your hot tub in this spot?
Adequate drainage for rainwater & splash out: Where will the water go?
Nearby water source: You'll want this close by to fill and drain the hot tub with a garden hose.
Utility lines: DO NOT place your hot tub directly under or within 12 feet of overhead power, telephone or cable lines.
Climate matters: In cold weather climates where the ground is covered in deep snow, how close can you get your tub to your house door for convenient access? In hot climates, is your tub in a good shady spot? Will a gazebo be needed?
Create a clean path to the hot tub: This is a great way to keep your tub free from dirt and debris!
Inside Hot Tubs: Can I Put a Hot Tub in My Basement? Bath? 
If you are considering placing a hot tub indoors, most regular, code-compliant floors or level basement concrete are adequate to support the weight. You will need to consult with a professional contractor regarding four-season rooms, screened-in rooms, and porches to see if they have adequate floor support. A few things to keep in mind:
Place it on ceramic tile or water-resistant floor material: And extend this material at least 2 feet around the hot tub in case of over splash and to catch water from bathers exiting the hot tub. Do not put your tub directly on household carpet or a wood floor!
Adequate ventilation: This is a must! When the hot tub cover is off and it is in use, there is a considerable amount of humidity and moisture in the air, which can damage walls, ceilings, carpeting, draperies and furniture. As a solution, install a ventilation exhaust fan either above the hot tub in the ceiling or in a side wall or window, next to and above the heated hot tub water. It's also smart to include a humidistat that will automatically turn on the exhaust fan when moisture is present.
Exhaust fans are rated by CFMs (cubic feet per minute) and the fan must be powerful enough to remove all the air in the room in 3 minutes. To help determine what size fan you will need, measure the room's length x width x height and divide by 3 = CFMs.
Include a waterproof, non-skid floor with a drain
Install a waterproofing vapor barrier for wood studs / rafters
Ideally have tile or cedar planks for the walls and ceilings
Plan the Delivery and Installation of Your Hot Tub
Now that you have everything figured out and planned, work directly with your hot tub dealer to purchase the hot tub and coordinate logistics around delivery and installation! You are almost done!
It's Finally Time to Enjoy Your New Hot Tub! Are You Ready?
After all your hard work, it's time to fill and enjoy the tub! If you are ready for this finish line success, but still a little unsure on the preparation and planning of your hot tub purchase, we are happy to help here at Mainely Tubs.
We suggest reading our convenient online Hot Tub Buyer's Guide or simply download our "Ultimate Hot Tub Buyer's Guide." It's a complete printable reference guide with in-depth insights into everything you need to know about buying and owning a hot tub.
Need additional help? Give us a call, email us, or pop into our Scarborough or Rye showroom. We look forward to working with you on your personalized hot tub plan!
About Mainely Tubs in Maine, New Hampshire, and Massachusetts
Mainely Tubs is a 100% Employee Owned premier Hot Spring Spas dealer. We sell and service new hot tubs, used hot tubs, portable spas, swim spas, saunas, hot tub accessories, hot tub water care, and more. Our Brands Include: Hot Spring Spas, Caldera Spas, Freeflow Spas, Endless Pools Swim Spas, Finnleo Saunas, Covana, Leisure Time, Fresh Water, Silk Balance, and other brands you can trust.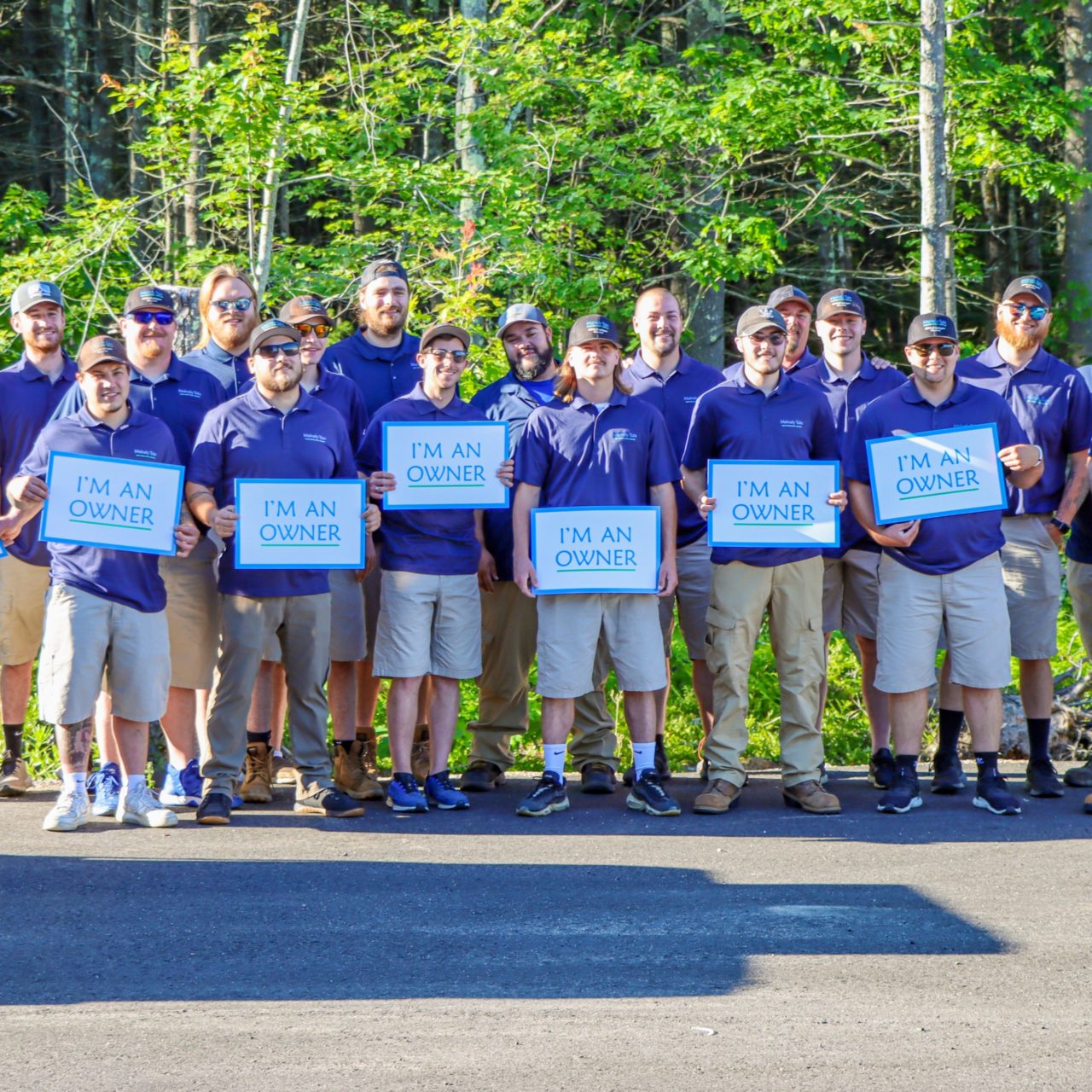 Related Hot Tub Articles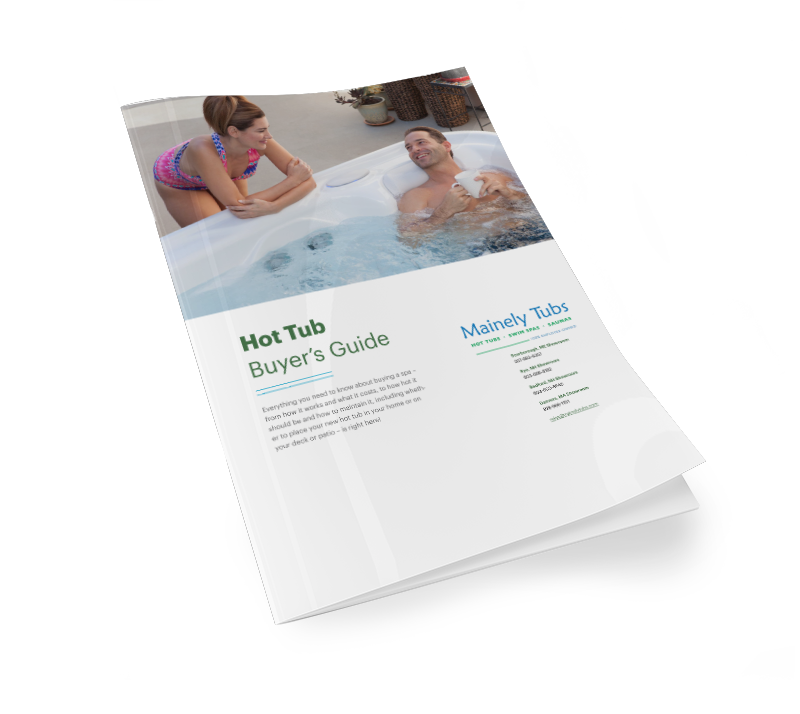 Download the Ultimate Hot Tub Buyer's Guide
Here's Everything You Need to Know!
We've pulled together everything you need to know about buying a hot tub. Learn about everything from hot tub functions & features to hot tub maintenance & costs all in one convenient guide.