Before you pick out your ultimate swim spa with all the health and wellness features you've dreamt about, it's important to tackle the logistics first. Where would it go? Do you have the right space for it? What other installation information would you need to know before you buy a swim spa? We've got you covered on everything you need to know, so let's get started with the most common swim spa installation questions here.
How Much Space Do You Need for A Swim Spa?
It will depend on your make and model of swim spa but take a look at our detailed swim spa dimensions page to get a better idea.
Where Will Your Swim Spa Be Located?
All swim spa models are single-shell, molded acrylic models that arrive pre-plumbed and pre-wired and ready to install on any sound and level surface including outdoor and indoor locations.
Surface Requirements: What Will You Need for Swim Spa Installation?
Essentially, you need a strong and level surface. Please note these two important requirements:
A filled swim spa system will weigh a lot, so you'll need a solid (and structurally sound) foundation to support it.
You'll also need a level surface to ensure that the system can operate properly, and the internal plumbing can drain completely.
Will Your Swim Spa Be Located Outdoors?
A swim spa is a perfect outdoor wellness retreat for 24/7 access to aquatic fitness and relaxation, even year-round in the coldest climates. Here's how to make it happen:
Measure the outdoor space you have; this will determine the size of a swim spa you can have. Is there enough space around your swim spa for steps or decking? These can be purchased separately to allow for easy access to your swim spa. You can get these dimensions from your local swim spa dealer to make sure the space is big enough. And make sure there is enough clearance for the cover when it's in the open position.
Ensure this outdoor space has level ground with proper footing. Swim spas require a concrete pad that is at least 6″ thick.
If you're installing your swim spa on a deck, find out the deck's maximum load capacity. Be sure to consult a contractor or structural engineer before installing a system on an elevated deck.
Make sure you have reasonable access to your outdoor space.
Talk to your local swim spa dealer specifically about your outdoor space and use this expert guidance to make the most informed swim spa decisions about placement.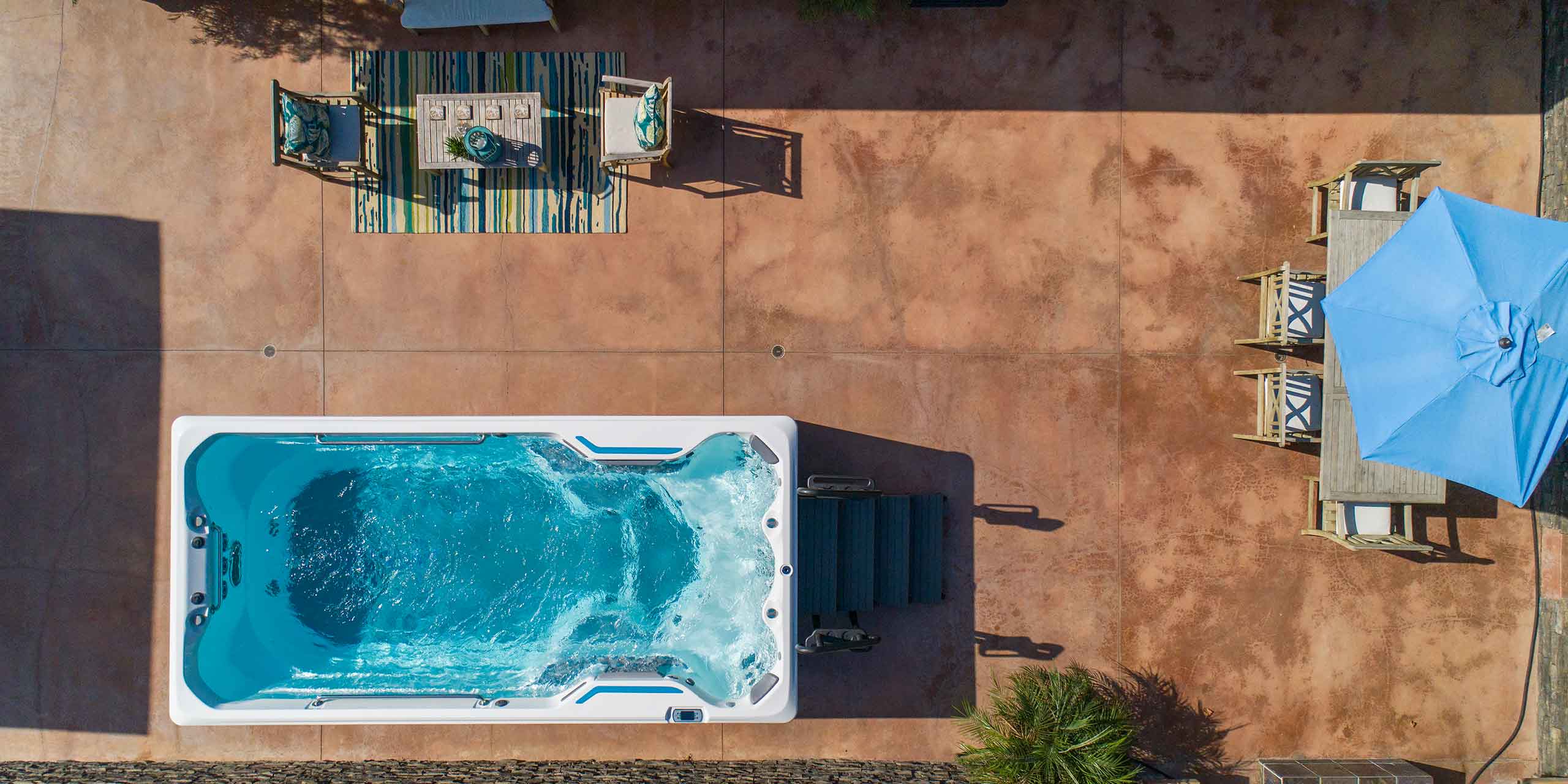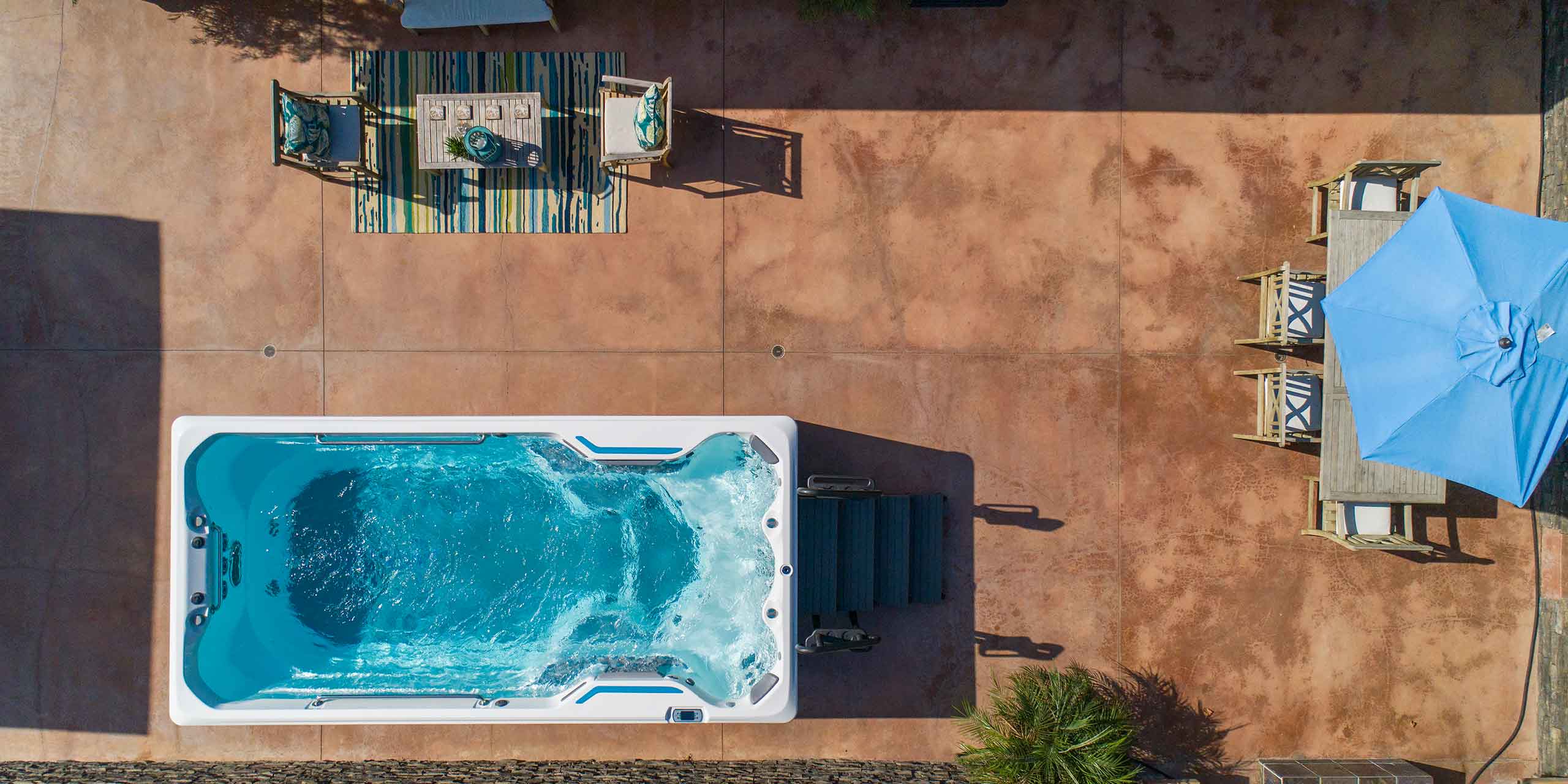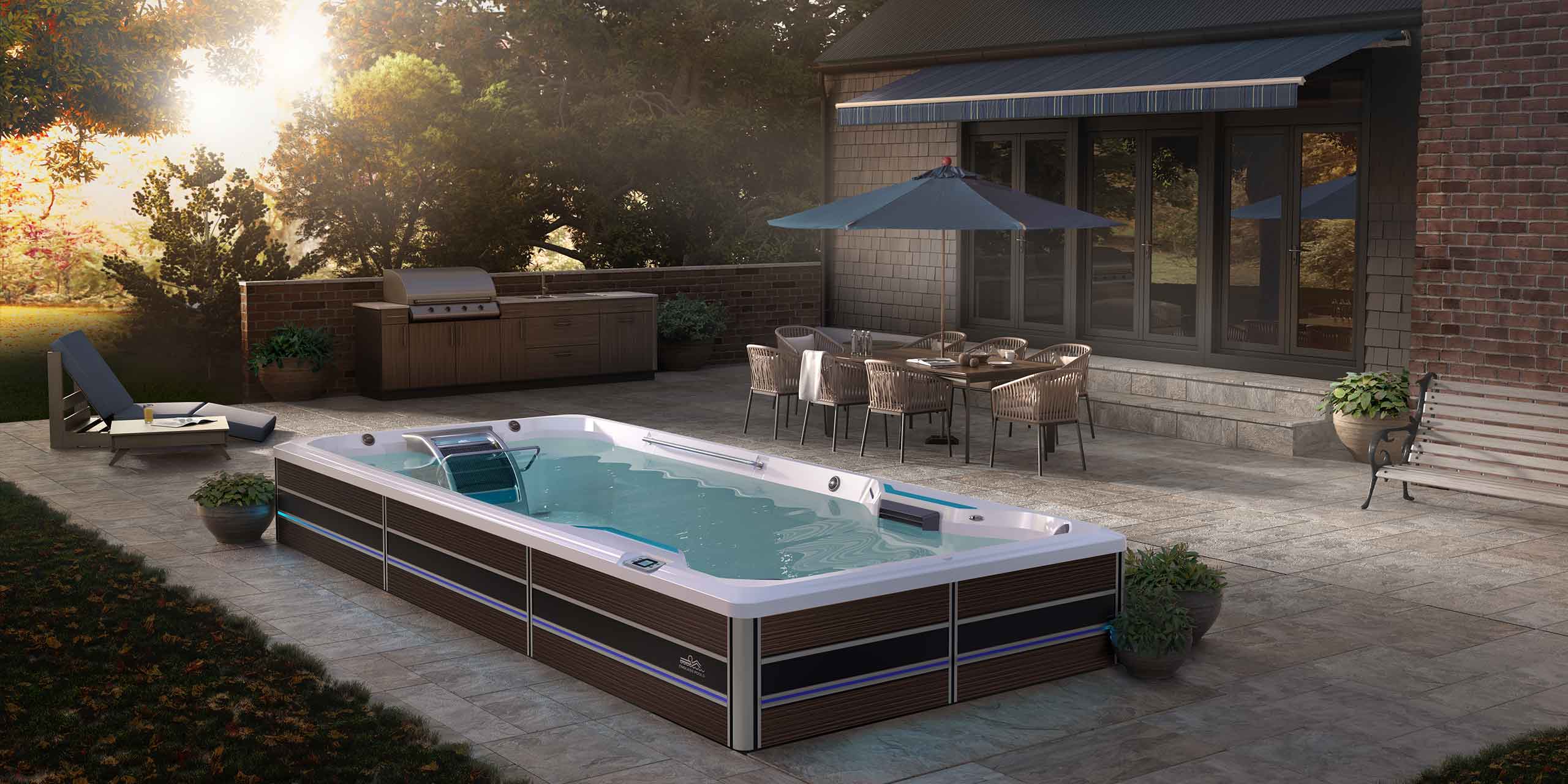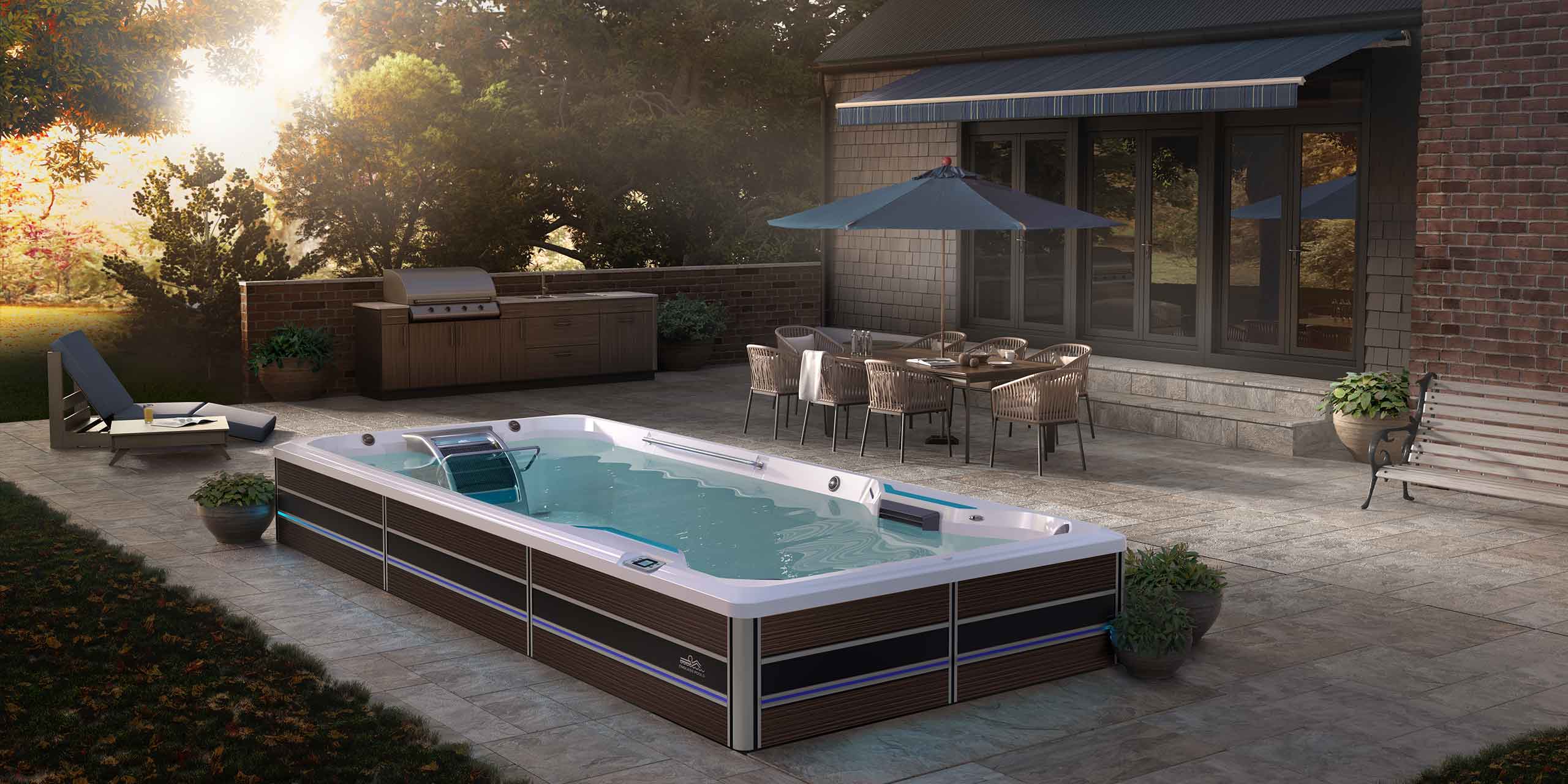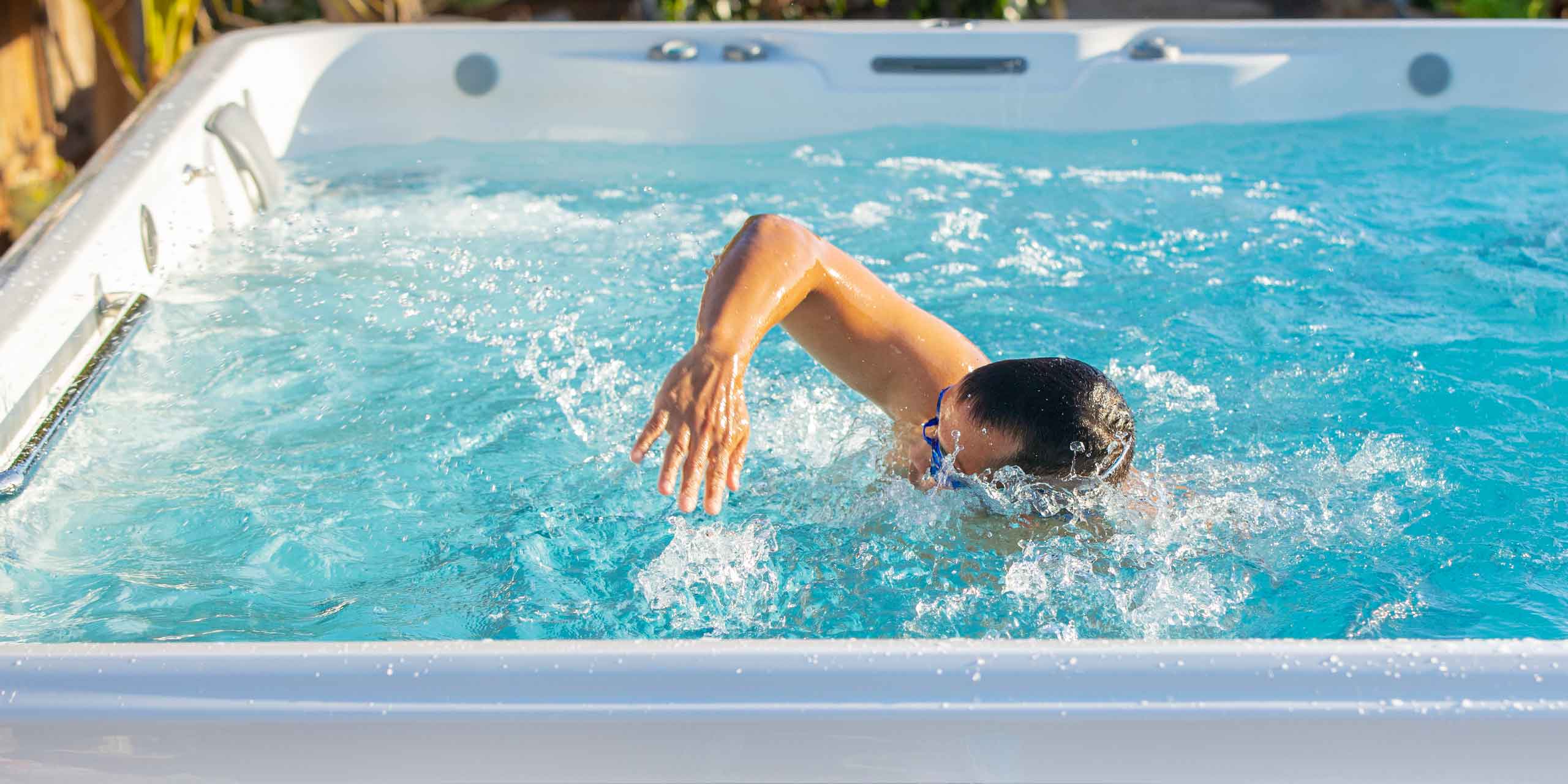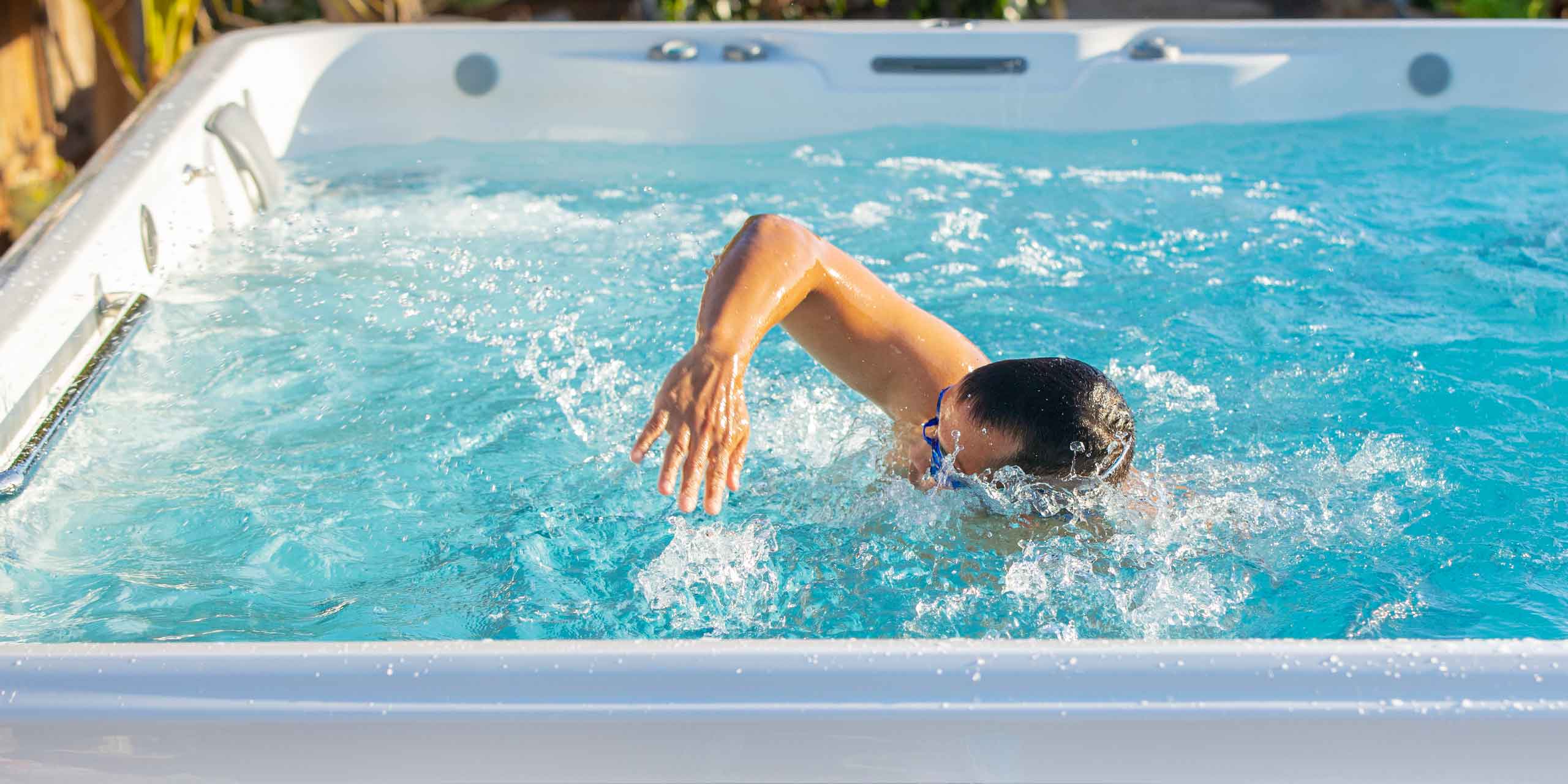 What About Electrical and Plumbing Needs for Your Swim Spa?  
Electrical: As a minimum requirement for running a swim spa and its components you'll want to work with a licensed electrician to make sure you have 220V / 60 AMPS of power available. You'll also want to see if your city/town requires any permits to install electrical circuits and/or construction of exterior surfaces like decks and gazebos.
Plumbing/drainage: It's critical to select a placement site where the water will drain away from your electrical equipment compartment.
Are There Any Local Regulations You Should Be Aware Of?
This is a great question for your local swim spa dealer as they may already know if you will need permits or fencing, self-closing gates and/or locking cover systems around the swim spa, as well as other zoning regulations and building codes.
Do You Have the Perfect Indoor Space for Your Swim Spa?
Many people choose to make their swim spa wellness retreat indoors. Let's review some advantages and considerations below.
Here are the perks of indoor swim spa installation:
It's the least expensive option for installation.
It allows for year-round use in any weather.
It has lower heating costs.
It keeps unwanted pool access more difficult for children and pets.
Swim spas use low-chlorine water purification systems (and less chemicals than traditional chlorine-based systems and bigger pools) so your rooms will smell fresh.
There are secure cover options to effectively and easily control humidity.
And, things to consider for indoor swim spa installations:
You will need to ensure that you have the proper ceiling height.
You may need an exterior step or stairway to enter the pool.
The flooring materials must maintain a good grip when wet since water may accumulate around the system.
Proper floor drainage is essential.
You'll also need to install plenty of proper ventilation such as a dehumidifier and exhaust fan to reduce the chances of airborne moisture affecting exposed wood and other materials in the area.
Other Cool, Indoor, Swim Spa Spots to Consider
The garage (depending on the make and model, it can often fit in less than half of a two-car garage): And most garages already have level concrete floors.
The basement: Your oasis can be right downstairs; you may require a concrete pad, though.
The sunroom: Lots of natural light to swim with!
Swimming pool enclosures: You can enjoy a 12-month pool season outside even if you have the coldest and snowiest winters.
How to Plan for Swim Spa Installation and Delivery
When it comes to how to install a swim spa, there will be some work you will need to do, but the heavy lifting will come from your local swim spa technicians.
Here's Your Quick Swim Spa Installation Checklist:
Make sure all the requirements we covered in this article are set and ready to go, especially the ground/site preparation and electrical requirements that were performed by qualified and licensed professionals.
Review your specific delivery guide/documents that will outline each step of the installation process. It will outline which parts you are responsible for, and where and how your installer will assist.
Work closely with your local swim spa dealer to ensure the installation plan is clear, especially as your delivery day gets closer.
Clear the way for delivery day! You may need to make room near the installation site including temporary gate/fence removal to clear the path for delivery.
Here's what swim spa technicians will do:
They will install your swim spa! Please note that the process itself will vary depending on how well the space is prepared for delivery and if there are any unforeseen delays that may occur; a reputable, local swim spa dealer will happily work closely with you on making this installation seamless!
Building off this great communication, make sure you have a local swim spa dealer that will discuss any follow-up questions or concerns; you want to buy your swim spa from someone that is more focused on the long-term enjoyment of your product vs. making a quick sale.
What Is the Average Swim Spa Installation Cost?
Just chat with your local swim spa dealer as this will be specific to the swim spa you choose. For a range of costs, visit our How Much Does A Swim Spa Cost page.
I Have the Perfect Spot for A Swim Spa! What's Next?
Mainely Tubs is excited to work with you on all the planning steps for your new swim spa, from finding the perfect swim spa model that's right for you to installation. Give us a call, email us, or pop by our showrooms in Scarborough, Maine or Rye, New Hampshire. We're always here to help you learn more and happy to help you find the right swim spa for you!
About Mainely Tubs in Maine, New Hampshire, and Massachusetts
Mainely Tubs is a 100% Employee Owned premier Hot Spring Spas dealer. We sell and service new hot tubs, used hot tubs, portable spas, swim spas, saunas, hot tub accessories, hot tub water care, and more. Our Brands Include: Hot Spring Spas, Caldera Spas, Freeflow Spas, Endless Pools Swim Spas, Finnleo Saunas, Covana, Leisure Time, Fresh Water, Silk Balance, and other brands you can trust.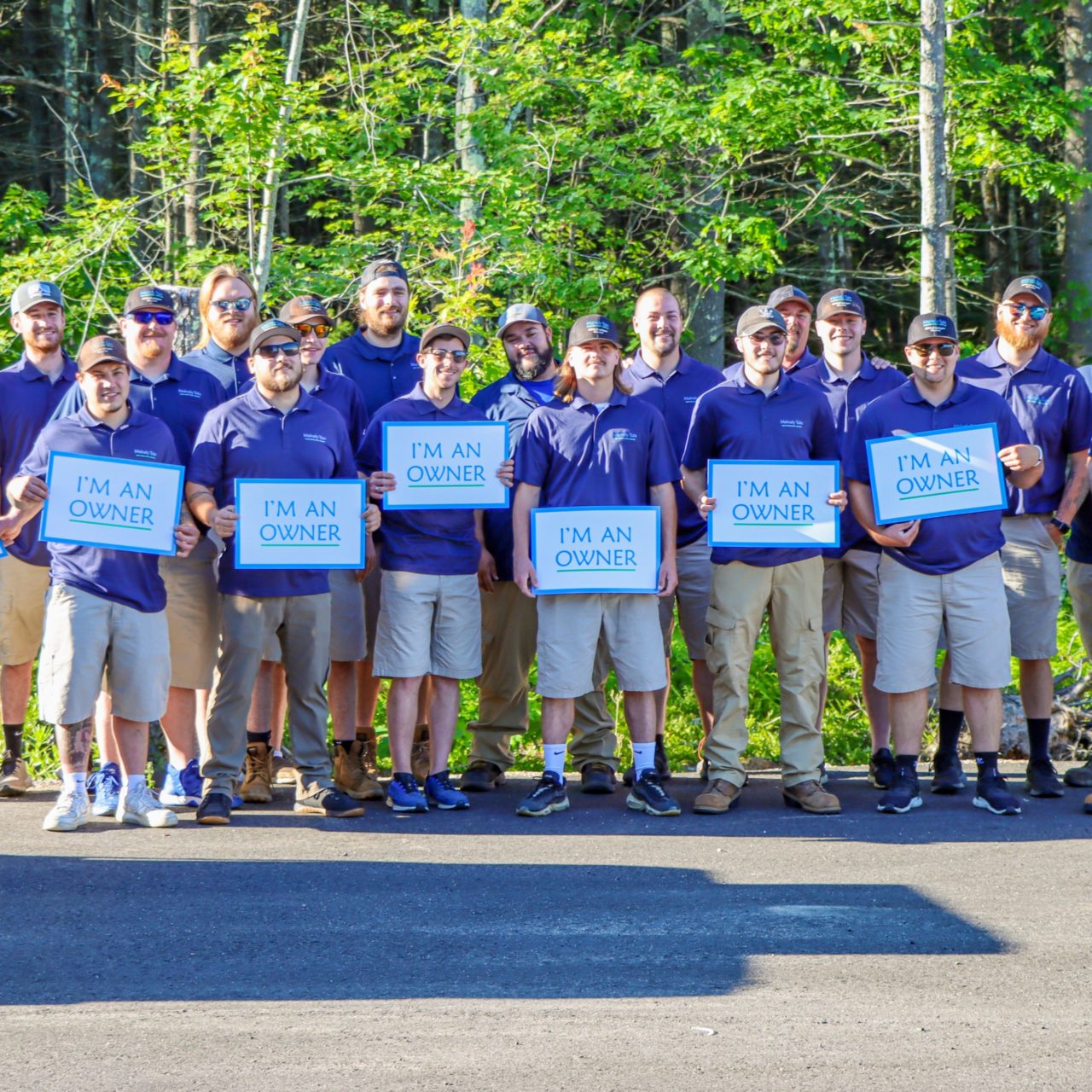 Related Swim Spa Articles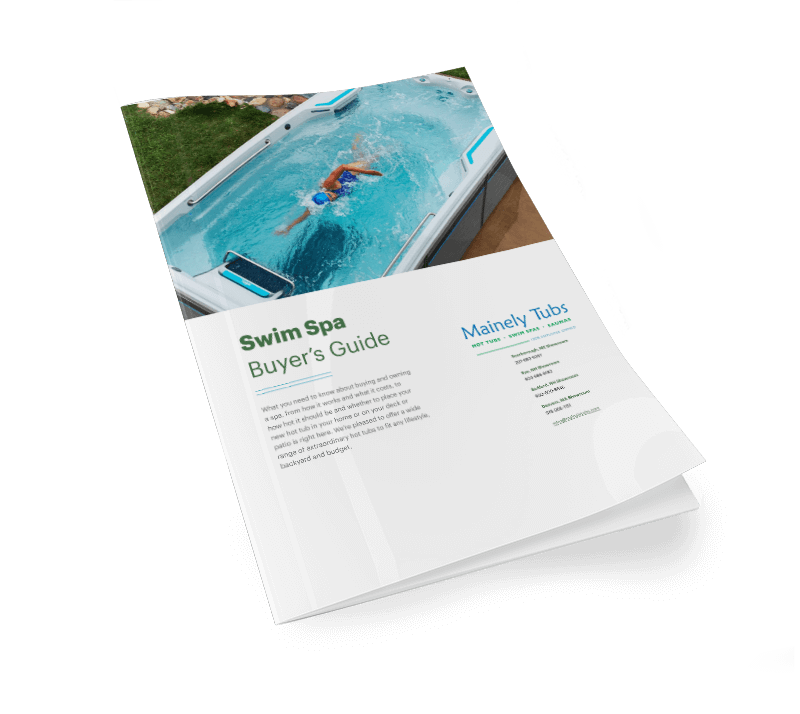 Download the Swim Spa Buyer's Guide
Here's Everything You Need to Know!
We've pulled together information about all things swim spa. If you have questions, you'll find the answers here. Get your free guide now!