If you are new to the world of swim spas, you may wonder – is it like a traditional swimming pool? Unlike traditional pools which take up a significant amount of space and cost a substantial amount of money for only limited usage, swim spas are compact options for incredible swimming, relaxation, and fitness activities with no "off season." Let's dive in now to learn more about swim spas.
Swim Spa Basics
Swim spas represent a hybrid of a spa (heated and hydromassage features) and a pool (with its size to allow for more people to enjoy it and enough space to facilitate a versatile range of low-impact exercises) — providing a complete system for swimming, exercise, and relaxation.
Designed specifically for producing resistance, jets or a propulsion system create the perfect environment for swimming or performing general aerobics and light exercise activities. It's also these propulsion systems that create the continuous current that allows people to "swim-in-place" for the most effective swimming workouts and experience possible, eliminating the flip-turn stops after a few short strokes that is a common drawback with a traditional swimming pool experience.
Let's now explore the many benefits of swim spas.
Top Swim Spa Features
All the benefits of a pool at a smaller size: This is a great option for people that don't have the space for a traditional larger pool.
Delivers fitness and relaxation: In addition to swim currents for swimming and aquatic exercise, most swim spas also utilize jet technology for hydromassage for ultimate relaxation. Sizing, features, and hydromassage options will vary by make and model.
Provides a beautiful asset to your home: Many swim spas are the centerpiece of your backyard, with accent colors, LED illumination, and contemporary frames and panels – perfect for your personal oasis or as a social destination for entertaining friends and family.
Year-round usage: Say goodbye to the all-too-short "swim season;" swim spas can be used year-round, even in the coldest climates.
Easy installation and simple maintenance: Swim spas are generally easier to install and require less maintenance than an inground swimming pool (with much less chlorine or harsh chemicals), making them easier and more affordable to operate, and more enjoyable to swim in.
A hot tub too?! What is a swim spa hot tub? Some select swim spa models (within select mid-level and premium/premier systems) have dual-temperature controls and include a separate heated spa hydromassage area. We'll cover this exciting dual-purpose functionality shortly.
Versatility: You'll be amazed at everything a swim spa can do! Ready to learn more?
At-home workout: Save on gym fees! Swim spas can be a great gym replacement.
Unique Swim Spa Options
Are there different kinds of swim spas? This is a great question. In fact, it's the best question to ask at the start of your swim spa search.
If you have spent some time with initial research, you may have scratched your head at figuring out different categories within the swim spa family. Much like cars, swim spas fall into three categories: entry-level, mid-level, and premium/premier. Ultimately, the most important question is, which type of swim spa is the right one for you, your family, and your lifestyle?
While we won't go into specific product names or product details, we will very generally cover the three categories to best educate you on your swim spa options. This will help give you a better idea of the type of swim spas to discuss more with your local swim spa dealer.
Here Are the Three Distinct Categories Within the Swim Spa Family:
Entry-level
As the most affordable options that are easiest on the budget, entry-level systems provide a basic and enjoyable "swim-in-place" experience (some models and brands even offer a turbulence-free experience through airless jets as opposed to the jets that rely on air pressure to generate resistance), space to engage in physical activities like aerobics and rowing, as well as hydromassage benefits similar to those found in a hot tub. Entry-level models are available in various dimensions and price ranges and it all will depend on your make and model, as well as accessories.
Mid-level
You may have heard the term "exercise pool" before. Typical exercise pools provide an environment for aquatic exercise but are typically smaller and not suitable for swimming. Luckily, mid-level swim spa systems provide a superior alternative to the traditional exercise pool.
These powerful systems are geared towards people that want more versatility in the types of exercises (like rowing and resistance workouts) they can do and deliver this extra space for more movement. These systems utilize the currents found in entry-level systems but usually employ a greater number of jets geared towards delivering more resistance with a superior feel. These units also deliver a higher degree of hydromassage benefits thanks to more functionality. Compared to entry-level systems, you will have access to more dynamic options with the mid-level systems. As one example (in select brands and models), you can enjoy a dual temperature swim spa with a separate swim and spa area, where each section enables individual temperature control. This means that you can work out at a comfortable temperature level of 82-85 degrees and then go into the spa area for a 104-degree hydromassage soak. Mid-level systems are available in several dimensions and price ranges, and feel free to check out these resources for very general category information.
Premier or Premium
These systems are the top of the line for the ultimate swim, fitness, and relaxation experience and they give you a 24/7 complete fitness/wellness retreat right at your home.
These systems are usually deeper, wider and longer units that allow for the maximum amount of space to accommodate the biggest range of workouts as well as space for others to join and relax. They also administer the highest level of hydromassage through more targeted jets and better ergonomics. This category offers more unique options when it comes to the generation of swim currents and resistance that go beyond jets for the best swim-in-place experience. Some brands utilize propellers or paddle wheels to deliver non-turbulent currents, while others offer swim machines to produce a swimming lane with laminar flow that is deeper and wider than your swimming stroke. And, if you want a swim spa that has a treadmill, this is your category. If you want both the treadmill and the hot tub in one swim spa, it's also possible here. While your local swim spa dealer can discuss specific makes and models with you, here's some general information on dimensions and price ranges.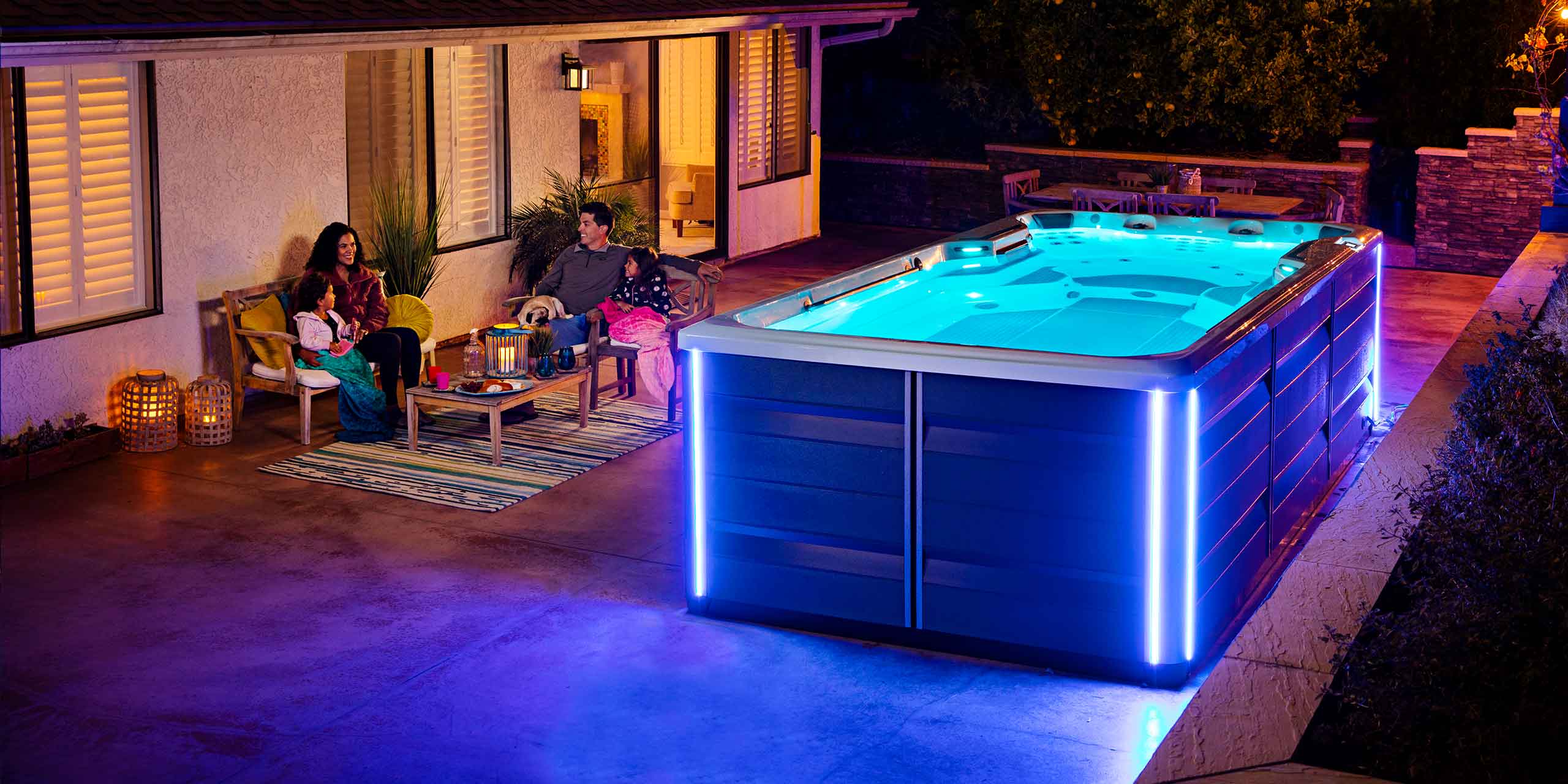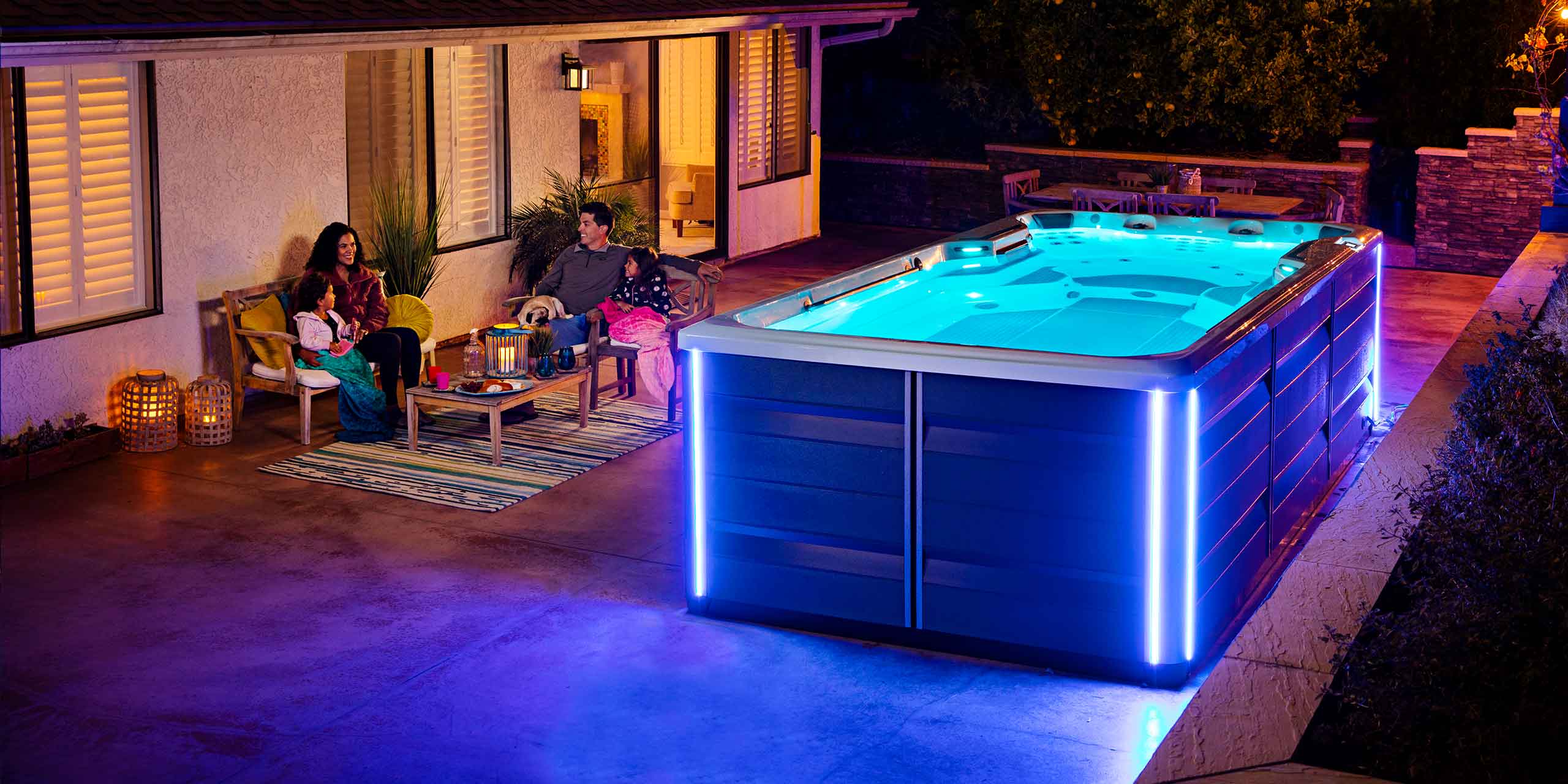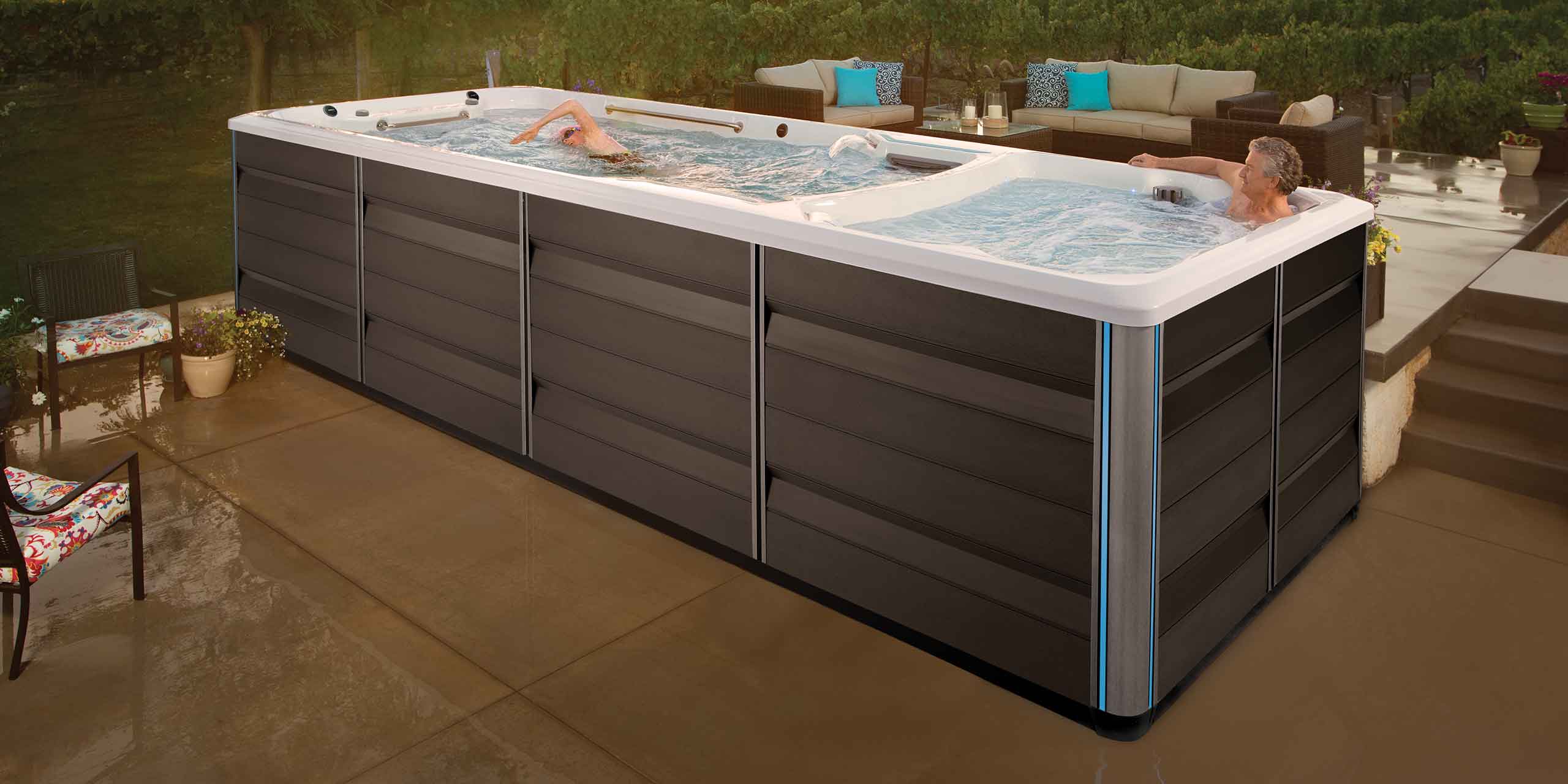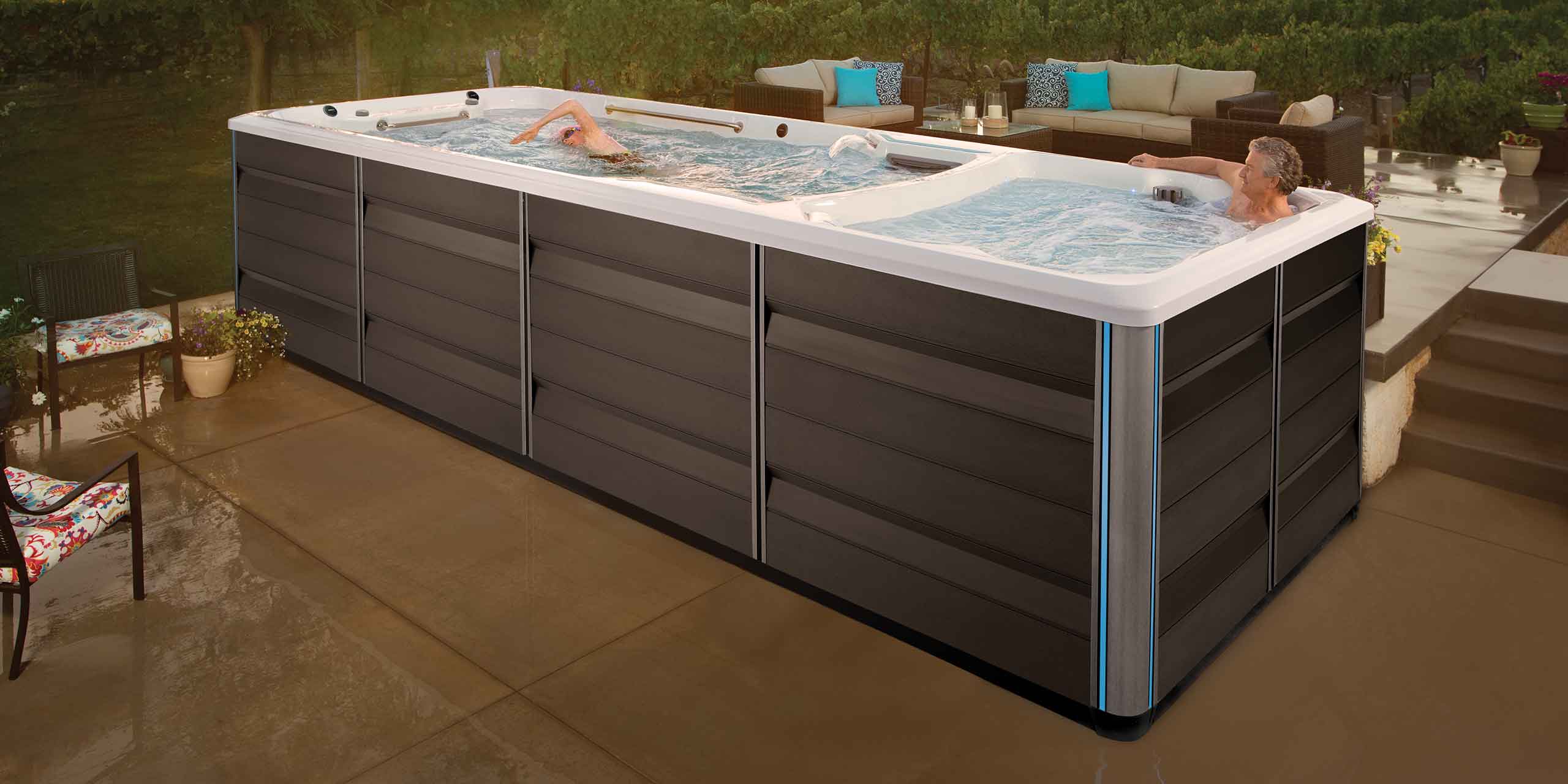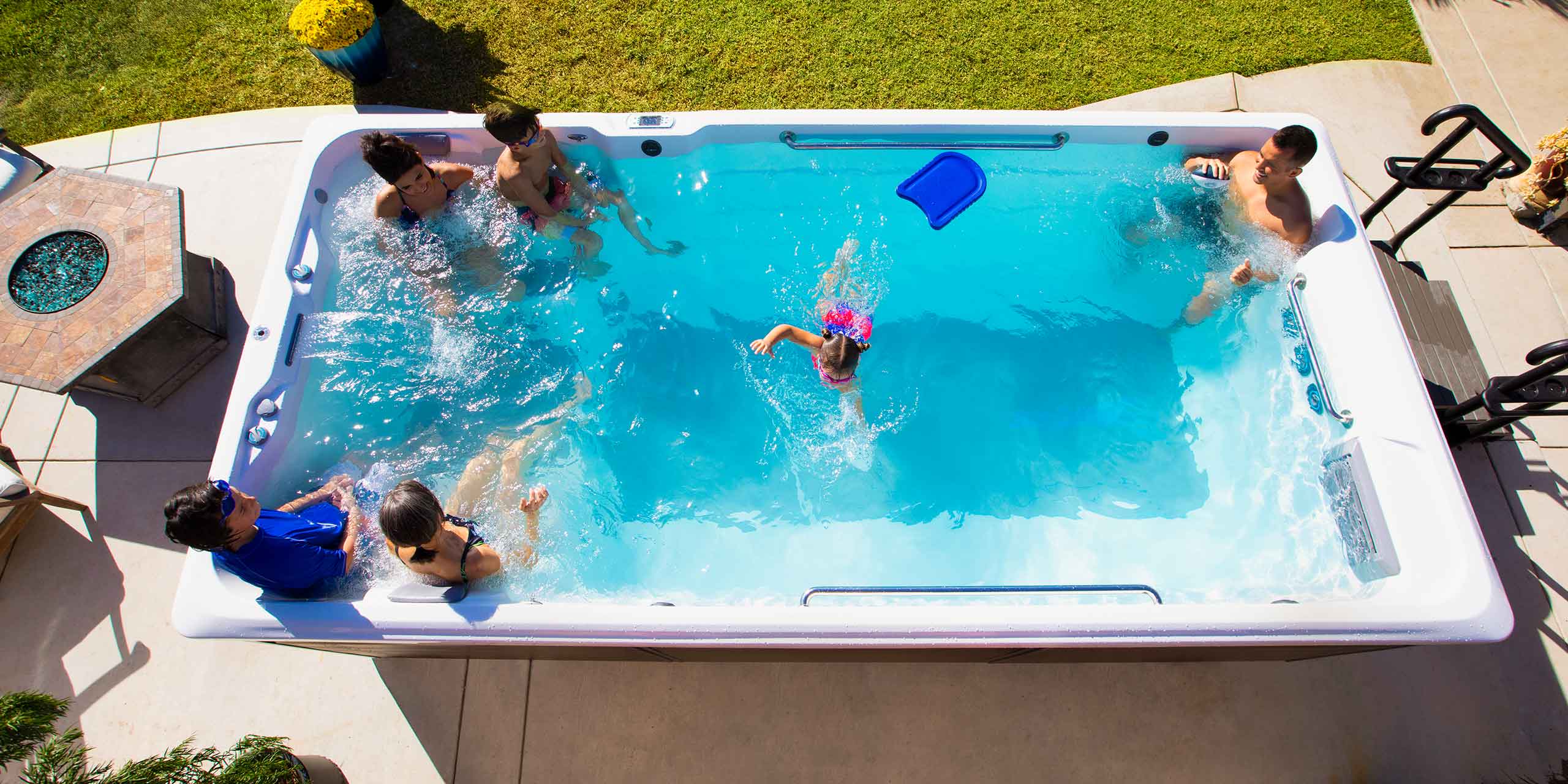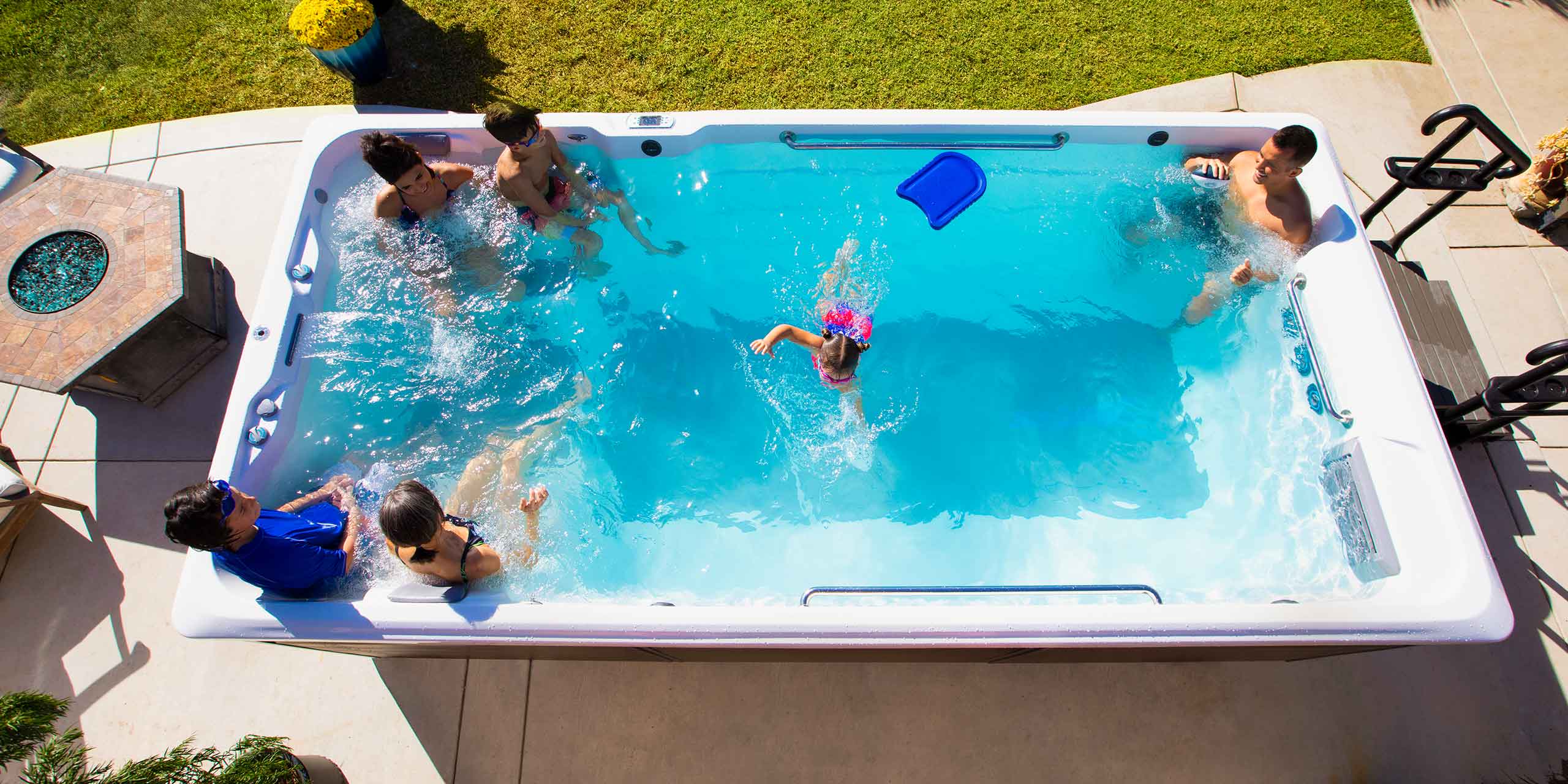 What Kind of Accessories Can Be Used with Swim Spas?
Customization of swim spa features is going to be specific to what you want. While certain things are exclusive to select top-tier swim spas (treadmill, dual-purpose hot tub functionality, fitness app pairing, pace display), you have many accessory options that are available in any swim spa model including:
Aquabike for underwater cycling.
Row bar kit with resistance gear for strength training.
Swim tether (all swim spa models come equipped with an anchor for attaching an optional swim tether) for beginner swimmers and anyone looking to improve form with additional support.
Underwater mirror to monitor form that stays in place on the swim spa floor
Bluetooth® Sound System that can pair with Bluetooth®-enabled devices to stream audio and play music.
Wi-Fi modules/mobile apps have optional plug-and-play functionality to pair up with a Wi-Fi-enabled device to control swim spa settings like temperature, lights, jets, etc.
Swim Spa Ownership, Fitness, and Wellness Benefits
Regardless of what swim spa model is best for you, the swim spa benefitsare clear: It's a 24/7 at-home fitness and wellness retreat right at your fingertips to be your best, most fit, and most relaxed self whenever you want to use it.
Here's some other key swim spa benefits and additional resources to check out:
It's more affordable than a traditional in ground pool and it can fit into your budget.
Swim spa workouts are more effective and easier on your body than land-based exercises and there are so many great options to incorporate into your swim spa workout routine.
I Think I Know What Swim Spa Is Right for Me, But How Can I Be Sure?
There are so many swim spa features and many great options to choose from. Be sure check out our Buyers 10 Top Tips Guide to help you align your top needs with the right model; this is a great place to start for everything you need to know at a glance.
When you are ready, give us a call, email us, or pop by our showrooms in Scarborough, Maine or Rye, New Hampshire. We're always here to help you learn more and happy to help you learn more about finding just the right swim spa for you!
About Mainely Tubs in Maine, New Hampshire, and Massachusetts
Mainely Tubs is a 100% Employee Owned premier Hot Spring Spas dealer. We sell and service new hot tubs, used hot tubs, portable spas, swim spas, saunas, gazebos, hot tub accessories, hot tub water treatment, and more. Our Brands Include: Hot Spring Spas, Caldera Spas, Freeflow Spas, Nordic Spas, Endless Pools Swim Spas, Finnleo Saunas, Covana, Pool & Spa Enclosures, Leisure Time, Fresh Water, Silk Balance, and other brands you can trust.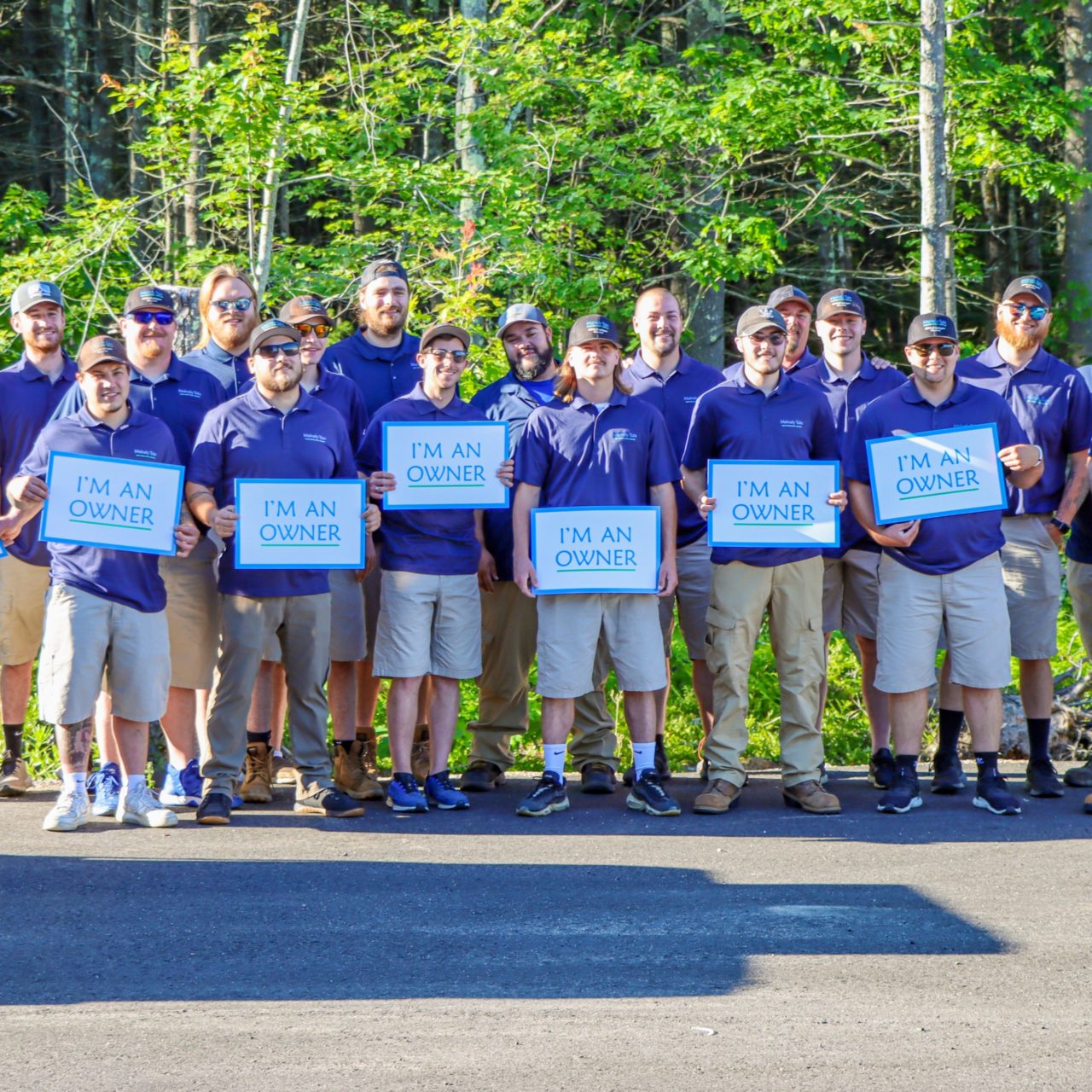 Related Swim Spa Articles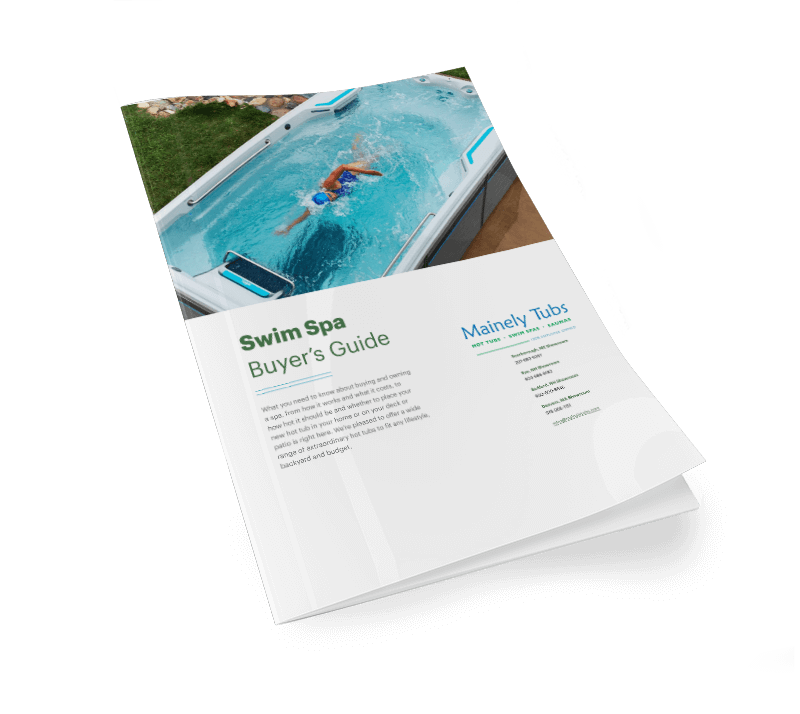 Download the Swim Spa Buyer's Guide
Here's Everything You Need to Know!
We've pulled together information about all things swim spa. If you have questions, you'll find the answers here. Get your free guide now!